Partying with the Germs and drinking with X: A new book about Slash magazine captures L.A.'s early punk scene
It all began as an art project.
It was the mid-1970s and Los Angeles was cheap and stuffed with artists. Melanie Nissen was an amateur photographer managing a bookstore in Palos Verdes. Steve Samiof was working for a group of small newspapers on Crenshaw Boulevard. The couple, who had exchanged paintings, collages and artsy Polaroids, wanted to collaborate on something bigger.
"Everyone was creative," recalls Samiof over a round of icy drinks on a blistering afternoon in Hollywood. "It was really easy to just pretend your life was art. Everything you would do would be art."
Adds Nissen with a wry smile, "It was sex and art. What could be better?"
Samiof chuckles.
"Her photography," he says, "motivated me to want to do whatever that project that ended up being."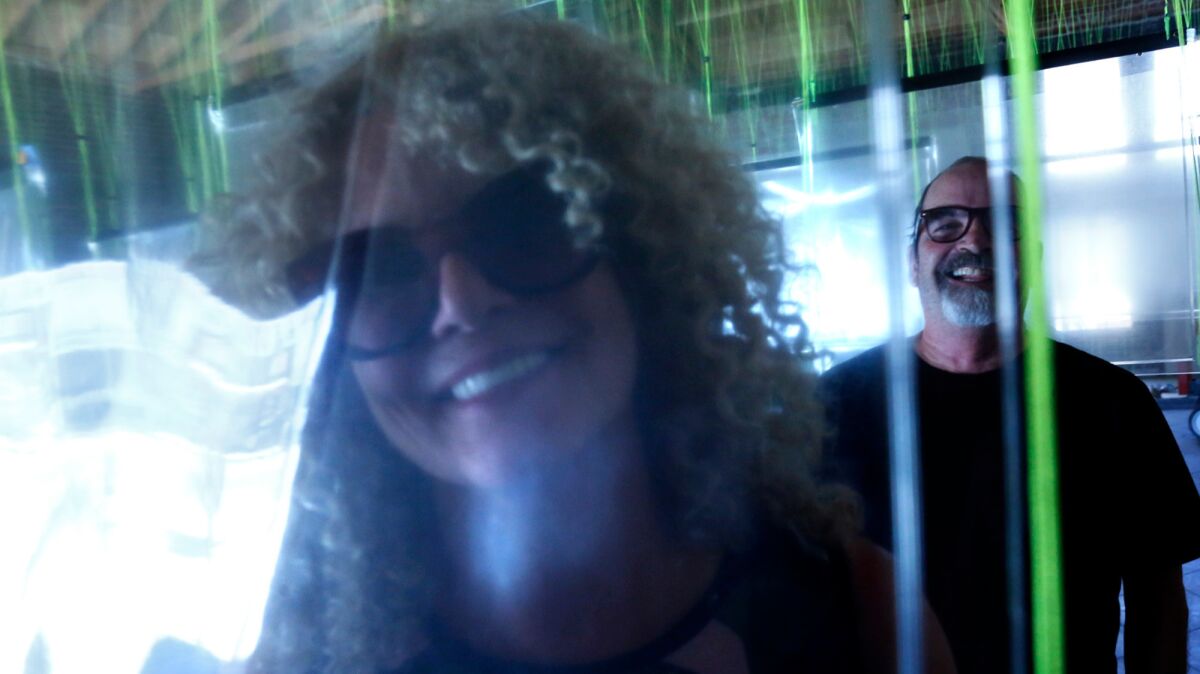 That project ended up being Slash, the late-'70s music magazine known for its bombastic anti-disco editorials, its unflinching photography and its booze-soaked interviews with a who's who of early punk bands — including the Sex Pistols, X and the Germs.
The concept for the loud-mouthed, photo-driven newsprint magazine — whose name was inspired by British slang for urination — was put together over just a few weeks in spring 1977. Its layouts were improvised and its drippy logo was sketched out on a paper bag in 30 minutes. Yet, almost instantly, it became the bible of L.A.'s early punk scene, documenting now-legendary musical acts while they were still in their infancy. (The Screamers, in fact, held their debut performance at Samiof's Pico Boulevard studio.)
"Slash was definitely seen as an authority," recalls Alice Bag, lead singer of the Bags. "They had the best documentation. They were the most professional of the publications … For me, it was a big deal when I was on the cover."
Slash was definitely seen as an authority. They had the best documentation ... It was a big deal when I was on the cover.
— Alice Bag, of the Bags
It's a status it retains to this day. Last year, when a fan scanned every issue and put them online, one site described him as "a true internet saint."
Now the magazine, which only existed for three short years — from 1977 to 1980 — is getting the art-book treatment. Hat & Beard Press, a Los Angeles-based publishing company, is this month releasing a behemoth, 500-plus-page volume that compiles the magazine in all of its glorious grit.
This includes myriad band interviews, hand-drawn classified ads, and hard-charging album reviews, written by the infamous Claude "Kickboy Face" Bessy. Of the Sex Pistols, he once commanded: "Play it real loud and heavy on the treble and see your friends flee and your pets drop dead."
The artfully composed book, titled "Slash: A Punk Magazine From Los Angeles, 1977-1980," also features plenty of extras, including many never-seen pictures by Nissen, as well as new essays and Q&As by and with the key players — such as Philomena Winstanley, who along with her boyfriend, Bessy, were an indispensable part of the magazine's founding editorial team. (Bessy passed away in 1999.)
J.C. Gabel, who co-edited the book with graphic designer Brian Roettinger, says that when he first laid eyes on the materials, he was floored.
"This magazine," he says, "in one swoop, told the story of the first wave of punk."
To this day, he adds, "it remains so fresh-looking."
Samiof and Nissen both seem slightly bewildered that the seat-of-the-pants publication they launched almost 40 years ago — one that never had a print-run of more than 5,000 — could generate so much interest. "It's weird, actually," says Samiof. "After 40 years, this really represents a small part of our lives."
In addition to the book, Hat & Beard has also put together an exhibition of photography and ephemera related to the magazine at a pop-up gallery in Hollywood. The show, elaborately installed by the design firm stereo.bot, is housed in a charmingly dilapidated old storefront, which keeps the vibe appropriately punk.
Slash's humble beginnings didn't exactly portend its future status as a cultural touchstone.
Nissen and Samiof began with the idea of doing something in newsprint because it was easy and inexpensive. For a while, the pair discussed creating a photo-driven one-off, light on editorial, that could showcase Nissen's photography.
But their interest in music — in particular the punk and new wave acts coming out of London — changed that plan. "I was reading about the Sex Pistols gobbing on their fans and that was earthshaking to me," says Samiof. "It was really exciting and everything melded."
Samiof enlisted Bessy, then working at a restaurant in Santa Monica, to write editorials and reviews. Winstanley contributed photography and edited articles. Nissen took pictures of bands and of shows. As the project began to come together, the British rock band the Damned rolled into town and Slash scored an interview and exclusive photo shoot.
The first issue was put together on the fly: Samiof surreptitiously used tools from his day job to produce layouts. Nissen borrowed a darkroom belonging to her mother's boyfriend — the architectural photographer Marvin Rand, known for his stately images of early Modern buildings — to create prints.
"In Slash, they would tell it like it was. If someone was hammered and throwing up somewhere, they'd write about it."
— Kristine McKenna, writer and critic
In May 1977, the first issue of Slash hit the stands, featuring Dave Vanian, lead singer of the Damned, looking vampiric on the cover. The price was 50 cents and the circulation was limited (mainly to the record stores that were willing to accept it.)
"I was publisher and distributor," recalls Samiof. "I had a Chevy Nova station wagon that I'd drive around. I'd go as far west as Peaches Records on Lincoln."
Not everyone took to the publication right away. "Tower Records wouldn't take it until the fourth or fifth issue," recalls Samiof. "People thought it looked like a monster magazine."
Even so, within months, Slash had become an essential part of L.A.'s rising punk movement — with journalists from the Los Angeles Times, the New York Times and Rolling Stone occasionally calling the contributors for their views on the scene.
"There are so many sources now," says Kristine McKenna, a writer and critic who covered punk and other music for The L.A. Times during that period. "But magazines meant a lot then. It was the only way you could know what was going on. People read [Slash] religiously."
Plus, there was Slash's unfiltered voice and gruff honesty.
"Most of the people they had writing for them were very smart and funny — especially Claude Bessy," she says. "In Slash, they would tell it like it was. If someone was hammered and throwing up somewhere, they'd write about it."
"There was no hero worship," says Gabel. "You don't get the sense that they wrote the questions out in advance. It was just, 'Here's our drunken conversation with Malcolm McLaren over three nights in bars.'"
"There ain't no Slash philosophy and there ain't no Slash T-shirts," wrote Bessy in a 1978 editorial. "If we ever rounded up the multitude of misfits who write, doodle, sell, snap pies and punch noses for our cause in the same room it would be a disastrous pandemonium sure to lead to a full scale rumble."
For Samiof and Nissen, putting together the magazine was an ongoing adventure. On a given day, they might be interviewing reggae star Peter Tosh amid a cloud of marijuana smoke at a motel on Santa Monica Boulevard.
On another, Nissen might be serving as backup singer for the punk joke band Black Randy at the Whisky a Go Go — alongside Bag, singer Connie Clarksville and Go-Go's frontwoman Belinda Carlisle. "We wore dashikis and big blond wigs and a ton of makeup and danced the whole show," she says.
On one occasion, they rustled up the funds to help the Germs record a new single.
"We booked studio time in Hollywood in the middle of the night," recalls Samiof. "Nobody had cars, so we had to pick them all up — like daycare. We brought brandy and beer. Then we sang backup on 'No God.'"
The magazine also had a unifying effect that extended to other areas of alt culture. Ads for High Performance, the performance art magazine, and the Philip Glass Ensemble appeared in its pages. There were interviews with filmmaker John Waters and sci-fi novelist Philip K. Dick (the latter of whom rails against Orange County homeowners' associations).
Slash was the first magazine to publish Gary Panter's now legendary comic strip about a hapless punk everyman named "Jimbo." A number of these are printed on bright yellow paper in the book.
There was no design aesthetic for punk then. You couldn't Google it. There was what little you'd see on the sleeve of a 45.
— Steve Samiof, co-founder of Slash
Beyond the writing, what made Slash so appealing was its graphic design: The stark black-and-white covers and anarchic typographic treatments — a look devised by Samiof, who spent a good deal of time studying books of art and photography.
"There was no design aesthetic for punk then," he says. "You couldn't Google it. There was what little you'd see on the sleeve of a 45."
Nissen says that much of the look came out of improvisation. "We didn't know what we were doing sometimes," she says. "The size was wrong or things were off and we just had to make art out of it."
Like a lot of things that burn brightly, Slash did not last. By 1979, Nissen and Samiof had broken up — tearing at the thin fabric that held the entire enterprise together. New management was more interested in producing music than magazines and Slash, in the '80s, became known exclusively as a record label.
Bessy and Winstanley moved to Europe. Samiof went on to run another publication, then a gallery called Steve's House of Fine Art — before focusing on the hotel trade. (He currently lives in Costa Rica.) Nissen became renowned as a photographer, working for various prominent music labels as an art director.
There are colorful memories to hold onto, but like true punks, neither Samiof or Nissen appear overly nostalgic.
"It's nice to be acknowledged," says Samiof. "On the other hand, it has nothing to do with my life now — except that maybe I still am a punk."
Perhaps Bessy summed it up best, in his editorial for the magazine's final issue. "You can only take so much of a good thing," he wrote. "And you ought to know when to stop. Like now??"
Book:
"Slash: A Punk Magazine from Los Angeles, 1977–80"
Edited by J.C. Gabel and Brian Roettinger; designed by Roettinger.
Hat & Beard: 500+ pp., $60, hatandbeard.com
Exhibition:
"Slash: A Punk Magazine from Los Angeles, 1977-80"
Where: 4859 Fountain Ave., Hollywood
When: Through Aug. 19, Mon.-Fri. 12 p.m. — 5 p.m.
Find me on Twitter @cmonstah.
ALSO
How a camera, a blog and Eastside Luv led Rafael Cardenas to capture the art of everyday L.A. life
Without spandex or superhero cleavage, artist Gina Wynbrandt creates a funny, very real comics heroine with a Justin Bieber problem
Suburban alienation meets aliens in Margaret Wappler's 'Neon Green'
Jonah Lehrer returns with 'A Book About Love.' Can it rescue his reputation?
Get our L.A. Goes Out newsletter, with the week's best events, to help you explore and experience our city.
You may occasionally receive promotional content from the Los Angeles Times.