Weekend Picks: Itzhak Perlman, celebrating MLK, Mozart and Sophie Tucker, and more
In this weekend's picks, American Ballet Theatre clowns around while Aspen Santa Fe Ballet is all business, Sophie Tucker gets her due and various events honor the legacy of Martin Luther King Jr. Also: Long Beach Opera gets creepy, violinist Itzhak Perlman rosins his bow, the Mozart Classical Orchestra celebrates its namesake, and the "Sounds of L.A." concert series returns to the Getty Center.
The joker's wild
The costumes are as colorful as the characters are comical in "Harlequinade." Fresh off last month's "The Nutcracker," American Ballet Theatre returns to Segerstrom to perform artist-in-residence Alexei Ratmansky's re-creation of legendary choreographer Marius Petip's take on this romantic fable inspired by Italian commedia dell' arte. The rotating cast includes Misty Copeland on Friday. Segerstrom Center, Segerstrom Hall, 600 Town Center Drive, Costa Mesa. 7:30 p.m. Thursday-Friday, 2 and 7:30 p.m. Saturday, 1 p.m. Sunday. $29 and up. scfta.org
The last of the red-hot mamas
A sassy personality, a body-positive attitude and hits such as "Some of These Days" and "My Yiddishe Momme" made Sophie Tucker one of the biggest stars of the first half of the 20th century. Writer-performer Sharon McNight channels the legendary singer and comedian in her solo show "Red Hot Mama — The Sophie Tucker Songbook." Rubicon Theatre Company, 1006 E. Main St., Ventura. 8 p.m. Saturday, 2 p.m. Sunday. $30-$55. www.rubicontheatre.org
Here, kitty kitty …
Murder will out in "The Black Cat." Long Beach Opera and Musica Angelica Baroque Orchestra join forces for the U.S. premiere of this multimedia-enhanced reimagining of the Edgar Allan Poe terror tale, set to the music of J.S. Bach and English art rocker David Sylvian. Beverly O'Neill Theater, 300 E. Ocean Blvd., Long Beach. 7:30 p.m. Saturday, 2:30 p.m. Sunday. $49-$150. longbeachopera.org
MLK Day celebrations
The California African American Museum's Martin Luther King Day Celebration includes young activists reading excerpts from the slain civil-rights leader's speeches, a performance by the Inner City Youth Orchestra of Los Angeles, plus panel discussions, arts and crafts activities for the kids and food trucks. 600 State Drive, Exposition Park, L.A. 10 a.m. to 5 p.m. Monday. Free. caamuseum.org
And, of course, there's the 34th annual Kingdom Day Parade, featuring floats, marching bands and famous faces including this year's grand marshal, Dodgers manager Dave Roberts. Martin Luther King Jr. Boulevard and Western Avenue, L.A. 11 a.m. to 1 p.m. Monday. Free. kingdomdayparade.org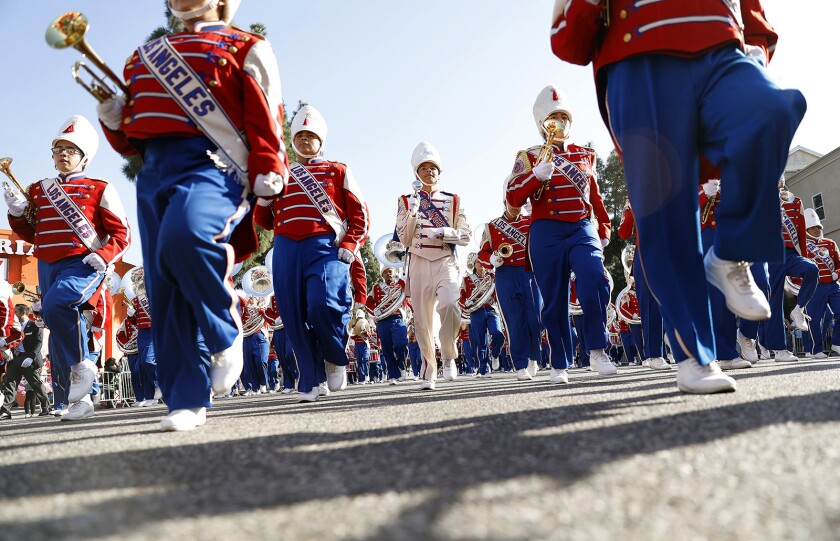 On their toes in Northridge
ABT's not the only game in town this weekend. Aspen Santa Fe Ballet continues its multi-year residency at the Soraya with a program of new works by choreographers Alexander Ekman, Fernando Melo and Jorma Elo. Younes and Soraya Nazarian Center for the Performing Arts, 18111 Nordhoff St., Northridge. 8 p.m. Saturday. $39 and up. TheSoraya.org
Fiddle me this
You've got not one but two chances to see "Itzhak Perlman — In the Fiddler's House." The acclaimed violinist is joined by guest musicians and vocalists for this passionate celebration of traditional klezmer music. Renée and Henry Segerstrom Concert Hall, Segerstrom Center for the Arts, 600 Town Center Drive, Costa Mesa. 8 p.m. Thursday. $48 and up. scfta.org. Also, 7:30 p.m. Sunday at Walt Disney Concert Hall, 111 S. Grand Ave., L.A. $67-$150. laphil.com
Rock me, Amadeus
Happy birthday, Wolfgang. You don't look a day over 250. The Mozart Classical Orchestra celebrates the 263rd birthday of its namesake with a program that includes the Austrian wunderkind's Symphony No. 36, "Linz," and Piano Concerto No. 13 featuring pianist Daniel Shapiro. Irvine Barclay Theatre, 4242 Campus Drive, Irvine. 3 p.m. Sunday. $29-$52. thebarclay.org
The Getty gets its groove back
Specializing in the Afro-Puerto Rican musical styles known as plena and bomba, Harlem-based ensemble Los Pleneros de la 21 helps kick off a new edition of the Getty's annual "Sounds of L.A." concert series. Getty Center, Harold M. Williams Auditorium, 1200 Getty Center Drive, L.A. 7 p.m. Saturday, 4 p.m. Sunday. Free; reservations required. getty.edu
---
Get our daily Entertainment newsletter
Get the day's top stories on Hollywood, film, television, music, arts, culture and more.
You may occasionally receive promotional content from the Los Angeles Times.