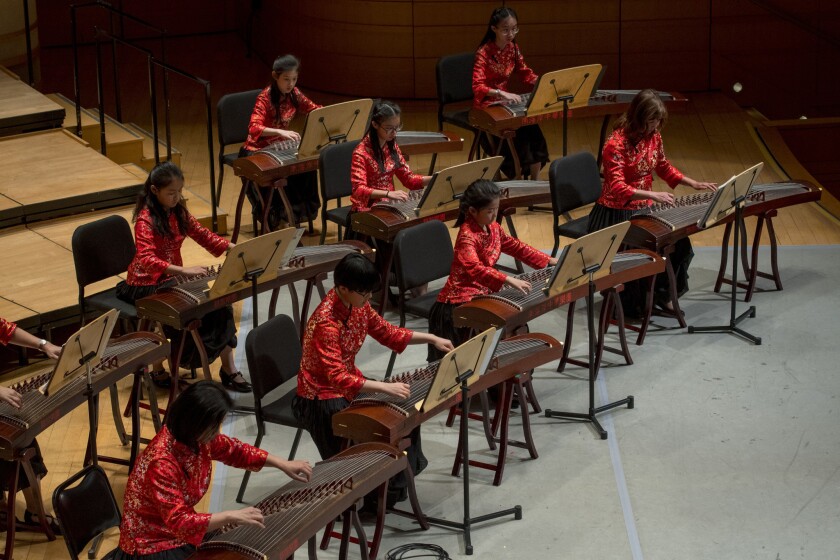 Weekend Picks for arts events include a Lunar New Year shindig with Pacific Symphony, a new solo comedy starring "SNL" alum Julia Sweeney and Matthew Bourne's World War II-set take on Prokofiev's "Cinderella" at the Ahmanson Theatre. The annual Laguna Beach Music Festival returns, the Wallis' musical documentary "Witness Uganda" unfolds its story of an aid worker in Africa, Kevin Williamson + Company close out the Dance at the Odyssey festival, and pianist Olga Kern plays at Soka and the Broad Stage. And if you like a late night, the Music Center has a "Sleepless" outing for you.
Pig out with Pacific Symphony
Pacific Symphony, Pacific Chorale, Yaya Dance Academy, soprano Wei Feng and other artists come together for a super-sized Year of the Pig celebration that includes Li Huanzhi's "Spring Festival" Overture to Tchaikovsky's "1812" Overture. Carl St.Clair conducts, and Cheer Pan and Tan Ye cohost. Segerstrom Center for the Arts, Renée and Henry Segerstrom Concert Hall, 600 Town Center Drive, Costa Mesa. 8 p.m. Saturday. $28-$108. PacificSymphony.org
Aging gracefully at the Geffen
The new solo comedy "Julia Sweeney: Older & Wider" finds the "Saturday Night Live" and Groundlings alum and cancer survivor waxing comedic on the personal, the political and the spiritual. An L.A. Times Critics' Choice. Geffen Playhouse, Audrey Skirball Kenis Theater, 10886 Le Conte Ave., Westwood. 8 p.m. Thursday-Saturday, 2 p.m. Sunday; other dates through Feb. 17. $30-$60. GeffenPlayhouse.org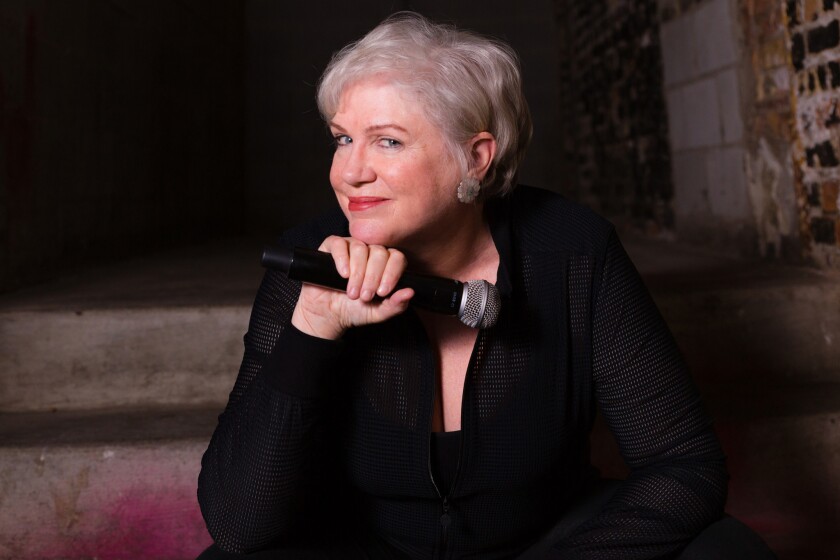 It's a ballroom blitz!
Our plucky heroine falls for a pilot, not a prince, while Brits endure the Blitz with stiff upper lips in Matthew Bourne's "Cinderella." The acclaimed choreographer of "The Red Shoes" fame, sets the action in World War II-era London in this reworking of the Prokofiev ballet based on the classic fairy tale. Ahmanson Theatre, 135 N. Grand Ave., L.A. 8 p.m. Thursday and Friday, 2 and 8 p.m. Saturday, 1 and 6:30 p.m. Sunday; other dates through March 10. $30-$135. CenterTheatreGroup.org
Classical sounds by the sea
Pianist Joyce Yang serves as artistic director as well as a performer at the Laguna Beach Music Festival. This year's edition of the Philharmonic Society of Orange County's annual three-day classical-music showcase features works by Prokofiev, Rachmaninoff, Stravinsky and Ravel, and performers including violinists Augustin Hadelich and Yura Lee, cellist Efe Baltacigil, pianist Conrad Tao and Aspen Santa Fe Ballet. Laguna Playhouse, 606 Laguna Canyon Road, Laguna Beach. 8 p.m. Friday-Saturday, 3 p.m. Sunday. $38 and up. PhilharmonicSociety.org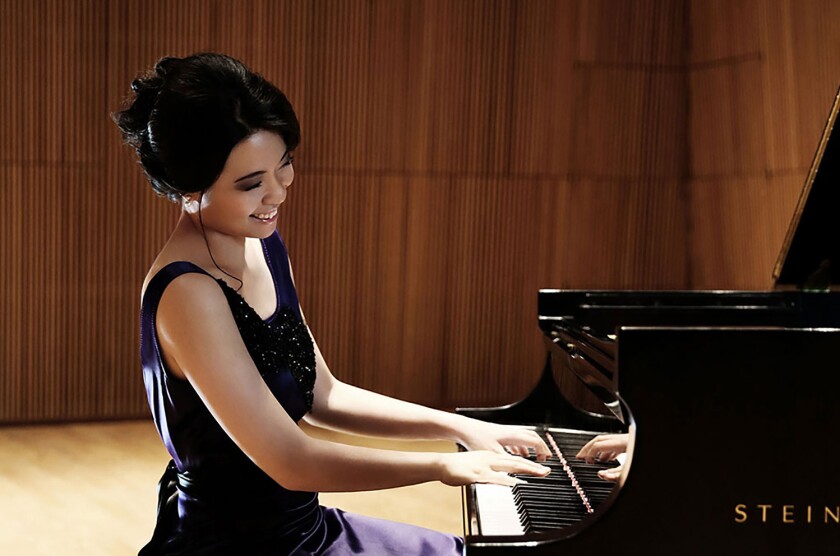 Bearing 'Witness' at the Wallis
A gay American volunteer copes with the injustice he sees while helping to build a school in a small village in Africa in Matt Gould and Griffin Matthews' fact-based musical "Witness: Uganda," inspired by Matthews' experiences as a humanitarian-aid worker. Jamar Williams and jazz and R&B singer Ledisi star. Wallis Annenberg Center for the Performing Arts, Lovelace Studio Theater, 9390 N. Santa Monica Blvd., Beverly Hills. 8 p.m. Thursday and Friday, 2:30 and 8 p.m. Saturday, 2:30 and 7:30 p.m. Sunday; other dates through Feb. 24. $50. TheWallis.org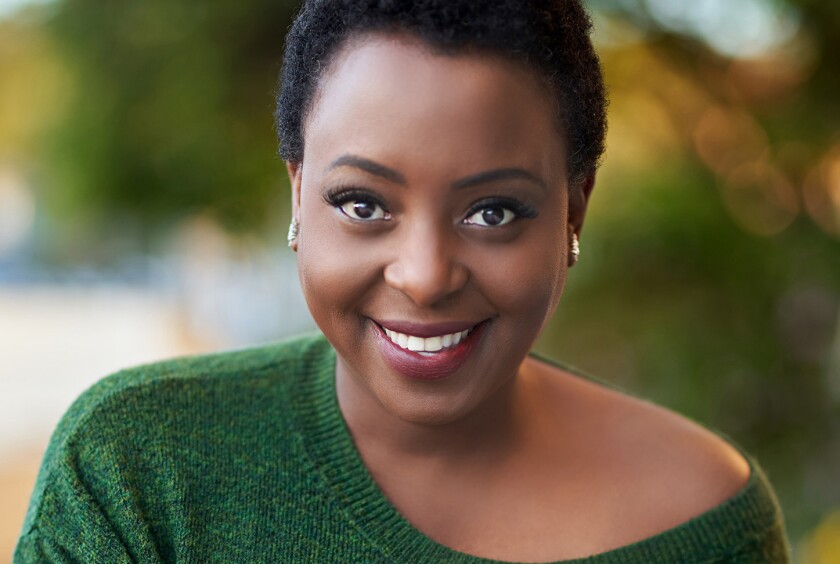 A few more steps
For Kevin Williamson + Company's "Gnarled," the dancer-choreographer will be joined by movement artists Barry Brannum, Mallory Fabian, Jasmine Jawato, Sebastian Hernandez and Carol McDowell for this series of collaborative duets that closes out the Dance at the Odyssey festival. Contains nudity and adult themes. Odyssey Theatre, 2055 S. Sepulveda Blvd., West L.A. 8 p.m. Friday and Saturday, 2 p.m. Sunday. $25. OdysseyTheatre.com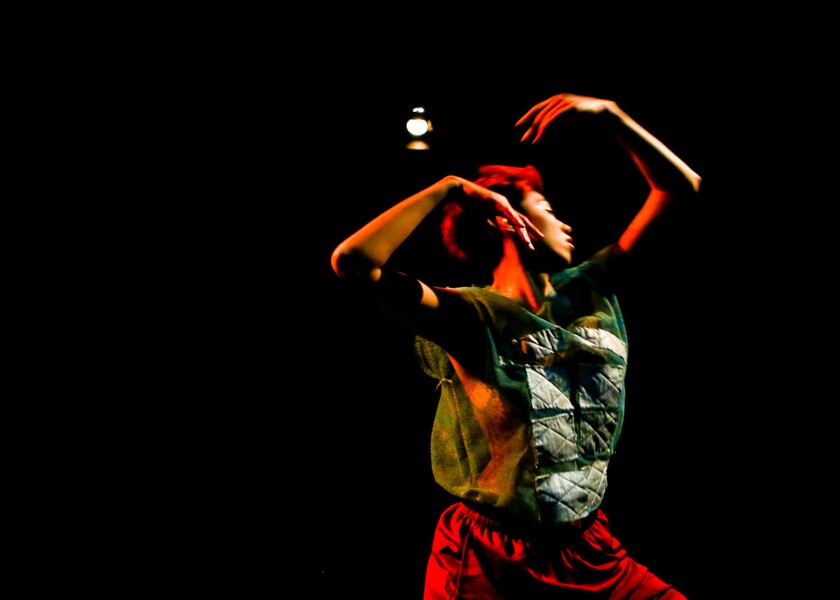 Pianist does double duty
Pianist Olga Kern has put together a program so nice — works by Rachmaninoff, Scriabin, Beethoven, Scarlatti, Balakirev and Gershwin — she'll play it twice, first down in Orange County, then the next night in Santa Monica. Soka Performing Arts Center, 1 University Drive, Aliso Viejo. 8 p.m. Friday. $40, $50. Soka.edu. Also at the Broad Stage, 1310 11th St., Santa Monica. 7:30 p.m. Saturday, $60 and up. TheBroadStage.org
'Sleepless' in DTLA
Night owls and insomniacs, rejoice: It's time for another edition of "Sleepless: The Music Center After Hours," this one themed "Quinceañera Reimagined." This immersive event celebrating the Latinx coming-of-age tradition features live music, DJ sets, dance, art installations and more. Dorothy Chandler Pavilion, 135 N. Grand Ave., L.A. 11:30 p.m. Saturday to 3 a.m. Sunday. $20, $30. MusicCenter.org
---