L.A. dance company Contra-Tiempo explores joy as an act of resistance in its latest production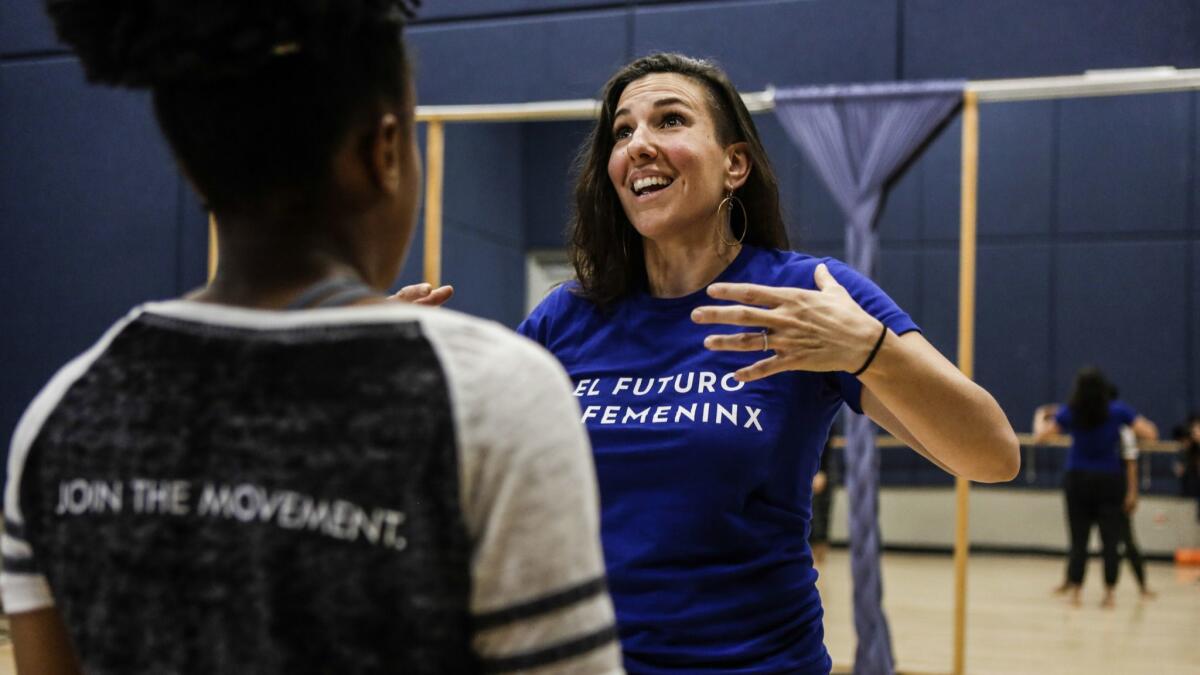 Sitting in a nearly empty Arizona State University theater two years ago, L.A. choreographer Ana Maria Alvarez anxiously watched the presidential election play out on her phone. At the same time, her urban Latin dance theater company Contra-Tiempo rehearsed "Agua Furiosa," a piece exploring racial conflict, economic inequity and the politics of water and drought. But in that moment, Alvarez had a realization.
"Watching them perform this really intense, really kind-of heavy piece about humanity being so horrible to each other, and about oppression and looking at the results and feeling like, 'we can't be doing this work right now,' " Alvarez reflected during a recent rehearsal. "This work actually doesn't make sense right now… we need to activate joy."
Months earlier, Alvarez had a dream about choreographing around the idea of joy. Within a week, she applied for a grant, allowing her to begin work on what eventually became Contra-Tiempo's latest production, "joyUS justUS," which premiered in September.
On Saturday, the company will perform "joyUS" at the Carpenter Performing Arts Center in Long Beach before embarking on a 20-city tour. The production, which features music from East L.A. band Las Cafeteras and explores joy as an act of radical resistance, mixes dance with music and spoken word.
"[JoyUS] is about how we can reframe the world and the way that we have been moving forward in the world from a perspective that's not from patriarchy and racism and all these constraints that disconnect us," Alvarez said.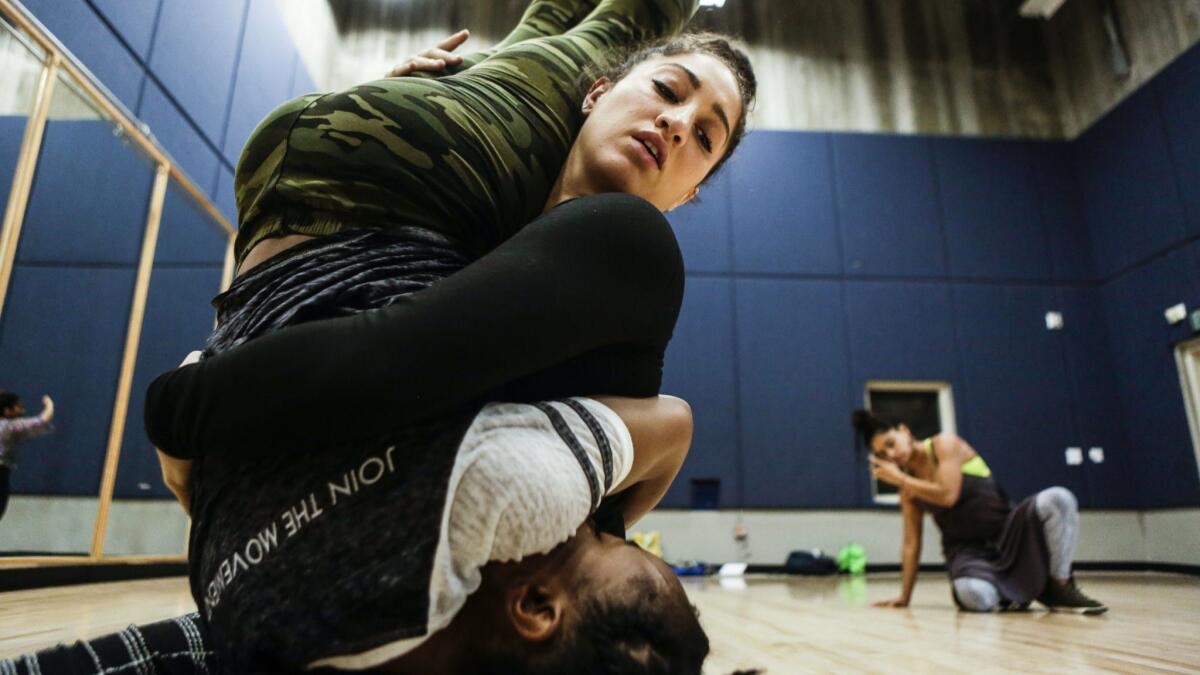 During a recent rehearsal at a mid-city studio, the company drilled one of their final numbers in the show. But instead of dance choreography, this piece was a call and response Afro-Cuban rhythm section. Standing in a circle with other Contra-Tiempo members and Las Cafeteras musicians, dancer Samad Raheem Guerra played a cowbell, struggling to maintain his repetitive lead as others began joining in with different rhythms.
"It feels like my mind is breaking," Guerra said, laughing after one attempt at the musical section quickly fell apart.
But after many more attempts, the section began clicking into place and the dancers' and musicians' faces lit up when they finally fell into a groove. During a brief break, Alvarez explained that this piece is about "decolonizing" the clave — it wasn't about the counts, it was about feeling the music.
Alvarez founded Contra-Tiempo 13 years ago after completing her master's thesis at UCLA on salsa as a metaphor for resistance. The company blends salsa, Afro-Cuban, hip-hop and modern dance a genre that didn't exist for Alvarez when she first entered the dance scene.
As an arts activist, the choreographer's work has tackled political issues including environmental and food justice, black and brown relations in the U.S., and immigration. This production, she says, is a return to the the company's origin.
''JoyUS justUS' is a coming back to the essence of what makes dance powerful," Alvarez said. "What allows us to build the world that's more just is our capacity to come together and be connected and see ourselves in one another."
The process of choreographing joy emerged from a two-year collaboration with Community Coalition, a South L.A. nonprofit founded by congresswoman Karen Bass. For Alvarez, it was important for Contra-Tiempo, a company of black and brown dancers, to work in a community of color.
They held weekly "sabor" sessions — community dance jams — near Leimert Park and nearly 10 choreographic labs over the two-year creation process, showing pieces of the work to gauge community response. During these sessions, the dance company also held "council," an indigenous storytelling practice where participants share stories about their life experiences.
"The piece really grew because of that. It became a reflection of the work we were doing in South L.A. It became a reflection of us as organizers and activists and artists who are committed to making social change and grappling with what did it mean...when the world in some ways feels like it's crumbling," Alvarez said. "How do you take joy almost as a weapon, as a way to create a world that you believe in.
Numerous stories about people's relationships with their mother at council sessions found their way into the production — mothering is one of the show's most prominent themes. One piece in the production explores Alvarez's relationship with her youngest son, 2, who had a serious health scare when he was born.
Ultimately, Alvarez wants viewers to find connection in their shared experiences through "joyUS." She also hopes to break down the barriers between the artists and the audience. Each show will have a community "altar," of 50 to 75 children and adults who sit on stage observing the show as a representation of humanity. And the production will end with a celebratory dance jam open to everyone.
"I don't want people to come and feel 'that was a nice show to watch,' " Alvarez said. "But I want people to come and say that's a reflection of the world we live in and I'm a part of that. I want them to be inspired."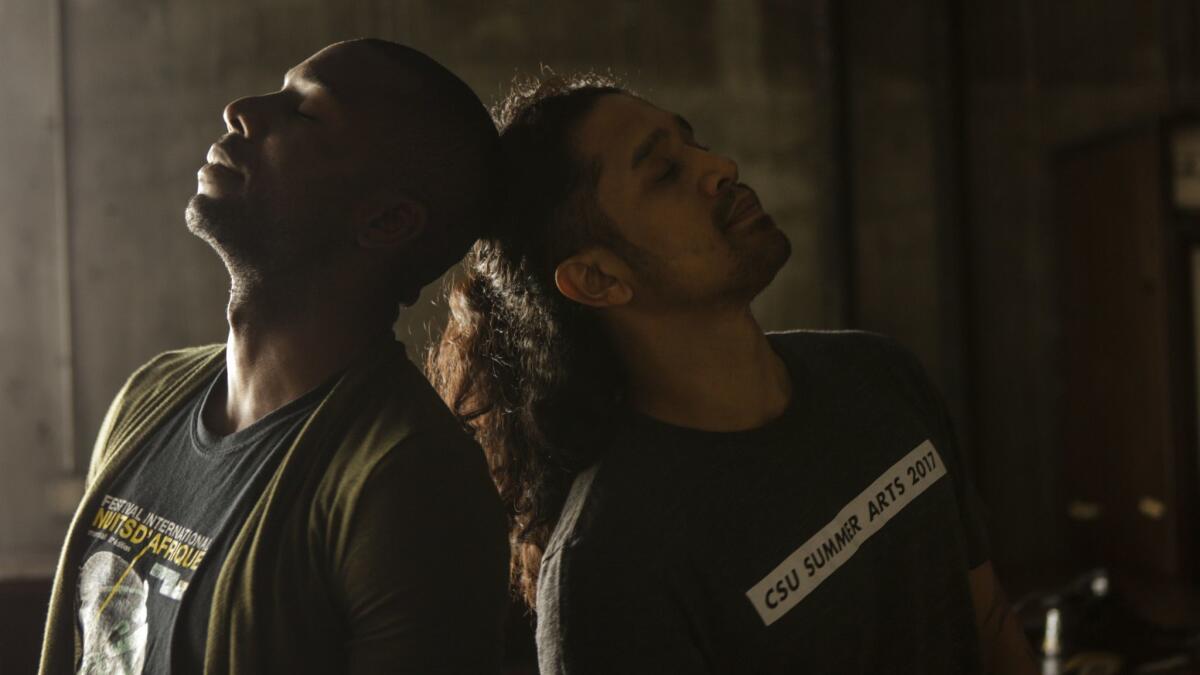 'joyUS justUS' with live accompaniment by Las Cafeteras
Where: Carpenter Performing Arts Center, 6200 E. Atherton St., Long Beach
When: Saturday, Nov. 10, at 8 p.m.
Tickets: $50.00
Info: https://carpenterarts.org/
Get our L.A. Goes Out newsletter, with the week's best events, to help you explore and experience our city.
You may occasionally receive promotional content from the Los Angeles Times.