LAUSD strike: 16 things to do and places to go with kids
Listings Coordinator
LAUSD teachers are about to go on strike. What to do with the kids? Although the Los Angeles Unified School District is advising parents to send their children to school as usual, some parents — whether for philosophical or pragmatic reasons — are looking for other ways to keep their kids occupied, learning and definitely not sitting around the house bored and driving the grown-ups crazy.
Here are 16 possible destinations for desperate parents. Have a different idea? Please send it to matthew.cooper@latimes.com.
Science stuff
From those captivating dioramas to the Butterfly Pavilion to the prehistoric terrors of Dinosaur Hall, the attractions of the Natural History Museum of Los Angeles County make it a logical first stop. Other activities in this ever-evolving destination: 3D films, kid-friendly talks with experts and a junior-scientist program. 900 W. Exposition Blvd., L.A. Open daily. (213) 763-3466. nhm.org
Next door to the Natural History Museum is the California Science Center, which has interactive exhibits saluting human ingenuity and innovation. King Tut has departed, alas, but the California Science Center is the only museum in Southern California with its very own space shuttle, the Endeavor. 700 Exposition Park Drive, L.A. Open daily. (323) 724-3623. californiasciencecenter.org
On a clear day Griffith Observatory may offer stunning views of the L.A. basin, but then there are all those worlds beyond. Live shows unfold in the planetarium as well as a theater named after Mr. Spock himself, the late Angeleno and "Star Trek" star Leonard Nimoy. 2800 E. Observatory Road, L.A. Closed Mondays. (213) 473-0800. griffithobservatory.org
A half-hour drive away, you can see prehistoric creatures stuck in the muck at the La Brea Tar Pits & Museum. The mammoth and saber-tooth cat skeletons are pretty awesome, and so is the functioning fossil lab. 5801 Wilshire Blvd., L.A. Open daily. (213) 763-3499. tarpits.org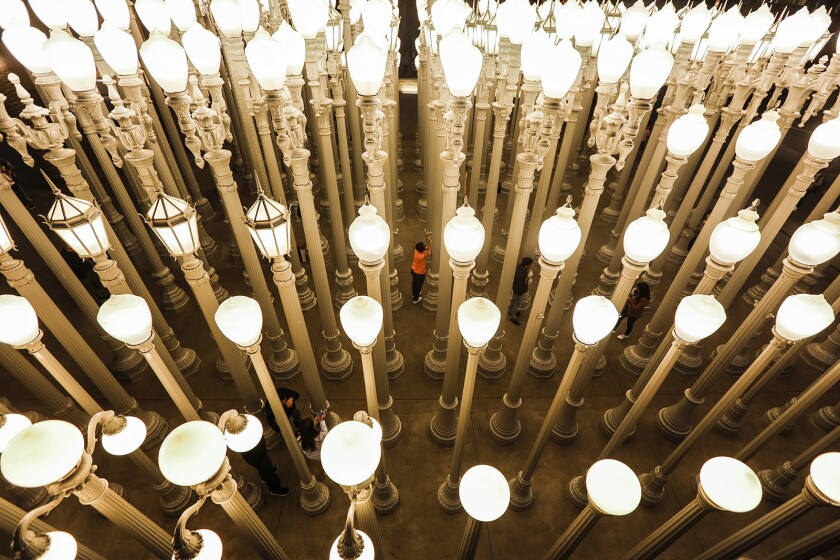 What to know as LAUSD teachers prepare to strike Monday »
Artsy fun
The tar pits are a fine place to leap from science to art, with the Los Angeles County Museum of Art so close by. Kids love LACMA's Instagram-worthy backdrops, including Chris Burden's whole-lotta-lampposts installation, "Urban Light"; Michael Heizer's ginormous rock-as-sculptural-installation, "Levitated Mass"; and Tony Smith's leggy black "Smoke," rising 24 feet high. The Boone Children's gallery has brushes and paints for kids to channel their inner Van Gogh, and there's even free museum membership for those 17 and younger. 5905 Wilshire Blvd., L.A. Closed Wednesdays. (323) 857-6010. lacma.org
The Getty Center and its sister destination, the Getty Villa, have more than lovely galleries and grounds. They also offer hands-on family activity rooms, arts and crafts workshops, kid-friendly concerts and more. The Getty Center, North Sepulveda Boulevard and Getty Center Drive, L.A.; (310) 440-7300. The Getty Villa, 17985 Pacific Coast Highway, Pacific Palisades; (310) 440-7300. getty.edu
At the Skirball Cultural Center, the eminently kid-friendly Noah's Ark exhibit is a playhouse of handcrafted critters, puppets and nooks to explore. (Sensory-friendly Fridays are designed for young guests requiring a less stimulating experience.) On weekends, an art studio and an archaeology dig are geared for children. 2701 N. Sepulveda Blvd., L.A. (310) 440-4500. skirball.org
So maybe the elegant tea room at the Huntington Library, Art Collections, and Botanical Gardens isn't quite your kid's thing? This cultural haven also has children's workshops (coming up: flower arranging, Chinese brush painting, bonsai building) plus concerts and star-gazing opportunities. 1151 Oxford Road, San Marino. (626) 405-2100. huntington.org
From the Huntington it's a hop, skip and a jump to the Norton Simon Museum, which has workshops for budding young artists, plus storytelling of the oral and visual kinds. Coming up: a Year of the Pig craft session timed to Chinese New Year. 411 W. Colorado Blvd., Pasadena. (626) 449-6840. nortonsimon.org
Everything at Kidspace Children's Museum is geared toward the wee ones. They can burn some energy crossing a rope bridge, make like a bug and tunnel through the Ant Hole or check out one of the family workshops (coming up: pour painting). Kidspace, 480 N. Arroyo Blvd., Pasadena. (626) 449-9144. kidspacemuseum.org
What's driving these LAUSD teachers to strike »
Wild things and natural wonders
If your children are behaving like lions and tigers and bears, perhaps a trip to the Los Angeles Zoo and Botanical Gardens is in order. Join a guided tour during the week or look into sleepovers and other family-centric offerings on certain weekends. 5333 Zoo Drive, Griffith Park, L.A. (323) 644-4200. lazoo.org
If the life aquatic appeals, there's fishy fun at the Aquarium of the Pacific. The aquarium's major expansion isn't scheduled to open until May, but kids can still see jellyfish, penguins, otters and more — and even pet a shark. 100 Aquarium Way, Long Beach. (562) 590-3100. aquariumofpacific.org
Local fauna — think squirrels and the resident peacocks — populate the floral abundance of the Los Angeles County Arboretum and Botanic Garden. Also available: ceramics classes, a storytelling series and family hikes. 301 N. Baldwin Ave., Arcadia. (626) 821-3222. arboretum.org
Likewise, Descanso Gardens should fill the need for fresh air and sunshine, and perhaps a little botanic inspiration. If the plants don't do it for the kids, there's always a ride on the one-eighth-scale Enchanted Railroad. 1418 Descanso Drive, La Cañada Flintridge. descansogardens.org
And to end the day ...
Hit the beach. This is Southern California, after all, home of the glorious sunset. So point the car west, soak up that glowing sky and hope that the teachers strike is over soon enough.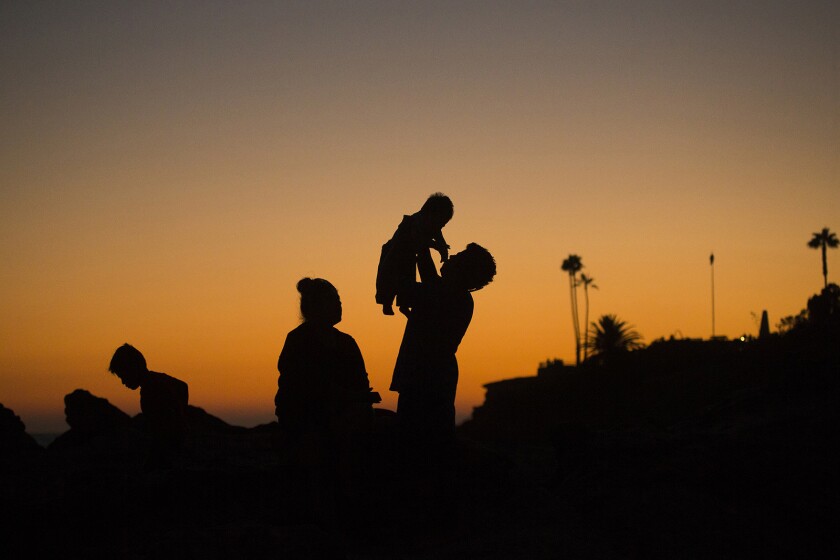 ---
Get our daily Entertainment newsletter
Get the day's top stories on Hollywood, film, television, music, arts, culture and more.
You may occasionally receive promotional content from the Los Angeles Times.