Review: Relationships are an art in 'The End of Beauty' in Atwater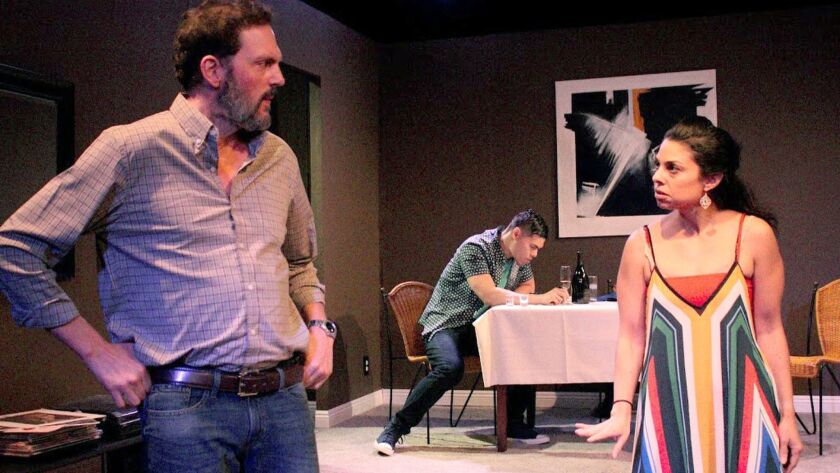 An art professor, trying to articulate what he finds beautiful, describes a childhood memory of a monarch butterfly migration. "The air was a thicket of undulating black and orange," he says, and for two days, trees were hung with "thousands of fluttering wings."
Beauty gets deeply analyzed in "The End of Beauty," a tellingly titled new play presented by Playwrights' Arena.
The author is Cory Hinkle, an Oklahoma native who's now an Angeleno by way of Brown University and Minneapolis' Playwrights' Center. His very different "Apocalypse Play" — a cannibalistic relationship comedy — was staged locally two years ago.
His language here is expressive, his metaphors evocative.
Michael and Margaret are married art professors in Wichita, Kan.
Silas Weir Mitchell, familiar from the NBC drama "Grimm," portrays Michael as a fire-in-the-eyes intellectual. Much of that zeal, however, has turned cynical and sour. Margaret (Tania Verafield) — intelligent, down-to-earth, sensual — has long been drawn to his energy but also finds it exasperating. Little tornadoes of disagreement whip up between them.
When Margaret clumsily mentions that she's bumped into a former student, now a rising art star, and has invited him to dinner, Michael picks up on her caginess. She brushes it aside and warns him to be on his best behavior.
THE LATEST arts news and reviews are posted latimes.com/arts. »
Once the earnest if impulsive Sam (Ruy Iskandar) arrives, the conversation turns, naturally, to art. The play's true subject, though, is the art of relationships, and this get-together — fueled by alcohol and a hidden agenda — seems destined to be fateful.
Hinkle establishes fly-on-the-wall voyeurism but keeps startling us when the characters, aware of our presence, turn to talk to us. Monologues might be an accepted convention in theater, but when used so extensively, they call attention to themselves. Fortunately, the lived-in performances and Barbara Kallir's naturalistic direction keep us in the groove.
Along the way, we are treated to each character's philosophy of beauty: It is transformative, elemental, unexpected.
Underneath, a question looms: Once we've found beauty, how do we hold on to it? Because even the loveliest things will become stale if we don't nurture and appreciate them.
=====
'The End of Beauty'
Where: Atwater Village Theatre, 3269 Casitas Ave., L.A.
When: 8 p.m. Saturdays and Mondays, 4 p.m. Sundays (some variations), through June 17
Tickets: $20-$40
Info: (800) 838-3006, playwrightsarena.org
Running time: 2 hours
---
From the Oscars to the Emmys.
Get the Envelope newsletter for exclusive awards season coverage, behind-the-scenes stories from the Envelope podcast and columnist Glenn Whipp's must-read analysis.
You may occasionally receive promotional content from the Los Angeles Times.