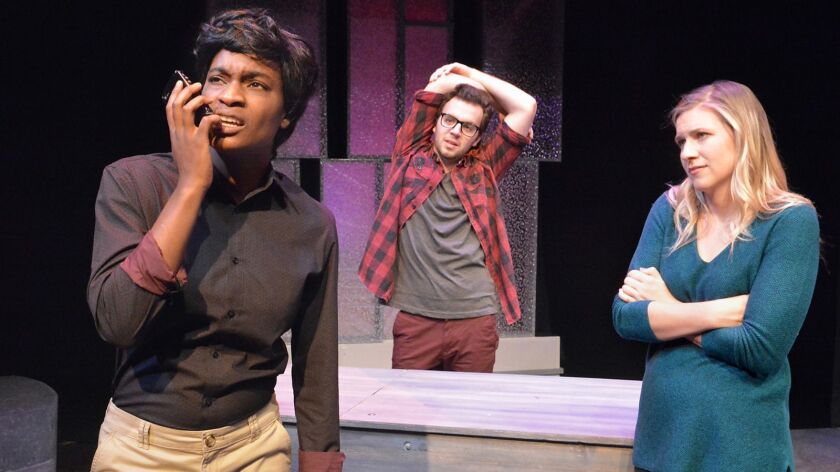 THEATER
Capsule reviews are by Philip Brandes (P.B.), F. Kathleen Foley (F.K.F.), Margaret Gray (M.G.), Charles McNulty (C.M.) and Daryl H. Miller (D.H.M.).
Openings
The Annual One-Time-Only New Year's Eve Musical Revue Family-friendly show features comedy, sing-alongs and more. Santa Monica Playhouse, 1211 4th St., Santa Monica. Next Sun., 6 and 9:30 p.m. $39.50-$69.50. (310) 394-9779.
Groundlings New Year's Eve Celebration Sketches and improv. Groundlings Theatre, 7307 Melrose Ave., West Hollywood. Next Sun., 10 p.m. $100. (323) 934-4747.
Rita Rudner: Laugh, Drink, Leave The veteran comedian's New Year's Eve show features musical duo Molly Bergman and Sidney Bowen. Laguna Playhouse, 606 Laguna Canyon Road, Laguna Beach. Next Sun., 7 p.m. $99-$125. (949) 497-2787.
Rockin' New Year's Eve! Oldies show with Jan & Dean's Beach Party featuring Dean Torrance, plus the Vogues, Paul & Paula, We Five, and Mark Barnett as Roy Orbison; "Mr. Rock N' Roll" Brian Beirne is the host. Cerritos Center for the Performing Arts, 12700 Center Court Drive, Cerritos. Next Sun., 8 p.m. $50-$90. (562) 916-8500.
Straight No Chaser The all-male a capella group performs. Renée and Henry Segerstrom Concert Hall, Segerstrom Center for the Arts, 600 Town Center Drive, Costa Mesa. Next Sun., 3 p.m. $49.50 and up. (714) 556-2787.
Critics' Choices
I Am Not a Comedian… I'm Lenny Bruce In this meticulously researched solo biography tracing the life and prosecution of the groundbreaking early 1960s comic provocateur, actor Ronnie Marmo and director Joe Mantegna offer subsequent generations not only a sense of who Bruce was, but more importantly why he mattered. (P.B.) Theatre 68, 5112 Lankershim Blvd., North Hollywood. Fri.-Sat., 8 p.m.; ends Jan. 28. $35. (323) 960-5068.
Rotterdam A big change can knock any couple out of alignment. For Alice and Fiona, the change goes to the very core of their identities. In her late 20s and several years into the relationship, Fiona reveals that she feels she's a man. With insight and humor, British playwright Jon Brittain charts the pair's journey as they rediscover who they are in this Olivier Award-winning play. Michael A. Shepperd crisply directs a perceptive cast. (D.H.M.) Skylight Theatre, 1816 1/2 N. Vermont Ave., Los Feliz. Fri.-Sat., 8:30 p.m.; next Sun., 2 p.m.; ends Jan. 28. $25-$41. (866) 811-4111.
---