Review: Taylor Mac's 'Holiday Sauce,' a madcap brew of Christmas spirit, extra spicy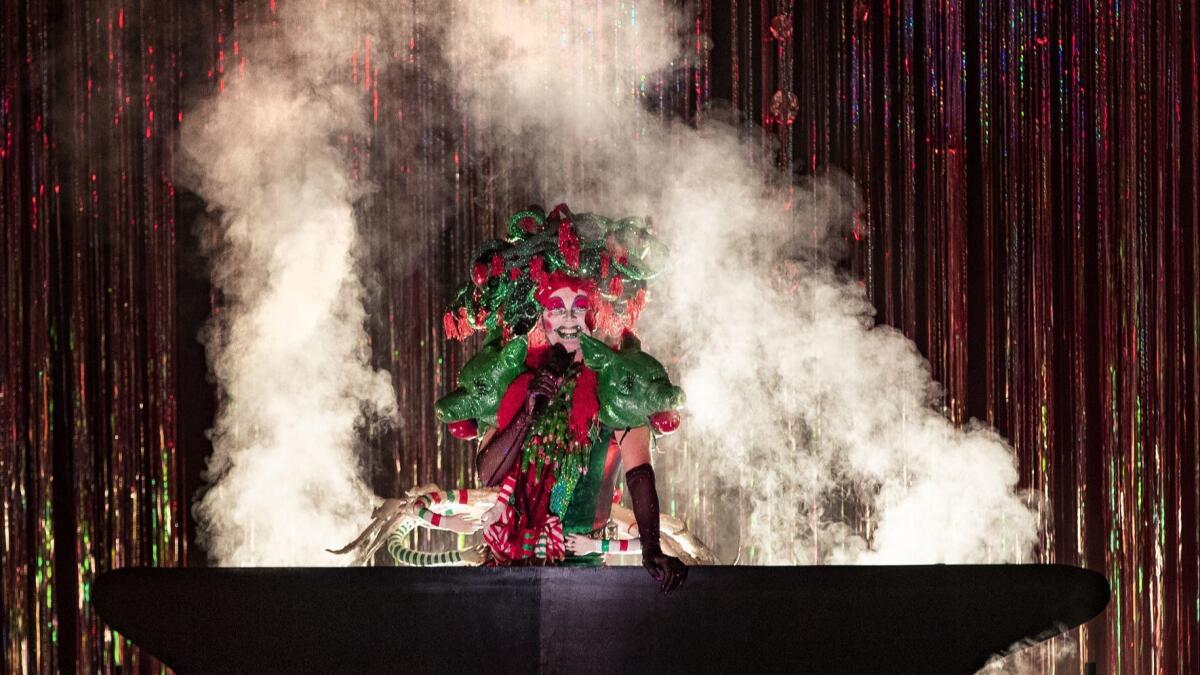 Theater Critic
Imagine a Christmas tree ornament made by Picasso on an absinthe bender and you'll have some idea of Taylor Mac's initial costume for "Taylor Mac's Holiday Sauce," the festive fandango that brought some drag dazzle, queer straight talk and cabaret radicalism to Royce Hall for two performances this weekend.
Presented by the Center for the Art of Performance at UCLA, the show was another of Mac's "radical faerie realness ritual sacrifices" — this one a jolly deconstruction of Christmas. Skilled at making a grand entrance, Mac (who uses "judy" as a gender pronoun) emerged from a cauldron with black magic on the mind.
Mac may be naughty, but judy's witchery is nice. By brewing a few 2018 super-toxins — recalled romaine lettuce crawling with E. coli, Donald Trump's intestines (just the intestines — no harm will come to him, we're told) — Mac cast a cathartic spell to make things a little lighter for all those who find caroling, eggnog and enforced family visits destabilizing.
Christmas, Mac explained, is a cover version of pagan holidays going back to prehistory. Taking the long view can be useful when so many of us are fretting over how to finance those gift lists that have made this the most materialistic time of the year. The show, a present from the island of misfit toys, reminded us that there's more to the holidays than the rampant acquisitiveness that, as Mac kept saying, only adds more layers to the landfill.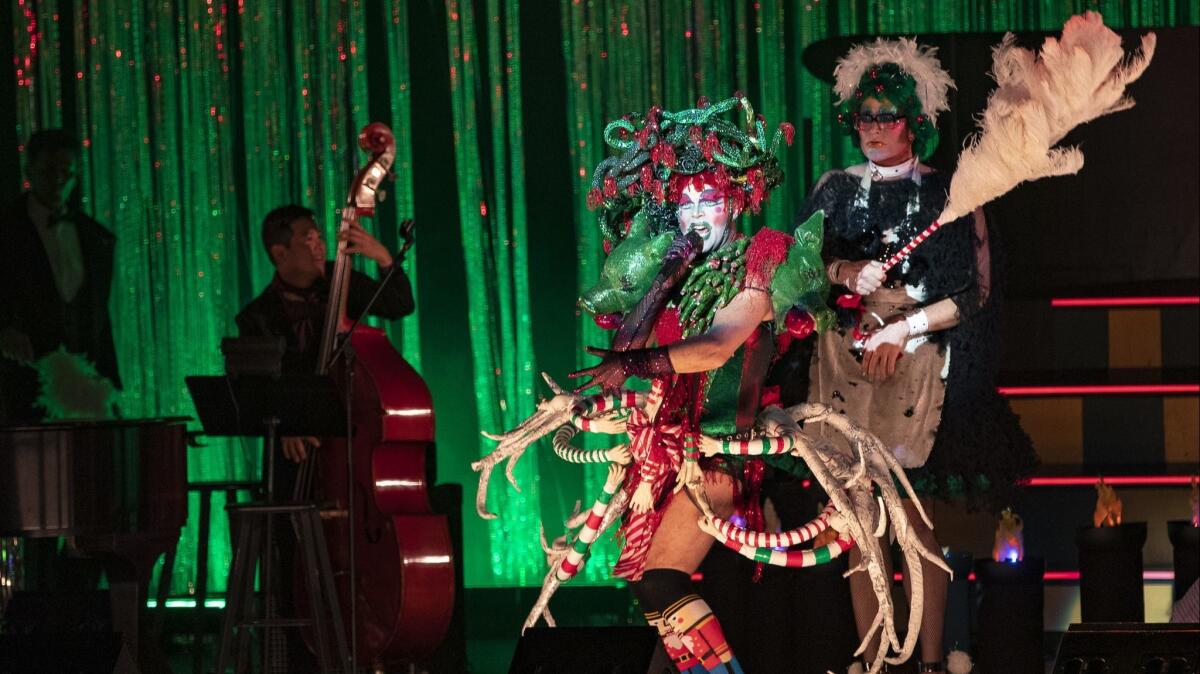 As in "A 24-Decade History of Popular Music," the marathon extravaganza Mac performed in March at the Theatre at Ace Hotel, the patter in "Holiday Sauce" isn't garnish but the main theatrical dish. For Mac, cabaret is a classroom: Enlightenment is as much the goal as entertainment.
To those who complain that this gender-blurring dandy is only preaching to the choir, well that's fine and dandy with Mac. Even choirs need morale boosting. But it's the never-ending job of consciousness-raising that sets Mac in theatrical motion.
To that end, there were zingy riffs on politics (Trump jokes abounded) and an enactment of intimacy rules from the Sexual Consent Santa Claus (Glenna Marla). Community-building was the order of business when audience members who knew the words to the Pogues' "Fairytale of New York" were invited onto the stage for spirits and a few choruses of a song Mac said never fails to rouse British pub-dwellers.
The pedagogy, conducted with fey insouciance, is part of a standard queer curriculum that seeks to examine the world from a nonbinary perspective. A cross-dressing deconstructionist, Mac reinterpreted holiday songs for those who have felt excluded from heteronormative tradition.
"O Holy Night" received a revisionist reading, with loaded words such as "Savior," "sin" and "divine" made friendlier for the less-pious modern caroler. New definitions were offered with accompanying jazz hands — and yes, the audience was instructed to stand and deliver this holiday classic after it had been transfused with new meaning.
By defamiliarizing the lyrics, Mac refamiliarized us with the original sentiment of the song — which was something of a Christmas miracle. Judy managed the same with secular numbers, including the Rolling Stones hit "You Can't Always Get What You Want," which was presented in the show's anti-capitalism section that included William Roy's "Bargain Day" and an entrancing version of Frank Ocean's "Super Rich Kids."
The patter in 'Holiday Sauce' isn't garnish but the main theatrical dish. For Mac, cabaret is a classroom.
An Elder Choir (an assortment of singers in tacky holiday sweaters) supported Mac's discovery of what had been latent in the music all along. But one of the most spellingbinding moments of the show was when Mac, plucking alone at his ukulele during the number "Christmas With Grandma," narrated the brutal family history that made the holidays the opposite of all those heartwarming, fireplace-roaring yuletide specials.
A costume break allowed Tigger! Ferguson a moment to shine in an artful striptease routine that started from inside a gift box. Mac returned to the stage hanging by a wire in the guise of what I assumed was a chandelier. But on closer inspection it seemed that judy was dolled up as a fantasy mobile — or at least something you might hang over the crib of a drag queen. (The show paid tender homage to Mac's drag mother, Flawless Sabrina, who died last year.)
The vibrancy of "Holiday Sauce" was a credit to the madcap genius of Mac's inexhaustibly brilliant costume and set designer, Machine Dazzle, who made an unforgettable entrance as a Christmas tree and reeled off a monologue on his pine cone beginnings with wacky grace.
The orchestra, under the music direction of pianist Matthew Dean Marsh, added a cohering elegance to this delightful grab-bag of a show. Mac might be considered a heathen freak in certain quarters, but "Holiday Sauce" was imbued with such freewheeling love and generosity that it tapped into the true spirit of the season.
ALSO:
I survived Taylor Mac: a 246-song attack on the heteronormative narrative
L.A. Phil violinist is leaving the orchestra and taking his song to the streets
Best theater 2018: Times critic Charles McNulty's picks
Follow me @charlesmcnulty
Get our L.A. Goes Out newsletter, with the week's best events, to help you explore and experience our city.
You may occasionally receive promotional content from the Los Angeles Times.