Review: Luis Valdez's 'Valley of the Heart' shares an immigrant story from California's past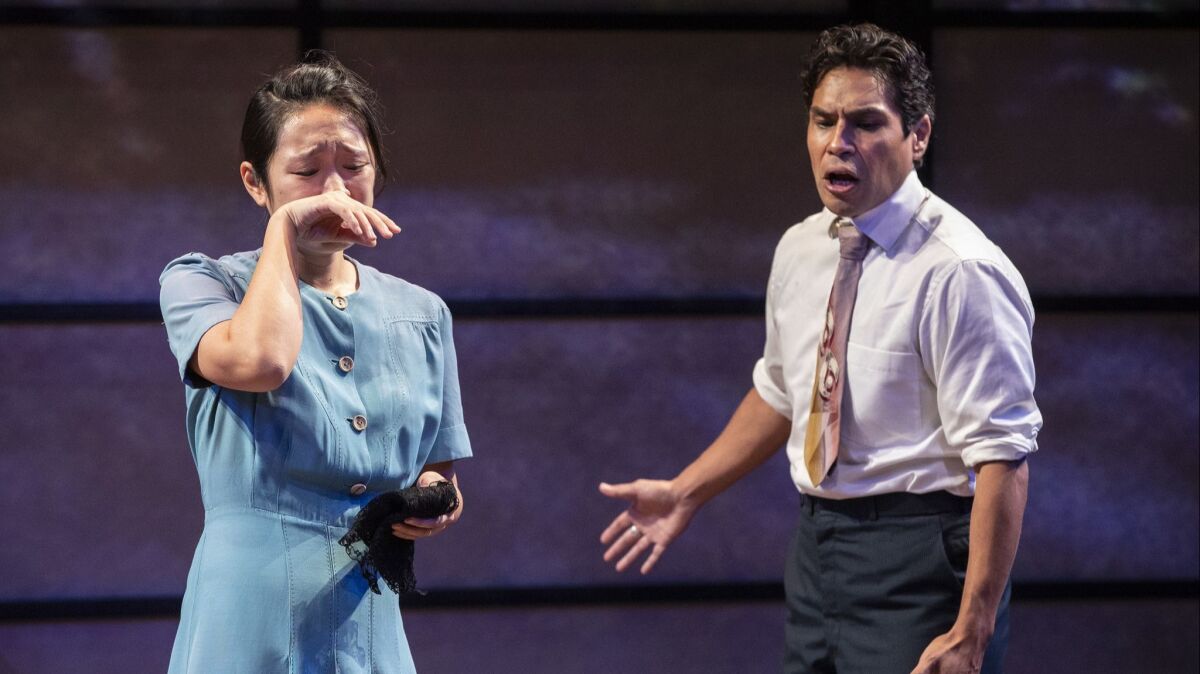 Theater Critic
In Luis Valdez's "Valley of the Heart," two immigrant families — one of Mexican heritage, the other of Japanese — are living side by side on a Northern California farm at the start of World War II. Their lives become entwined not just through marriage but through the plight of new Americans forced to overcome painful obstacles and setbacks in their adopted country.
Valdez, author of "Zoot Suit," a landmark drama that helped launch the Chicano theater movement, is back at the Mark Taper Forum to tackle another chapter of immigrant history in California. The story of Japanese American internment is at the heart of "Valley of the Heart," which opened Wednesday in a production directed by Valdez with his customary verve and wide political embrace.
The play resembles at times a graphic novel brought to the stage. The characters and the dialogue have all the realism of a historical cartoon. But what is lost in subtlety of detail is partly gained in breadth of perspective.
Valdez tells an epic tale about immigrant travails that speaks directly to today's controversies without having to name them. When he wants to point out a contemporary irony, his habit is to crack a joke. There's little need to stand on a soapbox and hector audiences about the play's relevance. For as much as the cultures and languages of newcomers may change, the struggle to become part of the American patchwork remains the same.
Love binds the story. Benjamin Montaño (a charismatic Lakin Valdez) is the son of Cayetano (Daniel Valdez), a sharecropper on the farm owned by Ichiro Yamaguchi (Randall Nakano), father of the lovely, independent-minded Thelma (Melanie Arii Mah).
Ben and Thelma can't stop noticing each other as they go about their business on the farm. Ichiro and his wife, Hana (Joy Osmanski), would like to see Thelma marry Calvin Sakamoto (Scott Keiji Takeda), a college friend of their son, Yoshi (Justin Chien). But attraction follows its own laws, and it's not long before frisky Ben and Thelma have no choice but to get married.
As forbidden love develops, history comes barreling in. When Paula (Rose Portillo), Ben's mother, rushes in to tell her family about the radio report she's just heard about an attack on Pearl Harbor, no one suspects just how much life on the farm is about to change.
Thelma and her family are forced by the government to relocate to a series of horrible internment camps. Ben and his family, which includes his brother, Tito (Moises Castro) and his sister, Maruca (Christy Sandoval), take over the farm and the Yamaguchi house.
The playwright doesn't probe all that deeply into the resentments between the families beyond the issue of interracial marriage. But he does dramatize the disparate effects of the war on these different communities — opportunity for one, hell for another. Tragedy, however, has a way of uniting folks, and there's no shortage of devastating news during this period when freedom is under fire at home and abroad.
"Valley of the Heart" sometimes seems to be shaped along the lines of a soap opera. It's not just that there's so much momentous action. Valdez adopts an "and then this happened" approach to the storytelling. The plot swells like an old-fashioned novel, and with so much material the broadly drawn characters can get lost in the shuffle.
The staging, however, moves with a lyrical fluidity. In many ways, Valdez's direction is more theatrically resourceful, not to say daringly imaginative, than his playwriting. The use of stage assistants draped from head to toe in black lends the proceedings a Kabuki touch. The mix of aesthetics might seem ill-considered, but Valdez manages a melting pot style that is consummately American.
John Iacovelli's set is a masterpiece of its kind. It vividly makes space for two households while accommodating Valdez's quicksilver sensibility. Japanese screens serve as a backdrop for David Murakami's poetic projections, which situate us geographically as well as historically. The production design (enhanced by Pablo Santiago's lighting) gracefully encapsulates the sweep of Valdez's dramatic vision.
That vision isn't about the psychology of the characters or even the quality of the acting, which is variable. Valdez's focus is on the American story, which is to say on the story of immigrants. Politics informs the narrative path, but the overriding agenda is one of compassion and common humanity. The play is an oasis from cable news.
Bridging differences has always been difficult and hobbled by injustice, as the experiences of the Montaños and Yamaguchis remind us. But at a time when refugees are being scapegoated for partisan political ends, "Valley of the Heart" celebrates diversity as the true ingredient of America's enduring greatness.
♦ ♦ ♦ ♦ ♦ ♦ ♦ ♦ ♦ ♦ ♦
'Valley of the Heart'
Where: Mark Taper Forum, 135 N. Grand Ave. L.A.
When: 8 p.m. Tuesdays-Fridays, 2:30 and 8 p.m. Saturdays, 1 and 6:30 p.m. Sundays; ends Dec. 9 (call for exceptions)
Tickets: $30-$99 (subject to change)
Info: (213) 628-2772 or centertheatregroup.org
Running time: 2 hours, 35 minutes (including intermission)
Follow me @charlesmcnulty
---
Get our L.A. Goes Out newsletter, with the week's best events, to help you explore and experience our city.
You may occasionally receive promotional content from the Los Angeles Times.