ESPN Deportes to carry Spanish-language telecast of Super Bowl 50
CBS is not the only TV network showing Super Bowl 50 on Sunday.
ESPN Deportes, part of Walt Disney Co.'s ESPN unit, will provide U.S. viewers with a Spanish-language telecast of the game. Although it will utilize the same video feed from the CBS Sports production, ESPN Deportes will have its "Monday Night Football" commentator team of Alvaro Martin, Raul Allegre and sideline reporter John Sutcliffe calling the game, and provide it's own on-screen graphics.
See more of Entertainment's top stories on Facebook >>
The network — which annually shows 2,500 hours a year of live sports programming and a Spanish-language version of ESPN's signature program, SportsCenter — will also sell its own commercials for the game. Ford, BMW, Samsung, McDonald's and Coors are among the 29 brands to sign on. ESPN said advertising time on the game between the Denver Broncos and the Carolina Panthers has sold well even though the telecast was just announced in late December.
Watch the 2016 Super Bowl ads
Christopher Walken and sock puppets star in Kia's Super Bowl ad
Video: 'The Bud Light Party': Super Bowl commercial
Video: Moving Day #MovinOnUp | Apartments.com | 2016 Big Game Commercial
Video: "Commander" - Audi R8 commercial
Video: "Independence Day 2: Resurgence" Super Bowl spot
Drake stars in T-Mobile's 'Restricted Bling' Super Bowl ad
Video: 'First Date' - Hyundai Super Bowl commercial
Honda Ridgeline Super Bowl ad gives you 'Somebody to Love'
Video: Snickers Super Bowl commercial 2016: Willem Dafoe and 'Marilyn'
Video: 'Unfiltered Talk' with T.J Miller - Shock Top commercial
Although ESPN carries the NFL's "Monday Night Football," it has never had the U.S. rights to the Super Bowl. It's getting the chance this year because CBS does not have a Spanish-language network and brokered a deal to give ESPN the Spanish-language telecast rights. (Fox Deportes carried Super Bowl XVII in 2014, while NBC put it on its NBC Universo channel last year.)
ESPN is making the most of the opportunity by promoting the game across all of its English-speaking channels with the hope of topping the 1.9 million viewers who watched the Spanish language telecast last year. ESPN Deportes reaches 6.1 million cable and satellite connected homes classified as Hispanic by Nielsen.
Freddy Rolon, vice president of programming & business initiatives at ESPN Deportes, believes that a dedicated Spanish-language version of the game's telecast — supported by coverage on the channel throughout the week — will attract Latino fans who want to be immersed in the game, an experience they don't get with the call heard on the second audio program [SAP] that accompanies NFL telecasts.
For people who aren't football fans but who watch the game anyway, the halftime spectacle is more than half the fun. The 2016 performance featured Coldplay, Bruno Mars and Beyonce. Here's a look at how some previous Super Bowl performances came off.
(Clockwise from top left: Julio Cortez / Associated Press, Chris O'Meara / Associated Press; Mike Powell / Allsport; Christopher Polk / Getty Images; Mark J. Terrill / Associated Press)
Beyonce, Coldplay singer Chris Martin, center, and Bruno Mars perform during halftime of Super Bowl 50.
(Julio Cortez / Associated Press)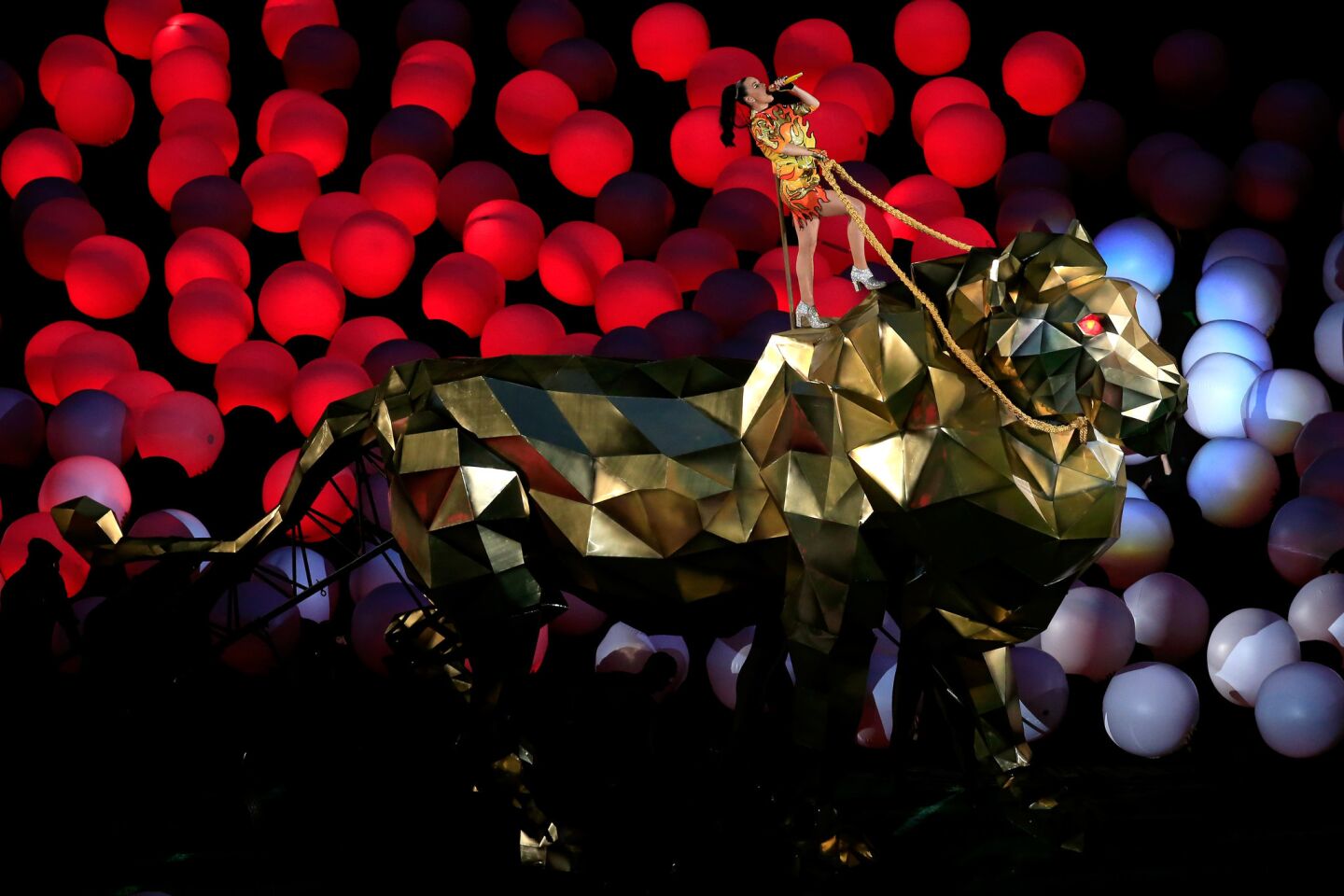 Katy Perry rode in on a golden tiger and performed fiercely throughout her Super Bowl turn with hits like "Roar," "Teenage Dream" and "Firework." Missy Elliott and Lenny Kravitz added even more star power.
(Jamie Squire / Getty Images)
Mars began by hammering away solo behind a drum kit, as if to tell viewers that they were in the hands of a real musician. And so they were. Before long, Mars' touring band, a great funk-soul combo, had joined him. The Chili Peppers didn't add much to the proceedings, but they didn't need to.
(Paul Buck / EPA)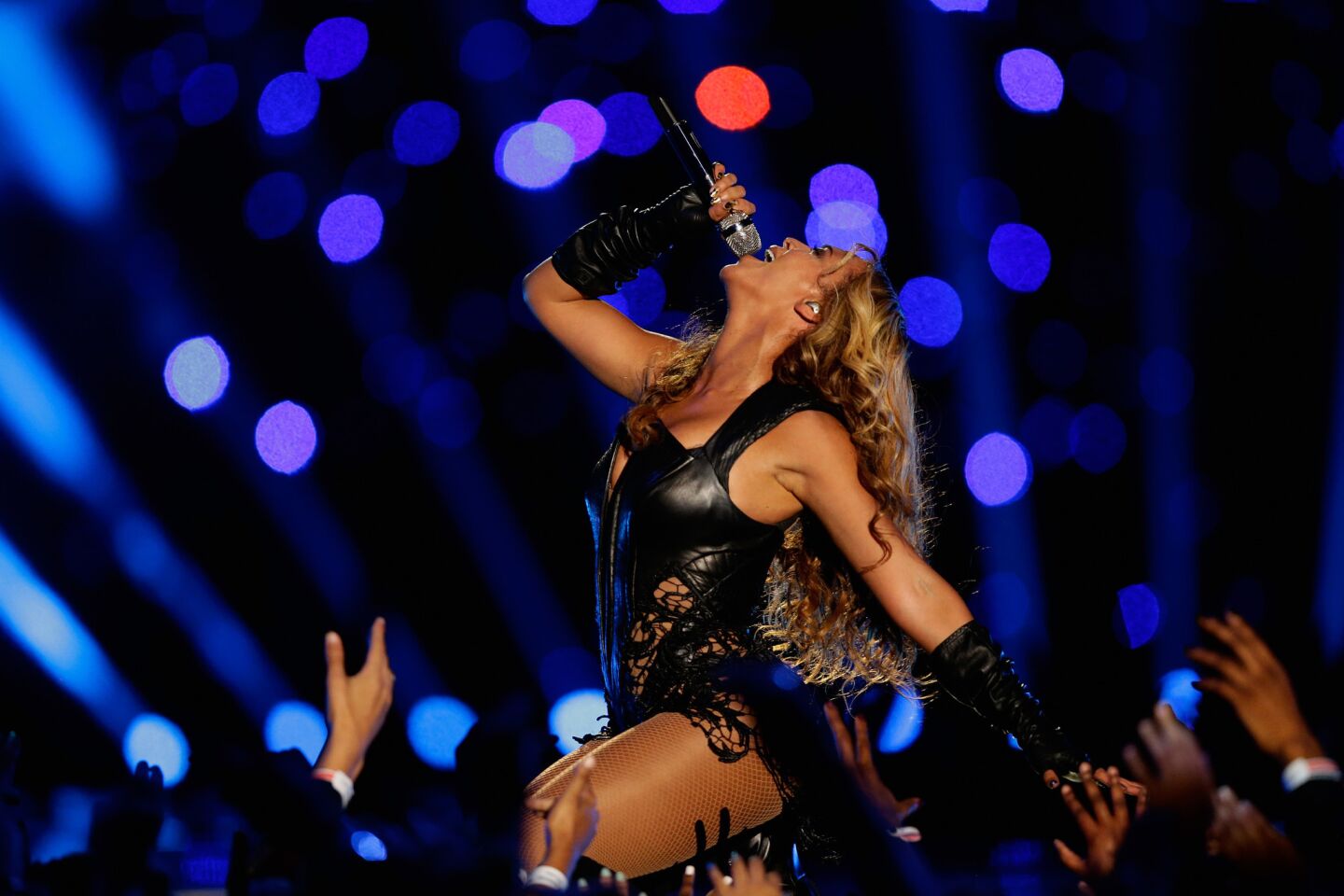 All eyes were on Beyonce as she powered through hits, using enormous video screens and fiery stage presence to take up the stage solo. Later, Kelly Rowland and Michelle Williams rose up from under the stage to join Queen B in a highly anticipated Destiny's Child reunion watched by 108 million.
(Ezra Shaw / Getty Images)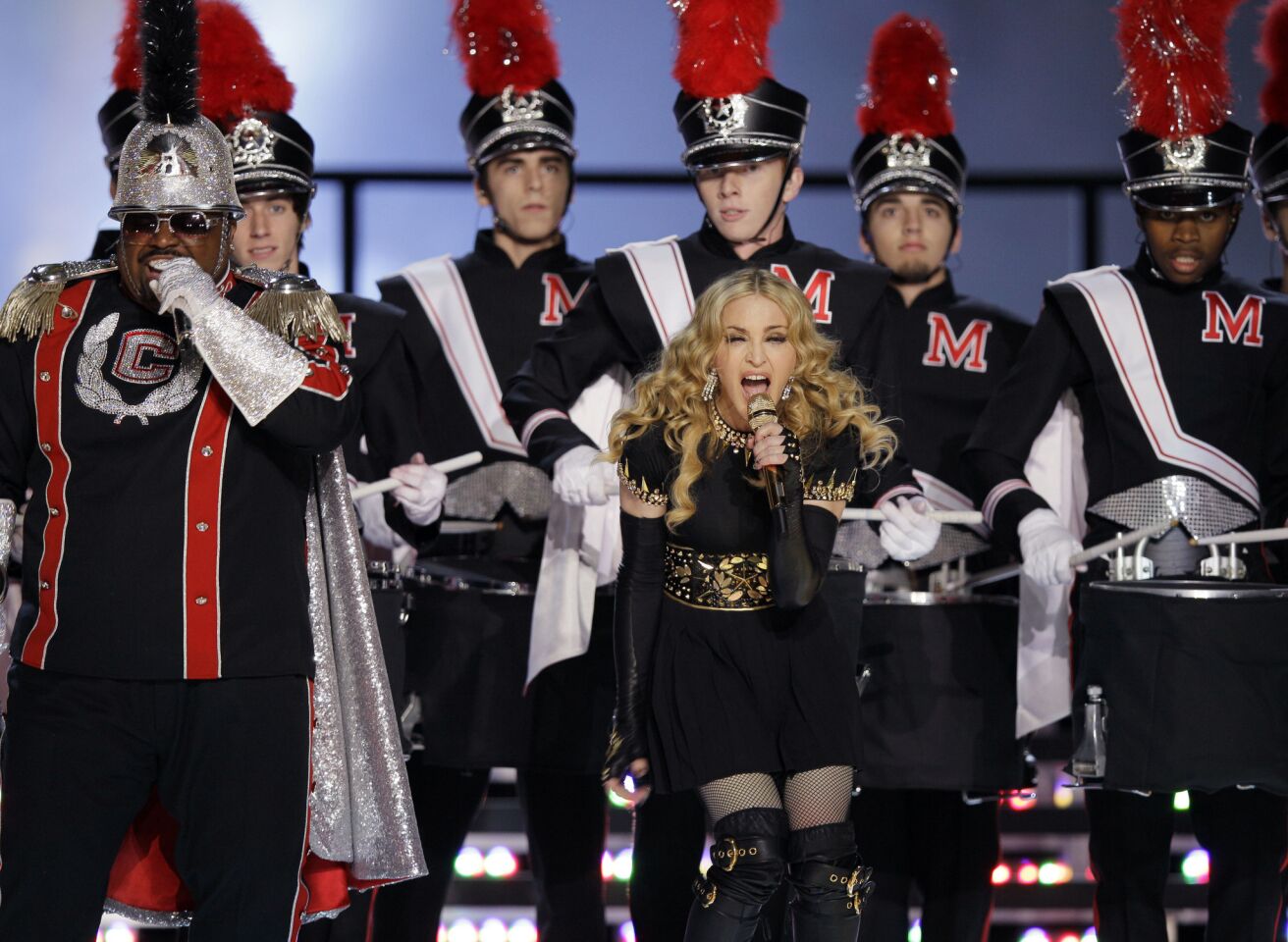 In less than 10 minutes, America watched marching warriors pulling a massive chariot; faux trumpeters announcing the arrival of Madonna; LMFAO, Nicki Minaj, M.I.A. and Cee Lo Green make cameos; several drum lines. Touchdown! Madonna kept 114 million viewers glued to their seats.
(Mark Humphrey / Associated Press)
The Black Eyed Peas largely stayed still during the performance, letting the backup dancers in "Tron"-like get-ups provide the eye candy, yet they still infused their hits with energy. The result was a success -- their tuneful chants seemed built for the stadium.
(Christopher Polk / Getty Images)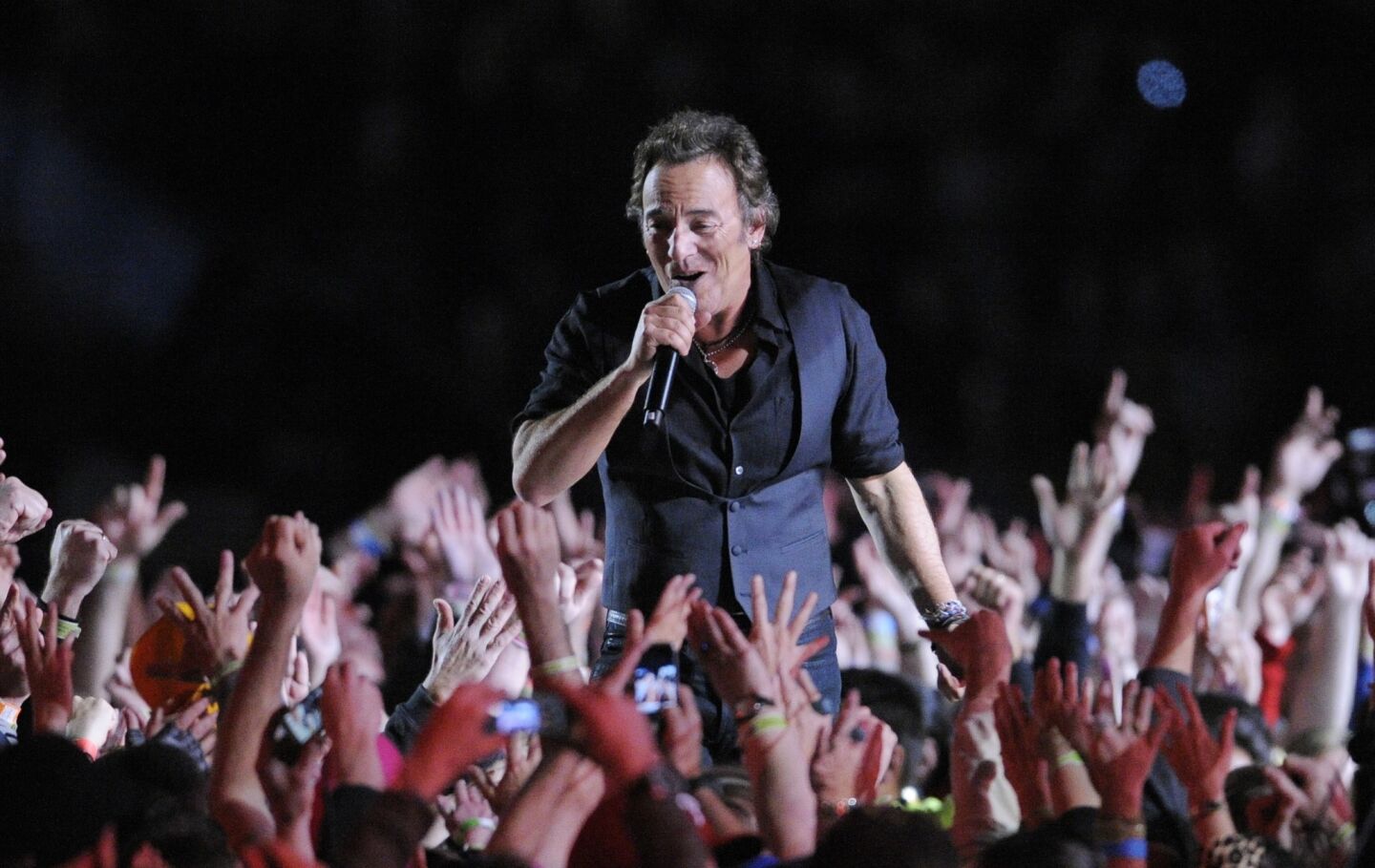 "Step back from the guacamole dip," Bruce Springsteen yelled through gritted teeth. "Put! The! Chicken! Fingers! Doooowwwwwwwn!" His show got the crowd riled up, but didn't quite score, as Springsteen hammed it up a bit too much for Super Bowl cameras.
(Mark J. Terrill / Associated Press)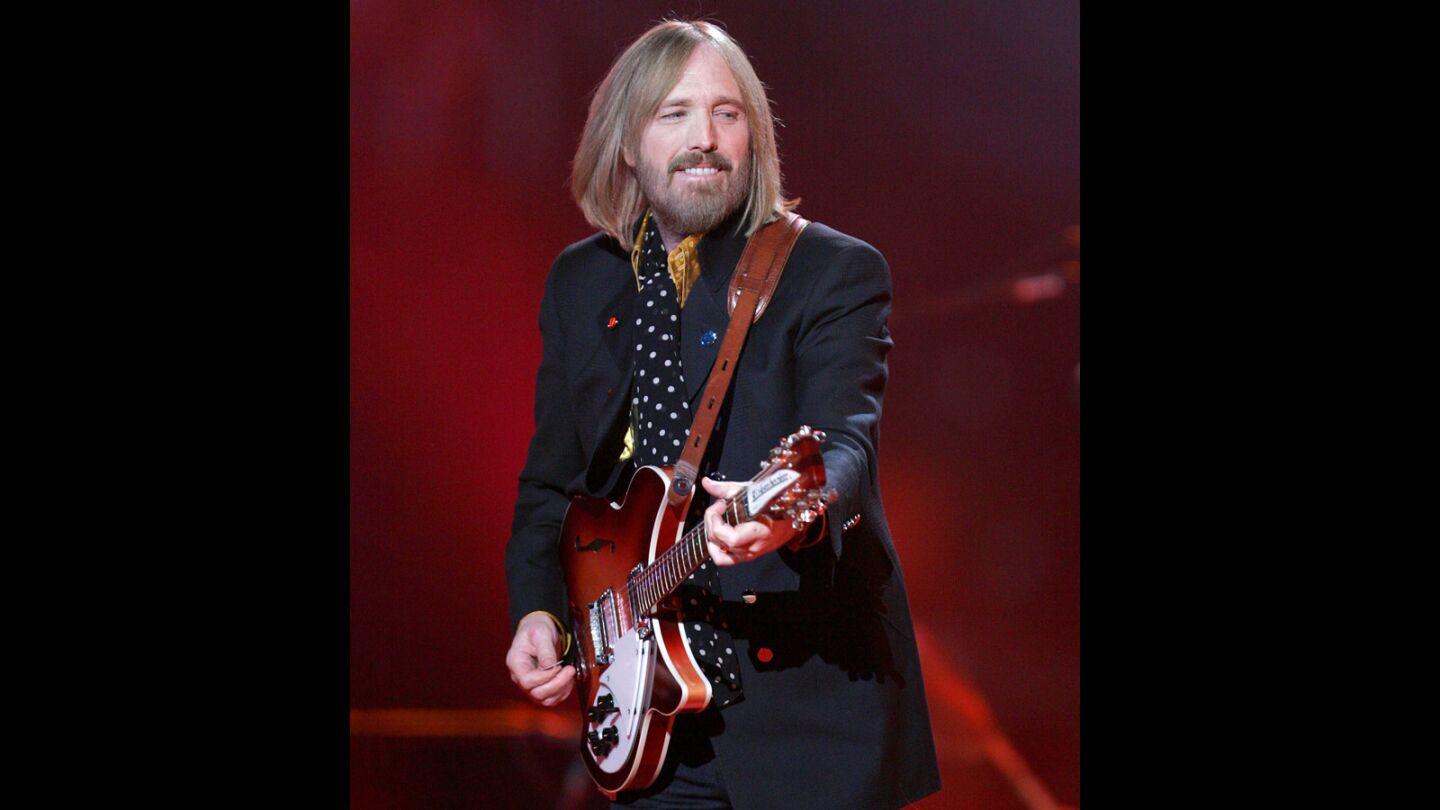 Nearly 100 million witnessed a slick 12-minute halftime performance by one of America's most unheralded superstars. Tom Petty & the Heartbreakers showed up in suits, and powered through easy stadium singalongs that got the job done, even if it wasn't first on the highlight reels.
(Streeter Lecka / Getty Images)
The Stones delivered a rousing rendition of three classics "Start Me Up," "Rough Justice," and "(I Can't Get No) Satisfaction." Yet, no matter how hard Mick Jagger twisted his hips to rally the crowd, the most inspired aspect of the show was the Stones' iconic "tongue and lip" stage design.
(Rob Tringali / Getty Images)
Two of the world's biggest pop stars brought some edge to the football party. But does anyone remember much else other than Timberlake ripping off part of Jackson's clothing? The phrases "wardrobe malfunction" and "nipplegate" were born, accompanied by a major FCC campaign and large fines.
(Andy Lyons / Getty Images)
Twain's performance proved hollow when she unconvincingly lip-synched her way through "Man! I Feel Like a Woman!" Gwen Stefani saved the show by doing what she does best, super-charging a SoCal crowd in a stadium setting through sheer force of ska-sonality, finishing with a duet with Sting.
(Doug Pensinger / Getty Images)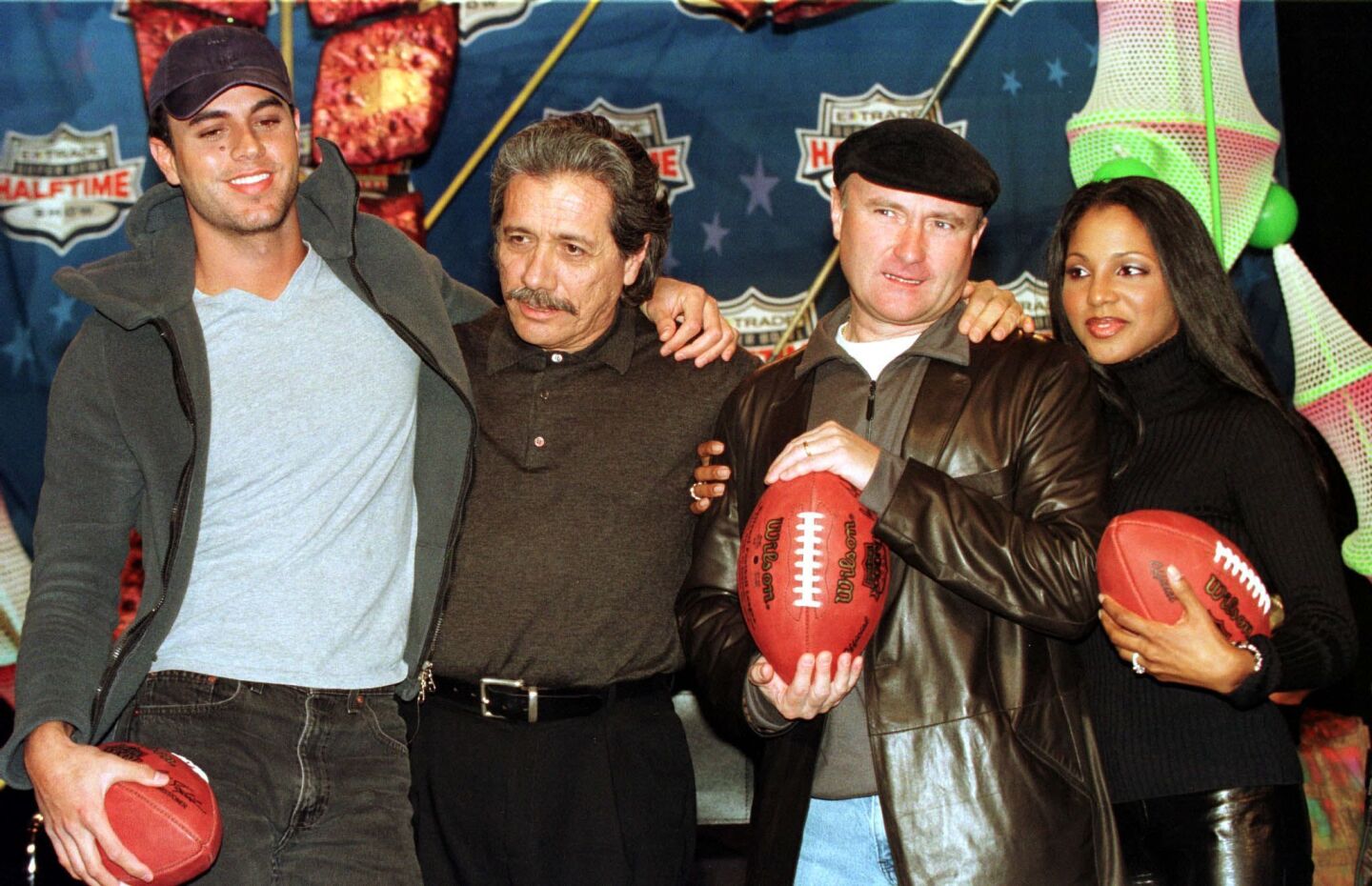 The show started with Christina Aguilera dueting with Enrique Iglesias. Edward James Olmos provided the narration between internationally flavored sets. Phil Collins and Gloria Estefan also took the stage. Though Aguilera did well, the show inspired more of a "what" than a "wow."
(AFP/Getty Images)
Michael Jackson redefined the halftime show, being the first big star to perform (previous artists included Up With People and Disney characters). The NFL took note after Jackson's ratings surged higher than the football action before it, lining their roster with other A-listers.
(Rusty Kennedy / Associated Press)
"I can tell you I have family members who watch Spanish language television and they don't know where that SAP button is to begin with," he said. "It's not a good solution."
Rolon said a dedicated Spanish-language broadcast will expand the Super Bowl audience instead of cannibalizing the audience of the CBS telecast, which is expected to top 110 million viewers based on the ratings of recent years.
Jose Villa, president of Los Angeles-based ad agency Sensis, said a Spanish-language Super Bowl production can serve as a gateway to American football for immigrants who may not be familiar with the game but want to be a part of the festive atmosphere on Sunday.
"It's a smart move," Villa said. "The Super Bowl is almost like a holiday in this country and being able to participate in it is a perfect alignment in a lot of Hispanic values. Our research shows that many households in the Hispanic market have larger families that tend to watch TV together. It's a perfect fit."
But Villa said it's challenging for any Spanish-language broadcaster to completely replicate the Super Bowl experience without the big-budget commercials that are a part of the spectacle.
"In the Hispanic market you don't have that same level of investment even for the largest brands," said Villa, adding that advertisers who target Latino consumers tend to use the World Cup soccer tournament to unveil their flashiest ads.
ALSO:

The 'shut up and watch' standard: Super Bowl advertisers are judged as much as the players
Super Bowl 2016 commercial challenge: Amy Schumer vs. Helen Mirren, Doritos vs. Mountain Dew
---
From the Oscars to the Emmys.
Get the Envelope newsletter for exclusive awards season coverage, behind-the-scenes stories from the Envelope podcast and columnist Glenn Whipp's must-read analysis.
You may occasionally receive promotional content from the Los Angeles Times.