'Straight Outta Compton' tops box office for second weekend, crosses $100 million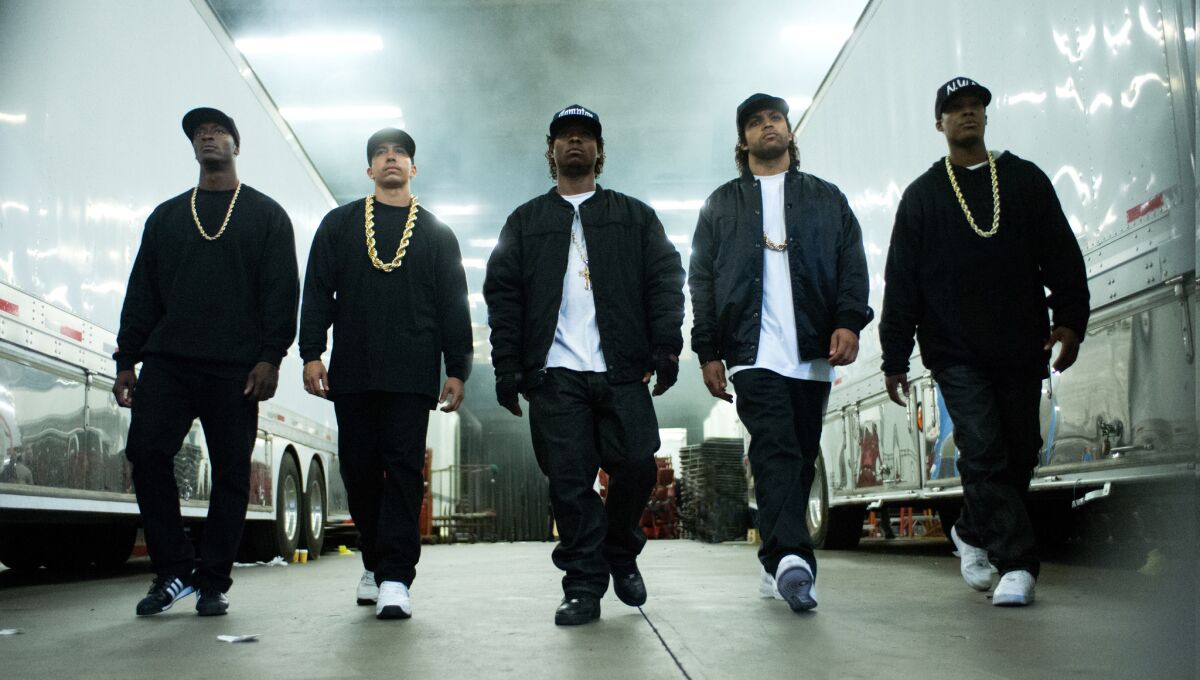 "Straight Outta Compton" topped the box office for the second weekend in a row and crossed $100 million domestically after just nine days in release.
Though the film dropped 56% from its opening weekend, it added an estimated nearly $27 million, bringing its haul in the U.S. and Canada to $111.5 million. If estimates hold, "Straight Outta Compton" also will help to give Universal Pictures, co-producer and distributor of the film, its 13th weekend atop the domestic box office, following the success of "Jurassic World" and "Minions."
Director F. Gary Gray's "Straight Outta Compton" follows iconic rap group N.W.A from its scrappy beginnings in the mid-'80s to its commercial and creative success followed by the death of member Eazy-E. N.W.A members Dr. Dre, whose real name is Andre Young, and Ice Cube, a.k.a. O'Shea Jackson, served as co-producers.
SIGN UP for the free Indie Focus movies newsletter >>
More modest debuts of three new films did little to boost the overall box office. Ticket sales this weekend were expected to be down about 5% to 6% from the same weekend last year, according to film-tracking firm Rentrak.
"Mission: Impossible — Rogue Nation" took the No. 2 spot, adding $11.7 million in its fourth weekend. The Paramount Pictures film starring Tom Cruise has made $157.8 million domestically to date.
"It's no surprise that strong holdovers would rule again because it's a typically slow time of year," said Phil Contrino, vice president and chief analyst at BoxOffice.com. "I think a lot of studios are hesitant to open strong new movies at this time of year. It's pretty standard. Same thing happened last year, when 'Guardians of the Galaxy' dominated at this time too."
Of the new films out this weekend, "Sinister 2" drew the most moviegoers. The R-rated horror flick fell slightly short of expectations, earning $10.6 million to nab the No. 3 spot.
Gramercy Pictures, Focus Features' genre label, released the micro-budget Blumhouse Productions film. The sequel to 2012 "Sinister" follows a mother and her twin sons after they find themselves in a house marked for death as an evil spirit.
About 51% of moviegoers were female, and 57% were 25 or younger. Their average grade was a B-minus, according to audience polling firm CinemaScore.
By comparison, "Sinister," which was released by Summit Entertainment in 2012, earned $18 million domestically at the box office its first weekend. The film went on to gross more than $48 million in the U.S. and Canada.
Twentieth Century Fox's "Hitman: Agent 47" debuted in fourth with $8.2 million, falling short of the $10 million to $16 million tracking estimates.
"I think all the new films being R-rated cannibalized each other," said Chris Aronson, Fox's president of domestic distribution. "It was unfortunate."
Still, Aronson said there is more life left for the film.
"The good news is that our target audiences likes it," he said. "We have the dog days of summer to go. We will be fine at the end of the day."
The action-thriller, directed by Aleksander Bach, is based on a popular video game series. It stars "Homeland" actor Rupert Friend as genetically enhanced assassin Agent 47. Audiences, who gave it a B grade on CinemaScore, skewed male (61%) and older than 25 (60%).
Warner Bros.' "The Man From U.N.C.L.E." rounded out the top five in its second weekend. It made a $7.4 million Friday through Sunday, raising its total $26.6 million. The action-adventure film, based on the 1960s TV series, stars Henry Cavill, Armie Hammer and Alicia Vikander.
Lionsgate's "American Ultra," the third new offering this weekend, opened at No. 6 with $5.5 million. Audiences for the film, which stars Jesse Eisenberg and Kristen Stewart, were skewed male (56%) and older (65% older than 25). The film notched a B-minus grade on CinemaScore.
In limited release, Sony Pictures Classics debuted "Grandma" to $120,856 in just four theaters, a per-location average of $30,214, the highest of the week.
Fox Searchlight also expanded its art-house film "Mistress America" to 32 theaters in eight markets, including Phoenix, San Francisco, Boston and Chicago. In its second weekend, the Noah Baumbach-directed film, co-written by Greta Gerwig, added $237,000. Its total domestic haul is about $378,000 after 10 days in limited release.
Despite the lackluster weekend, the 2015 box office is up about 6% year to date, according to Rentrak. The total haul for 2015 is about $7.5 billion, up from the $7 billion from the same time last year. Analysts credit the robust year at the box office to a diverse slate filled with blockbusters, surprise hits and strong holdovers that continue to collect revenue even after falling out of the top 10.
For more news on the entertainment industry, follow me @saba_h
MORE:
Dr. Dre releases statement apologizing to 'Women I've hurt'
Dr. Dre's assault on Dee Barnes was once included in 'Straight Outta Compton'
Dee Barnes says she and women are the 'casualties' in 'Straight Outta Compton'
---
Get our L.A. Goes Out newsletter, with the week's best events, to help you explore and experience our city.
You may occasionally receive promotional content from the Los Angeles Times.