'San Andreas' expected to top box office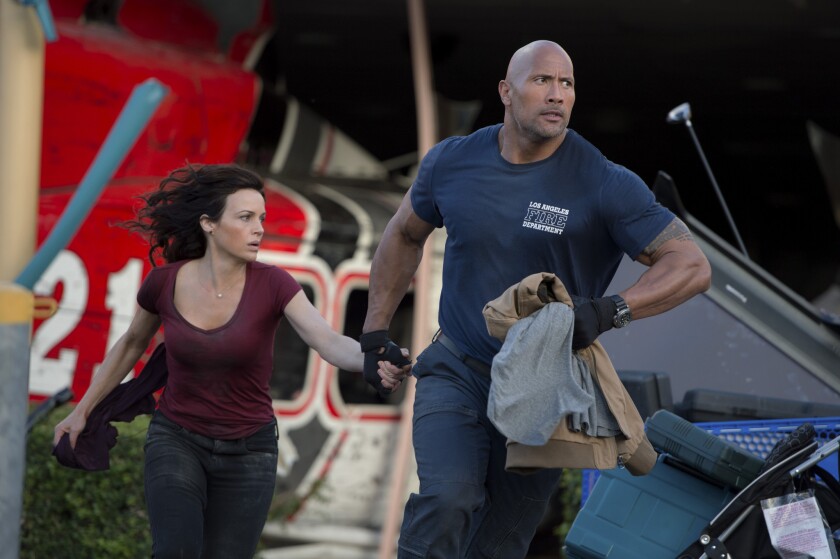 After a slower Memorial Day weekend at the box office, Warner Bros.' "San Andreas" is expected to shake things up.
The film, co-produced by Village Roadshow Pictures, will likely open with an estimated $40 million, according to people familiar with pre-release audience surveys. Meanwhile, newcomer "Aloha," the latest from director Cameron Crowe, is looking at a softer launch of about $12 million to $15 million.
The Brad Peyton-directed "San Andreas," which cost a whopping $110 million to make, stars Dwayne "The Rock" Johnson as a helicopter pilot who is searching for his daughter during a massive earthquake.
Disaster movies, which tend to have lofty budgets, have varying success rates at the box office. For example, the 2004 film "The Day After Tomorrow," which stars Jake Gyllenhaal, opened with $68.7 million and went on to pull in a robust $186.7 million in the U.S. and Canada. However, more recently, tornado thriller "Into the Storm" debuted with $17.3 million in August 2014. Its total domestic haul was a mere $47.6 million.
Johnson, who averages 8 million followers on Twitter, is a big draw for moviegoers. Earlier this week, hundreds of people lined up on Hollywood Boulevard to see the star at the film's premiere, where he rolled up in a fire truck.
The former wrestler will likely also help drive fans of his latest film "Furious 7" to theaters. To date, the Universal Pictures action film has made about $348 million in the U.S. and Canada and $1.5 billion worldwide.
Overseas, "San Andreas" will open in a total of 60 markets this weekend, including France, the United Kingdom, Mexico and Australia.
"Aloha," which stars Bradley Cooper, Emma Stone and Rachel McAdams, will likely draw in female audiences looking for counterprogramming.
Released by Sony Pictures, the romantic comedy follows a defense contractor named Brian (Cooper) after he falls in love with an Air Force pilot (Stone). The Hawaii-set film, which cost $37 million to make, also stars John Krasinksi, Alec Baldwin, Danny McBride and Bill Murray.
Sony partnered with 20th Century Fox, New Regency, LStar Capital and RatPac Entertainment for the film.
Though it has a star-studded cast, reviews have been lukewarm. Indiewire's movie critic called it "shockingly bad" and a Variety movie critic said it is "unbalanced, unwieldy, and at times nearly unintelligible." It garnered a paltry 10% positive rating on Rotten Tomatoes.
By comparison, Crowe's last film, "We Bought a Zoo," which stars Matt Damon, debuted with about $9.4 million in 2011. It went on to make $75.6 million domestically.
"Tomorrowland," which opened with a less-than-expected $41.7 million over the four-day holiday, is likely going to fall to No. 2.
Directed by Brad Bird at a cost of $170 million, the futuristic fantasy follows a teenager (up-and-coming actress Britt Robertson) as she embarks on a journey with former boy-genius Frank (George Clooney) to unearth the secrets of a place known as Tomorrowland.
The movie scored a B from audience polling service CinemaScore, but reviews were mixed, with critics giving "Tomorrowland" a lukewarm 50% positive rating on Rotten Tomatoes.
Holdovers "Pitch Perfect 2" and "Mad Max" will also likely remain in the top five.
For more news on the entertainment industry, follow me @saba_h
---
From the Oscars to the Emmys.
Get the Envelope newsletter for exclusive awards season coverage, behind-the-scenes stories from the Envelope podcast and columnist Glenn Whipp's must-read analysis.
You may occasionally receive promotional content from the Los Angeles Times.