Paramount stops releasing major movies on film
This college basketball movie starring Josh Lucas is sort of an outlier. It won its opening weekend with a modest $13.6 million against weak competition. Opened: January 2006. Domestic gross: $42.6 million.
(Frank Connor / Disney Enterprises)
Michell Pfeiffer, right, plays a Marine-turned-inner-city-school-teacher. Opened: August 1995. Domestic gross: $84.9 million.
(Linda R. Chen )
Bruckheimer's first No. 1 film for Disney, a taut military thriller starring Gene Hackman, left, and Denzel Washington, second from left, was probably also one of the producer's best-reviewed movies. Opened: May 1995. Domestic gross: $91.4 million.
(Richard Foreman / Hollywood Pictures)
Nicolas Cage, left, and John Malkovich starred in this action movie directed by Simon West, whose latest movie was "The Expendables 2." Opened: June 1997. Domestic gross: $101 million.
(Frank Masi / Touchstone Pictures)
Nicolas Cage, left, Angelina Jolie and car chases. You get the idea. Opened: July 2000. Domestic gross: $102 million.
(Linda R. Chen / Touchstone Pictures)
Denzel Washington, left, starred as a high school football coach leading a racially integrated team. Opened: September 2000. Domestic gross: $116 million.
(Tracy Bennett / Buena Vista Pictures )
Yes, the 3D animated film about a team of commando guinea pigs opened at No. 1. However, it cost about $150 million to make and is not considered to be among Bruckheimer's biggest hits. Opened: July 2009. Domestic gross: $119 million.
(Disney Enterprises)
Starring Sean Connery, left, and Nicolas Cage, this Alcatraz thriller was probably director Michael Bay's best-reviewed movie ever. Opened: June 1996. Domestic gross: $134 million.
(Frank Masi / Hollywood Pictures)
With this film starring Nicolas Cage and directed by Jon Turteltaub, Bruckheimer struck gold again. Opened: November 2004. Domestic gross: $173 million
(Robert Zuckerman / Touchstone Pictures)
Ben Affleck stars in the role of the romantic lead. This quasi-war movie came with a massive marketing campaign and was shelled by critics. Opened: May 2001. Domestic gross: $199 million.
(Andrew Cooper / Touchstone Pictures)
The Michael Bay-directed underdogs-in-space movie not only made half-a-billion dollars around the world, it also got Aerosmith their first No. 1 hit single, "I Don't Want to Miss a Thing." Opened: July 1998. Domestic gross: $202 million.
(Frank Masi)
The mega-grossing sequel saw Nicolas Cage, left, return with generally worse reviews than the original, but a better box office take. Opened: December 2007. Domestic gross: $220 million.
(Robert Zuckerman / Disney Enterprises)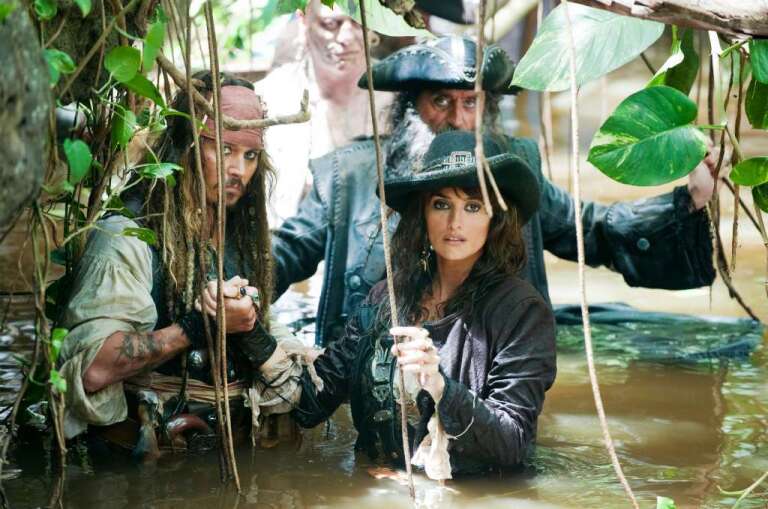 The venerable franchise returned in 3D without Orlando Bloom and Keira Knightley, but it did bring on Penelope Cruz, right, as Jack Sparrow's love interest. It made more than $1 billion worldwide on a budget of $300 million. Opened: May 2011. Domestic gross: $241 million.
(Peter Mountain / Associated Press / Disney)
No curse on this treasure. Johnny Depp's Keith Richards-aping performance helped this Disney park-ride-based film make more than $654 million around the world. Opened: July 2003. Domestic gross: $305 million.
(Elliott Marks / Walt Disney Pictures)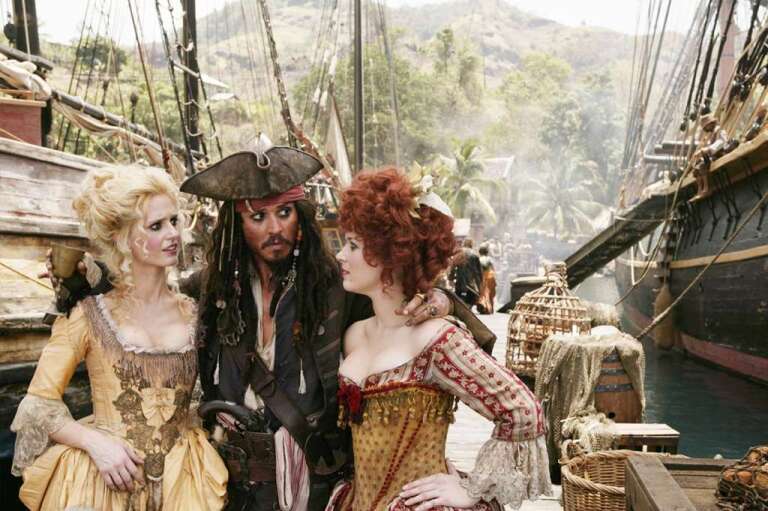 With more characters and plotlines than ever, the third "Pirates" film was a critical shipwreck. Despite that, it grossed almost $1 billion worldwide. Opened: May 2007. Domestic gross: $309 million.
(Buena Vista Pictures)
The second installment in the "Pirates" saga sailed away with an international box office gross of more than $1 billion, though it got less favorable reviews than its predecessor. It was the year's highest grossing movie. Opened: July 2006. Domestic gross: $423 million.
(Peter Mountain / Associated Press / Disney)
Roll credits.
For more than a century, Hollywood has relied on 35-millimeter film to capture its fleeting images and deliver them to the silver screen. Now, in a historic move, Paramount Pictures has become the first big studio to stop releasing its major movies on film in the United States.
The studio's Oscar-nominated film "The Wolf of Wall Street" is the studio's first movie in wide release to be distributed entirely in digital format, according to theater industry executives briefed on the plans who were not authorized to speak publicly.
PHOTOS: Greatest box office flops
Paramount recently notified theater owners that its Will Ferrell comedy "Anchorman 2: The Legend Continues," which opened in December, was the last movie released on 35-mm film, these people said. Previously, only small movies such as documentaries were released solely in digital format.
The decision is likely to encourage other studios to follow suit, accelerating a complete phase-out of film that could come by the end of the year.
"It's of huge significance because Paramount is the first studio to make this policy known," said Jan-Christopher Horak, director of the UCLA Film & Television Archive. "For 120 years, film and 35 mm has been the format of choice for theatrical presentations. Now we're seeing the end of that. I'm not shocked that it's happened, but how quickly it has happened."
Paramount has kept its decision under wraps, at least in Hollywood, and a spokeswoman for the studio did not return calls for comment.
Its reticence reflects the fact that no studio wants to be seen as the first to abandon film, which retains a cachet among purists. Some studios may also be reluctant to give up box-office revenue by bypassing theaters that can show only film.
PHOTOS: Billion-dollar movie club
About 8% of U.S. theater screens have not gone digital and can show movies only in the old-fashioned film format. Internationally, Paramount is still expected to ship film prints to Latin America and other foreign markets where most theaters still show movies on film.
Studios prefer digital distribution because it is much cheaper. Film prints cost as much as $2,000; a digital copy on disc usually costs less than $100. Eventually, these movies could be beamed into cinemas by satellite, saving even more on production and shipping costs.
Digital technology also enables theaters to screen higher-priced 3-D films and makes it easier for them to book and program entertainment.
Other studios were expected to jump on the digital bandwagon first. 20th Century Fox sent a letter to exhibitors in 2011 saying it would stop distributing film "within the next year or two." Disney issued a similar warning to theater operators. And last year, many industry watchers expected Lions Gate to make history with an all-digital November release of "The Hunger Games: Catching Fire."
Paramount's move comes nearly a decade after studios began working with exhibitors to help finance the replacement of film projectors with digital systems.
ON LOCATION: Where the cameras roll
As a result, large chains have moved quickly to embrace digital technology: Ninety-two percent of the 40,045 screens in the U.S. have already converted to digital, according to the National Assn. of Theatre Owners.
The slackening demand for film has been felt across the industry. Last month, Technicolor, the French-owned film processing and post-production company, closed a film lab in Glendale. That lab had replaced a much larger facility at Universal Studios that employed 360 workers until it closed in 2011. Last year, Technicolor closed its Pinewood film lab in Britain.
"The Wolf of Wall Street" would seem an unlikely choice for the industry's first all-digital wide release. The movie was partially shot on film, and its director, Martin Scorsese, is a passionate advocate for film preservation. His last feature film, the 2011 3-D extravaganza "Hugo," was a loving homage to film's early days.
A spokesman for Scorsese said the director was traveling and not available for comment.
PHOTOS: Celebrities by The Times
The march to digital puts further pressure on some small-town community theaters that have been struggling to finance the purchase of $70,000 digital projectors.
Those theaters are at risk of going out of business if they can no longer obtain film prints of movies. More than 1,000 theaters, about half of them independently owned, have not converted to digital. Some are turning to their communities to raise funds for digital equipment.
Others have opted to close because of the high costs.
Jeff Logan, who operates a small chain of theaters in South Dakota, has invested more than $700,000 to equip his three theaters with new digital equipment.
But Logan said that last year, he had to close a nearby drive-in theater that dated back to 1949 because he couldn't afford to install a digital projector there.
"We looked at some of the financing," Logan said. "But there was no way we would have been able to service the debt."
---
From the Oscars to the Emmys.
Get the Envelope newsletter for exclusive awards season coverage, behind-the-scenes stories from the Envelope podcast and columnist Glenn Whipp's must-read analysis.
You may occasionally receive promotional content from the Los Angeles Times.