Rupert Murdoch positions sons Lachlan, James for succession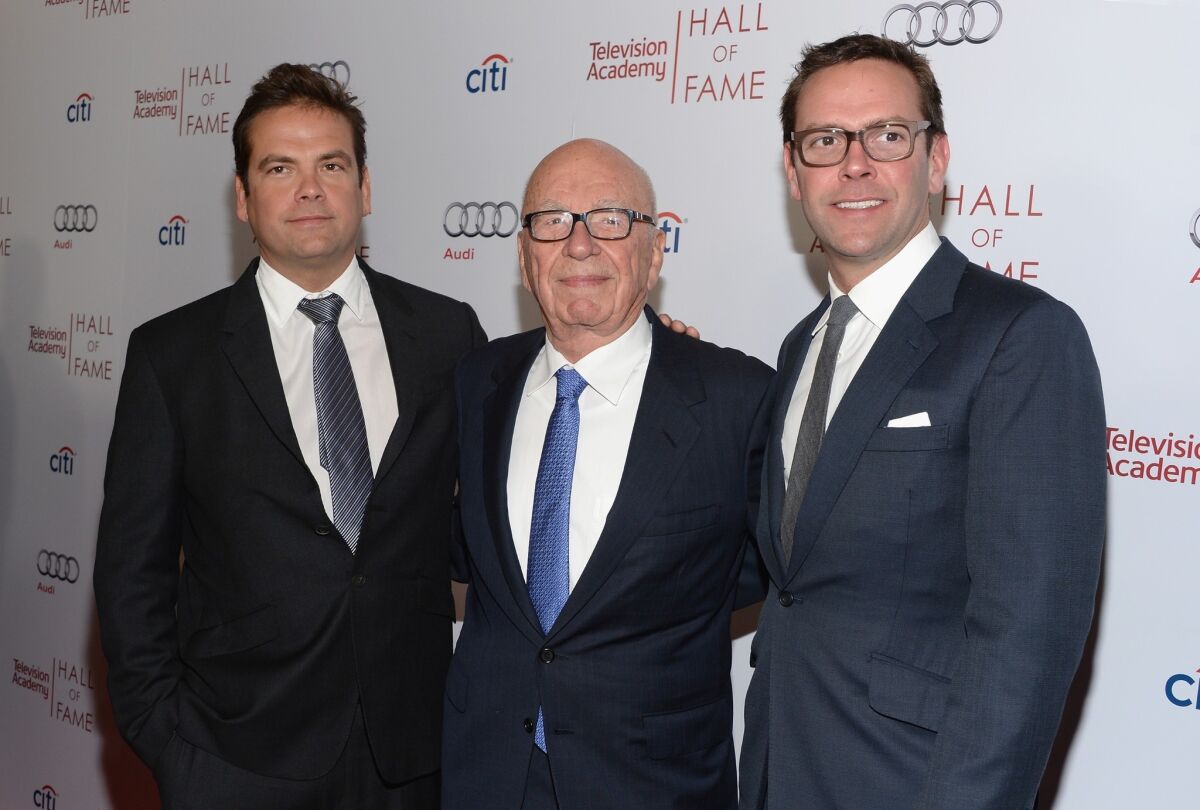 Media mogul Rupert Murdoch has made dramatic changes that position his two sons to ultimately take over the global media empire that Murdoch has spent most of his life building.
Murdoch's eldest son, Lachlan, has been given an influential role as non-executive co-chairman of both companies: News Corp. and 21st Century Fox.
The move puts Lachlan, 42, second in line behind his father in the corporate structure of the media empire. Lachlan, who has been running a television business in Australia, had left his senior role within the company in 2005 after being marginalized in a power struggle.
ON LOCATION: Where the cameras roll
However, Lachlan continued to serve as a member of the board.
"Lachlan is a strategic and talented executive with a rich knowledge of our businesses," Rupert Murdoch said in a statement. "I'm very pleased he is returning to a leadership role at the company, where he will work closely with me, Chase [Carey], James [Murdoch], and the rest of the board of directors to drive continued growth for years to come."
He is expected to work closely with senior staff members.
James Murdoch, 41, who has held key operating roles within the media company for more than a decade, was elevated to co-chief operating officer of the TV and movie company Fox -- a position that moves him slightly closer to the status of Carey, the president and COO.
James Murdoch remains just a notch below Carey -- a set-up that brought comfort to Wall Street in the wake of a phone-hacking scandal in Britain.
"James has been a great partner and in many ways this appointment formalizes the role he's been playing for some time," Carey said in the statement. "James has a keen sense of international markets, digital platforms -- as well as programming -- and he brings a modern sensibility to our business which has greatly benefited the company and our shareholders."
PHOTOS: Rupert Murdoch and Wendi Deng divorce
Rupert Murdoch, who turned 83 earlier this month, continues in his current role as chairman and CEO of Fox and chairman of News Corp.
Wednesday's moves cement his desire to have his two sons inherit his corporate fiefdom once he is no longer able to preside over the two companies.
"Our management team has always been one of our core strengths, and there is no doubt that we become even stronger by building on James' and Lachlan's collaboration," Rupert Murdoch wrote in a note to employees Wednesday morning.
James Murdoch's promotion removes the cloud of uncertainty that has followed him ever since the British phone-hacking scandal exploded in 2011, raising questions about his management and maturity.
James Murdoch was in charge of the company's British operations during the period when staff members of Murdoch's London-based tabloids were hacking into phones of the royal family, star athletes and celebrities and paying off authorities for news tips.
PHOTOS: Celebrity production companies
When the scandal exploded into front-page headlines around the world, James Murdoch moved to New York from London. The move took him out of the line of fire in Britain, but also was designed to get him more immersed in the overall operations of the company.
The Murdoch family controls 39% of the voting shares of News Corp., the publishing operation, and 21st Century Fox, which contains the more profitable TV and film operations.
The shift in structure also was noteworthy because it bypassed Murdoch's second daughter, Elisabeth, who is known for being whip-smart and who built a British-based television company, Shine, into a independent force before selling it to News Corp. three years ago for $675 million.
The statement said that Lachlan Murdoch would split his time between Sydney, Australia, and New York. James Murdoch continues to report to Carey.
ALSO:
Global movie ticket sales climb
Rupert Murdoch easily retains position as Fox chairman
Role of renaissance man fits new Disney/ABC TV chief Ben Sherwood
Twitter: @MegJamesLAT
---
From the Oscars to the Emmys.
Get the Envelope newsletter for exclusive awards season coverage, behind-the-scenes stories from the Envelope podcast and columnist Glenn Whipp's must-read analysis.
You may occasionally receive promotional content from the Los Angeles Times.