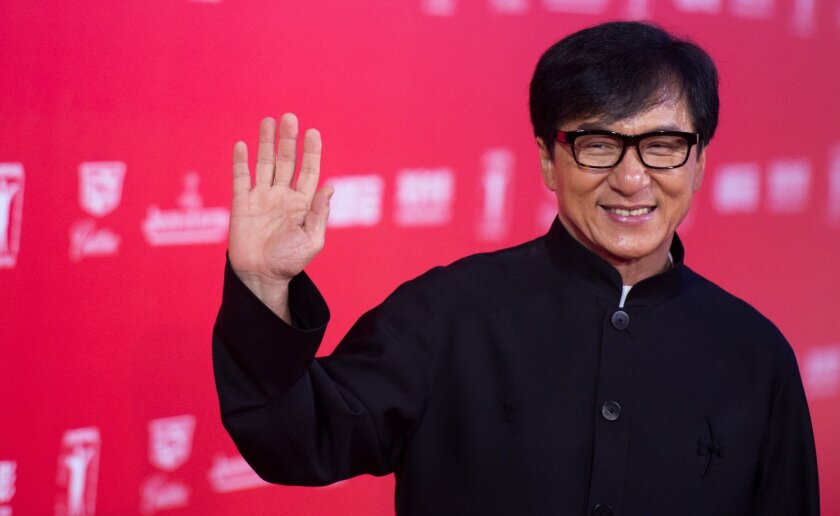 Reporting from Shanghai —
Three U.S. films — "Furious 7," "Avengers: Age of Ultron" and "Jurassic World" — have sold almost $750 million in tickets in Chinese theaters since April.
Even a year ago, that kind of box-office performance from Hollywood movies would have prompted a bout of hand-wringing among Chinese movie executives, anxious about how foreign titles were leaving little space for homegrown films.
But at the Shanghai International Film Festival this week, there's been a noticeable air of self-assurance among Chinese entertainment chiefs and the senior honchos of Internet companies like Alibaba that are rapidly piling into the movie, TV and streaming business.
The buoyant mood seems attributable to several factors, including surging box-office receipts for not just foreign but also domestic films. That is coupled with sky-high stock valuations as Chinese equity markets have soared in recent months despite a slowdown in the overall economy.
China's overall box-office take was up more than 40% year over year in the first quarter and has continued apace since, and domestic productions are sharing in the bonanza. For instance, two films released from China's Bona Film Group — war drama "The Taking of Tiger Mountain" and casino caper "From Vegas to Macao 2" — each grossed about $150 million on much lower budgets than their Hollywood blockbuster cousins.
The country also continues to add screens at a rapid pace, and officials from the State Administration of Press, Publication, Radio, Film and Television predict that the country may have 40,000 screens by 2017 — about as many as the U.S. and Canada do.
"It won't take long for us to catch up with Hollywood because we can hire Hollywood people and borrow their system," Wang Chengtian, chairman of film production company Beijing Enlight Media, said during one panel discussion. He said his company planned a slate of 20 films for next year, up from 13 this year.
Wang Hong, chairman of Hengdian Film and TV Production Co., which has a massive studio lot and a cinema line, said China can create universal stories and reach out to audiences around the world.
"I don't think we should be too frustrated by the temporary challenges brought on by Hollywood blockbusters," he said. "The future is bright."
Other industry representatives speaking at various events described Hollywood as "slow," "inefficient" and "behind."
Few spoke of wanting to do co-productions or partnerships with U.S. studios. Instead, the focus was largely on the domestic Chinese market and how to leverage Internet technology for crowdfunding, marketing, ticket sales and streaming.
"It has become the gold mine.... That's why [Baidu, Alibaba and Tencent] have all set their sights on the entertainment industry," said Yu Dong, chief executive of Bona Film. "This is a wonderful thing. We don't lack for cash anymore."
Shares of Bona Film have surged in recent months. The company, which has been listed on the Nasdaq exchange since 2010, has seen its stock double since October to close at $12.86, down 7 cents, on Tuesday. Yu recently unveiled plans to take the company private.
Yu said the company plans to make 26 films in the next year and a half, with a target of reaching $1.6 billion in box-office returns. China's total year-to-date box office is about $3 billion.
Bona is hardly alone; shares of other Chinese entertainment companies such as Alibaba Pictures, Enlight and DMG Entertainment have also seen their market values soar by billions in recent months as Chinese investors have gone on a buying spree.
Some observers say there's a lack of fundamentals behind those valuations and a comeuppance is in the offing.
"There have been no earth-shattering news announcements portending major new developments. No accelerations in growth or earnings to fuel the exponential increases in value," Rob Cain, a producer and longtime observer of the Chinese film market, wrote this week in Forbes. "In fact, the Chinese economy's growth has been slowing over the past year, and … media company earnings look vulnerable."
There are a few names from the U.S. entertainment industry that Chinese tech and entertainment executives are eager to emulate: Netflix and HBO. During the festival, Alibaba Digital Entertainment President Liu Chunning said his company was starting a paid streaming service called Tmall Box Office, or TBO, charging customers through Alibaba's set-top TV boxes and smart TVs.
"We will pave the way for the rest of the movie industry," he said. "We need to create scenarios where viewers want to pay. HBO is a good example where people are willing to pay. Their business model is great."
Developing markets beyond the theatrical box office is key for China, where piracy basically prevented a robust home video or DVD market from ever being created. But Chinese consumers are tentatively starting to demonstrate a willingness to fork over money for content.
Representatives of Baidu's online streaming video arm, iQIYI, said during the festival that it had amassed 5 million paying customers.
"Users' willingness to pay for content reflects the huge opportunity and potential for iQIYI and the online-video market in China," said Chief Executive Yu Gong, predicting that the "golden age" of theatergoing in China would last only five more years.
Still, those 5 million paying customers represent only 1% of iQIYI's 500 million users.
Jonathan Spink, chief executive of HBO Asia, agreed that the industry was now going through an "interesting time" thanks to the rise of the Internet, but cautioned his Chinese counterparts not to get too far ahead of themselves.
"The value chain of films still relies on theaters. Without theaters, no one will make films. Without TV, no one will make programs," he said. The Internet offers "huge opportunities for viewers to see content, but we can't lose sight of how we make content.... People have been forecasting the demise of cinema for a long time and it hasn't happened yet. "
Nicole Liu of The Times' Beijing bureau contributed to this report.
---