Amy Pascal, the outgoing co-chairman of Sony Pictures Entertainment, is exiting the studio with a high-profile project that instantly makes her one of Hollywood's biggest producers.
Pascal has been tapped to oversee a new Spider-Man film that would be made by a partnership of Sony and Walt Disney Co.-owned Marvel Studios. For an executive who weeks ago was under fire after a crippling cyberattack laid bare her embarrassing private emails, it's a major coup.
The Spider-Man reboot is a crucial move for Culver City-based Sony, which counts the $4-billion-grossing franchise as its most important film property — but one that has shown some wear.
Last summer's Andrew Garfield-starring "The Amazing Spider-Man 2" received middling reviews and took in less at the box office than each of its four predecessors. Spider-Man is one of the most popular characters in the Marvel comics pantheon, but Sony's revival of the franchise was something of a fizzle.
The new Spider-Man film, which also will be produced by Marvel Studios President Kevin Feige, would mark the second reboot of the series over the last half-decade. Sony will continue to finance and distribute Spider-Man films and have creative control over the franchise. For its part, Marvel will also get to use Spider-Man in its films, something that the company has wanted for years.
The hope is that in partnering with Marvel, which has a strong track record at the box office with hits including "The Avengers," "Iron Man" and "Thor" series, Sony could reinvigorate Spider-Man for new audiences.
Sony's new Spider-Man picture is scheduled to bow in 2017 and is likely to have a new actor in the title role. It will be preceded by a film from Marvel that would incorporate the new Spider-Man.
Doug Wick, who produced "Memoirs of a Geisha" for Sony and has known Pascal for more than 20 years, predicted that she'd find success at the helm of the Spider-Man project, partly because she would rely on the same skill set that served her well as an executive.
"She got the job of running a studio because she was better than most people at picking stories, working with a writer, choosing a director," Wick said. "That's how she made her career. She will be good at it."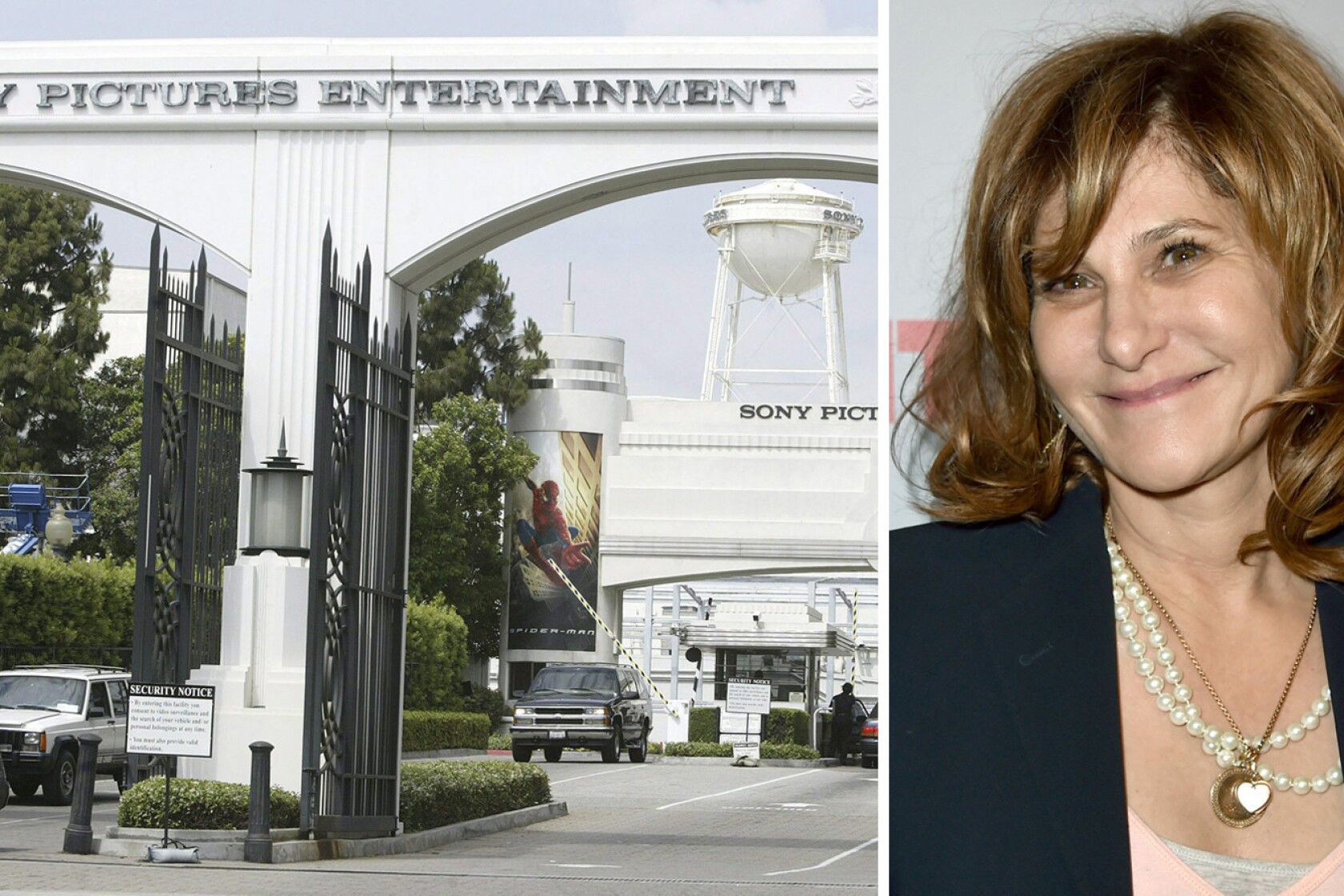 Amy Pascal is stepping down as co-chairman of Sony Pictures Entertainment. Here is a look at the box office performance of films released during her tenure.
(AFP-Getty)
Lori Petty, left, Tom Hanks and Geena Davis starred in "A League of Their Own." It was a box office hit, grossing $107.5 million domestically, telling the story of a short-lived women's baseball league.
(Louis Goldman / Columbia Pictures)
Starring Bill Murray, this comedy about a weatherman doomed to repeat the same day over and over again grossed $70.9 million at the domestic box office.
(Columbia Pictures / Columbia TriStar Home Video)
This sci-fi-spy film about secret agents who monitor extraterrestrial activity on Earth pulled in $250.7 million at the domestic box office. The franchise, which includes the 2002 sequel "Men in Black II" and 2012's "MIB 3" has grossed more than $1.6 billion worldwide.
(Melinda Sue Gordon / Columbia Pictures)
Angelina Jolie won her first Oscar for her role as a mental patient alongside Winona Ryder. The film only grossed close to $29 million.
(Suzanne Tenner / Columbia Pictures)
This action-comedy based on the 1970s television series about three women working for a private investigation agency grossed $125.3 million domestically and $264.1 million worldwide. The 2003 sequel, "Charlie's Angels: Full Throttle," made $100.8 million at the domestic box office.
(Darren Michaels / Columbia/TriStar)
"Godzilla 2000" was launched in hopes of rebooting the franchise but made just $10 million. The franchise laid dormant again until 2014.
(Toho Presentation/TriStar Pictures)
Rising star Heath Ledger stars as would be knight William Thatcher. Its $556 million total gross made it Ledger's fourth-highest-grossing film behind "The Dark Knight," "The Patriot" and "Brokeback Mountain."
(Egon Endrenyi / Columbia Pictures)
The franchise based on the comic book hero kicked off strong with Tobey Maguire's "Spider-Man," which grossed $403.7 million domestically and $821.7 million worldwide. 2014's "The Amazing Spider-Man 2," part of the reboot starring Andrew Garfield, pulled in $202.9 million domestically.
(Melissa Mosely, John Schwartzman / Columbia Pictures)
This romantic comedy featuring Jennifer Lopez and Ben Affleck flopped, costing $54 million to make and earning just $6 million at the domestic box office.
(Ralph Nelson / Columbia Pictures)
Ziyi Zhang, left, and Gong Li starred in "Memoirs of a Geisha," a film that won three Oscars and had a worldwide gross of $162 million -- most of it foreign.
(David James / Columbia Pictures)
This mystery based on the 2003 novel of the same name, in which a professor is the prime suspect in a museum curator's murder, pulled in $217.5 million in the domestic box office and $758.2 million worldwide.
(Simon Mein / Columbia Pictures)
Attempting to recapture the magic of past hits, Columbia released "Karate Kid" starring Jaden Smith. Though it grossed $176.5 million, it never seemed to achieve the cultural status of its iconic predecessor.
(Jasin Boland / Columbia Pictures)
Screenwriter Aaron Sorkin's drama about the creation of Facebook raked in $224 million worldwide.
(Merrick Morton / Sony / Columbia Pictures)
"The Ides of March," with George Clooney and Ryan Gosling, was hoped to be a big hit. It was a critical success, though it garnered just one Oscar nomination for original screenplay. It made $75 million worldwide.
(Saeed Adyani / Columbia Pictures)
"Skyfall" marked Daniel Craig's third turn as James Bond after the franchise was rebooted with 2006's "Casino Royale." Combined, the three films have grossed $640.2 million domestically and $2.3 billion worldwide.
(Francois Duhamel / Columbia Pictures)
Although the sci-fi flick starring Will Smith and his son Jaden flopped domestically ($60.5 box office gross; $130 million production budget), it earned more than three times that amount overseas.
(Columbia Pictures)
This action movie, with Jamie Foxx and Channing Tatum, missed at the box office, with a budget of $150 million and lifetime domestic gross of $73.1 million.
(Reiner Bajo / 2013 Columbia Pictures)
"The Interview," a comedy about the assassination of North Korean leader Kim Jong-un, incited a hack attack that crippled the studio and delayed the film's release. It has made over $40 million in digital and limited theatrical release.
(Ed Araquel / Sony - Columbia Pictures)
Pascal, 56, whose transition to a producer role was announced last week, will leave Sony in May. She will be paid handsomely in her new position: Over four years, her compensation will be $30 million to $40 million, according to people familiar with the pact. In recent years such lucrative deals for producers have become increasingly rare.
Pascal declined to comment on her production deal or the new Spider-Man movie.
In segueing to a producer position, Pascal is following the path of other powerful studio executives who have departed their longtime corporate homes. Former Walt Disney Studios Chairman Joe Roth, for example, has produced hits including "Alice in Wonderland" since leaving that company in 2000.
Pascal's nearly two-decade tenure at Sony Pictures, a unit of Tokyo-based Sony Corp., is ending after a difficult period for the studio. In late November the studio was crippled by a cyberattack carried out by a group calling itself Guardians of Peace. The FBI said in December that North Korea — rankled by the mocking depiction of leader Kim Jong Un in the Sony comedy "The Interview" — was behind the attack.
Among the trove of sensitive documents leaked onto the Internet after the hack were emails between Pascal and producer Scott Rudin that contained racially insensitive remarks about President Obama. Rudin and Pascal both apologized for the emails, and Pascal met with the Rev. Al Sharpton to discuss the matter.
Besides the Spider-Man reboot, Pascal also is expected to be at the helm of other big Sony projects, including the long-delayed, highly anticipated reboot of "Ghostbusters" and the epic "Cleopatra," which will star Angelina Jolie — a subject of some derision in the hacked Pascal-Rudin emails.
Sony made five Spider-Man movies under Pascal's watch. The studio bought the film rights for the web-slinger in 1999 and launched its first series in 2002 with Sam Raimi's "Spider-Man," which starred Tobey Maguire in the lead role. That film spawned two sequels — the most recent in 2007.
Two years later, Marvel was acquired by Disney in a $4-billion deal that brought a bevy of superhero characters into the Burbank company's fold. But not Spider-Man.
Sony reset the Spider-Man franchise in 2012 with Marc Webb's "The Amazing Spider-Man." That film and the 2014 follow-up starred Garfield, but the latter was hurt by mixed reviews and grossed $709 million. The diminishing box-office returns — the first Maguire-starring picture grossed $822 million — were a cause for concern for box-office analysts.
Now Marvel Studios, led by Feige, is stepping in to help chart a new creative direction. The Spider-Man franchise could benefit from the superhero expertise of Marvel, which has had a virtually flawless track record producing its own movies, including the recent "Guardians of the Galaxy," which grossed $744 million worldwide.
Speculation about Spider-Man's future picked up in December when media outlets reported on a leaked email that discussed another reboot. Sony and Marvel had been in talks off and on for months before reaching an agreement, which was put together by Feige, Pascal and Sony Pictures Chairman Michael Lynton.
As a result of the pact, Marvel has had to rejigger its film slate, pushing back some movies to accommodate the next Spider-Man picture. Sony too has reshuffled its release schedule, delaying a Spider-Man spinoff, "Sinister Six," until after the 2017 release of the first new Spider-Man movie. (The spinoff had been slated to come out in 2016.)
The arrangement makes sense for both companies, said Jason E. Squire, editor of "The Movie Business Book."
"Marvel management is simply the best there is, at this time, in terms of turning an idea … into one of the most popular pieces of entertainment in the world," said Squire, also a professor at USC's School of Cinematic Arts. "This is extremely difficult to do."
The deal could also benefit Disney in areas beyond film, including in its consumer products, theme parks and interactive businesses.
The company already controls the Spider-Man brand in the consumer products arena, and could expand its offerings now that it is in the business of making movies featuring the superhero.
"If it becomes a more successful brand, [Spider-Man] will pay dividends in the consumers products area for Disney," JPMorgan analyst Alexia Quadrani said. "I am even more encouraged by the outlook of Disney's consumer products business."
Disney shares the Spider-Man brand with video game publisher Activision. Under terms of a 2005 agreement with Marvel, Activision has the rights to make games based on the Spider-Man movies through 2017.
Disney, however, retains the right to make games based off the comic book version of Spider-Man, and has released several, among them the action-adventure game "Disney Infinity: Marvel Super Heroes," which came out in September.
Travis Knox, a producer and a film professor at Chapman University, said producing the next Spider-Man will be a strong launch to Pascal's new career.
"She's a beloved figure in the industry," Knox said. "She has financial backing from a major studio and is able to take over the rebooting of its biggest franchise. I think Amy's going to be just fine."
---