Apple Music versus the streaming competition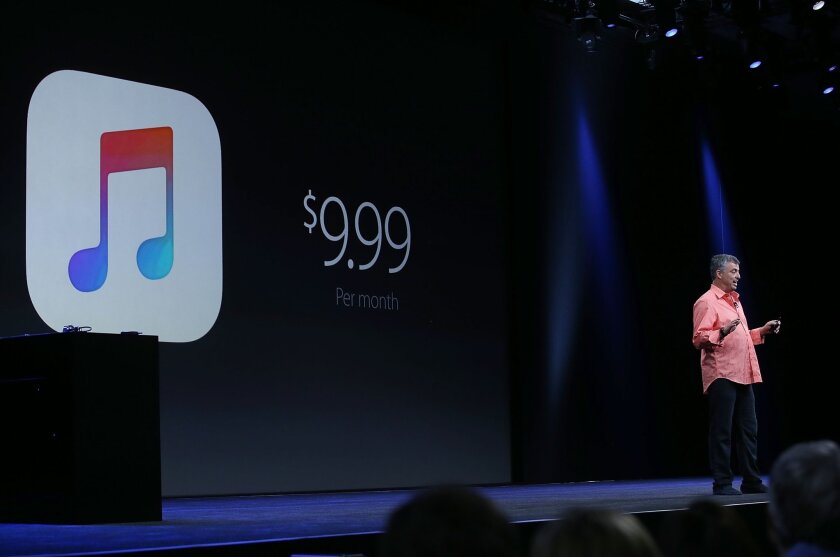 Apple's streaming service officially launches on Tuesday, putting the tech giant into what has evolved into the fastest-growing way that consumers listen to music.
The Cupertino, Calif.-based company hopes many of the 800 million users with iTunes accounts will sign up for the new Apple Music service, which will launch with a 90-day free trial. Music and tech industry observers expect Apple devotees will sign up for the offer in droves to take the streaming service for a test spin — but, there's still a long way to go before it knocks out industry leader Spotify.
Meanwhile, there is already a bevy of competing services hoping to hook listeners who previously used CDs, digital downloads or just listened to the radio to get their sonic fixes. Here's a refresher.
###
Apple Music — Based on Beats Music. Includes a paid service, a live radio station called Beats 1 and a social component.
Availability: 100 countries, starting on Apple devices. Android and Windows apps expected to launch later this year.
Cost: $9.99 a month.
Free version: Not for the on-demand portion, but there's a three-month free trial. Beats 1 is free.
No. of tracks: 30 million
No. of users: None, yet.
Pros: Beats 1 could draw listeners with playlists made by experts, not algorithms. Apple Music users will have access to new tracks and videos uploaded by artists themselves. Has Taylor Swift's blessing, after a reversal on royalty payments.
Cons: Unless its features are wildly different or better than Spotify's or Rdio's, it's hard to justify music mogul and Apple Music executive Jimmy Iovine's claim that the service will be "revolutionary." But it could still use its clout to bring streaming to the masses.
###
Tidal — The Scandinavian service rapper Jay Z bought for $56 million earlier this year, and debuted clumsily in March.
Availability: 44 countries.
Cost: $9.99 a month for normal streaming; $19.99 a month for high-fidelity sound quality.
Free version: No, just a 30-day free trial.
No. of tracks: 30 million
No. of users: 900,000
Pros: Tidal bets exclusive tracks, videos and concerts can entice users, though analysts question the strategy. Reviews have praised Tidal's sound quality. The service also promotes new artists and pledges to pay higher royalties than rivals.
Cons: Mainly, the embarrassment of its ostentatious launch. Putting 16 of music's highest earners on stage to complain about paltry royalties did nothing to help the company's image. Plus, it needs funding, and its long-term prospects are questionable.
###
Rdio — Started by Kazaa and Skype founder Janus Friis. Provides access to online radio stations with different levels of on-demand access.
Availability: 85 countries.
Cost: $9.99 a month for top tier. "Select" version allows stations and 25 downloads at a time for $3.99.
Free version: Yes. Ad-supported version gives access to stations, but limits skipping.
No. of tracks: 32 million.
No. of users: Not disclosed.
Pros: Has won praise for its elegant interface that prominently displays album art. The unlimited version has no cap on mobile downloads. Rdio Select is an appealing price point.
Cons: Critics have been less impressed with the recommendations from its radio-like features.
###
Pandora — Basically synonymous with Internet radio. Uses data analysis — what it calls its "Music Genome Project" — to recommend tracks based on users' tastes and feedback.
Availability: United States, Australia and New Zealand.
Cost: $4.99 a month to avoid ads.
Free version: Yes, with commercial interruptions.
No. of tracks: 1 million.
No. of users: 76.1 million free users, 3.8 million subscribers.
Pros: Ease of use is the key. Enter an artist's name or song title, and you've created a radio station. That's what streaming music jargon refers to as a "lean-back experience," meaning consumers don't have to work very hard to discover new music and build playlists.
Cons: Users have long complained about repetition in Pandora stations, partly because of the comparatively small number of available songs. Because this is Internet radio only, users can't play the exact song they want to hear or listen to a whole album. Limited skips in free mode is a drag.
###
Rhapsody — The original streaming music subscription service, Rhapsody has been around since 2001. Acquired Napster International in 2011.
Availability: 32 countries. Recently launched in five Central American markets through a deal with mobile carrier Movistar.
Cost: $9.99 a month after a 14-day free trial. $4.99 a month for its unRadio version, which has online radio stations similar to Pandora.
Free version: No.
No. of tracks: 32 million.
No. of users: 2.5 million paying subscribers, up recently thanks largely to deals with telecom companies.
Pros: Techies have praised the ease of use and straightforward design, which is a positive for more laid-back customers who don't want a lot of clutter from the bells and whistles offered by other services. UnRadio is a good option for frugal customers.
Cons: Being the first isn't the same as being the best, and Rhapsody is often considered an also-ran amid the crowded field of newer contenders.
###
Google Play Music — Online music storage and streaming service provider from the Mountain View, Calif., search colossus. Launched its Spotify competitor in 2013.
Availability: 58 countries.
Cost: $9.99 a month.
Free Version: Just added a free Pandora-like Internet radio option.
No. of tracks: 30 million.
No. of users: Not disclosed.
Pros: Subscription now includes the new YouTube Music Key, which allows access to unlimited music videos, commercial-free. You can also listen to YouTube tracks in the background while you use other apps on your mobile device. Boasts cloud storage for up to 50,000 songs.
Cons: There is no native desktop app for Mac users, but they can use through web browsers.
###
Spotify — The biggest subscription music service by user count.
Availability: 58 countries.
Cost: $9.99 a month for "premium" service; also has a three-month introductory subscription for 99 cents.
Free Version: Yes, with ads. Desktop users get to play full albums and specific songs with commercial interruptions. The mobile free version is more limited.
No. of tracks: 30 million.
No. of users: 20 million paid, 55 million free.
Pros: Tech critics have praised the service's easy social media sharing functions and sound quality. It also recently added podcasts and video clips. Works with virtually all major mobile devices and on home audio systems.
Cons: Spotify has faced criticism from some artists because of low royalty rates, especially from the ad-supported version. Taylor Swift famously pulled her catalog from the service last November over royalties.
---
From the Emmys to the Oscars.
Get our revamped Envelope newsletter for exclusive awards season coverage, behind-the-scenes insights and columnist Glenn Whipp's commentary.
You may occasionally receive promotional content from the Los Angeles Times.