Developing: Where you can (and can't) see 'The Interview' in Los Angeles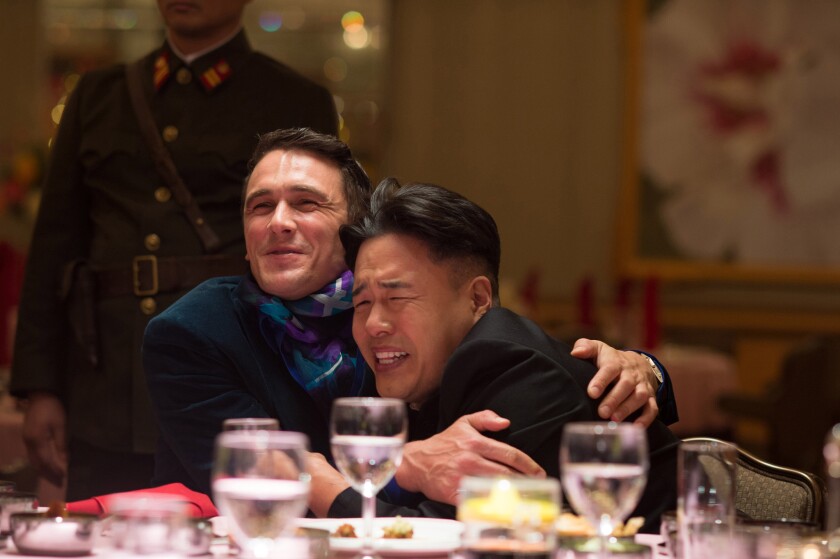 Laemmle Theaters, which operates seven cinemas in Los Angeles County, said it would play "The Interview" in its North Hollywood location beginning Dec. 31.
The decision to show the film comes after Sony announced Tuesday it would release the Seth Rogen-Evan Goldberg comedy in limited theatrical release beginning Christmas Day.
"The length of the run will be determined by the box office," said Laemmle co-owner Greg Laemmle in an interview with The Times. "Some other theaters are opening on the 25th but we were unable to rework our schedules on such short notice."
Laemmle was among the alliance of independent movie theaters known as Art House Convergence which posted an open letter to Sony on the website Change.org on Monday. The group expressed support for the beleaguered film as well as for the studio that was crippled by a cyberattack nearly a month ago.
"Yesterday I signed on to the petition.... Today I found out that Sony was licensing the film to theaters," Laemmle said. "I immediately got on the phone."
In other states, the film will screen at 16 locations in the Alamo Drafthouse chain and the Plaza Atlanta in Georgia, owners confirmed shortly before Sony made its announcement.
A Sony spokesperson who was briefed on the matter but unauthorized to speak publicly confirmed that "The Interview" would be playing in more than 200 theaters.
Here's what we've heard so far from other exhibitors in Southern California:
Vintage Cinemas
The film will play at the Los Feliz 3 on Christmas Day. Showtimes will be posted by 3:30 p.m. Tuesday, said Lance Alspaugh, CEO of Vintage Cinemas, which owns Los Feliz 3, the Vista and Village Coronado in San Diego.
"We heard this morning," Alspaugh said. "Our film buyer reached out to Sony and informed me that things were changing. Then we discussed it. The problem today that everybody is having is that people have made other plans. Once you've made a deal, to go back and tell everybody they're not getting in is very difficult. We're in a fortunate position because we had two first-run movies and had a vacancy."
Regency Theatres
Regency Theatres has agreed to screen "The Interview" at 10 of its 28 theaters in Southern California.
Lyndon Golin, president of Regency Theatres, said Sony Pictures Entertainment gave him permission to screen "The Interview" on Christmas Day at theaters in Van Nuys, Agoura Hills, Granada Hills, Riverside, San Diego, Bakersfield and other locations.
"We just got word this morning that we could play the movie," said Golin said Tuesday, who told The Times on Monday he was disappointed by Sony's decision to not release the film, which he had heavily promoted.
"It's good to get this thing out," Golin said. "It seems liked there was a groundswell of support for the movie, at least from patrons. Theaters have stepped up."
Tristone Cinemas
"We got word from our bookers yesterday evening that the film would become available, and we knew that we had to give our patrons the opportunity to see the film," said Josh Carrillo, marketing director of the cinema chain, in an email. "We're happy to announce that we'll be playing the film at Tristone Jurupa 14 Cinemas in Riverside, Calif., for both regular screenings (all week) and 21+ friendly screenings with beer and wine available (Friday and Saturday only)."
Showtimes are available on the cinema chain's website.
The Crest Westwood
The theater, located on Westwood Boulevard, posted on Twitter: "Just confirmed from @sonypictures: WE'RE SCREENING THE INTERVIEW CHRISTMAS DAY."
Mission Grove Theater Corp.
Mission Grove Theater, located in Riverside, posted on its website that the comedy would play Dec. 25.
MGN Five Star Cinema
The dine-in theater in Glendale is also playing the film starting on Christmas Day.
Egyptian Theater
A spokeswoman for the historic theater, located on Hollywood Boulevard, said in an email that the theater plans on showing the film and is "drafting a schedule."
Sundance Cinemas
"We are opening in Los Angeles at the Sundance Sunset," said spokeswoman Nancy Klasky Gribler in an email. "And that is the only theater in the Sundance Cinemas that will be playing it up as that was the only theater we had room for at this late date."
Downtown Independent
The Downtown Independent confirmed it would play the film Christmas Day at 4:20 p.m., 8:30 p.m. and 10:45 p.m.
Cinefamily
As of this afternoon, Cinefamily has confirmed it would play the film beginning at 12:01 a.m. on Christmas morning.
"It's very important that independent theaters step up," said Hadrian Belove, one of the co-founders of Cinefamily. "We are excited to take part in what we think is a really important and special convergence of art houses."
Belove said the theater will likely play the film for one week.
Cinémas Palme d'Or
The Coachella Valley theater tweeted it too would screen "The Interview." It also made the movie poster for the film its cover photo on Facebook.
Landmark Theatres
The theater chain has no plans to play the comedy. "Our theaters have been fully booked for months as there is an enormous amount of film already in the marketplace in addition to six new films opening on Christmas Day," a spokeswoman said in an email statement. "It would never occur to us not to honor our existing commitments to our distribution partners during one of the busiest times in the year."
Staff writers Ryan Faughnder and Richard Verrier contributed to this report.
For more news on the entertainment industry, follow me @saba_h and @amykinla.
---
From the Emmys to the Oscars.
Get our revamped Envelope newsletter for exclusive awards season coverage, behind-the-scenes insights and columnist Glenn Whipp's commentary.
You may occasionally receive promotional content from the Los Angeles Times.