Chris Wallace said Trump's debate answers didn't surprise him — but he did have a glass of wine (or more) once it was over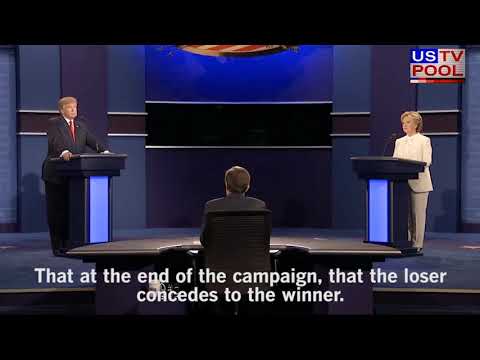 Asked if he will accept the results on election day, Donald Trump tells the country he wants to "leave you in suspense."
Fox News anchor Chris Wallace landed a permanent place on the presidential debate highlight reel when Republican nominee Donald Trump said he would not commit to accepting the results of the election.
Wallace told the Los Angeles Times in an interview that he wasn't shocked by the answer when he queried Trump during Wednesday's event at the University of Nevada, Las Vegas.
"I have been covering Trump for a year and half," Wallace said Thursday. "I've learned to not be surprised by anything." But the veteran Washington journalist and first-time presidential debate moderator knew that the magnitude of the response required him to frame the question a second time.
"I thought, 'You need to put this in historical context,' which is why I asked a follow-up question about one of the long traditions of democracy — the idea of the peaceful transfer of power and that we accept the results of the election," said Wallace. "I wanted to put it in context so that it was clear that whatever Trump said, folks understood how unprecedented this would be."
For Wallace, it was one of the debate highlights that earned him near unanimous kudos on social media, which have become digital versions of ancient Rome for moderators during this highly polarized presidential campaign season. (Ask "Today" co-anchor Matt Lauer, who was pilloried for his handling of the candidates at NBC's "Commander-in-Chief Forum" last month). Wallace, praised for driving Trump and his Democratic opponent, Hillary Clinton, toward substantive discussion of issues, even got a thumbs up from Oprah Winfrey on Twitter.
Wallace, 69, kept away from the Internet in the days leading up to the third, and final, presidential debate and had not yet surveyed the reviews before his return to Washington on Thursday morning. After the debate, he spent the rest of Wednesday evening at dinner with friends and family at the Sinatra restaurant in the Encore Resort.
"For the first time in two weeks, I allowed myself a glass of wine, and it was more than one glass," he said.
Over that period, Wallace was immersed in preparation for the event watched by 71 million viewers — making it the third-largest TV audience ever for a presidential debate. Aside from being a pivotal contest for Trump against Clinton, who has widened her lead in the polls, the event was an important milestone for Fox News.
I take the line that somebody said from Vince Lombardi, 'He doesn't discriminate – he treats us all like dogs.' That's my view on all politicians.
— Chris Wallace
Wallace is the first Fox News anchor to moderate a presidential debate, even though the Fox News Channel has been the most-watched cable news network since 2002.
"I was not just representing myself and my show, but my news organization in a way that I suspect that most of my colleagues at the other debates' networks didn't necessarily feel," he said. "I had to do the job that I do and that a lot of my colleagues do everyday, to show people who take the easy way out and just dismiss Fox News and that they don't understand what we do everyday and the kind of journalism we practice."
Wallace, the son of legendary "60 Minutes" correspondent Mike Wallace, started covering Washington for the networks in the 1980s. After stints at NBC and ABC, he became one of the most high profile names to join Fox News in 2003. His weekly program "Fox News Sunday," which also airs on the Fox broadcast network, ranks behind the other public affairs shows in the national ratings, but is occassionally No. 1 in the Washington, D.C., market, where the country's movers and shakers are watching.
While Fox News has built itself into a ratings and revenue monster by adding an ample serving of conservative commentary into its programming, Wallace has always worked hard to represent the straight-news gathering presented on the channel.
Liberal critics and comedians often take shots at "Fox & Friends" and Sean Hannity for giving a free ride to Trump and other conservative political figures. But Republican politicians who believe they are entering friendly territory when they appear on "Fox News Sunday" have often been met with tough interrogations by Wallace.
"I take the line that somebody said from Vince Lombardi, 'He doesn't discriminate – he treats us all like dogs,' " he said. "That's my view on all politicians."
When former Fox News Chairman Roger Ailes, a former media consultant for Republican candidates, was running the division, Wallace said he was never told which guests to book or what questions to ask on "Fox News Sunday."
I'm disappointed in Roger going to work for the Trump campaign. ... I haven't talked to him since he left, and I won't talk to him.
— Chris Wallace
But Wallace believes the reputation of Fox News was not helped by reports that Ailes was advising Trump on his campaign soon after leaving the company in July.
"I'm disappointed in Roger going to work for the Trump campaign," he said. "We have had to fight back for a lot of years against claims that we're an arm of the Republican Party. We aren't. Anybody who watches me on 'Fox News Sunday' knows that I'm not. I think it has given people who don't like Fox News in the first place something to talk about. It allows people to say, 'I told you so,' when it's not really true."
When Wallace was first named as a moderator for the third debate, some pundits speculated it would somehow give Trump an advantage because of Ailes' involvement. But Wallace has not had any contact with Ailes since he left.
"I haven't talked to him since he left, and I won't talk to him," he said.
Wallace said Fox News has not approached the news any differently since the departure of Ailes. Fox News Co-Presidents Bill Shine and Jack Abernethy were on hand in Las Vegas to show their support for Wallace.
Wallace also got a congratulatory email message from Rupert Murdoch, executive chairman of Fox News parent 21st Century Fox, who has taken an active role in the news operation.
"He's really a newsman at heart," Wallace said. "More than any other owners of these conglomerates that I've ever met, he really breathes the news."
Fox News staffers found that out last month after a terrorist bombing in the Chelsea section of Manhattan.
"Rupert, who lives in that neighborhood, called one of the news managers and said, 'I've just heard an explosion. I think we need to get on this,' and then proceeded to guide our coverage the rest of the evening, because he was actively following this," Wallace recalled. "That was the cub reporter in him."
See the most-read stories in Entertainment this hour »
Twitter: @SteveBattaglio
ALSO
It's not just women and minorities. Donald Trump has a Mormon problem — and here's how it could cost him
Five things you may not know about debate moderator Chris Wallace
After all three debates, our analysts say Clinton emerged victorious
Outbid, outhustled, outmuscled: Trump has never been able to conquer Southern California
From the Oscars to the Emmys.
Get the Envelope newsletter for exclusive awards season coverage, behind-the-scenes stories from the Envelope podcast and columnist Glenn Whipp's must-read analysis.
You may occasionally receive promotional content from the Los Angeles Times.