NFL amps up its digital media, launching a fantasy football effort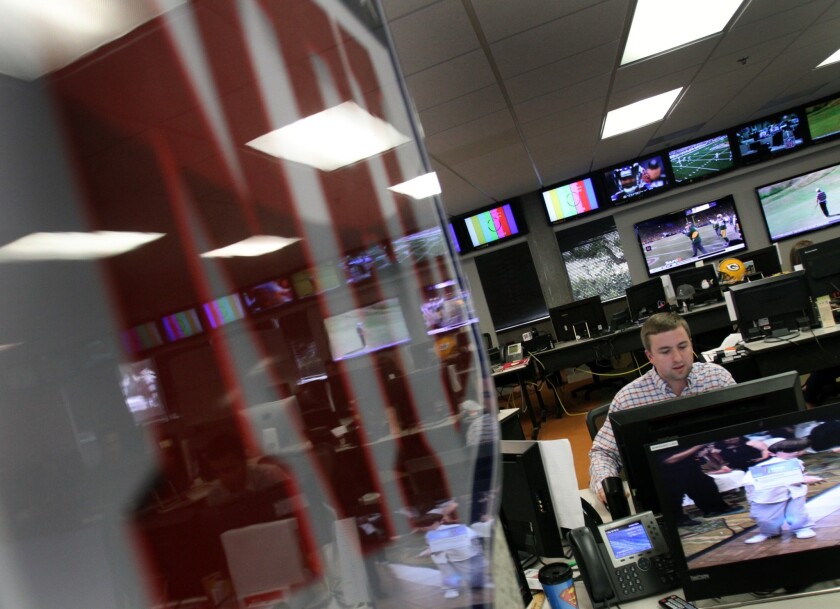 As National Football League players begin pulling on their practice jerseys at training camp, the league has unveiled an online community designed to spur participation in fantasy football.
Dubbed Fantasy Genius, the site enables novices to seek advice from more experienced participants and pose questions about whether to accept a proposed trade, start a particular player or draft, say, the Washington Redskins' dynamic young quarterback Robert Griffin III or a proven veteran such as the Denver Broncos' Peyton Manning.
Fantasy Genius is one of several new offerings from the NFL Digital Media team in Culver City, which oversees the league's presence online and on mobile devices. Since taking control of its digital destiny, the league has assembled a team of 150 people recruited from Silicon Valley start-ups, sports networks and the worlds of investment banking and data analysis to create a presence for the NFL across multiple screens.
The goal is to meet the fans any time, anywhere, with the content they want — real-time game updates, video highlights, a mobile app that tells a displaced Dallas Cowboys fan which local sports bar attracts others who root for "America's Team."
PHOTOS: Hollywood Backlot moments
"It's critical in this day and age to have a relationship with your fan base," said Steve Bornstein, president and chief executive of NFL Network. "It's in the best interest, not only of our fans, but for the NFL, to have a direct consumer relationship. Much of what we do in the digital space is trying to enhance that."
The NFL once treated its online and mobile rights like its broadcast TV rights. It licensed Internet rights to CBS, which produced NFL.com. By 2007, the league recognized that the Internet and mobile devices such as Apple Inc.'s iPhone afforded a direct, 24-hour-a-day connection with football fans, and it took the operation in-house.
The decision was consistent with the NFL's evolution as a media company. In November 2003, it launched the NFL Network, which now carries 13 prime-time televised games on Thursday nights, produces original programming such as "NFL Total Access" and reaps the financial benefits of selling advertising and collecting subscriber fees from pay-TV distributors.
"The fact that the NFL is actively playing in the media space, controlling ad sales and distribution of content — how can you do that without having control of your digital channel?" said David Katz, who negotiated CBS' deal to stream NFL games and now runs ThePostGame, a digital sports magazine.
PHOTOS: Cable versus broadcast ratings
Since taking its digital media operations in-house, the NFL has seen annual visits to its properties quadruple, to 1.2 billion, and the number of fantasy football players triple. It has a team that works exclusively on managing the league's presence on social platforms including Facebook and Twitter, where it trails other leagues, such as the NBA and WWE, according to Sports Fan Graph, which follows fans on these sites.
"The conversation is going to happen whether or not we participate," said NFL Digital Media Vice President Greg Isaacs. "So we have made a very conscious decision to participate in a very aggressive way."
In the cool, modern interior of the NFL's Culver City office, decorated with team logos, helmets and giant images capturing significant moments in the league's history, Isaacs wore a uniform that was more Silicon Valley than sports executive — a hoodie, T-shirt and jeans.
Isaacs worked at EBay and AT&T Interactive before joining NFL Digital in 2011. Over the last two years, he said, the NFL has seen a dramatic shift in how fans seek out the league's content. On any given Sunday during the football season, more than half of the visits come from mobile devices, as users reach for smartphones and tablets to check scores or get updates on their fantasy football players. Tablet use, in particular, has more than doubled over the course of a year, he said.
ON LOCATION: Where the cameras roll
"For us, the exciting part is ... how do you program for the user?" Isaacs said. "The content is experienced differently across a tablet, a mobile device and a desktop."
The NFL has developed applications that seek to capitalize on shifting consumer behavior — and exploit the league's rights to the kind of sought-after content that, on television, attracts an average of 19.2 million viewers a game, according to measurement firm Nielsen.
Its Game Rewind application for Apple and Android tablets gives subscribers on-demand access to all 256 regular-season games and 10 playoff games after they have been televised. Subscribers who pay an annual fee of as much as $70 also can watch condensed games — from kickoff to final whistle, without commercials or game delays. A new "coaches film" affords camera angles that coaches use to review plays but that aren't telecast, such as one that captures all 22 players on the field.
Some of the biggest opportunities are on mobile devices, said Manish Jha, who runs NFL Digital's mobile business, drawing upon his 16 years at ESPN, where he helped launch the online sports network ESPN3. Last year, his team introduced a companion app for the NFL Network's "Thursday Night Football" that offers real-time polling, statistics and live reports from the sidelines. A feature called "where to watch" uses the phone's location and the information people volunteer to help fans of an out-of-town team find where others are congregating locally to watch a game.
The NFL has dabbled in next-generation mobile technology. Its "Catch Deion" app used image recognition to trigger a virtual dance performance by Hall of Famer Deion Sanders when people pointed a smartphone camera at Sanders' image on a poster at a Dick's Sporting Goods store.
PHOTOS: Celebrities by The Times
Jha said the NFL is seeking to strike a balance: delivering the kind of real-time information and exclusive content that fans crave without jeopardizing lucrative deals with television networks, which pay the league billions of dollars a year for the rights to televise games.
"The broadcast partners are very valuable to us. They invest a lot, and there's actually good return on the investment," Jha said. "But we have been pretty clear about what things we are not providing a license to."
Jennifer van Dijk, senior vice president of digital for Wasserman Media Group, who advises teams about social and digital media, said professional sports leagues recognize that these new platforms present an opportunity to engage a young generation of fans through a constant conversation that brand sponsors increasingly demand.
"The nature of digital platforms is the ability to not just make people aware of what they're doing, but to get them through to a transaction," Van Dijk said. "What is equally important for the leagues, longer term, is growing that fan relationship."
---
From the Emmys to the Oscars.
Get our revamped Envelope newsletter for exclusive awards season coverage, behind-the-scenes insights and columnist Glenn Whipp's commentary.
You may occasionally receive promotional content from the Los Angeles Times.