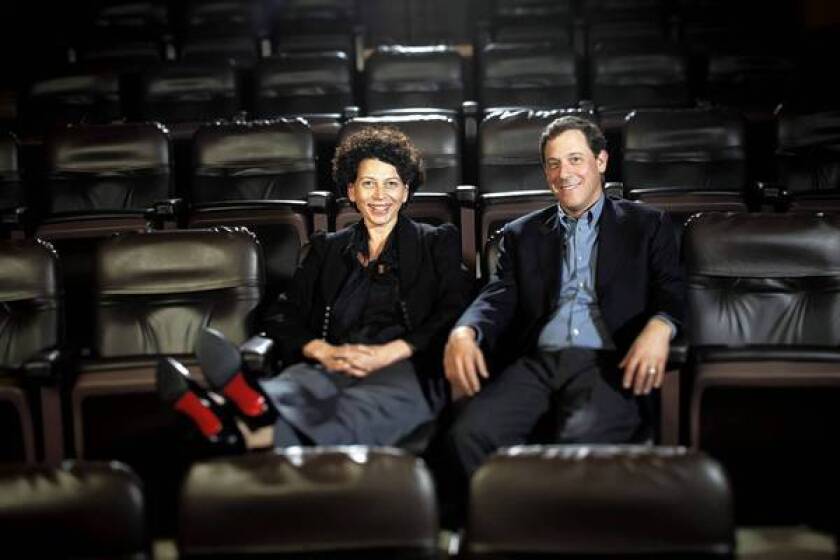 In a dramatic shake-up that took Hollywood by surprise, NBCUniversal has shuffled its executive ranks by forcing out film Chairman Adam Fogelson and shifting Universal Studios President Ron Meyer — the industry's longest-serving studio chief — to an advisory role.
Jeff Shell, 48, was named the top film executive as chairman of the newly created Universal Filmed Entertainment Group. He has spent the last two years in London, overseeing NBCUniversal's international television businesses.
Industry observers say the moves reflect the growing importance of the foreign film market and the desire by NBCUniversal and its owner, cable giant Comcast Corp., to put a trusted lieutenant — Shell — at the helm. Fogelson and Meyer were among the last of the surviving executives from the previous management regime under General Electric Co.'s stewardship of the media company.
PHOTOS: Hollywood backlot moments
Meyer, president of Universal Studios since 1995, was named vice chairman of NBCUniversal. The company said he would be an advisor on film, television and theme parks through 2017. Considered the ultimate Hollywood insider, Meyer, 68, co-founded Creative Artists Agency and has long been NBCUniversal's consigliere to Hollywood, soothing bruised egos and smoothing out disputes.
Although no job in Hollywood is safe, Fogelson's ouster this week was startling given the studio's strong box-office performance this summer. Universal, buoyed by the hits "Despicable Me 2" and "Fast & Furious 6" — which both grossed more than $785 million worldwide — is vying with Warner Bros. for the top spot in domestic box-office market share.
Still, NBCUniversal decided that it wanted to shuffle the deck from a position of strength. A top executive said the company felt that the studio's weakness was not the movies it chose to make, but rather how it approached the increasingly complex business, which is now driven by foreign demand.
Nearly 70% of the $34.7-billion global box office last year came from international markets, led by China, Japan, Britain, France, India, Germany and South Korea. International box office was estimated at $23.9 billion, according to the Motion Picture Assn. of America.
"I think every studio is increasingly focused on the international business — it is 65% to 70% of our world now," said Russell Schwartz, president of theatrical marketing for Relativity Media and a longtime Hollywood executive. "This doesn't seem to really be about Adam [Fogelson] but more about Comcast wanting to have a bigger imprint on the business."
As part of the overhaul, Universal Pictures co-Chairman Donna Langley was promoted to chairman. She will report to Shell.
Media consultant Adam Ware, who has known and worked with Shell for two decades, called him a capable and no-nonsense executive who "tells you exactly how it is."
"He is very bottom-line-oriented. He doesn't like wasting a lot of time," Ware said. "He is very good at empowering creative people."
The new leadership structure is in keeping with NBCUniversal Chief Executive Steve Burke's management style of streamlining divisions and entrusting longtime associates with top jobs.
"Having led NBCUniversal's international operations for the last 21/2 years, Jeff is perfectly positioned to lead our film group at a time when global expansion is more important than ever," Burke said in a prepared statement.
Shell will have oversight of the movie studio, but unlike Meyer he will not be in charge of the company's theme parks.
PHOTOS: Celebrities by The Times
A Los Angeles native with an MBA from Harvard, Shell most recently served as chairman of NBCUniversal International, heading all of the company's overseas business, including international TV production and distribution. Previously, he served as president of Comcast Programming Group, overseeing the Philadelphia company's cable network holdings before its takeover of NBCUniversal.
Before joining Comcast, Shell was chief executive of Gemstar TV Guide International. He also worked at Rupert Murdoch's News Corp., overseeing cable channels and regional sports networks. Early in his career he worked at Walt Disney Co.
In 2010, Shell was considered for a top position at Tribune Co., owner of The Times. He ultimately stayed with Comcast.
Universal is the second major film studio to go through a corporate reshuffling in recent months. In June, Jeff Robinov departed Warner Bros. Pictures Group, where he'd served as president since 2007. Warner Bros. Chief Executive Kevin Tsujihara, who assumed his position in March, replaced Robinov with a trio of executives.
On Sunday, Universal hosted a big bash at the Toronto International Film Festival where A-list stars, producers and executives gathered to toast Ron Howard's new film, "Rush." There, Meyer, Fogelson and Langley mingled with stars including Chris Hemsworth, Howard and producer Brian Grazer. There was no hint that a corporate shake-up was hours away.
Times staff writers Joe Flint and Steven Zeitchik contributed to this report.
---