Hollywood studios resolve China tax dispute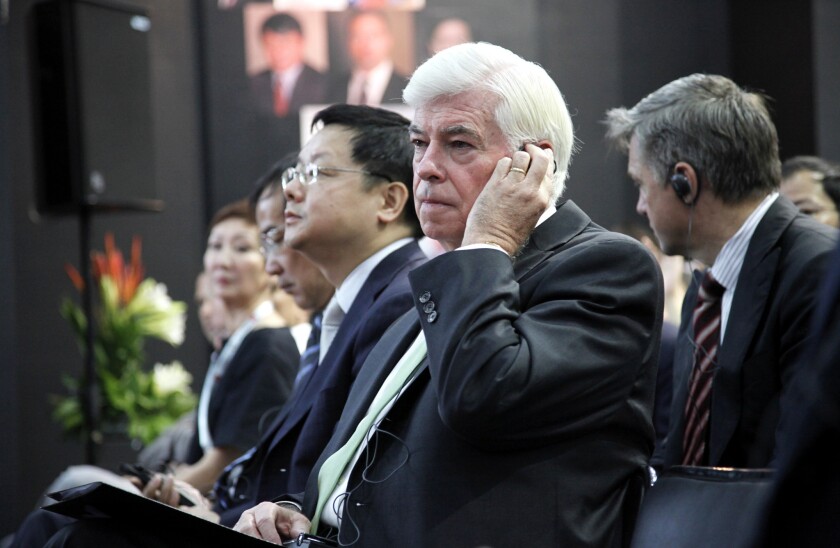 Major Hollywood studios have resolved a tax dispute in China that has held up hundreds of millions of box-office dollars since 2012.
The months-long dispute centered on a 2% value-added tax that state-owned distributor China Film Group insisted Hollywood studios pay out of their share of Chinese box-office revenues, cutting into their profits in the world's second-largest film market.
But Tuesday evening the Motion Picture Assn. of America, which represents the major studios, said the matter had been resolved.
PHOTOS: Hollywood Backlot moments
"We are pleased to hear that the Chinese government has addressed the matter and all money due will be paid in full,'' MPAA Chairman Chris Dodd said in a statement. "It is our understanding that the payment process has recommenced."
The dispute erupted after Chinese and U.S. officials in Feburary 2012 negotiated a trade agreement that eased restrictions on the number of foreign movies allowed into China under its quota system. It also gave studios a larger slice of box-office revenue, increasing their take from as little as 13% to as much as 25% of ticket receipts.
The agreement, widely hailed by Hollywood, resolved a bitter trade conflict that began in 2007 when the U.S. filed a complaint with the World Trade Organization, alleging China was unfairly restricting access to its market.
However, the deal cut into profits for China Film Group, which took the position that American studios should pay the 2% tax from their share of revenues. The tax, implemented by the Chinese government Aug. 1, is nationwide and not specific to movies.
Studios balked, saying the levy violated the terms of the 2012 trade agreement hammered out by Vice President Joe Biden and Chinese Vice President Xi Jinping.
At least four studios refused to accept any payments for movies distributed in China in protest, effectively halting hundreds of millions of dollars in payments for such hit movies as Twentieth Century Fox's "Life of Pi," which grossed nearly $91 million in China, Paramount Pictures' "G.I. Joe: Retaliation" and Sony's "Skyfall."
In recent weeks, Dodd stepped up efforts to end the impasse, which cast a shadow over the deepening ties between China and Hollywood. During the annual Cinemacon trade show in Las Vegas in March, studio executives leaned on Dodd to settle the matter.
Earlier Tuesday a spokeswoman for the MPAA declined to comment on the talks, as did several studio representatives. A spokesperson for China Film Group could not be reached for comment.
PHOTOS: Celebrities by The Times
China Film Group's unpredictable actions have been a source of frustration for Hollywood. Among the grievances: The distributor yanked Quentin Tarantino's "Django Unchained" from theaters in April on the day it premiered in China. After being re-edited, the film was reintroduced in Chinese theaters in May, but bombed at the box office. The company also has angered studios by releasing American blockbusters simultaneously on the same weekend, a tactic perceived to favor local productions.
For its part, China Film, based in Beijing, has faced growing pressure to improve relations with movie studios in advance of a planned initial public offering, given that a lingering financial dispute with its American partners could dampen investor interest.
"The U.S. and Chinese film industries enjoy a close and productive relationship and the MPAA is grateful to our counterpart, the State Administration of Press, Publication, Radio, Film and Television for their commitment in resolving this matter favorably,'' Dodd added in his statement.
The New York Times first reported news of the pending settlement.
---
From the Emmys to the Oscars.
Get our revamped Envelope newsletter for exclusive awards season coverage, behind-the-scenes insights and columnist Glenn Whipp's commentary.
You may occasionally receive promotional content from the Los Angeles Times.