Emmys preview: Building a case for 'Empire,' favorite finales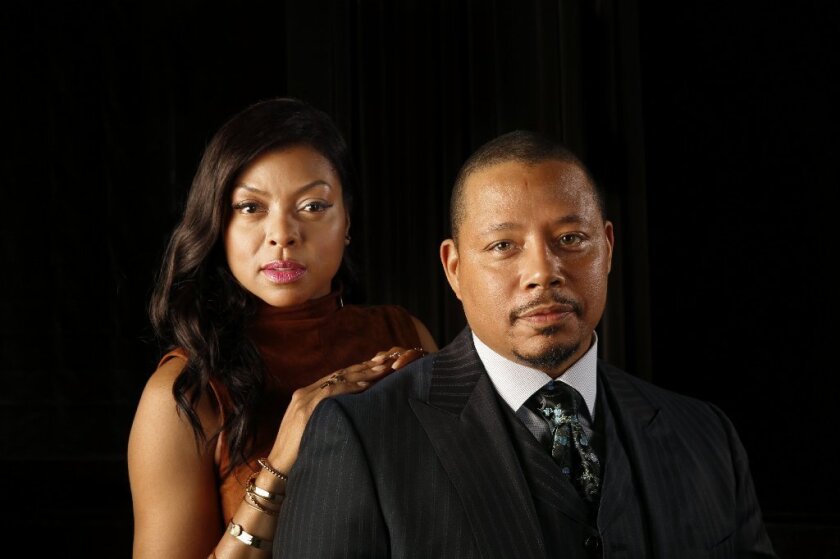 Emmy nominations arrive Thursday morning, so it's high time to gather The Envelope's Buzzmeter panelists — USA Today's Robert Bianco, TV Guide's Matt Roush, Entertainment Weekly's Melissa Maerz, the Los Angeles Times' Mary McNamara and Glenn Whipp, and Gold Derby's Tom O'Neil — to discuss this year's most intriguing races.
In the first of two parts, the group debated the dominance of "Modern Family," made a case for some comedy newcomers and offered Television Academy voters some advice on breaking bad habits. In Part 2 they discuss "Empire's" place in the Emmys, stump for some favorite performers and reveal which departing show they think should win the most love from voters.
What series or actor would you most like to see finally win a nomination?
Bianco: Eden Sher from "The Middle." Just watch the season finale, and then explain how voters continue to overlook her.
O'Neil: The most horrible thing about "American Horror Story" is that Emmy voters keep snubbing poor Evan Peters.
McNamara: Tatiana Maslany and "Orphan Black." Also Michael Kitchen and "Foyles War," which has entered the race for the first and possibly (hope springs eternal Anthony Horowitz!) last time.
Roush: For drama, "The Americans," hands down. But the most underrated comedy, and performance, on TV is ABC's "The Middle" and its brilliant supporting player, Eden Sher. Forever living in "Modern Family's" shadow, this sitcom is more relatable and relevant in its Indiana family's economic and parental woes. And this being the "year of Sue," her graduation year, the wonderful Sher made the most of it -- up to the finale, when she realized that her classmates actually knew who she was and really liked her. Now it's Emmys' turn.
Whipp: In trying to figure out why Nick Offerman has never been nominated for bringing to life man's man icon Ron Swanson on "Parks and Recreation," the only reason I could possibly imagine is that he never had an episode fully devoted to his character. "Parks" was always a team operation. So whatever episode Offerman submitted to voters would have moments of comic brilliance, but apparently not enough to convince quantity-over-quality-minded voters that he was worthy of saluting.
But this season, "Parks'" last, contains a beautiful episode in which Ron and Amy Poehler's Leslie work through their ongoing feud in a way that's funny and beautiful and damn near poetic. That, my friends, is an Emmy episode worth toasting, provided, of course, that your alcohol of choice is not clear.
Emmys last call: Which departing show deserves the most love — "Mad Men," "Justified," "Parks and Recreation" or "Parenthood"?
Maerz: My vote goes to "Mad Men." I could quibble with certain aspects of the final season (enough with Diana the Waitress!) but that ending was perfection, and sticking the landing of a favorite drama is one of the hardest things to do. Was Don's Coca-Cola campaign the ultimate sign that he's so cynical, he can't have a single authentic experience that he won't use as an excuse to sell something? Or was that advertisement just proof that he's the best of the best when it comes to making his life into an art form? Somehow, I think we'll be debating that for a long time.
McNamara: "Foyle's War." (See above.) Out of the choices provided? "Parks and Rec." It was such a sweetly funny and deceptively significant comedy that managed to embody all the ideals we claim to hold dear — tolerance, inclusiveness, equality, respect for democracy in both big and small government — without ever seeming defiant or even political. It was an amazing series that will, I suspect, outlive many of its peers.
Bianco: "Justified," for proving that it's possible to put together a completely satisfying last season, and last episode, that remains true to the spirit of the series and the integrity of the characters while still giving the audience what it wants.
O'Neil: "Mad Men" pulled off a rare, spectacular TV resurrection worthy of returning it to serious Emmy recognition.
Roush: "Mad Men" did improve considerably (though still uneven) in the back half of its final year, but no show had a more enjoyable and satisfying final season than the perennially under-appreciated "Justified" — going back to its Harlan County roots in the end, with deliciously stellar work from Timothy Olyphant, Walton Goggins, Joelle Carter and the magnificent Sam Elliott.
Whipp: "Parks" is timeless. Of the shows listed, it's the one more people I know keep discovering and treasuring. And as the members of its awesome-sauce ensemble keep honing and discovering their individual voices, their success will continue to send audiences back to the home of their collective glory.
Lee Daniels calls "Empire" a "black 'Dynasty.'" That '80s soap never won a major Emmy. Should "Empire"?
Bianco: Win? No, at least not this year. But it certainly should be a major presence in the nominations.
McNamara: I don't remember "Dynasty" being anywhere as good or as ambitious as "Empire" so I think Mr. Lee Daniels is selling his show short. If it isn't nominated in multiple categories, well, it will be a ve-ry interesting nomination morning ....
Whipp: No other TV show entertained on such an epic level this year. If possible, I'd invent new categories (shoe-throwing, drip-drippity-dropping) to honor it.
Roush: "Empire" deserves attention and respect, and a nomination for Taraji P. Henson's fabulous breakout character of Cookie would be most welcome, but given the relative strength of the overcrowded drama field these days, it's hard to make an argument for this sort of guilty pleasure to be the best in its category (when shows like "The Americans" and "The Good Wife" fail even to make the cut season after excellent season).
O'Neil: "Empire" is powerhouse TV. It deserves to rule over the Emmys like Joan Collins presiding at Tea Dance.
Twitter: @glennwhipp
---
From the Oscars to the Emmys.
Get the Envelope newsletter for exclusive awards season coverage, behind-the-scenes stories from the Envelope podcast and columnist Glenn Whipp's must-read analysis.
You may occasionally receive promotional content from the Los Angeles Times.