Gold Standard: For Golden Globes, 'Martian' and 'Joy' are comedies, 'Trumbo' moves to drama
"The Martian" is a comedy. As is David O. Russell's upcoming movie, "Joy."
So says the Hollywood Foreign Press Assn.'s eligibility committee, which, in a vote, decided to keep both films just where 20th Century Fox wanted them for the upcoming Golden Globes awards.
SIGN UP for the free Indie Focus movies newsletter >>
The Blacklist-era biopic "Trumbo" didn't receive its wished-for comedy category placement, however. The HFPA's eligibility committee moved the film and its cast, which includes Bryan Cranston and Louis C.K., to drama.
Watch Q&As with the 'Trumbo' cast and crew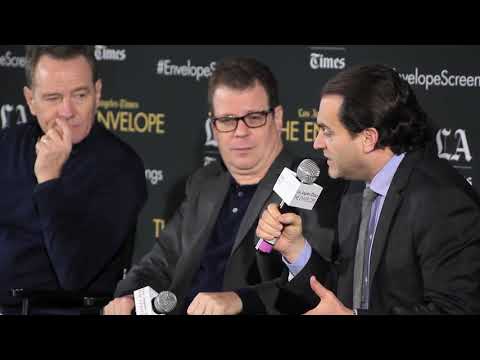 On Now
'Trumbo:' Dissecting Edward G. Robinson
On Now
'Trumbo': Looking back at Dalton Trumbo's life and work
On Now
'Trumbo:' Measuring patriotism and talking civil rights
On Now
'Trumbo:' The blacklist and Hollywood
On Now
'Trumbo:' Navigating the media landscape, past and present
The HFPA splits its best picture, actor and actress prizes into the categories of drama and musical/comedy. Since there are typically far more serious-minded contenders than carefree romps, studios and their awards consultants try to wedge the tweeners -- films that could fit in either group such as "Nebraska" and "The Wolf of Wall Street," to name two recent comedy nominees -- into the less competitive group.
The placement of "Joy," which stars frequent Russell collaborator Jennifer Lawrence as a young woman pursuing her piece of the American dream, wasn't surprising. Russell's last two movies -- "American Hustle" and "Silver Linings Playbook" -- competed as comedies at the Globes, with "Hustle" taking the picture prize and honors for Lawrence and costar Amy Adams.
Still, not everyone is happy.
"Trying to dominate the comedy category when you are really a drama afraid of dramatic competition is a punk move," filmmaker Judd Apatow tweeted last month, reacting to the notion of "Joy" being considered a comedy. (Apatow, it should be noted, has a prime comedy contender of his own this year with "Trainwrecked.")
Finding "The Martian" in the comedy category is also raising a few eyebrows around town. Ridley Scott's sci-fi survival tale is surprisingly funny. One of the year's biggest movie laughs comes when Matt Damon's stranded astronaut boldly proclaims: "Mars will come to fear my botany powers!" And Scott makes full use of cast member Kristen Wiig's comedic gifts.
Still, "comedy" isn't the first genre that springs to mind when discussing the film.
And, apparently, some HFPA members agree. "The Martian" made it into the comedy category by just one vote.
Golden Globes nominations will be announced Dec. 10.
ALSO:

AFI Fest: Will 'Concussion' bring Will Smith his third Oscar nomination?
Quentin Tarantino responds to police boycott calls: The complete conversation
Are the Golden Globes trying to one-up the Oscars with Ricky Gervais?
From the Oscars to the Emmys.
Get the Envelope newsletter for exclusive awards season coverage, behind-the-scenes stories from the Envelope podcast and columnist Glenn Whipp's must-read analysis.
You may occasionally receive promotional content from the Los Angeles Times.