Quentin Tarantino, promoting his latest movie "The Hateful Eight," proclaimed that he wanted to win more screenplay Oscars "than anybody who's ever lived." Would that we all had such ambition for our work. But Tarantino will have to wait, as the writers branch bypassed him and another favorite, Aaron Sorkin, this year in favor of 15 first-time nominees, including four women.
The directors branch, meanwhile, baptized four first-timers including "Mad Max: Fury Road" helmer George Miller, who at the age of 70 earned an inaugural nod for directing after having been recognized twice as a writer ("Babe," "Lorenzo's Oil") and twice as a producer ("Babe" and the Oscar-winning animated movie "Happy Feet").
SIGN UP for the free Gold Standard newsletter >>
Will any of these newcomers prevail? Let's take an early look at the three races.
DIRECTOR
Adam McKay, "The Big Short"
George Miller, "Mad Max: Fury Road"
Alejandro G. Iñárritu, "The Revenant"
Lenny Abrahamson, "Room"
Tom McCarthy, "Spotlight"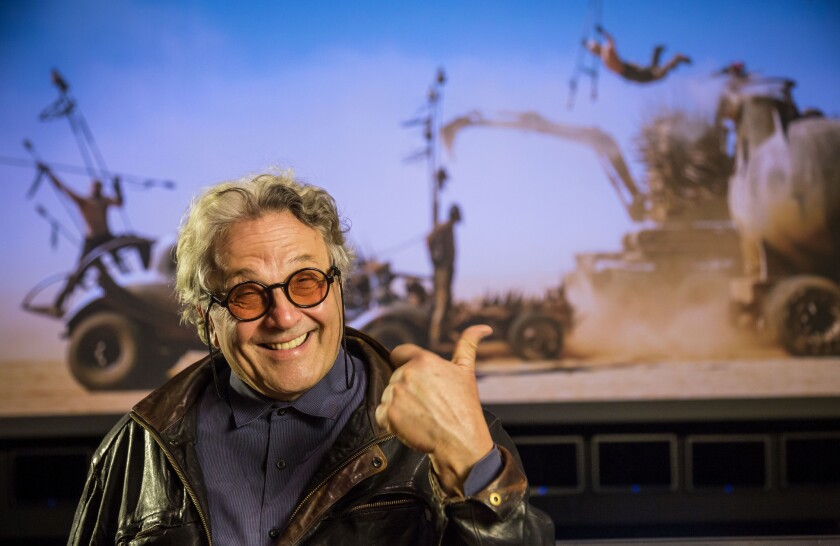 And the winner is: Miller. As always, the Directors Guild, which hands out its prizes Feb. 6, will provide the best indicator as to who will go on to win the Oscar. For the moment, we're betting on Miller, the well-liked Australian who redefined the post-apocalyptic action movie with "Fury Road." The film remains a long shot for best picture, but the bet is that, like the recent Oscars to Ang Lee ("Life of Pi") and Alfonso Cuarón ("Gravity"), the academy splits the two categories, rewarding a director who delivered a dazzling popular entertainment.
Unless: Nineteen directors have won at least two Oscars. Only two of them took home Oscars in back-to-back years — John Ford for "The Grapes of Wrath" and "How Green Was My Valley" in 1941-42 and Joseph L. Mankiewicz for "A Letter to Three Wives" and "All About Eve" in 1950-51. Iñárritu, the winner last year for "Birdman," could join that select company if enough voters buy into "The Revenant's" brutal beauty.
ORIGINAL SCREENPLAY
"Bridge of Spies," Matt Charman and Ethan Coen & Joel Coen
"Ex Machina," Alex Garland
"Inside Out," Pete Docter, Meg LeFauve, Josh Cooley; original story by Pete Docter, Ronnie del Carmen
"Spotlight," Josh Singer & Tom McCarthy
"Straight Outta Compton," Jonathan Herman and Andrea Berloff; story by S. Leigh Savidge & Alan Wenkus and Andrea Berloff
And the winner is: "Spotlight." The journalism drama from McCarthy and first-time nominee Singer about the Boston Globe's investigation into a Catholic Church sex abuse scandal has been derided by some for its prosaic visual style, but there have been few complaints about its meticulous screenplay, which has swept through the awards season largely unchallenged. This may be the only Oscar that the measured "Spotlight" wins, but few will begrudge its victory.
Unless: "Inside Out," from multiple nominee Docter and his first-timer co-writers, became the eighth Pixar movie nominated for its writing. The studio has never won, though, despite having the goods with "Up," "Ratatouille" and "Wall-E." That's not likely to change, even if "Inside Out" expertly opened up tear ducts.
ADAPTED SCREENPLAY
"The Big Short," Charles Randolph and Adam McKay
"Brooklyn," Nick Hornby
"Carol," Phyllis Nagy
"The Martian," Drew Goddard
"Room," Emma Donoghue
And the winner is: "The Big Short." Like "Spotlight" in the original screenplay category, it's quite possible that this may be the only Oscar that "The Big Short" wins from its five nominations. (Both movies do have a shot at best picture too.) Forget how hard it was to make "The Revenant." For first-timers Randolph and McKay, turning Michael Lewis' bestseller about the 2008 financial crash — and why it could well happen again — into an entertaining, enlightening movie ranks as the film year's biggest degree-of-difficulty feat.
Unless: After being largely ignored by the guilds, "Room" surprised many with its four Oscar nominations, including picture, director, lead actress and first-time nominee Donoghue's screenplay, which she adapted from her own celebrated novel. The film's powerful story of survival and devotion produces a passion among its supporters, making it capable of pulling off an Oscar-evening surprise.
---