Two actors, one role — but little Sunny Pawar may have had more fun than Dev Patel in 'Lion'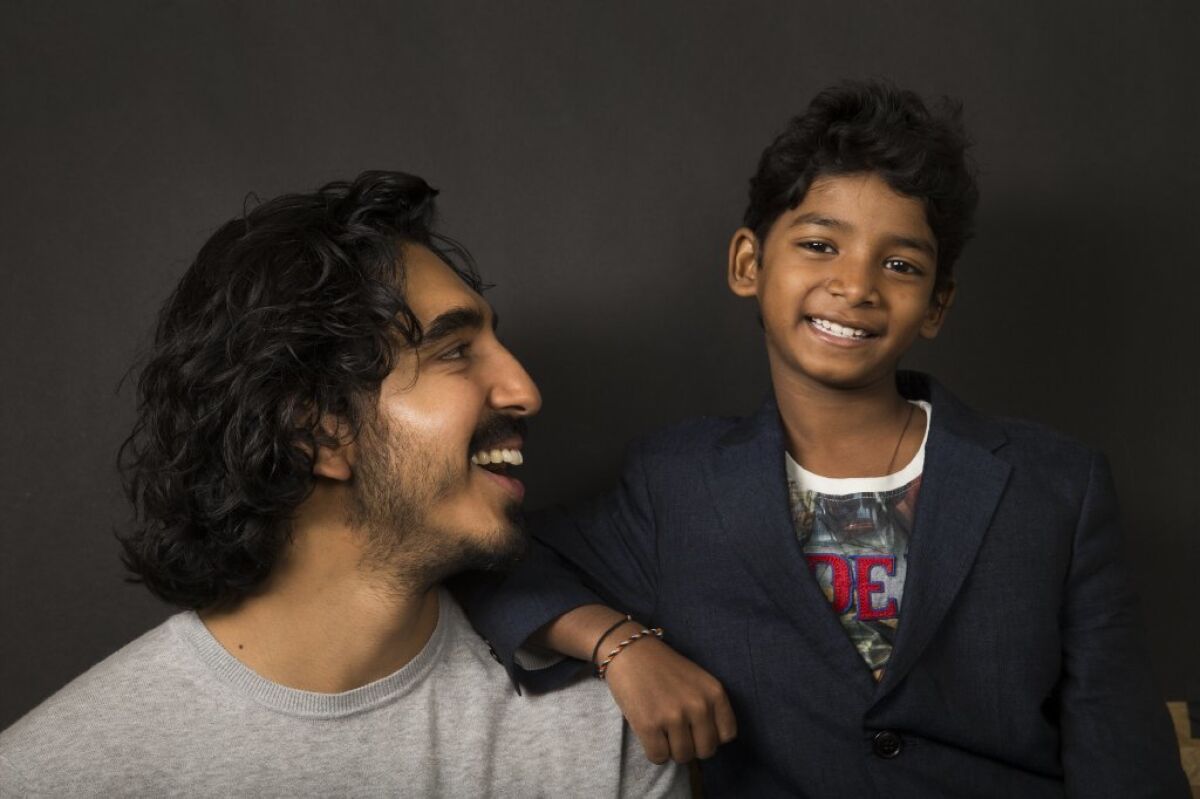 Sunny Pawar's life has changed dramatically ever since he was cast in Garth Davis' "Lion" at the age of 6. Almost two years later the native of Mumbai recently finished his first trip to the United States, where he promoted the film and visited the Statue of Liberty and, of course, Disneyland.
His translator notes, "He knew it was a movie, but he did not know that it would become so big."
Sunny plays Saroo in the fact-based story of a young boy who is separated from his family after getting stuck on an empty passenger-train car and traveling thousands of miles across India unable to explain to curious adults trying to help him what village he's actually from. Eventually, a Western couple, played by Nicole Kidman and David Wenham, adopt him and take him back to Australia.
Rooney Mara, Dev Patel and Nicole Kidman star in "Lion."
Decades later an adult Saroo, portrayed by Golden Globe and SAG nominee Dev Patel, tries to trace his way back home using, of all things, the surprising power of Google Maps.
Patel met Sunny when the production was preparing to shoot in India and his eyes brightened when they saw each other again in a West Hollywood hotel for a day of press interviews. Patel, of course, is an old pro at this game, but Sunny is a bundle of energy excited by everything going on around him.
"Look at him. He's just the most scrumptious little adorable creature, isn't he? He's so smart," Patel says. "He's been here just under a month and his English has just exponentially gotten better. It's astounding, his ability to be able to grasp things so quickly, and it's just been awesome. He met Bill Clinton in New York. He's traveled around America shaking hands. I think he can make America great again, this guy."
For Davis, it was important to create a connection between the two actors. Even though they were never going to appear on screen together, they were essentially playing the same person, so Sunny's scenes as a young Saroo had to become Patel's memories as the older character. The "Slumdog Millionaire" actor traveled to India early in the production just to watch Sunny and the other actors playing Saroo's family work.
"It allowed me to meet Priyanka [Bose], who plays Saroo's biological mother, and Abhishek [Bharate], who plays his biological brother," Patel says. "And I watched them do those scenes with Pawar and took those moments as my memories, so when I came to Australia, I was building on it, on a history."
Later in the film, as Saroo is struggling with a flood of painful memories of his former life, the Aussie filmmaker used audio of Sunny and the other actors — from scenes Patel had watched being shot. "I'm staring at his blank laptop screen trying to master these emotions all of the sudden," Patel says. But having been there on set, "I could see the room, I could see the colors, I could smell India, and that's what you have to kind of transport yourself back."
In many ways, Patel sounds grateful that Davis found such a remarkable young actor in Sunny to play the younger version of his character.
"He found this similar light, I guess," Patel says of he and his young counterpart. "His journey is very external, whereas mine in the film is more internalized. His is a reactive force against a world, and dodging the predators and all sorts of things. Mine is a different tone, even though we're playing the same person."
Dev Patel talks about portraying a man raised in Australia, then tracing his roots in India in "Lion."
Like any other kid his age, Sunny has only so much patience for interviews and eventually gets distracted. But there were a number of things he was willing to answer. He had the most fun shooting the running scenes and what he calls the "train scene," which is the dramatic moment when Saroo gets stuck on the passenger car. He loves acting and loves dancing to the Sia song "Never Give Up" that plays over the end credits at every post-screening Q&A.
Patel notes, "They go insane when he comes in the room. He's a little rock star. He stands up on his chair sometimes and waves to his adoring fans."
And, through his translator Sunny adds, "I like talking to people and I love signing autographs."
The youngster has already filmed his second role, alongside Demi Moore in Tabrez Noorani's "Love Sonia," which was produced by "Life of Pi's" David Womark. And after a taste of Hollywood, he's now dreaming big.
Smiling and somewhat taken aback, his translator interjects, "Did you hear that? There's a big Bollywood star called Shah Rukh Khan. Sunny's like, 'I'm not Shah Rukh Khan, I'm Sunny Pawar!'"
Judging by that infectious smile and inherent talent, no one should put it past him to get that big.
See the most read stories this hour »
ALSO:
Leslie Mann likes her comedies dark, as with 'The Comedian'
Riz Ahmed and 'The Night Of' strike a chord of contemporary concerns
Michael Keaton finds another meaty role in McDonald's tale 'The Founder'
---
Get our L.A. Goes Out newsletter, with the week's best events, to help you explore and experience our city.
You may occasionally receive promotional content from the Los Angeles Times.