Gold Standard: 'Roma' puts Netflix in the thick of the best picture Oscar race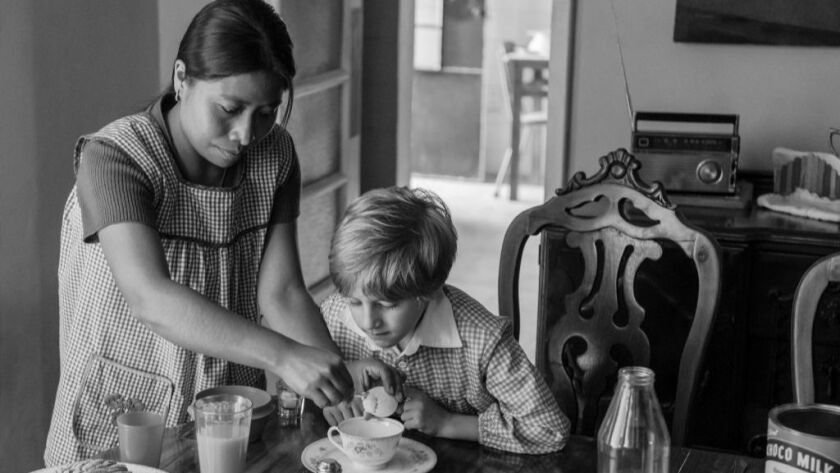 Many best picture Oscar hopefuls are arriving in theaters. If you're a Netflix subscriber, one of the season's leading contenders will begin streaming next month, though, in a break from precedent, it will be playing in select theaters first, beginning Wednesday.
Welcome to the Gold Standard, the newsletter from the Los Angeles Times that helps guide you through the ins and outs of the awards season leading up to the Oscars.
I'm Glenn Whipp, The Times' awards columnist and your newsletter host.
Netflix aims for first best picture nom with 'Roma'
I wrote about Netflix's evolving awards season strategy, which now has Alfonso Cuarón's celebrated festival favorite, "Roma," arriving in select theaters on Wednesday, a good three weeks before it begins streaming.
That provides "Roma" a window of opportunity to build buzz and assuage academy naysayers who grumble about Netflix's policy of releasing movies simultaneously in theaters and on its service. It will also provide awards season voters with more opportunities to see the meticulously crafted, 65mm, Dolby Atmos movie in an optimal presentation. (Netflix is also offering early theatrical releases for the Coens' inspired western anthology "The Ballad of Buster Scruggs" and Susanne Bier's thriller "Bird Box.")
"I want this movie to be seen by as many people as possible," Cuarón told me recently before a guild Q&A we did together for the film. "And Netflix will make that possible. I also appreciate their effort and passion to provide people with the chance to see it in a theater. This was a labor of love."
"Roma" is a virtual shoo-in for a best picture nomination. As Adam McKay's sure-to-be-scathing Dick Cheney biopic "Vice" is having its first public screening Saturday, I didn't include it among the eight movies I think will join "Roma." But if it's as good as McKay's last movie, "The Big Short," then adjustments will be made. You can read my full list here.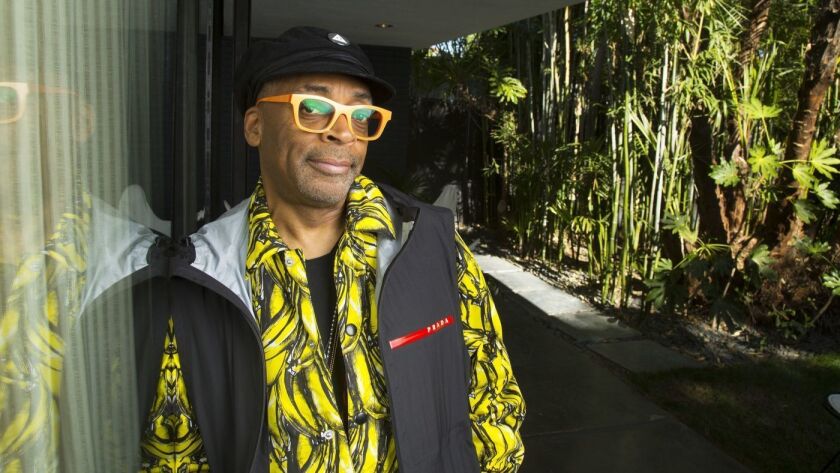 'BlacKkKlansman' puts Spike Lee in the Oscar conversation
Spike Lee saw D.W. Griffith's "The Birth of a Nation" during his first year at New York University's Tisch School of the Arts, and he has been crafting and honing his response to that experience throughout his career, including his latest movie, "BlacKkKlansman."
I spoke to Lee recently about his hit movie, which tells the true story of a black detective who infiltrated a Colorado chapter of the Ku Klux Klan in the early 1970s with the help of a white colleague.
Not in the interview, the cover of this week's Los Angeles Times' Envelope, was a lengthy discussion of Lee's days of running onto the Shea Stadium field during the New York Mets' 1969 run to a World Series championship. After the Mets defeated the Baltimore Orioles in the climactic game five at Shea, Lee and thousands of other fans sprinted onto the diamond, tearing out chunks of turf for souvenirs. Lee put the grass on a shelf in his room where it stayed for two years — until he came home one day and found that his mother had made good on her threat to throw it out.
"It was no longer a threat!" Lee says, shaking his head. "It was just gone. I can understand it on one level. It wasn't green! It was just a brown patch of hard dirt. But I wish I still had it."
Coen brothers talk 'Buster Scruggs'
Times film writer Josh Rottenberg sat down recently with Joel and Ethan Coen to talk about their terrific new anthology western, "The Ballad of Buster Scruggs," which goes up on Netflix today and is playing in select theaters as well.
The movie consists of six stories — somber and surreal, bleak, bizarre and beautiful — all dealing with mortality.
"Certainly at the point where we'd written three or four of them and thought we had almost enough to do as a feature, we started thinking consciously about what ties them together," Ethan says. "And clearly that was death." The Old West setting, he adds, offers "a lot of death opportunities."
"The Ballad of Buster Scruggs" is a beautifully made and satisfying film, and one of its stories — "The Gal Who Got Rattled," a wagon train love story starring Zoe Kazan and Bill Heck — will haunt you for days.
Feedback?
I'd love to hear from you. Email me at glenn.whipp@latimes.com.
Can't get enough about awards season? Follow me at @glennwhipp on Twitter.
Twitter: @glennwhipp
---
From the Emmys to the Oscars.
Get our revamped Envelope newsletter, sent twice a week, for exclusive awards season coverage, behind-the-scenes insights and columnist Glenn Whipp's commentary.
You may occasionally receive promotional content from the Los Angeles Times.