Newsletter: Gold Standard: Will 'A Star Is Born' move beyond the memes to the Oscars?
"A Star Is Born" has opened in theaters.
Is your reaction like, "Haaaaaa-ahhhh-ahhh-ohhhh-ahhaaaaaa-ahhhh-ahhh-ohhhh-ah"?
Then this edition of the Gold Standard, the newsletter from the Los Angeles Times that helps guide you through the ins and outs of the awards season leading up to the Oscars, is most definitely for you.
I'm Glenn Whipp, The Times' awards columnist and your newsletter host.
'Star' earns enthusiastic reviews
Times film critics Justin Chang and Kenneth Turan both reviewed Bradley Cooper's remake of "A Star Is Born" — Justin at the Toronto Film Festival and Kenny at the time of release — and, to quote a line from the movie's ubiquitous song "Shallow," they're "off the deep end" for the film.
" 'Star' succeeds as well as it does because it's made by people — starting with director and co-writer Cooper — who are unapologetic about their belief in these traditional movie stories," Turan writes. "This is a team that understands the emotional satisfactions that skillfully contrived fantasies can convey, and who are damned good at putting them up on the screen."
Kenny's kicker: "The result is a show business rush so pure it would be illegal if it were a drug."
Justin is equally enthusiastic: "Gorgeously shot, lighted and scored, and acted by both leads with an incandescence that feels fully lived in, Cooper's movie seduces you almost immediately. It doesn't promise the shock of the new, but from the first frame, it casts a spell, the kind that lets you know immediately that you're in good hands."
As someone not quite as fully seduced by the movie's charms (if "Star" were a drug, it had the same effect as caffeine on me — it wore off fast), I should note that Kenny correctly points out that the movie "inevitably falters a bit in the second half."
And, really, how could it not? The first hour, in which Cooper's bottomed-out, roots-rocker addict meets Lady Gaga's aspiring singer-songwriter is damn near perfect, a meeting and melding of two lost souls that's exhilarating to watch.
Then the second hour happens, and "A Star Is Born" is a prisoner of its form, hitting all the expected notes. Even if you haven't seen the other three versions, the rags-to-riches (and riches-to-rags) story can't help but feel a little timeworn. That's not crippling. But it's a tangible letdown after that thrilling opening hour.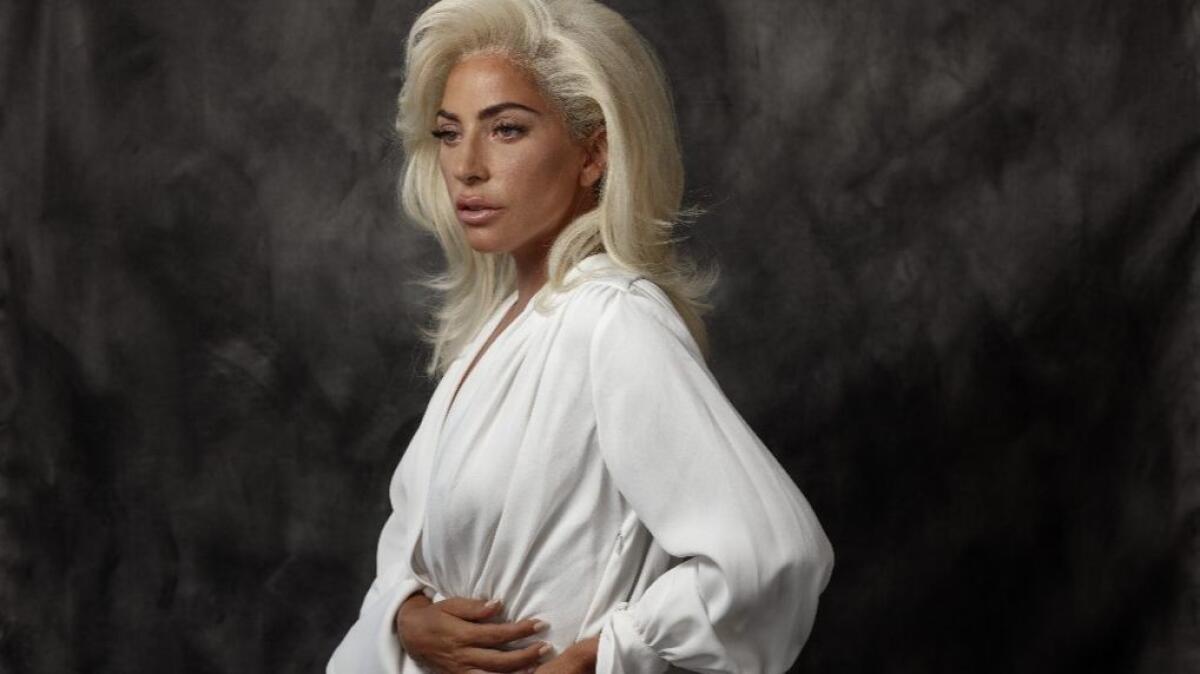 Taking another look at Lady Gaga
Before "A Star Is Born" played at the Venice and Toronto film festivals, Times staff writer Amy Kaufman interviewed Lady Gaga at the singer's Malibu home — a $23-million, six-acre estate complete with a two-lane bowling alley, dressage ring and safe room.
This is the same home where Cooper screen-tested Gaga in 2016, wiping off, as Kaufman wrote, her concealer, mascara and rouge because he wanted to see her "completely open, no artifice."
When he left that day, did he roll down his car window and say, "Hey, I just wanted to take another look at you"? We don't know. But Amy's story delivers plenty of great details, including, but not limited to, French bulldogs, horses and the following quote: "I never cried, but I would just hold on to my records for dear life and say, 'You'll pry them from my cold, dead fingers.' "
Times photographer Jay L. Clendenin was there that day too, and you can view his Gaga gallery here.
No popular film Oscar … but a best picture nom?
Times entertainment business writer Ryan Faughnder forecasts that "A Star Is Born" will bring in between $30 million to $35 million at the box office this weekend. That would put it behind the weekend's other big opener, the critically reviled comic book movie "Venom," but it would also represent a strong commercial launch for the film. If the countless "Star"-inspired memes are any indication, it has all the makings of a long-running hit.
Had the popular film Oscar made it out of the gate, "A Star Is Born," along with "Black Panther" and "Crazy Rich Asians," would be at the front of the pack. But given the critical acclaim and strong commercial prospects, the movie should still score well at the Oscars. Cooper alone could pull in five nominations — as a producer, director, lead actor, co-writer of the adapted screenplay and original song composer. (He co-wrote a handful of the movie's tunes, though not the aforementioned earworm, "Shallow.")
If Cooper snags nods for directing and acting, he'd be the ninth person in Oscar history to do so for the same film. (Clint Eastwood and Warren Beatty have each done it twice.)
A lead actress nomination for Gaga also seems a foregone conclusion, and I'd imagine that supporting actor Sam Elliott, Matthew Libatique's striking cinematography, Jay Cassidy's editing and the movie's sound team will be in the mix. Factor in the songs and maybe recognition for Gaga's gowns and Cooper's cowboy hat, and you've got a movie that could strike a "Haaaaaa-ahhhh-ahhh-ohhhh-ahhaaaaaa-ahhhh-ahhh-ohhhh-ah" thunderclap on Oscar nominations morning.
Feedback?
I'd love to hear from you. Email me at glenn.whipp@latimes.com.
Can't get enough about awards season? Follow me at @glennwhipp on Twitter.
Twitter: @glennwhipp
From the Oscars to the Emmys.
Get the Envelope newsletter for exclusive awards season coverage, behind-the-scenes stories from the Envelope podcast and columnist Glenn Whipp's must-read analysis.
You may occasionally receive promotional content from the Los Angeles Times.