Ewan McGregor slipped easily between 'Fargo's' feuding brothers: 'I was totally Ray ... and totally Emmit'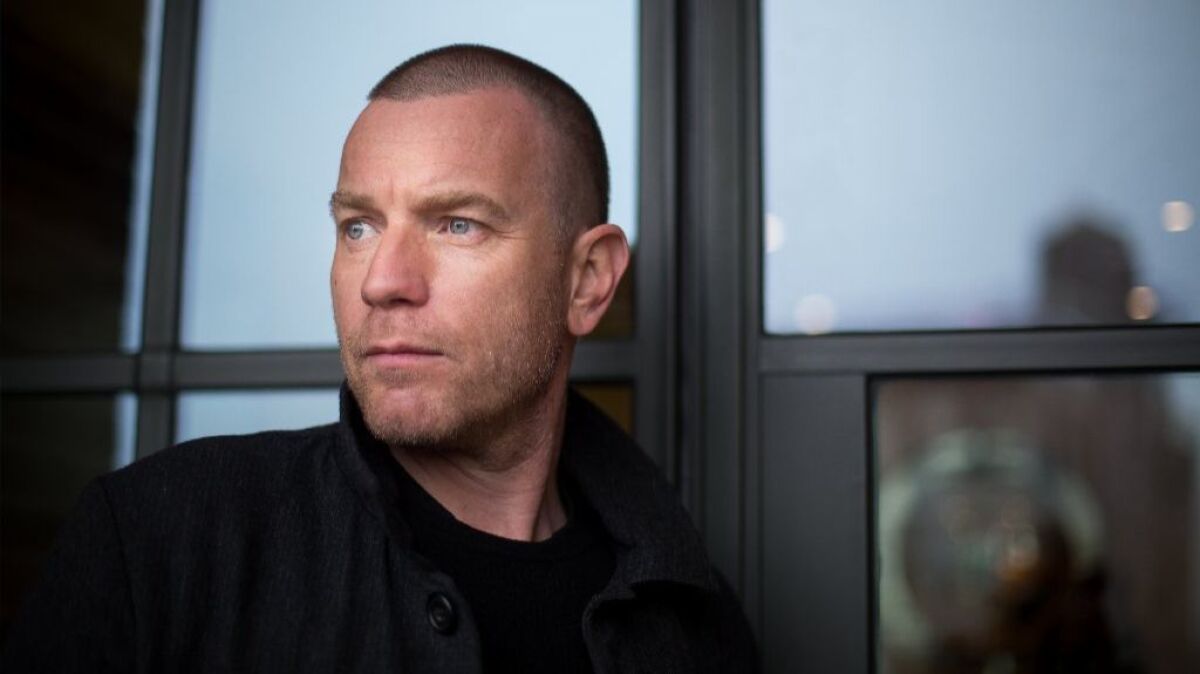 Ewan McGregor is no stranger to dual roles. He played both Jesus and the Devil in 2015's "Last Days in the Desert" and a decade earlier portrayed his own clone in "The Island." But only Noah Hawley's limited FX series "Fargo" required the Scottish actor to play both sides of a bloody death scene.
As feuding brothers Emmit and Ray Stussy, McGregor came to be fighting with himself over a rare, framed postage stamp. Shoving the stamp over to younger brother Ray as part of a peace offering, Emmit accidentally breaks the frame, lodging a shard of glass in Ray's neck and then watches in horror as his brother bleeds to death.
On the Set: When 'Fargo' brought its snowy noir to Los Angeles »
McGregor, on the phone from Montreal where he's shooting his next film, "Zoe," recalls the climactic showdown. "It was a very odd day because I was sick as a dog and taking DayQuil or NyQuil or whatever it is. We shot the Ray stuff first opposite my friend Steve, who doubled for Emmit. I was thinking about how Ray left his girlfriend Nicki in a hurry, didn't give her a kiss or a proper goodbye and now they'll never get a chance to have the life they dreamed. That felt quite desperate to me so I wanted to find a pathetic position for Ray to die in. I went to my knees, tipped over and ended up in this very awkward place. I thought it was kind of a cool position for Ray to be in as he dies."
After McGregor acted out Ray's death throes, he played the other side of the scene. "Our body double Paul watched all the takes of me being Ray so he was able to mimic the lines and the timing. As Emmit, through Paul, I just played off what I had already done as Ray. By that point, I'm not really thinking about breaking down the moments. I'm just in it. And that's how I did all the Ray-Emmit scenes: I was totally Ray when I played Ray and totally Emmit when I played Emmit. They didn't get in the way of each other because these brothers have completely different spirits."
Emmit's a capitalist, so Trump becoming president was quite useful for me as I prepared to play this man who's just about making money.
— Ewan McGregor
To get inside the curly-wigged head of Emmit, the self-proclaimed Parking Lot King of Minnesota, McGregor took a few cues from Donald Trump. He explains, "Emmit's a capitalist, so Trump becoming president was quite useful for me as I prepared to play this man who's just about making money." Thirty years earlier, Emmit bamboozled Ray into swapping his precious collection of rare stamps for a muscle car. "At 17," McGregor says, "Emmit knew what he wanted and tricked his brother to get it."
Taking on Ray, McGregor gained three inches around the waist and wore a bald wig to embody the surly parole officer who's fallen madly in love with parolee and would-be criminal mastermind Nicki Swearingen (Mary Elizabeth Winstead). "At work, Ray's really rude and has no respect for people because he's got no respect for himself, but he absolutely adores Nicki," McGregor says. "It's quite endearing, I think, and funny as well to see Ray suddenly switch into being a pussy cat whenever he's around Nicki."
The "Fargo" actress talks about what she's binge-watched and recalls her first acting job on "Touched by an Angel."
After Ray's shocking death, McGregor transforms Emmit into a guilt-ridden character who's no match for white-collar criminal Varga. Portrayed with reptilian charm by British actor David Thewlis, Varga strips the formerly cocksure Emmit of his corporate assets, eats his food and moves into his mansion. "David's amazing," says McGregor, who vividly remembers Thewlis' incendiary star turn in Mike Leigh's 1993 movie, "Naked." "I saw it one afternoon at the Haymarket Cinema in London, came out of the theater and walked through Leicester Square ready for a fight or something because I felt so strong just from watching David's performance."
The two British natives convey their characters' predator/prey relationship with unsettling bravado, but McGregor never huddled with Thewlis to discuss story arcs. "It's not my style to talk about things like that," McGregor explains. "I got to watch him deliver this extraordinary dialogue in a really specific way where you can't imagine anyone doing it other than Thewlis. But I don't discuss scenes with other actors. I don't like to plan what's going to happen. I just play in the moment and see what happens. I think it's much better that way."
See the most read stories this hour »
ALSO:
Review: Beautifully constructed 'Fargo' returns for Season 3
Ava DuVernay doubles down on women directors for 'Queen Sugar': Meet the new crew
Netflix's wrestling comedy, 'GLOW,' enters the TV ring armed with hammerlocks and female empowerment
From the Oscars to the Emmys.
Get the Envelope newsletter for exclusive awards season coverage, behind-the-scenes stories from the Envelope podcast and columnist Glenn Whipp's must-read analysis.
You may occasionally receive promotional content from the Los Angeles Times.