Is the Golden Age of Television passing? Or just taking the year off?
Four of the seven shows that earned Emmy nominations in 2018 for drama series aren't eligible this year because their new seasons won't debut in time. "The Handmaid's Tale" arrives next month. "Stranger Things" drops on the Fourth of July. "The Crown," with a new cast including Oscar winner Olivia Colman playing Queen Elizabeth, is eyeing the fall. And nobody really knows (or cares?) when the third season of "Westworld" will land.
Add in the fact that "The Americans" has departed, and that leaves us with just "Game of Thrones" and "This Is Us" returning from last year's nominees. "Big Little Lies," which swept the limited series categories two years ago, could have stepped into the breach as it'll now be competing as a drama series. But star-producer Nicole Kidman tells The Times it was a scramble to even make the June 9 premiere, making it too late for this year's run. ("We are hustling like crazy to get it done in time," she says.)
FULL COVERAGE: The final season of 'Game of Thrones' »
So when the dust clears, what are we left with — besides the inevitable Emmy farewell salute to "Game of Thrones"? Here's how the drama series nominations should shake out.
DRAMA SERIES
"Game of Thrones"
"Better Call Saul"
"Killing Eve"
"This Is Us"
"Ozark"
"Succession"
"Pose"
Next up: "Homecoming," "The Good Fight," "Bodyguard"
In the mix: "Billions"
Analysis: "Pose" is a top-shelf Ryan Murphy melodrama — corny and compassionate and adept at telling smart stories about race, sexuality and class. It's also revolutionary, casting five trans women of color to anchor the show. Its second season premieres as Emmy ballots go out, and the hoopla should prod latecomer voters to give it a chance.
"Succession," the season's other standout newcomer, could easily be classified as a comedy for its sublime satire and pointedly dark observations about the toxic lives of an obscenely wealthy family modeled after the Murdochs. Having debuted almost a year ago, HBO will need to remind voters just how much they enjoyed the series and its ensemble, particularly Brian Cox and Kieran Culkin.
I wasn't as taken with "Homecoming" as some critics, perhaps because I found the podcast starring Catherine Keener and Oscar Isaac far more intriguing than Sam Esmail's adaptation. Even at just eight half-hour episodes, the series dragged. "Homecoming" could still well earn a nomination, but I also wonder if its shorter format — and chilliness — might work against it. Then again, having Julia Roberts as your headliner helps.
BUZZMETER: Predicting the Emmy nominations »
I'll save the gripe session about the final season of "Game of Thrones" for another column, except to note that the series has always been uneven, so why should that matter now?
It'd be nice to say that second-year series "Killing Eve" and "Ozark" built on their debuts and could make a case for displacing the reigning (and eventual) champion. Creator Phoebe Waller-Bridge's absence has been deeply felt on "Eve," which meandered when not focused on the relationship between Eve and Villanelle. "Ozark's" new episodes again featured the wonderful Julia Garner (which eased the pangs of missing "The Americans" just a little), but her spitfire character couldn't compensate for the fact that we don't care much about its main characters, no matter the talents of the actors (Laura Linney and Jason Bateman) playing them. "Ozark" still might earn a nom, but mostly because it has the highest profile of any Netflix drama contender.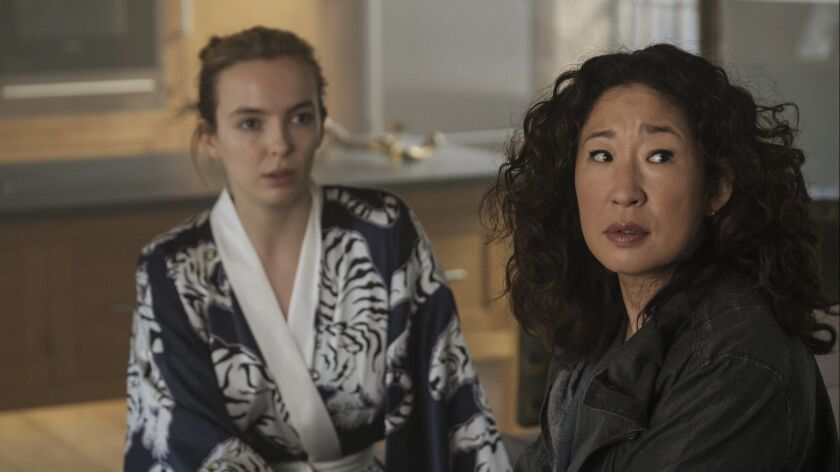 READ MORE: 'Killing Eve' and Sandra Oh play up the shifting dynamics of spy vs. assassin »
That spot would be better filled by "Billions," even though it's a rare thing for Emmy voters to jump on a show's bandwagon four years into its run. But "Billions" has evolved into one of television's better dramas, managing to be both impeccably structured and completely unpredictable. It's juicy, entertaining and, with its stories of political and financial greed, prescient without being preachy. (I wish I could say that more about "The Good Fight.")
Finally, given the so-so field, it'll be nice to welcome back "Better Call Saul." Its fourth season continued the heartbreaking journey of Jimmy McGill selling himself short and becoming the callow manipulator we first met on "Breaking Bad." "S'all good, man," Bob Odenkirk's Jimmy says at the season's conclusion, signaling to the long-suffering Kim (the great Rhea Seehorn, who damn well better earn her first Emmy nomination this year) that his corruption is now complete. "Saul" won't win the Emmy this year, but it has a pretty good case.
Twitter: @glennwhipp
---