Kevin Bacon and Kathryn Hahn push television's boundaries in 'I Love Dick'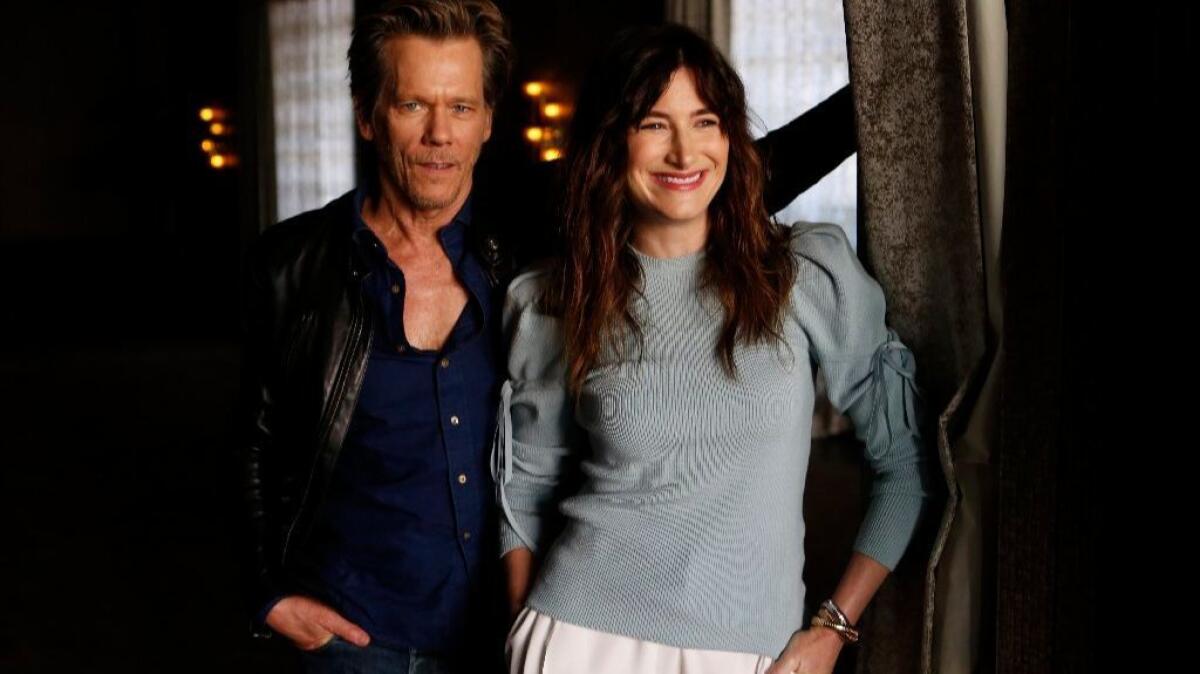 "I Love Dick" crams a lot of life into a double entendre. The new Amazon series from creators Jill Soloway ("Transparent") and Sarah Gubbins, adapted from the eponymous book by Chris Kraus, fools around with love, faith, art, sex, academia, feminism and obsession.
The story centers on struggling filmmaker Chris Kraus (Kathryn Hahn), who travels with her philosophy professor-husband Sylvère (Griffin Dunne), to Marfa, Texas, for a writing retreat. The retreat's enigmatic leader, Dick (Kevin Bacon), becomes the object of Chris' intense fixation, bringing renewed passion to her marriage and leading her down a path of increasingly outrageous behavior.
Sitting next to each other on a couch backstage before a panel event touting the show's premiere earlier this month, Hahn and Bacon were as comfortable together as a season of acting in audacious and intimate scenes would engender.
Dick is the object of Chris' crazed fixation, yet he quickly evolves beyond that.
Hahn: He's the muse.
Bacon: Leave it to an all-female writers' room to actually show a well-rounded male character. That's what's so fascinating about this to me. They write with a lot of affection towards this man. I love the guy. I felt really strongly about him. They respected that.
Kathryn, what do you love about your character?
Hahn: I love how unapologetic and shameless she is, and a little bit guilt-free, in a way that tropes would say men are allowed to be. She's not punished. She punishes herself for sure, but she flings herself forward into this desire. There's something really moving to me about her steadfast forward motion. I've never seen anything like it. It's so embarrassing.
Bacon: I have to point out, you could put in another actress in the role who would be stepping out and looking at herself, saying, 'Maybe I should dial this back because I want people to like me.' But Kathryn just doesn't roll that way. She is —
Hahn: - bat … crazy.
Let's talk about those sex scenes.
Bacon: What [usually] happens is that you do a movie, and you find the realism in the diner scene, or in chasing the guy down, and then when you get to the sex scene, all of a sudden it's not really related to what's outside of it. That's not what happens on "I Love Dick." I don't think that the sexuality feels out of place with the rest of the emotional pieces of it. That's unusual.
What was it like filming that early scene, where Chris and Sylvère fantasize that Dick is watching them have sex?
Bacon: They did that first without me. And I didn't know what it was.
Hahn: Then they brought him in to sit in a chair.
Bacon: They said, 'You just sit here.'
Hahn: I was like, this is going to be a trip, I'll see you on the other side.
Bacon: So I'm sitting in the chair, the music comes on, and out of my periphery, here come these two dancing naked people, who just throw themselves into it. I was just dying inside, thinking this is so funny and so cool. For a seven-minute take or something.
Hahn: It's like a fever, and then you break it and you drive home thinking, what just happened?! Going home to my two small children. Something just stuck out to me about what Kevin just said — it's true the sex scenes in this are all a deeper reveal. They don't feel unnecessary in any way.
The whole show feels just as playful.
Bacon: Stylistically it's very experimental. Throughout the whole season, they curated a bunch of experimental films made by women filmmakers that are intercut into the show. That's normally in art-house cinema.
Or museum exhibitions.
Bacon: Exactly. Not television. But there's an element to this show that is doing that. Andrea Arnold ["American Honey"] is one of the premiere auteur filmmakers. Jill got her to direct "I Love Dick." One of the things she does as a filmmaker, after we do a take, is have us do a silent take. We would play the scene out without speaking. It was mind-blowing.
Hahn: So much feeling comes up when you don't have to use language. We just went anywhere we wanted. It was so fun.
See the most read stories this hour »
From the Oscars to the Emmys.
Get the Envelope newsletter for exclusive awards season coverage, behind-the-scenes stories from the Envelope podcast and columnist Glenn Whipp's must-read analysis.
You may occasionally receive promotional content from the Los Angeles Times.