Quick turnaround and epic production values fuel 'Lip Sync Battle's' reign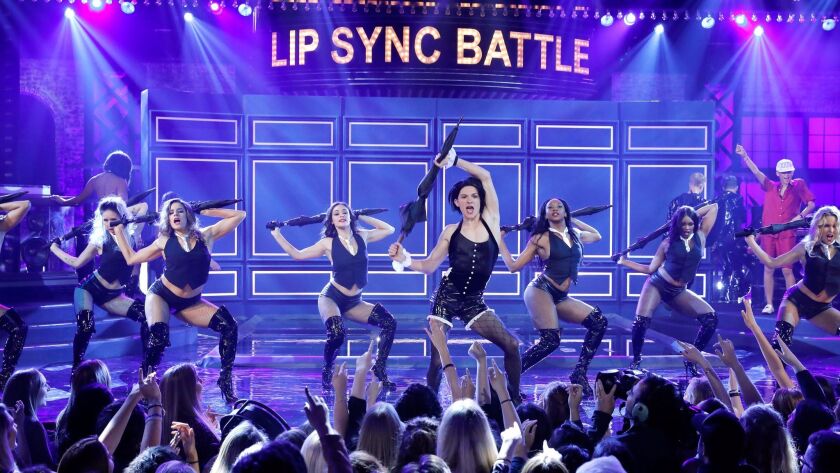 On a nondescript Sunday morning in early April, rehearsals were underway for musical numbers on par with the spectacle of a live Grammy or MTV Video Music awards number. Tom Holland and Zendaya wanted to outperform the other and win the crown on the season finale of Spike TV's "Lip Sync Battle." The two "Spider-Man: Homecoming" stars were going to extraordinary measures to make it happen, which wasn't that surprising to "Battle" producer Casey Patterson, considering the competitive performances of previous participants in its three seasons, such as Channing Tatum and Anne Hathaway.
A veteran of numerous live awards telecasts, Patterson says that most celebrity contestants have only a few hours to come in and rehearse the song they will lip-sync on the show. Holland, though, came in an extra day to practice and brought along his live stage skills.

For the record:
9:18 a.m. Oct. 20, 2021This article says actor Tom Holland performed to Bing Crosby's version of "Singin' in the Rain." He performed to Eddy Howard's version.
"He was Billy Elliot, right? So there are some people who come in and they're just pros," Patterson says. "And also he, you know, he's Spider-Man. So he can fly, he can dance, he can do it all. Tom comes in and we look at him like, 'Oh, my gosh, you have a theater background,' so for us the most important thing is we show what's unique about him. Everyone who comes on is uniquely talented in some way. And we just want to tap into their special gifts."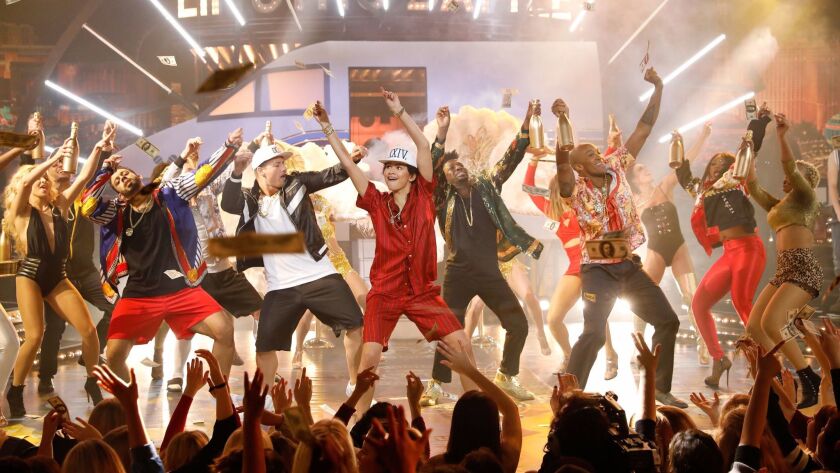 Zendaya may not have had Holland's West End stage experience, but she's a skilled dancer who many believe should have won her season of "Dancing With the Stars." For "Battle," she conceived a massive number set to Bruno Mars' "24K Magic" that found her deplaning a private jet in Las Vegas just as the track begins. "Lip Sync Battle" choreographer Danielle Flora was immediately impressed with Zendaya's skills.
"The moment she walked in here she had Bruno Mars down," Flora says. "I swear. It was incredible. We showed [the routine] to her once, we performed it, somebody played her, and we plugged her in and from the jump she had that energy, the vibe, the chillness of it. And then the next rehearsal the face was there, the comedy was there, I mean she really locked in so fast."
When the show began filming later that evening for its early May airing, the studio audience seemed pretty convinced that Zendaya's Mars portrayal would guarantee her the crown. What they didn't know is that Holland had come up with his own showstopper; a two-part lip-sync that began with the entertainer in a top hat and jacket dancing around a lamppost to Bing Crosby's "Singin' in the Rain." The number quickly took a turn as Holland began doing flips and acrobatic twists in skintight drag to Rihanna's "Umbrella."
Fans have referred to his number as the greatest lip-sync ever on the Emmy-nominated show and Zendaya, who was unaware of Holland's plans, and host LL Cool J were visibly floored.
Flora heaps even more praise on Holland: "Just because he can do a thousand pirouettes and tap dance and he's been on Broadway, doesn't mean he can play a girl. It is almost more challenging when they can dance, because we put more pressure on them, and I put way more pressure on myself too, because I know they're going to want to learn every eight count, they're also going to have to sing. It's not like they can just perform and have fun with the audience; they really need to be locked into every step."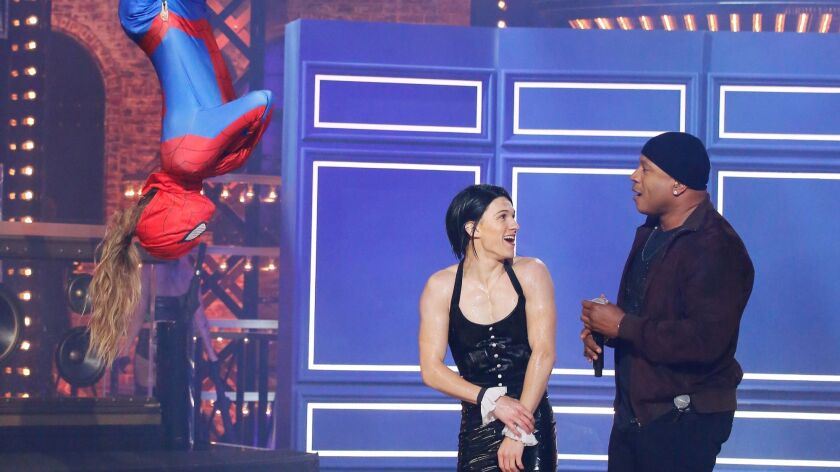 Holland's number also featured "Battle" co-host Chrissy Teigen descending upside down from the rafters in a Spider-Man costume so she could kiss Holland in a homage to the well-known scene from 2002's "Spider-Man." Suddenly, right before lips locked, John Legend, Teigen's husband, jumped in for the kiss instead.
"Lip Sync Battle" records two half-hour episodes a day — including one rehearsal each for the contestants. Since it's recorded as "live" as possible, it means quick turnarounds for a veteran variety show crew.
"Beth McCarthy, our director, directed 'Saturday Night Live' for 11 years," notes Patterson. "She's incredible. She's a ninja. Our set designer, Keith Raywood, came from 'SNL,' so they understand how to do those quick changes."
Not only does that talent drive the success of the show, but the unbridled passion each department head has to try and bring each lip-sync to life.
"You know, this is their moment," Flora says. "They're coming in here and looking at me and trusting me. I'm giving them everything I've got. Period, no matter what. Even if I have to stay here all night. I'm gonna make it what they want. You have to."
See the most read stories this hour »
---
From the Emmys to the Oscars.
Get our revamped Envelope newsletter for exclusive awards season coverage, behind-the-scenes insights and columnist Glenn Whipp's commentary.
You may occasionally receive promotional content from the Los Angeles Times.