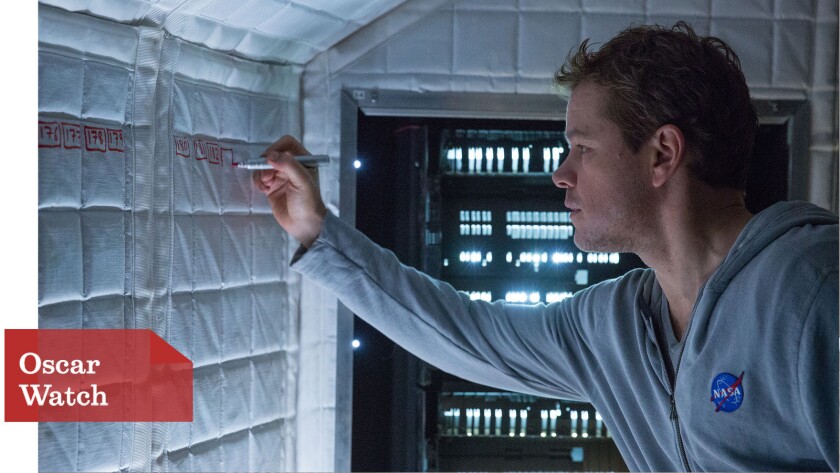 Oscar Watch, charting the smiles, the frowns, the ups and downs of the awards season, comes to you every Monday from now through the end of February.
LIKE
MEH
DISLIKE
---
'The Martian' will compete as a comedy at Golden Globes
Since word got out that Ridley Scott's sci-fi survival tale "The Martian" will be competing in the Golden Globes' comedy/musical categories, there has been a fair amount of weeping and gnashing of teeth over what is classified in awards circles as category fraud.
"A comedy's a film whose #1 goal is to make people laugh," Paul Feig, who knows a thing or two about the genre, tweeted. "If that wasn't the filmmakers' top goal, it's not a comedy."
I'd give that tweet an "amen." Unfortunately, though, the Hollywood Foreign Press Assn. has never abided by that sentiment.
Here's a list of Golden Globe-nominated comedies from just the last three years that aren't as funny as "The Martian": "Pride," "St. Vincent," "Birdman," "American Hustle," "Salmon Fishing in Yemen" and (involuntary shudder) "The Best Exotic Marigold Hotel."
"When I started on 'Buffy the Vampire Slayer,' that was always the question: Is it a comedy or is it a drama?'" "Martian" screenwriter Drew Goddard told me at the Governors Awards on Saturday night. "These days, it's almost impossible to classify a lot of things. I mean, I never would have considered 'Birdman' a comedy."
At that moment, director Scott ambled over. Told that his movie would be competing in the Globes' comedy/musical category, he paused, took in the news and asked, "You mean we're up against movies like 'Ted'?"
Well, yes, "The Martian" might be in facing "Ted 2." Probably more likely "Trainwreck" or Feig's "Spy."
Scott responded with the only appropriate response when the subject is the Golden Globes: He laughed out loud and raised his hands, palms up, making the universal "what are you going to do?" gesture.
Gripe all you want. But save the shock and outrage for a group that didn't consider "The Tourist" to be a laugh riot.
Michael Caine headed for another Oscar nomination?
Michael Caine's latest movie, "Youth," screened last night at the academy's Samuel Goldwyn Theater, and the 82-year-old actor received a lengthy standing ovation when he walked on stage afterward for a Q&A.
Caine has long been an actor revered and loved by his peers, a distinction confirmed by the steady stream of visitors to his table Saturday at the Governors Awards.
"I had to come over and pay my respects," Will Smith told Caine as he embraced him.
Caine has won two supporting actor Oscars ("Hannah and Her Sisters" and "The Cider House Rules") and has been nominated as a lead four times, most recently for "The Quiet American." Caine had a lot of sentimental support for his exceptional work in that Phillip Noyce film, with many academy members figuring it might be the last opportunity to vote for him.
And yet here he is again with a substantial, beautiful role in "Youth," playing, with unerring truthfulness, a retired composer-conductor sifting through regrets (he's had a few) as he faces the final curtain. Thirteen years after "The Quiet American," Caine again has sentiment -- and a phenomenal piece of acting -- on his side.
"I've long ago stopped trying to understand how any of this works," Caine said, looking around the crowded Ray Dolby Ballroom at the Governors Awards. "Suffice to say, I'm just happy to still be here."
It's a thought shared by many.
Email: glenn.whipp@latimes.com | Twitter: @glennwhipp
---