This year, the path to the Emmys goes through the Arby's takeout window
On a recent weekday morning, Zach Galifianakis manned the drive-through window at the Arby's on Sunset Boulevard, handing out roast beef sandwiches to television academy members who had exclusive run of the place for an Emmy event promoting the FX comedy series "Baskets."
Later that evening, many of those same Emmy voters made their way downtown to the opulent hipster haven Ace Hotel, where they enjoyed gourmet sandwiches (cucumbers took precedence over red meat) from beloved L.A. bakery Joan's on Third before a "This Is Us" for-your-consideration screening. ("Feel free to film, tweet and photograph this event using the hashtag #ThisIsUsFYC," a publicist firmly suggested following a sizzle reel outlining myriad reasons to vote for the NBC series.)
With hundreds of TV shows submitting more than 9,000 entries for Emmy consideration, sometimes you need to be firm with direction. Emmy voting begins Monday, and the Television Academy's 23,000-plus members are eyeing the towering stacks of (unwatched) screeners sitting on the floors of their offices and perhaps pondering ways to lose the weight they gained from three solid months of attending dinners and parties designed to sway their decision.
"There's been a lot of arm-twisting going on the past few weeks," said actor Peter James Smith, standing in line for an Arby's combo meal that would be served by "Baskets'" Emmy-winner Louie Anderson. "I honestly wonder how effective all of this is."
The season's contrast in tone wasn't lost on Galifianakis, who had never participated in an Emmy promotional event before donning an apron at the Hollywood Arby's, a restaurant that has served as a key location for "Baskets."
Hearing about the "This Is Us" evening, Galifianakis half-joked: "That's too precious. My god, it's just a TV show. We're dumb actors."
Throughout its history, the Television Academy has limited for-your-consideration events targeted at Emmy voters to one per day. But with so many networks and platforms clamoring for space and attention, that rule was relaxed this year with competitive nightly events allowed on Tuesdays, Wednesdays and Thursdays. The academy also instituted a lottery system — numbers placed in a jar — for its run of official events that ran from March 1 to Sunday, the day before voting began.
"There are simply more events than available nights," academy President Maury McIntyre said. "Given the demand, I wouldn't be surprised if we expanded it even more next year."
Netflix — and, to a lesser extent, Amazon Studios — hasn't paid particular attention to the Television Academy's planning calendar the past couple of years, hosting a wide-ranging series of events touting its programming.
Amazon returned to the Hollywood Athletic Club for a couple of weeks in April, promoting such contenders as "The Marvelous Mrs. Maisel."
Netflix expanded its already considerable Emmy footprint, taking over three sound stages at Raleigh Studios in Hollywood to display props and costumes from its shows and host almost-nightly events in a 390-seat theater. The evening affairs kicked off in early May with a loose conversation between Jerry Seinfeld and David Letterman and ended Sunday with Jamie Foxx interviewing Barbra Streisand — events designed to reinforce Netflix's monolithic brand and relationships with top-tier talent.
"They lined up a lot of interesting conversations that go beyond the usual vote-for-me pitches," says producer Judd Apatow, who moderated a comedy night with Tig Notaro, Martin Short and Ali Wong. That evening did have Short make a comic plea to voters considering the Netflix special he made with Steve Martin: "Will we hear that something happened and we never got a chance to say, 'Thanks Marty?'" he joked, referencing his advancing age. (He's 68.)
There had been some concern that Netflix's parade of events — 37 were hosted at Raleigh this year — would hurt attendance at the sanctioned television events. But given the proliferation of glad-handing this year, those worries seem to have abated, giving way to a renewed focus on creating nights that will spur voters to brave the traffic and drive through the city's for-your-consideration-billboard-clogged streets and freeways.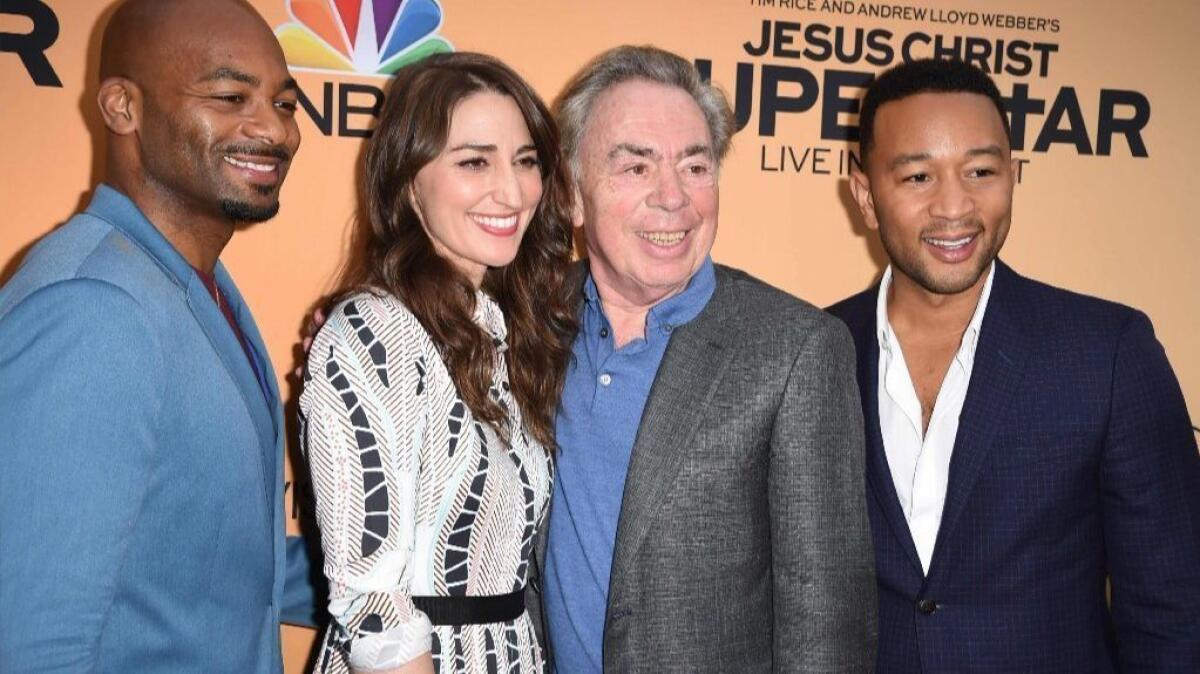 So in addition to the countless panels featuring the casts and creators from the contending shows, there have been special performances like Andrew Lloyd Webber accompanying Sara Bareilles at the "Jesus Christ Superstar Live in Concert" event. (Cast member John Legend, who played Jesus, was there too in a bid to join the EGOT club.) And, yes, there has been plenty of food: "Young Sheldon" brought out smoked brisket, no doubt inspired by Meemaw's recipe on the show. (The biggest winners of the season might be the city's caterers.)
"Everybody's trying to crack the code," FX's executive vice president of communications John Solberg said. "Of course, if your show is good enough, you don't have to worry. It sells itself."
But that doesn't mean you can't have a little fun too. Galifianakis spent four hours working the Arby's drive-through window, delivering bags, posing for pictures and (mostly) whistling a happy tune in his labor. At one point, the fire marshal briefly closed the building because too many of the hundreds of Television Academy members in line had pushed their way inside.
"I'm up to my armpits in curly fries," Galifianakis joked. "Yes, people, dreams do come true."
Twitter: @glennwhipp
From the Oscars to the Emmys.
Get the Envelope newsletter for exclusive awards season coverage, behind-the-scenes stories from the Envelope podcast and columnist Glenn Whipp's must-read analysis.
You may occasionally receive promotional content from the Los Angeles Times.