Seth MacFarlane's 'Ted' to dominate stuffed box-office weekend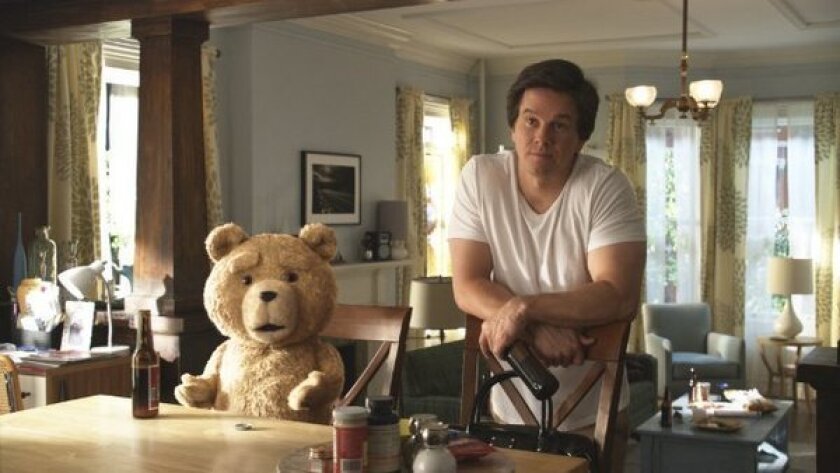 The potty-mouthed "Ted" will heckle the male strippers off the box-office stage, as the Seth MacFarlane comedy will take down "Magic Mike" and all other new movies hitting theaters this weekend.
"Ted," starring Mark Wahlberg as a man whose best friend is a talking teddy bear, is expected to open with a robust $40 million in ticket sales, according to people who have seen pre-release audience surveys. Universal Pictures, which is distributing the film, is predicting a softer opening of between $26 million and $36 million.
If the picture debuts with less than $36 million, it will likely have to fight with "Brave" for the No. 1 position at the box office. The 3-D animated movie about a teenage princess started off with a strong $66.3 million last weekend and audiences loved it, assigning it an average grade of A, according to market research CinemaScore.
PHOTOS: All-time box office leaders
Given its strong word of mouth, the film will probably rake in at least another $35 million this weekend, beating the debuts "Magic Mike," Tyler Perry's "Madea's Witness Protection" and the adult drama "People Like Us."
"Ted" is the first feature film from MacFarlane, best known for creating the massively successful animated television series "Family Guy." Universal's marketing campaign for the movie has attempted to showcase both MacFarlane's trademark lewd humor and the film's more sentimental side, which includes a romantic relationship between Wahlberg's character and his girlfriend, played by Mila Kunis.
So far, that effort appears to be paying off. While interest in the movie is strongest with men under 25, industry polling indicates that many younger women have also expressed a desire to see it.
The film, financed by Media Rights Capital for $50 million, was acquired by Universal and Relativity Media. That means the picture should end up being a solid performer for Universal, which is coming off the disastrous box-office performance of the costly film "Battleship."
"Magic Mike," loosely based on star Channing Tatum's brief experience as a stripper at age 18, will likely sell an excellent $25 million worth of tickets in its opening weekend. But Warner Bros., the studio behind the film, believes the movie will debut with about $10 million less than that. Either way, the movie should end up being a hit for the studio, which acquired the independently financed $7-million production.
Heading into the weekend, "Magic Mike" is dominating online ticket sales, accounting for 61% of all weekend business on Fandango.com. Not surprisingly, the movie -- which features a buff male cast including Matthew McConaughey, Alex Pettyfer and Joe Manganiello -- is appealing almost exclusively to women, many of whom are expected to head to the theater in groups.
The film has also earned the most positive reviews of any of the weekend's newcomers, notching a 79% fresh rating on Rotten Tomatoes.
Tyler Perry's "Madea's Witness Protection," the filmmaker's first movie to be released during the summer months, is projected to open with a solid sum of between $20 million and $25 million.
It is the 13th Perry movie to be released by Lionsgate, and the seventh featuring the actor-writer-director's trademark sassy grandmother, Madea. While movies starring the character typically star black actors, "Witness Protection" has a more ethnically diverse cast with actors including Eugene Levy and Tom Arnold.
The only weak debut this weekend is expected to be the adult drama "People Like Us," which may not start off with more than $5 million. Fortunately for DreamWorks Studios, the film -- which is being released by Walt Disney Studios -- had a budget of only $16 million.
"People Like Us" stars Chris Pine as a young man who learns he has a long-lost sister, played by Elizabeth Banks. The movie marks the directorial debut for Alex Kurtzman, who has written and produced far more expensive productions such as "Transformers" and "Star Trek."
In limited release, Fox Searchlight will debut its film festival darling "Beasts of the Southern Wild" in four theaters in Los Angeles and New York. The mystical drama, about a young girl trying to survive in a Louisiana bayou, has received glowing critical reviews and won top prizes at such major festivals as Sundance and Cannes this year.
RELATED:
'Magic Mike' is king of online ticket sales
'Ted' marketing campaign balances raunch with heart
'Dark Knight Rises' set for massive opening, running slightly behind 'Avengers'
Follow Amy Kaufman on Twitter @AmyKinLA
---
From the Emmys to the Oscars.
Get our revamped Envelope newsletter for exclusive awards season coverage, behind-the-scenes insights and columnist Glenn Whipp's commentary.
You may occasionally receive promotional content from the Los Angeles Times.