Tina Fey believes Golden Globes is a much easier gig than the Oscars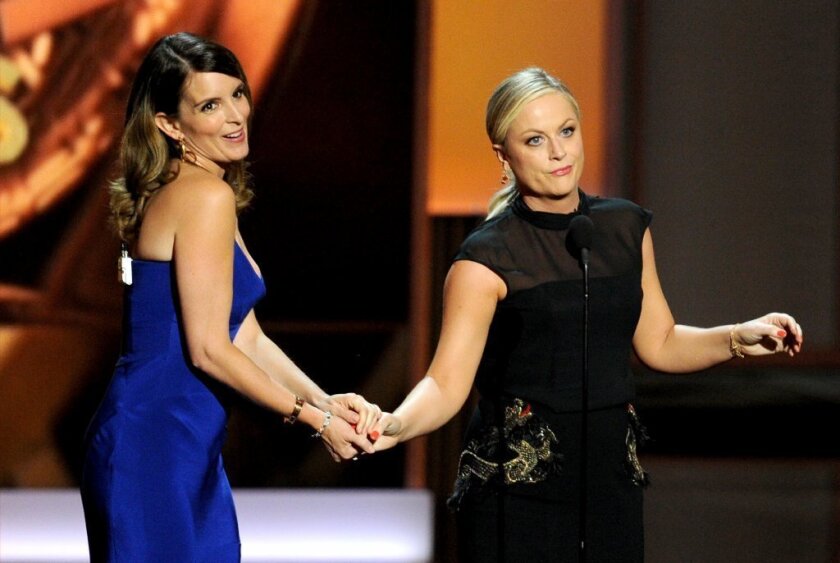 Tina Fey has said she'd probably never host the Oscars. "I think that's too hard," Fey told the Los Angeles Times, when asked in an interview last May if she'd take the job. "Too many dresses to try on."
The Golden Globes must have easier wardrobe requirements. Fey and pal Amy Poehler, who hosted the 2013 ceremony, have agreed to return to the Hollywood Foreign Press Assn. event -- not just next year, but for 2015 as well.
The Globes offer other enticements too. The gig pays much better than the Oscars. (The film academy believes that the job -- and the stage it offers -- is reason enough to sign on.) And the show offers a looser format that allows the hosts more opportunities to shine.
PHOTOS: Celebrities by The Times
Fey said she and Poehler fashioned their 2013 Globes hosting duties as something of a reunion of "Saturday Night Live's" "Weekend Update" team, enlisting Seth Meyers, writer Robert Carlock (who also worked with Fey as showrunner on "30 Rock") and "Saturday Night Live" producer Mike Shoemaker for help.
"The idea was, 'Let's get some jokes. Let's read them. Let's not overthink it. If there's one that doesn't work, get rid of it and just come up with something better,'" she said. "And it ended up being so much fun."
It also, she believes, requires a certain level of skill, as do many types of award shows.
"There used to be years ago a category for hosts of things [at the Emmys]," Fey recalled in the spring. "So I asked Amy, 'Can we submit ourselves as a team?' And then we remembered that category is gone. 'Really? We still got reality host and like there's no category for [David] Letterman and [Jon] Stewart? That's crazy!'"
PHOTOS: Billion-dollar movie club
Critics and viewers shared Fey's assessment that last year's show came with a large measure of fun. Ratings for the 2013 Globes came in at a six-year high, drawing 19.7 million viewers. Fey and Poehler proved so popular that many couldn't later resist comparing their work with controversial Oscar host Seth MacFarlane's, though Fey doesn't think hosting the two shows can be likened.
"It's a really difficult room," Fey said of the Academy Awards. "High levels of stress are shooting out of just about everyone there. The Golden Globes are less pressure. It's like an exhibition game for the real season."
And one with fewer uniform requirements.
"Hey, don't underestimate how exhausting it is to try on 85 dresses — and 79 of them are humiliating," Fey said, laughing about a prospective Oscar wardrobe fitting.
ALSO:
Seth MacFarlane leaves gig open, but who wants it?
Golden Globes: 6 great Tina Fey and Amy Poehler moments
Golden Globes: Amy Fey, Tina Poehler to host 2014, 2015 ceremonies
PHOTOS AND MORE
VIDEO: Upcoming fall films
ENVELOPE: The latest awards buzz
PHOTOS: Greatest box office flops
---
Get our daily Envelope newsletter
The Awards and Industry Insider brings you exclusive awards season coverage, the business of show business and more.
You may occasionally receive promotional content from the Los Angeles Times.