'Hearts Beat Loud' is a movie about sincere love and everyday inclusion in America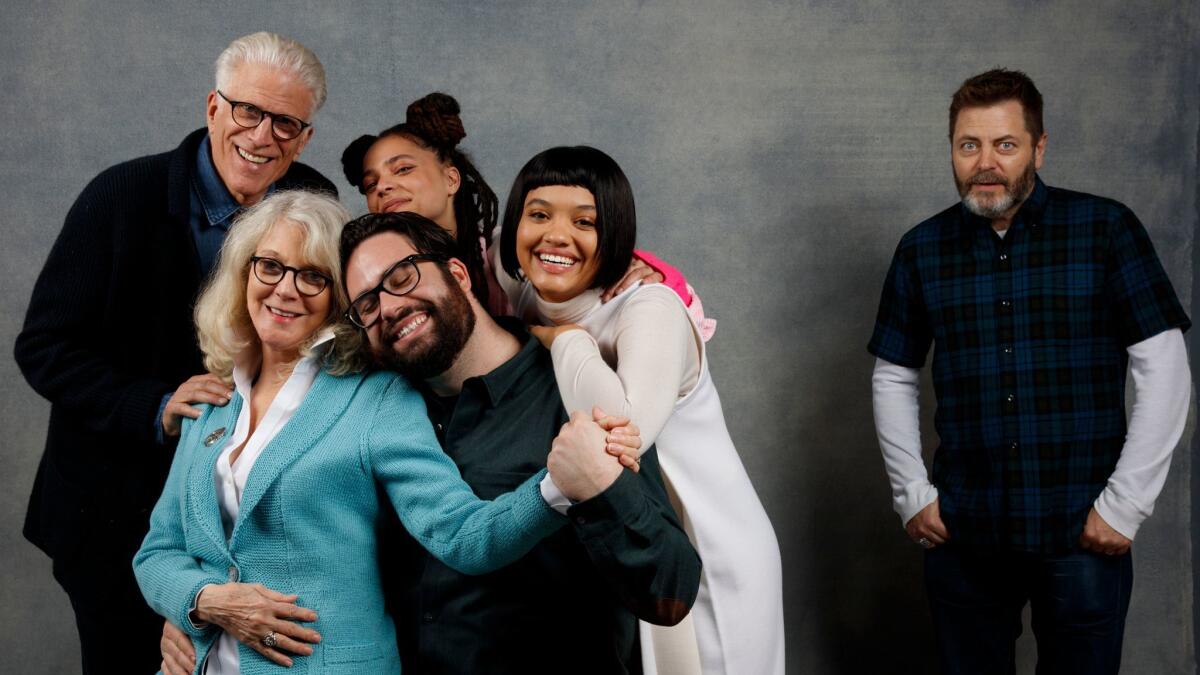 Reporting from Park City, Utah —
There's nothing edgy about the film "Hearts Beat Loud." Or at least that's what actor Nick Offerman says.
"This movie is just apparently nice," said Offerman, who plays a single dad about to send his daughter off to UCLA. "In this day and age, that's a strange choice to make. Turns out maybe that's the edgy choice to make a sincere, loving film about a group of humans."
Offerman was speaking at a panel discussion for the film at Chase Sapphire on Main at the 2018 Sundance Film Festival, where "Hearts Beat Loud" will officially premiere as a closing night selection on Friday, Jan. 26. The film reunites Offerman with "The Hero" director Brett Haley, and also stars Kiersey Clemons, Ted Danson, Sasha Lane and Blythe Danner — who were all on hand for the panel as well.
"Hearts Beat Loud," which was acquired by Sony Pictures Worldwide on the second day of Sundance, follows the father-daughter pair and their songwriting connection as they form a band and their first song turns into a minor hit. Offerman and Clemons play the duo, and are scheduled to perform the film's title song during the festival's awards ceremony on Saturday.
Ultimately, the film is a story about love that makes space for LGBT and racial inclusion — the daughter has a girlfriend and a white father — but those conversations aren't explicitly brought up on screen.
FULL COVERAGE: Sundance Film Festival 2018 »
"We wanted to take away anything that kind of called out what was happening, whether it called out us having a conversation about our race or having a conversation about defining our sexuality," said Clemons. "We just wanted to exist in the movie the way that we see that happening all of the time."
The film held a special sneak preview screening for festival volunteers on opening night and reaction has been positive, Haley said. People came up to him thanking him for simply showing these relationships on screen without any tragic plot points.
"It's just a summer romance," he said.
Friday's premiere will come a year after President Trump was inaugurated and in the middle of the #MeToo movement against sexual misconduct in the film industry and beyond.
"There's a lot to be angry right now … we're very divided," Haley said. "But the one thing we all have is our relationships with one another. … I believe in the reminder of the everyday pleasures of ordinary life."
From the Oscars to the Emmys.
Get the Envelope newsletter for exclusive awards season coverage, behind-the-scenes stories from the Envelope podcast and columnist Glenn Whipp's must-read analysis.
You may occasionally receive promotional content from the Los Angeles Times.