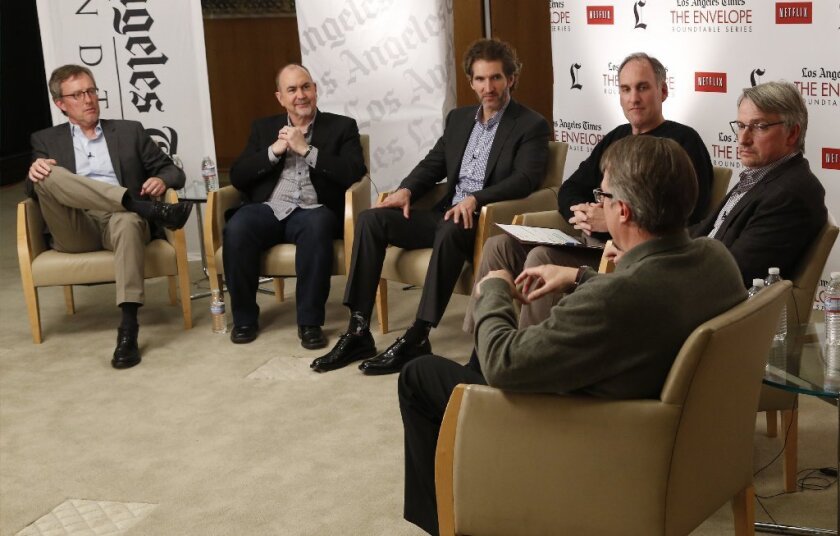 It's no spoiler (hopefully) to note that in the world of television, sometimes even prominent characters and fan favorites meet an untimely end.
In this clip from the recent Envelope Emmy Roundtable, five heavyweight showrunners — Alex Gansa of "Homeland," Terence Winter of "Boardwalk Empire," David Benioff of "Game of Thrones," Glen Mazzara of "The Walking Dead" and Vince Gilligan of "Breaking Bad" — speak to the Times' Martin Miller about what it means to kill off characters, and whether anyone on their shows is safe.
WATCH: The Envelope Emmy Roundtable | Show runners
"Absolutely there are unkillable characters," says Gansa. When pressed on whether that applies to anyone on "Homeland," he replies, "I think Carrie Mathison [the CIA agent played by Claire Danes] is an unkillable character. You could kill her in other ways besides physically killing her, but you couldn't actually kill her until the end, if that's what you chose to do."
"Boardwalk Empire" is a different story, according to Winter. "I wouldn't say anybody's unkillable," he says. "You're always trying to push new boundaries, into new ways of telling a story. As Vince [Gilligan] said, you consider everything. Who knows. I mean right now, obviously our main credits sequence has only one guy in it [Nucky Thompson, played by Steve Buscemi] … but who knows? It is a gangster show."
Click the video link above for more.
ALSO:
'Arrested Development's' return a Bluth saga in itself
The Gold Standard: It's time for Emmy Awards to surprise us
Emmys 2013: Top show runners discuss ups, downs of award season
---