Emmys 2013: 'Top of the Lake,' 'Behind the Candelabra' earn miniseries/movie nods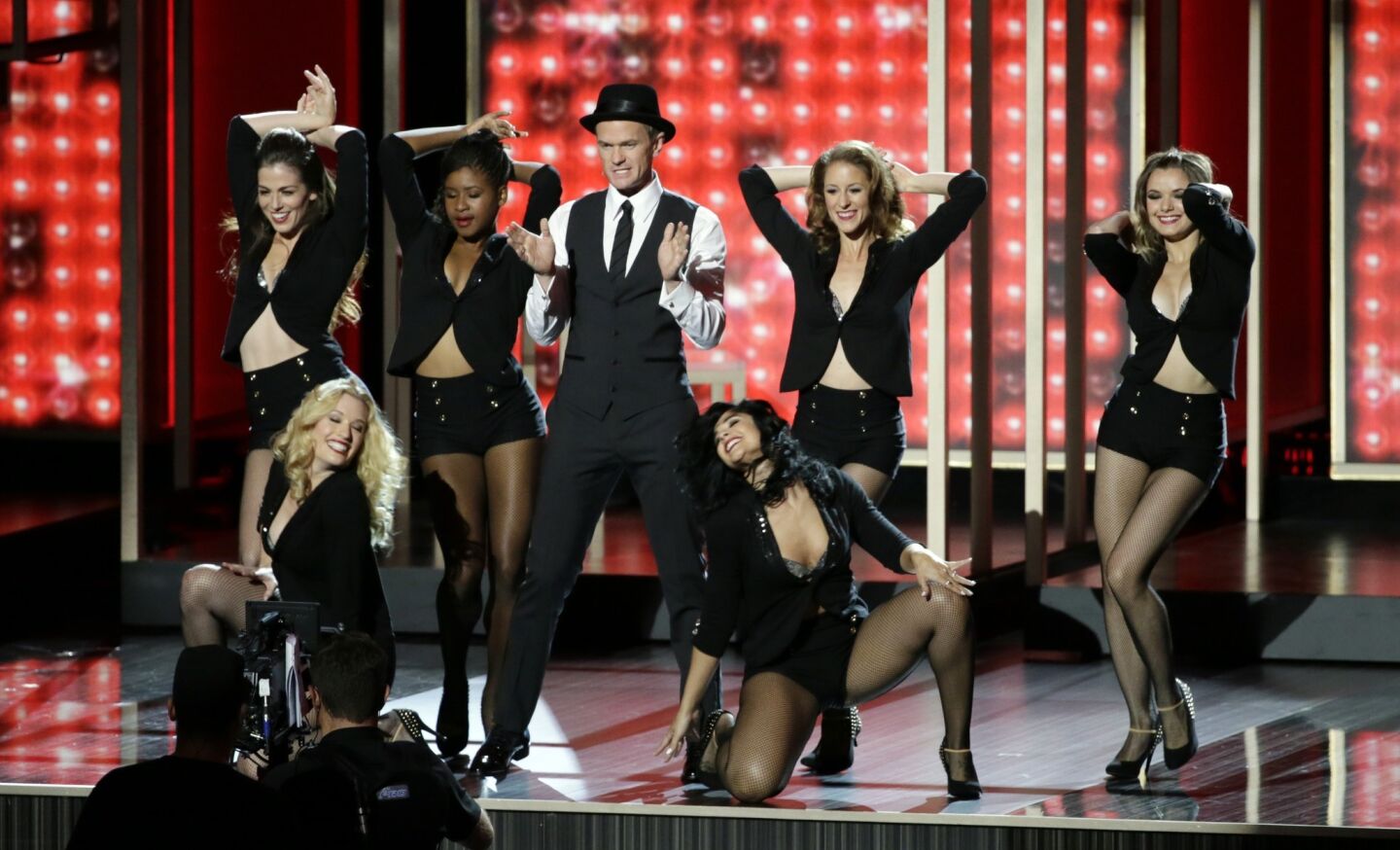 From "Breaking Bad's" big win to the world's shortest acceptance speech, here's a look at some of the best and worst moments from the 2013 Emmy Awards.
(Robert Gauthier / Los Angeles Times)
E!'s red carpet coverage has pioneered such red carpet firsts as the finger fetish-izing "Mani-Cam," but this year's addition, the "Glamazoom," may be the least inspiring yet. The camera allows E!'s red carpet experts to zoom in on the details of any starlet's Emmy ensemble and really be able to critique it with maximum effectiveness. We can only hope that deep within the E! channel's bunker, there is a J. Robert Oppenheimer-like figure, wracked with fear and remorse over the red carpet innovation he has unleashed upon the world.
(Kevork Djansezian / Getty Images)
Aside from all the blah-blah-blah, occasionally, a true, interesting moment transpires in front of the cameras on the red carpet. In this case, it was "Big Bang Theory" star Jim Parsons meeting "Behind the Candelabra" star Michael Douglas for the very first time. Douglas went out of his way to praise Parsons and tell him how much his children enjoyed watching his show. Parsons, visibly taken aback said, "You're so nice." Douglas replied, "No, I'm not." Right away, Parsons replied, "Well, you're not mean." Great comeback and part of the reason Parsons keeps winning these things.
(Jason Merritt / Getty Images)
Guliana Rancic asked newlywed Aaron Paul, nominated for his role in "Breaking Bad," about what viewers would see if E! were to do a reality series about Paul's first year of marriage to wife, Lauren Parsekian (pictured). Paul attempted to answer as honestly as he could, but did we mention his mom was standing right there? She was.
(Jason Merritt / Getty Images)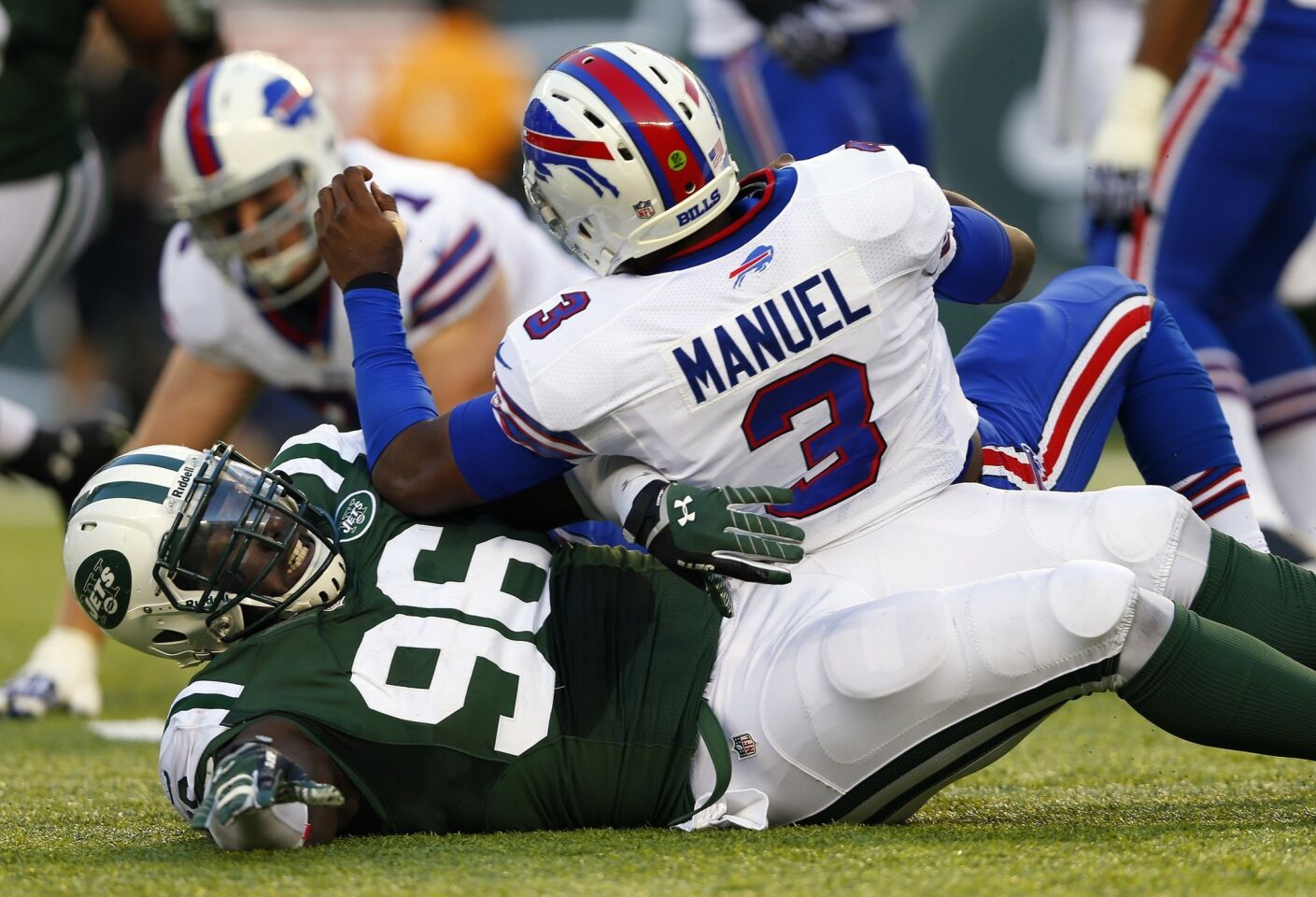 CBS almost had a messy situation on its hands when the NFL game between the Jets and the Bills nearly ran into the scheduled Emmy broadcast time. What dedicated awards fans could have been thinking when they switched over from E! to find football encroaching on their glamour-ama is anyone's guess. Crying? Swearing? Gnashing of teeth? Yet somehow, as if by magic, the game ended just one minute before 5 p.m. PDT.
(Rich Schultz / Getty Images)
After several sterling Tony Awards hosting jobs, everyone seemed primed to see him bring that same magic to the Emmys. Sadly, NPH (second from right) is only a mortal. Same as you and me. And like you and me, he stumbled his way through an awkward and interminable opening film and monologue that was extended to painfully unfunny lengths through the addition of four former Emmy hosts (including, from left, Jane Lynch, Jimmy Kimmel and Jimmy Fallon).
(Robert Gauthier / Los Angeles Times)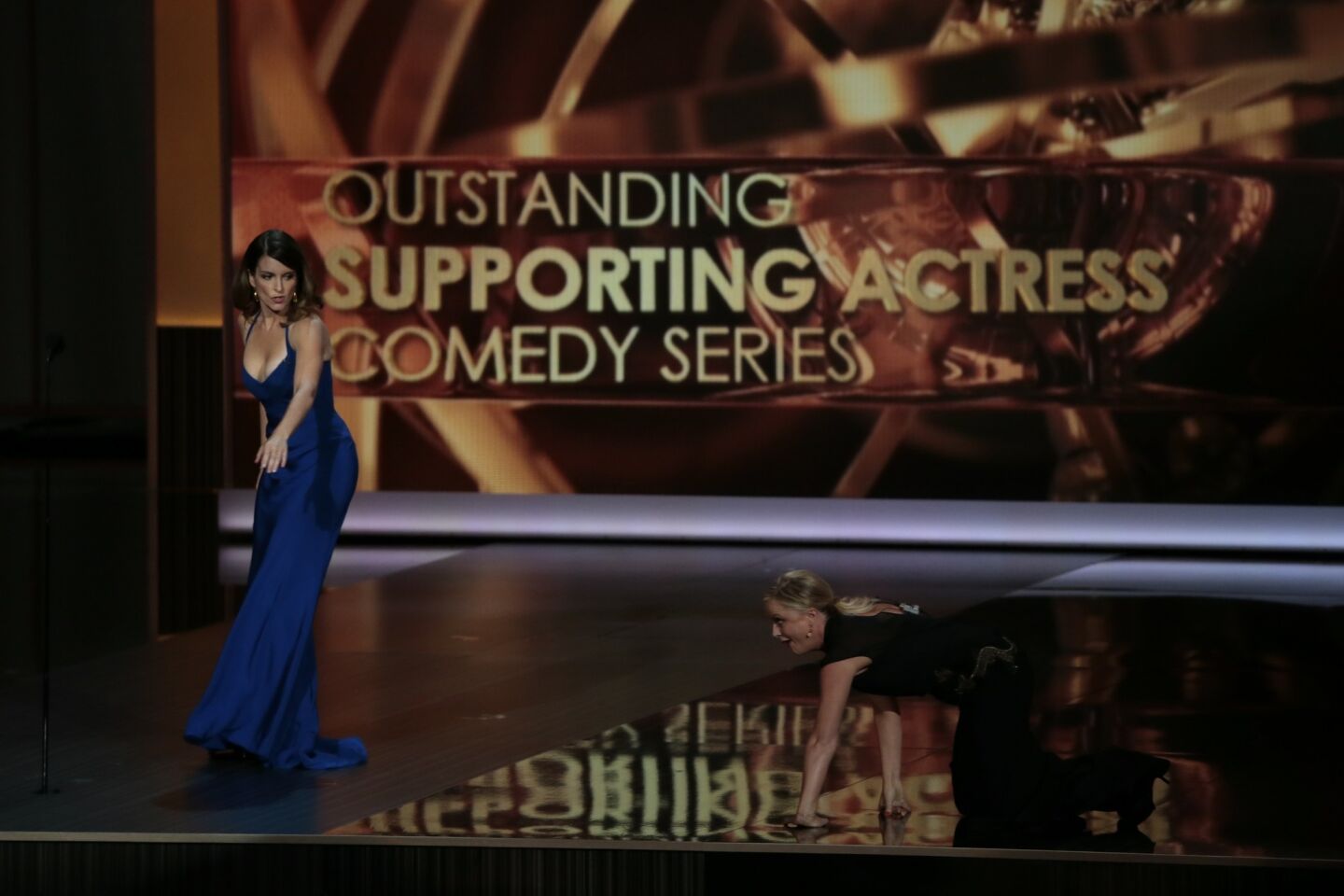 Tina Fey and Amy Poehler heckling from the audience: "Take your pants off! Twerk!" and Kevin Spacey channeling his Frank Underwood role from "House of Cards" were clever and fun highlights.
(Robert Gauthier/ Los Angeles Times)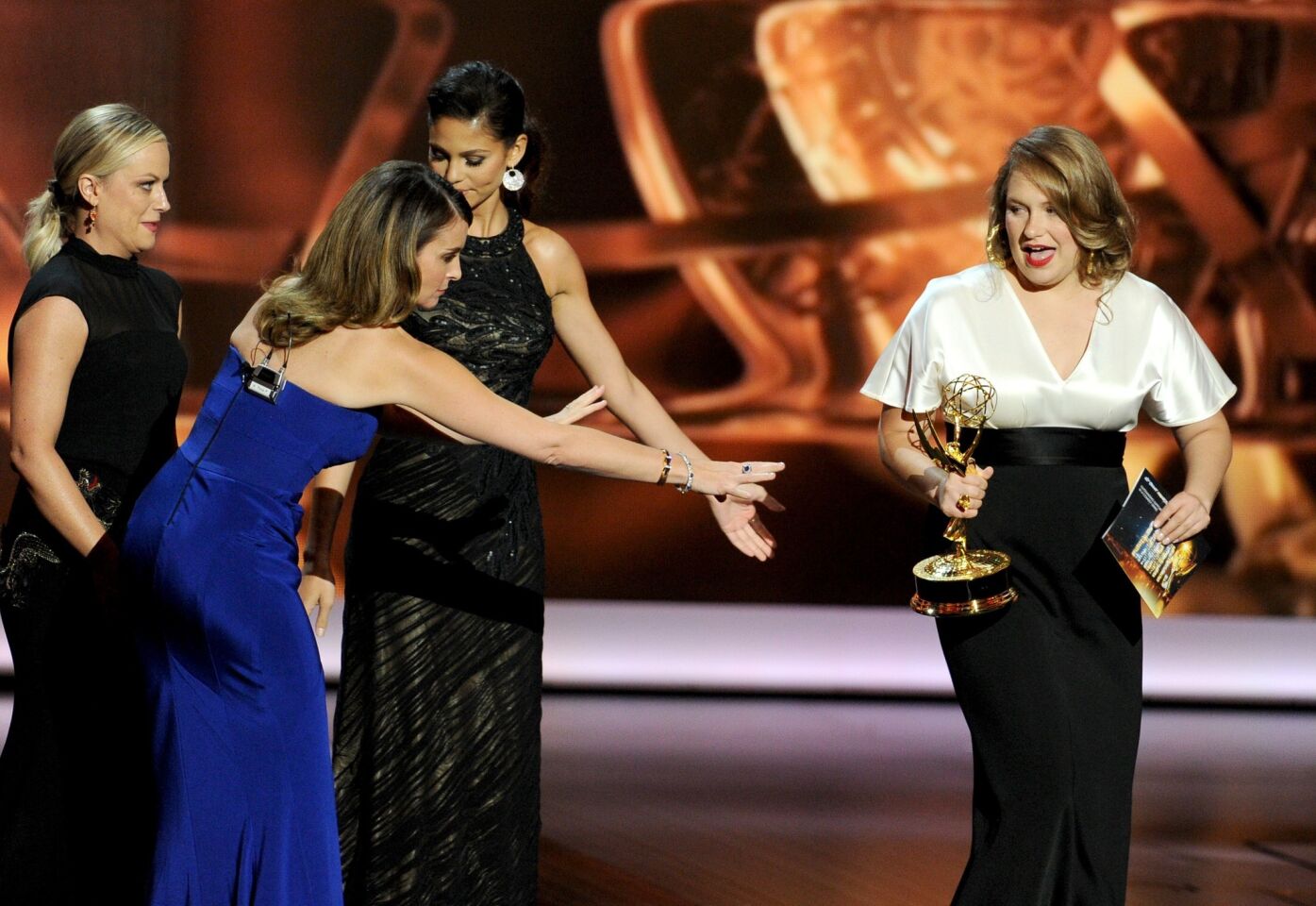 It's rare that the first award of the night offers up the best speech, but in this case it's true. Supporting actress in a comedy series winner Merrit Wever was visibly shocked when she won the award for her role on the Showtime series "Nurse Jackie." So shocked, in fact, that she gave one of the all-time great acceptance speeches: "Thank you so much! Um -- I gotta go. Bye." In three sentences, she earned the respect of every award-weary performer in Hollywood.
(Kevin Winter / Getty Images)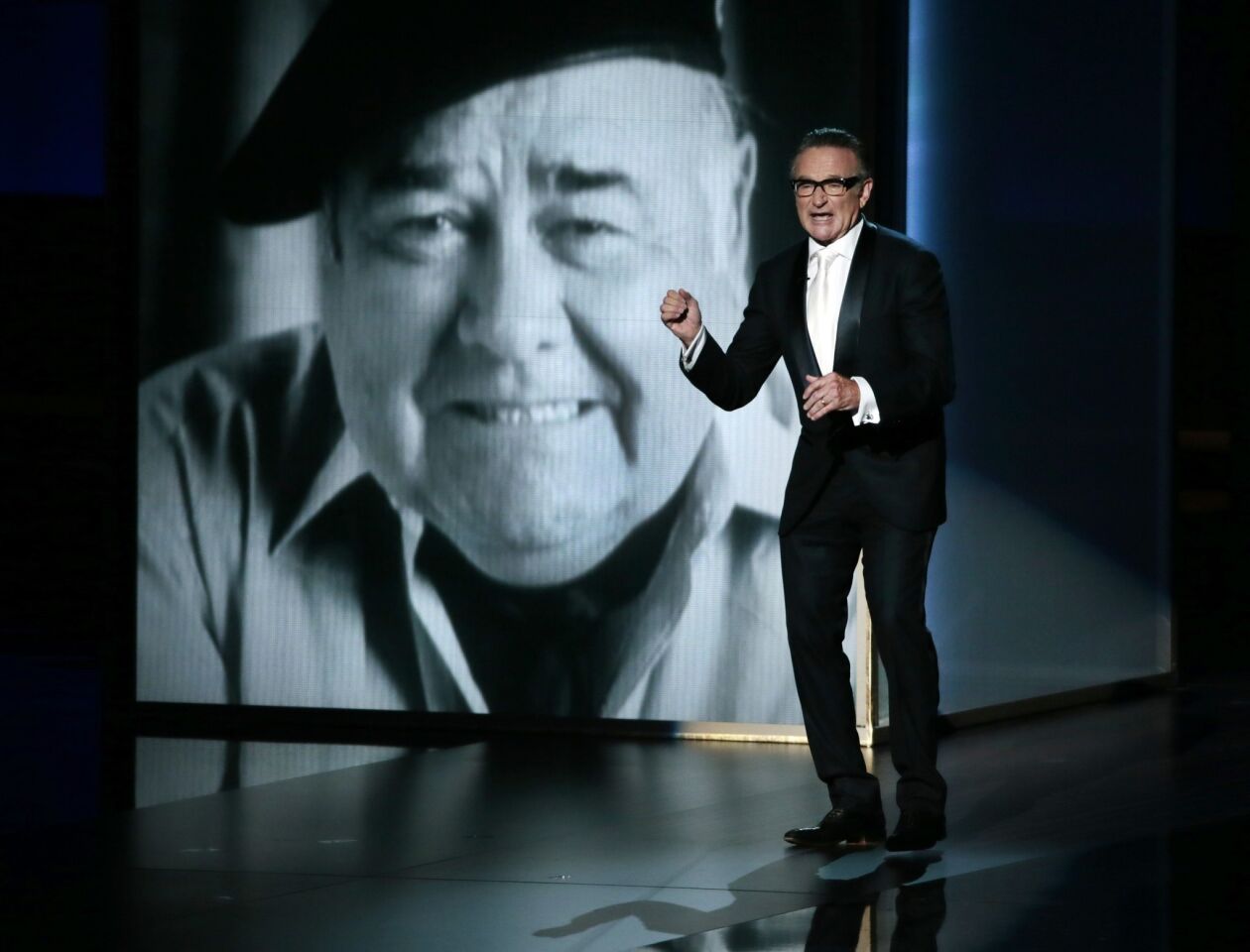 The Emmys are a celebration of TV, which is nice because most everything on TV is archived in some capacity. So it was an odd choice to not air a single moment of footage of the late Jonathan Winters during his tribute. Instead, Robin Williams spoke eloquently about the man and even performed a bit of one of his most famous routines. It's nice that Williams has such clear memories of Winters, the rest of us will have to make due with Williams' Winters impression. Or Rob Reiner's best Archie Bunker.
(Robert Gauthier / Los Angeles Times)
Julia Louis-Dreyfus and Tony Hale carried their characters from "Veep" up on the stage for Dreyfus' win for actress in a comedy series. Hale, who had just won for supporting actor in a comedy series, stood behind, holding her clutch and whispering acceptance speech suggestions, such as "You love them so much." If only more performers brought their characters on stage with them, maybe people wouldn't dread award speeches so much.
(Kevin Winter / Getty Images)
Tonight's mid-Emmy restroom/snack, brought to you by Elton John, came at an inopportune moment for CBS. For while Sir Elton was lulling the Nokia Theatre audience asleep to the tune of his new Liberace tribute song, the at-home audience was discovering that the penultimate episode of "Breaking Bad" was starting right at that moment. Hey, where did everybody go?
(Robert Gauthier / Los Angeles Times)
Laura Linney didn't attend the Emmys, and surprise, surprise, she won the award for lead actress in a miniseries for "The Big C: Hereafter." Getting in a slight dig, presenter Matt Damon told the crowd, "She's such a great actress, she didn't even need to show up." That'll teach her.
(Chris Pizzello / Invision / AP)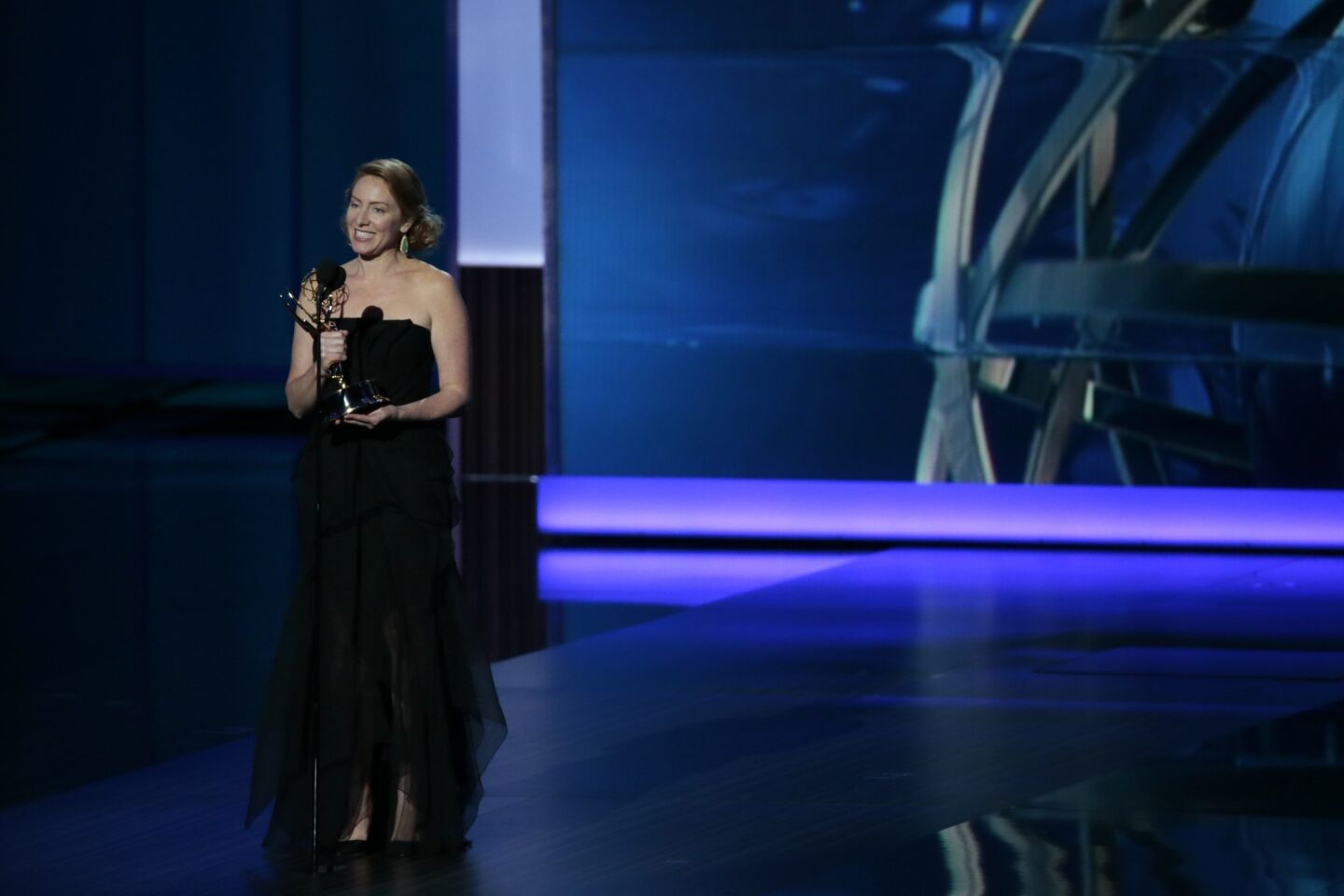 "Homeland" writer Henry Bromell died earlier this year, so when it was announced that he had won the Emmy for best writing in a drama series, his widow came to the stage. Visibly moved, Sarah Bromell kept her remarks very short but very affecting.
(Robert Gauthier / Los Angeles Times)
Here's where we say something about how host Neil Patrick Harris seemed obligated to do a song-and-dance number for the Emmys and, therefore, did a song called "This Is the Number in the Middle of the Show," which seemed uninspired and dull. And then we wrote something about how it didn't seem like anyone really cared enough to put their hearts into it. And neither did we.
(Robert Gauthier / Los Angeles Times)
Bobby Cannavale was up against Mandy Patinkin, Aaron Paul and other great actors for the supporting actor in a drama series. But Cannavale was the surprise winner for "Boardwalk Empire." His gushing, astonished, self-effacing speech was better than the usual canned emotion given out by long-expected winners.
(Chris Pizzello / Invision / AP)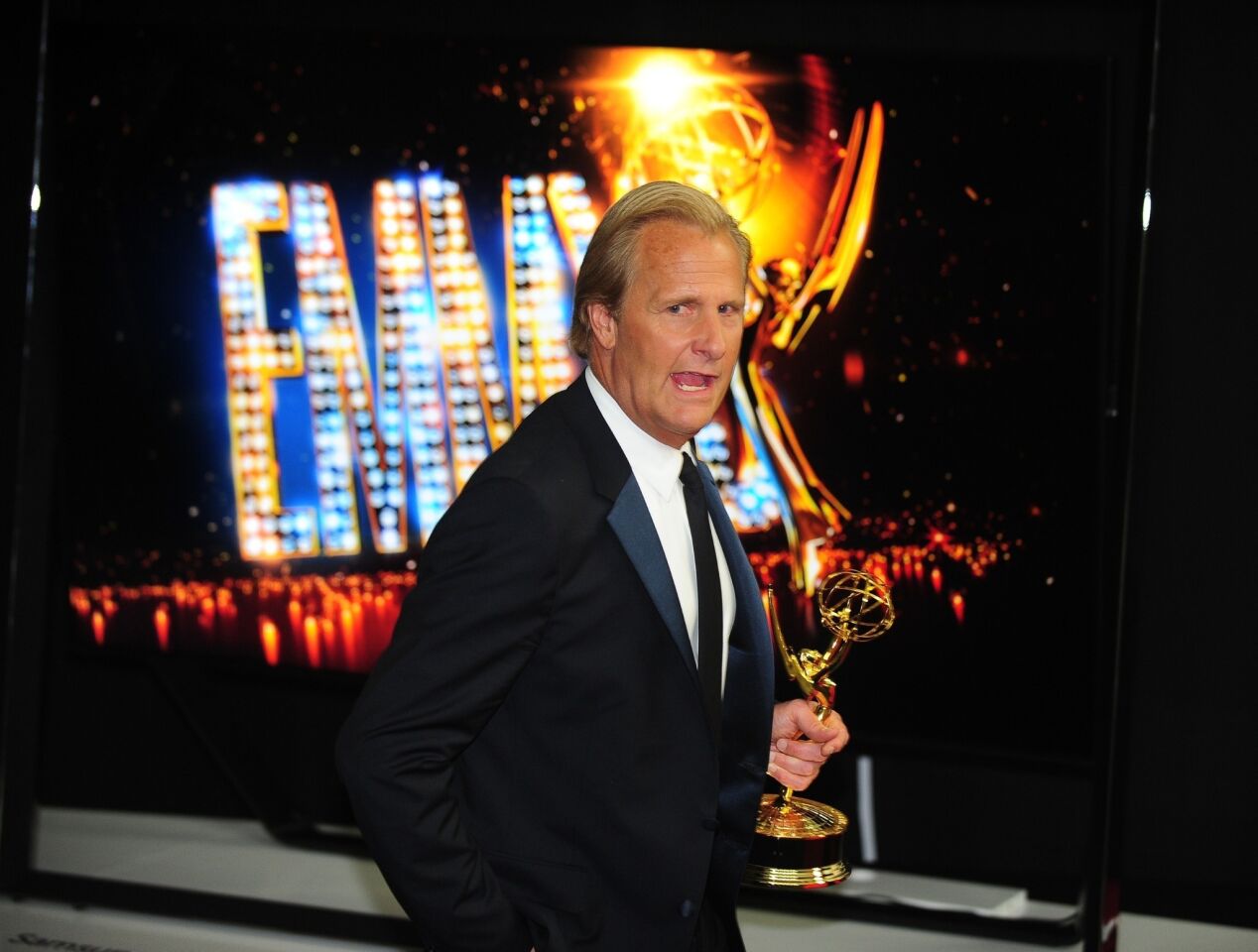 There's nothing like giving an award to an underdog to get some good TV. For best actor in a drama series, most thought it would go to Bryan Cranston, Kevin Spacey or Damian Lewis. But no, it was Jeff Daniels, starring in the polarizing HBO drama "The Newsroom," who won. And just to prove how much he didn't expect it, Daniels came on stage chewing gum. "Well, crap," he said, by way of acceptance. Indeed.
(Frederic J. Brown / AFP / Getty Images)
The Emmys decided to pay tribute to the 50th anniversary of 1963 this year, which included such Emmy-worthy moments as the JFK assassination. It also celebrated the 50th anniversary of the Beatles' American TV debut on "The Ed Sullivan Show," which technically happened in 1964. To pay tribute, singer Carrie Underwood performed the Beatles' hit "Yesterday," which actually didn't come out until 1965.
(Robert Gauthier / Los Angeles Times)
Michael Douglas' personal life may be a little rough these days (he recently separated from wife Catherine Zeta-Jones), but he was in rare form when he came to the stage to accept the Emmy for lead actor in a miniseries or movie for playing flamboyant piano-playing superstar Liberace in the HBO movie "Behind the Candelabra." Referring to his co-star and onscreen lover, Matt Damon, Douglas quipped, "This was a two-hander, and you're only as good as your other hand. Matt, you deserve half this. You want the bottom or the top?"
(Kevin Winter / Getty Images)
The final few minutes of any marathon awards show can find most people a little punchy. Maybe that's why Will Ferrell's bit about coming on stage in shorts and T-shirt with his three kids in tow went over so well. Claiming that he was a last-minute presenter to announce the winners of best comedy series and best drama series, the Ferrell clan stole the show.
(Chris Pizzello / Invision / AP)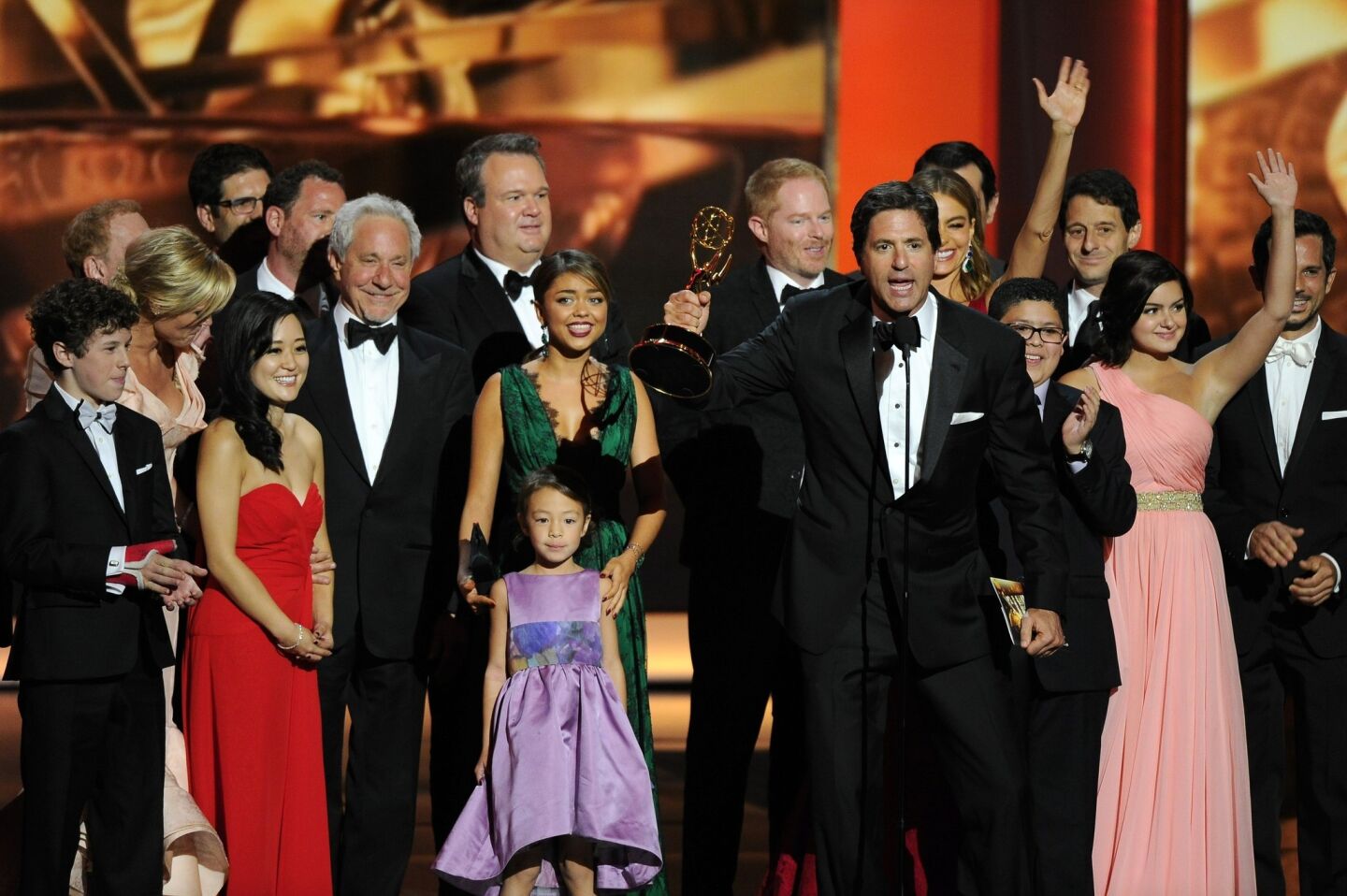 "Modern Family" won the Emmy for best comedy series, and "Breaking Bad" won for best drama series. Neither show was a surprise win, but "Family" executive producer Steve Levitan summed up the feelings perfectly with his speech: "This may be the saddest Emmys ever, but we couldn't be happier."
(Chris Pizzello / Invision / AP)
Flashy meets gloomy? That's the look of the miniseries or movie category this year.
The Academy of Televison Arts and Sciences Thursday nominated wildy different favorites "Behind the Candelabra" and "Top of the Lake," creating a wide spectrum filled out with other nominees "American Horror Story," "Political Animals," "The Bible" and "Phil Spector."
HBO's Liberace biopic, "Behind the Candelabra," ignited a media storm, with buzz surrounding the performance of Michael Douglas as the Vegas legend and Matt Damon as his young lover Scott Thorson, whose memoir served as the basis of the film. And the Steven Soderbergh film dazzled in the ratings too, bringing in 2.4 million viewers in its first airing in May -- making it the most-watched HBO Film title in nearly a decade. No one doubted its chances of scoring a nomination.
WATCH: The Envelope - Emmy Round Table | Show runners
Another HBO contender with less distinction -- despite its big name cast -- is "Phil Spector." The film starred Al Pacino as the polarizing record producer accused of murder with Helen Mirren as his defense attorney. The film didn't generate strong reviews -- our own Harriet Ryan, who covered Spector's murder trials, pointed out the film's discrepancies -- and garnered placid ratings, making its nomination a small victory.
A miniseries that generated much buzz for a lock in the category was Sundance Channel's "Top of the Lake." The eerie and foreboding seven-part miniseries about the disappearance of a pregnant teen was co-created and -directed by Oscar-winning director Jane Campion and garnered much critical praise, particularly for the performances of "Mad Men's" Elisabeth Moss and Holly Hunter. The network recently ran a marathon of the series to take advantage of the growing chatter surrounding it. The nomination will surely help beef up the young network's standing -- it previously had earned an Emmy nomination in 2011 for "Carlos."
PHOTOS: Emmy Awards hosts through the years
Then there was the hard-to-ignore ratings juggernaut. History channel scored mega numbers with its 10-hour "Bible" miniseries. The Easter Sunday finale brought in 11.7 million viewers. The ratings response for the show from reality kingpin Mark Burnett and wife Roma Downey underscored that there's a large audience seeking religious-themed content. And everyone seems to have taken notice, including NBC. The network, hoping to piggyback off those ratings, announced earlier this month that it had picked up the sequel to the miniseries.
And the thorny "American Horror Story" seems to have settled into the category. Much debate has brewed about how to define "American Horror Story" -- is the anthology horror drama a series or a miniseries? The academy has spoken, again placing it in the miniseries category. The 13-episode second installment received generally positive critical response. And its awards darling last year, Jessica Lange, returned at the helm, along with James Cromwell, Joseph Fiennes, Lily Rabe, Evan Peters, Zachary Quinto and Dylan McDermott. The first incarnation of FX's "American Horror Story" scored 17 nominations last year, tying "Mad Men" as the year's most-nominated program.
Another project with a vague identity was USA's "Political Animals." The network originally billed the series, from Greg Berlanti, as a miniseries, but then gave the impression they'd option more episodes if there was a hunger for it. There wasn't; the ratings were modest. Viewership for the series, whose cast included Sigourney Weaver, Ellen Burstyn and Carla Gugino, hovered around 2 million viewers. The network may have backpeddled on moving forward with more episodes, but it seems the Emmys took notice of the ones it did.
The Emmy Awards will be handed out on Sept. 22 and will air live on CBS.
ALSO:
Timeline | Emmys 2013: Winners through the years
Buzzmeter: Panelists make the case for deserving favorites
Video: Kerry Washington, Jenna Fischer and more talk Emmys 2013
---
Get our L.A. Goes Out newsletter, with the week's best events, to help you explore and experience our city.
You may occasionally receive promotional content from the Los Angeles Times.