Emmy Awards: Jon Stewart bows out big with 3 wins for 'Daily Show'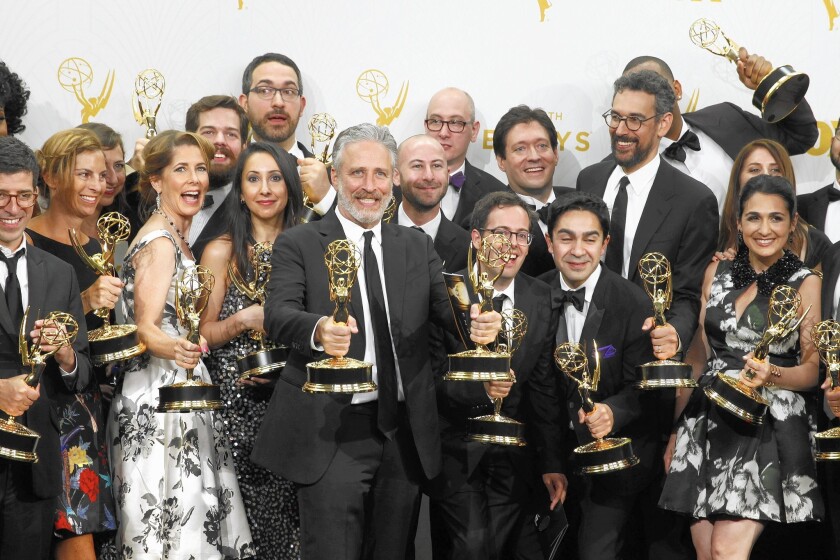 It may have been Stephen Colbert who told us we'd meet again some sunny day, but it was his friend and mentor Jon Stewart who returned on a starry night.
The performer's "The Daily Show With Jon Stewart" was the big winner among late-night series at the Emmys on Sunday, taking all three of the major prizes for which it was nominated — writing for a variety series, directing for a variety series and variety talk series.
"I've been off of television for six weeks," Stewart said as he took the stage to accept the variety talk prize for the Comedy Central show he left this summer. "This is the first applause I've heard."
Sporting a beard that suggested he might be auditioning for the role of The Most Interesting Man in the World, Stewart led a group of writers and crew on-stage in what was as much acceptance speech as farewell address — an encore, in a sense, to his Bruce Springsteen-studded au revoir in August.
PHOTOS: Best and worst looks from the red carpet | Red carpet arrivals | Show highlights
"Thank you so very much. You will never have to see me again," he told the audience.
He also took advantage of the moment to do a comedy bit with a life-from-the-other-side theme. "You have craft services," he said to the industry-thick crowd inside the Microsoft Theater. "Out in the world they have tables with food [too]. But you can't take it."
Stewart also popped up in a clip of "The Colbert Report" during a montage to departed shows (helping Colbert sing "We'll Meet Again," natch).
The wins were a valedictory of sorts for Stewart, who left his host gig at "The Daily Show" this summer after roughly a 16-year run as political commentator, satirist and interviewer. The prizes also mark a return to Emmy glory for the show that won variety series (the award was split into sketch and talk categories this year) for 10 consecutive years until Comedy Central stablemate "The Colbert Report" broke its streak in 2013.
Pundits had wondered whether the Emmys might honor "Colbert," which has gone off the air as its host moved to CBS earlier this month, or even HBO's freshman series "Last Week Tonight With John Oliver," anchored by another Stewart protege.
But as with lead actor in a drama winner Jon Hamm, voters went with the performer now gone from the airwaves. (There was also the possibility voters could have commemorated the end of "Late Show With David Letterman," a six-time winner of the top variety Emmy that this year received its first such nomination since 2009, but they went with Stewart instead.)
The three "Daily Show" prizes — they also included Chuck O'Neil for directing and a writing team headed by Elliott Kalan — were the most for any regular series not named "Game of Thrones" or "Veep."
Backstage, Stewart took the opportunity to offer one more bit of self-deprecating wit. After tossing out some quips about one of his favorite subjects, Donald Trump, Stewart was asked whether he would submit the last batch of episodes of his "Daily Show" at next year's Emmys; they would, after all, be eligible then.
"No, no, this is it," he said. Then he added drolly, "I should probably go out on a higher note than 'yeah, this is it.'"
Times staff writer Nardine Saad contributed to this report.

MORE ON THE EMMYS
HBO, Jon Hamm and Viola Davis win big
'Game of Thrones' finally wins for drama series
---
From the Emmys to the Oscars.
Get our revamped Envelope newsletter for exclusive awards season coverage, behind-the-scenes insights and columnist Glenn Whipp's commentary.
You may occasionally receive promotional content from the Los Angeles Times.