Mark Salling spotted around town after child porn arrest; director won't yet cut him from new film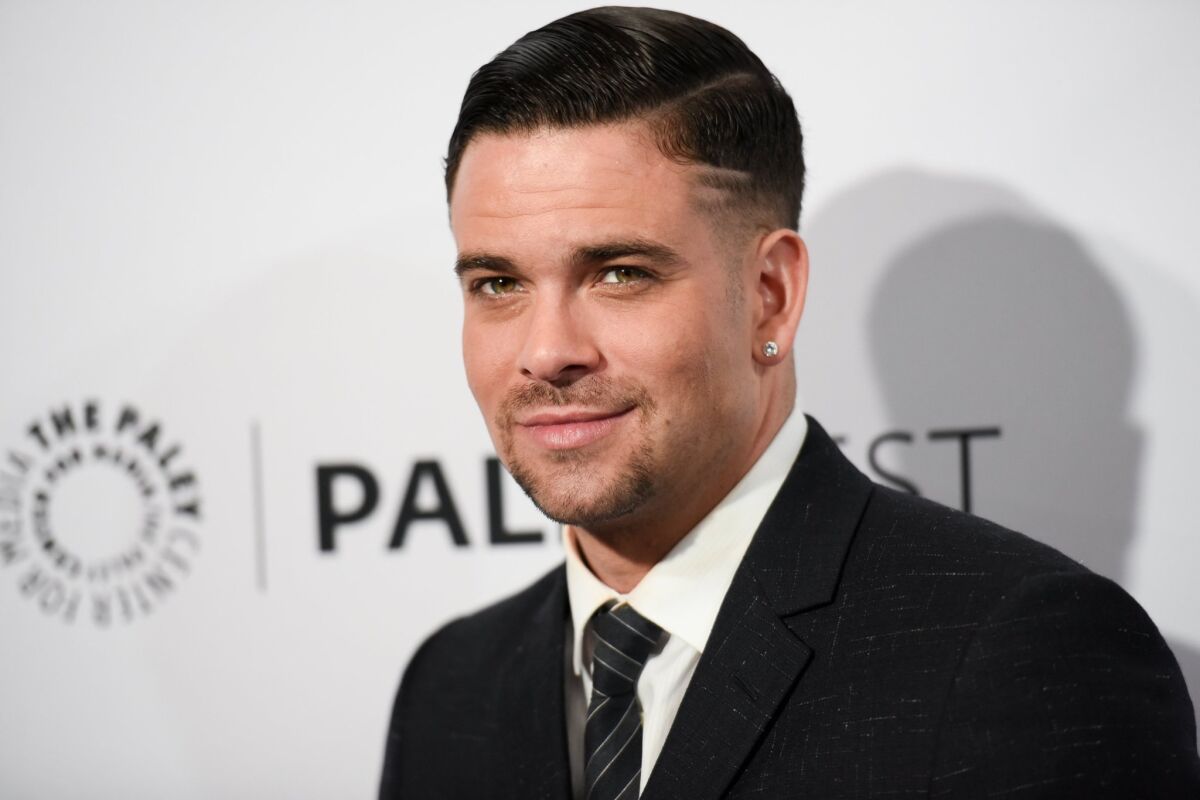 Mark Salling has been spotted around town since being released from jail earlier this week.
The "Glee" star, who played Noah "Puck" Puckerman on the musical Fox series, was arrested Tuesday on suspicion of having child porn. He was released hours later on $20,000 bail.
The actor was spotted covering his face and crouching in a car as it drove away from the jail, according to People magazine, which obtained the image of the actor.
See the most-read stories in Entertainment this hour >>
On Thursday, paparazzi shots surfaced showing Salling hours after he was arrested, leaving a T-Mobile store where he bought a prepaid cellphone, TMZ said. The actor was photographed still holding materials from a bail bond company.
The Los Angeles Police Department's Internet Crimes Against Children task force, which generally works on cases involving prepubescent victims, served a search warrant at Salling's San Fernando Valley home on Tuesday, arrested the actor and later found what police said were "hundreds of images" expected to be used as evidence, according to L.A. Now.
TMZ said the task force raided the home after an ex-girlfriend tipped off police that Salling had child porn on his computer. Several of the actor's devices, including a computer, cellphone and tablets, were seized, the site said.
Vanilla Ice, real name Robert Van Winkle, was arrested in February 2014 in Florida on suspicion of felony burglary and grand theft. The rapper-turned-DIY Network personality, who allegedly took items from an abandoned home near one he was renovating for his TV show, cut a plea deal for community service, restitution and a clean record if he behaves for nine months.
(Palm Beach County Sheriff's Office / Associated Press)
Emile Hirsch was arrested Jan. 25, 2015, in Park City, Utah, on suspicion of assault but didn't pose for booking photos until a March 16 court appearance. He allegedly put Paramount Digital Entertainment/Insurge Pictures VP Daniele Bernfeld in a chokehold at Sundance.
(Handout / Getty Images)
Dustin Diamond, who played Screech on "Saved by the Bell," was arrested Dec. 26, 2014, in Wisconsin after a bar fight late Christmas night. A police report said he admitted accidentally stabbing a man who was harassing his fiancee.
(Ozaukee County Sheriff / Associated Press)
Former Los Angeles news anchor Bree Walker was arrested by Anaheim police Feb. 19, 2014, after authorities said she appeared drunk and refused to take a Breathalyzer test.
(Handout / Getty Images)
David Cassidy was arrested on suspicion of felony driving while intoxicated on Aug. 21, 2013, in Schodack, N.Y. The actor was released on $2,500 bail.
(Handout / Getty Images)
Dina Lohan was arrested Sept. 12, 2013, in New York on suspicion of driving while intoxicated after cops pulled her over for driving 77 mph in a 55 zone. She blew a 0.20 on a breath test, cops said, more than twice New York's legal limit of 0.08.
(Handout / Getty Images)
This notorious mug shot of "That '70s Show" actress Lisa Robin Kelly is from March 2012, when she was arrested on suspicion of spousal abuse in North Carolina. Kelly was arrested again in Burbank in June 2013 on suspicion of DUI.
(Handout / Getty Images)
This Clark County Detention Center booking photo shows environmental activist Erin Brockovich, 52, arrested June 7, 2013, on suspicion of boating while intoxicated at Lake Mead near Las Vegas. Brockovich was released from the Clark County Detention Center after posting $1,000 bail.
(HOPD / AP)
Oscar-winning actress Reese Witherspoon became agitated after her husband, CAA agent Jim Toth, was arrested on suspicion of driving under the influence in Atlanta on April 19, 2013, officials said. Witherspoon was subsequently arrested for disorderly conduct.
(Georgia Department of Corrections / AFP)
Stephen Baldwin was arrested Dec. 6, 2012, and arraigned on charges that he failed to file state income taxes for three years, 2008, 2009 and 2010.
(Rockland County District Attorney's Office / Associated Press)
The rapper and reality TV personality was arrested Oct. 18, 2012. According to a police report obtained by the Associated Press, he is accused of throwing his fiancee to the floor twice and wielding two knives while chasing and threatening to kill her 17-year-old son.
(Las Vegas Police Department / Associated Press)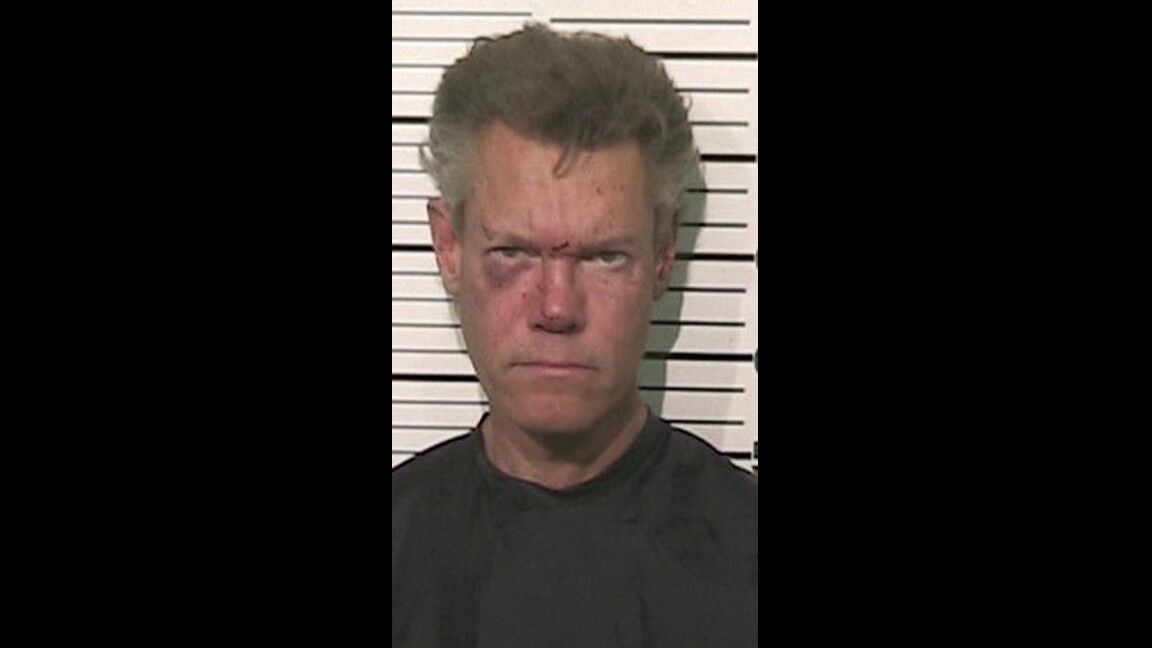 Randy Travis is bruised up in a mug shot taken after he was arrested Aug. 8, 2012, on suspicion of DWI and a third-degree felony count of retaliation. He was naked when he was arrested.
(Grayson County Sheriff's Office / Associated Press)
Amanda Bynes was arrested April 6, 2012, on suspicion of DUI after allegedly clipping the corner of a sheriff's cruiser in West Hollywood. She later pleaded not guilty, and tweeted a request to President Obama asking that the officer who arrested her be fired.
(Los Angeles County Sheriff's Dept. / Getty Images)
Randy Travis was arrested Feb. 6, 2012, on a charge of public intoxication. He was parked at a Baptist church, allegedly smelling of alcohol with an open bottle of wine in the front seat of his Trans Am.
(Denton County Sheriff's Dept. / Associated Press)
Nicolas Cage was arrested April 16, 2011, in New Orleans on charges of domestic abuse battery and disturbing the peace. He was allegedly drunk and fighting with his wife about whether the French Quarter residence they were standing in front of was their rental home.
(Orleans Parish Sheriff's Office / Associated Press)
Flavor Flav -- real name William Jonathan Drayton Jr. -- was arrested in Las Vegas in May 2011 after a routine traffic stop resulted in police officers finding four warrants out for his arrest. The Public Enemy alum had four misdemeanor traffic warrants.
(Las Vegas Metropolitan Police / Getty Images)
David Cassidy's car was stopped Nov. 3, 2010, on the Florida Turnpike for weaving and nearly causing an accident, police said. Cassidy allegedly failed a field sobriety test and later showed a blood alcohol level around 0.14. He pleaded no contest to DUI and got probation.
(Florida Highway Patrol / Associated Press)
MIAMI - NOVEMBER 08: In this handout photo provided by the Miami-Dade Corrections and Rehabilitation Department, Lawrence Former NFL great Lawrence Taylor has been indicted on two felony counts and three misdemeanor charges related to the alleged rape of a 16-year-old allegedly hired as a prostitute, the Rockland County, N.Y., district attorney's office said.
(Handout / Getty Images)
O.J. Simpson's mugshot from his arrest in Los Angeles in 1994.
(Bob Carey / Los Angeles Times)
See more of Entertainment's top stories on Facebook >>
The 33-year-old is scheduled to appear in court on Jan. 22, but that date could change depending on whether or when county prosecutors file charges against him.
Salling is cast as a villain in the upcoming indie film "Gods and Secrets," and director Adi Shankar said that he won't cut his scenes until he sees how the accusations play out legally.
"Today I was made aware of the serious allegations against Salling as a result of numerous media outlets hounding me as to whether he would remain in 'Gods and Secrets,'" Shankar told E! News on Wednesday. "I won't feed our growing pitchfork culture. I'm going to wait for all the facts to arrive and if in fact these allegations are true, I will immediately take action, which includes removing his scenes from the project."
Follow me on Twitter @NardineSaad
MORE:
Chris Rock's response to Jennifer Lawrence's pay-gap essay: 'Black women have the hardest gig in show business'
'Downton Abbey' gears up for a grand old-fashioned finale as a new age dawns
Transforming the end of the 2 Freeway could be the beginning of a new L.A.
---
Get our daily Entertainment newsletter
Get the day's top stories on Hollywood, film, television, music, arts, culture and more.
You may occasionally receive promotional content from the Los Angeles Times.