Miley Cyrus goes minimalist, performs in her underwear
Jennifer Lopez's brief nip slip at the 2012 Oscars garnered enough attention to spawn a Twitter account dubbed @Jlosnipple. For those keeping up with such things, it was in the ranks with @AngiesRightLeg and @CoopersMustache.
By Christy Khoshaba
(Al Seib / Los Angeles Times)
A classy one by nature, Emma Watson arrived to the soaking wet 2011 "Harry Potter and the Half-Blood Prince" London premiere in a floor length, high-slit gown. She gave her dress a shake to lose the excess water, only to reveal her nude boy shorts underneath.
(Will Oliver / EPA)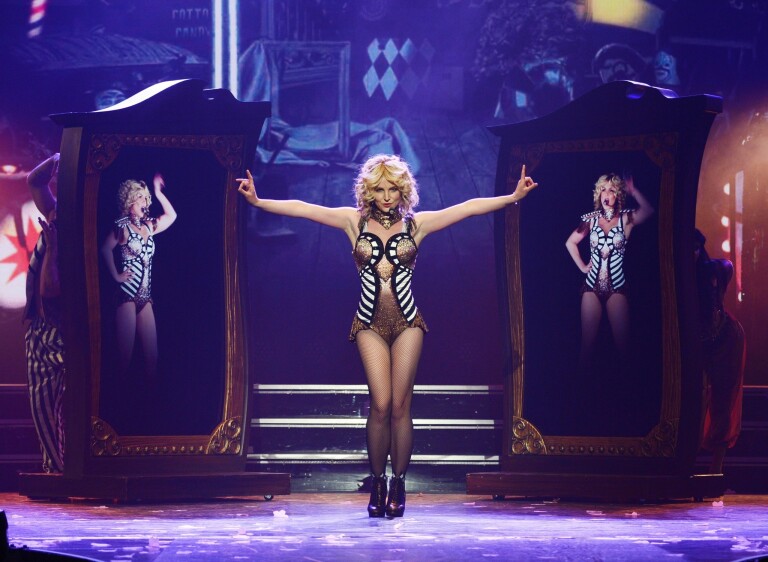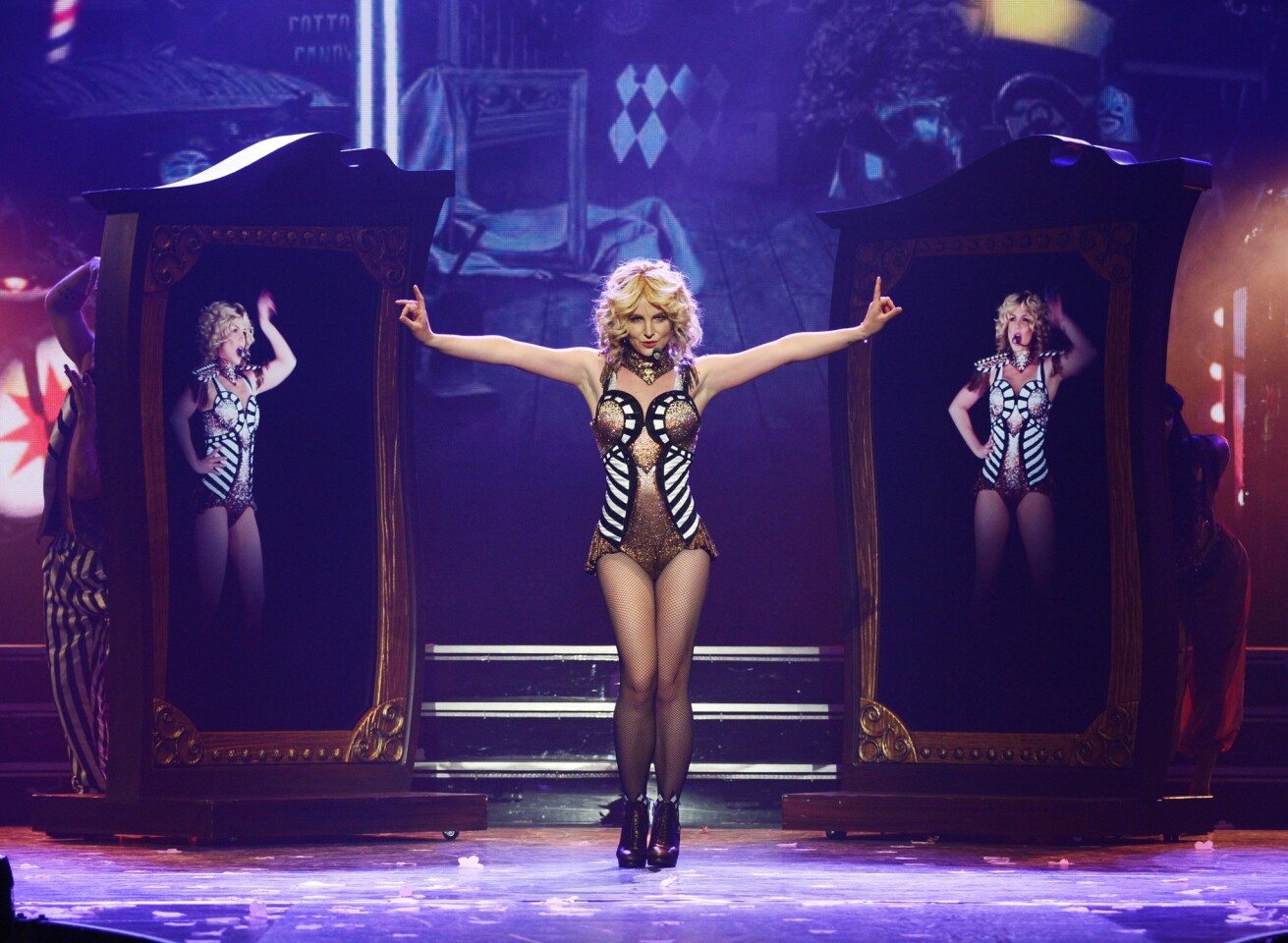 Britney Spears performed her chart-topping single "Circus" during the opening night of her Las Vegas residency, singing the lyrics: "All the eyes on me in the center of the ring / Just like a circus." It was a bit too apt to her situation. The pop queen experienced a minor wardrobe malfunction when her back zipper came undone. Like pop sister Katy Perry, Spears wore a cone-shaped glitzy number, and like gal pal Beyonce, Spears continued to sing and dance her way through the blunder; but like Spears herself, she managed to entertain like she always does.
(Denise Truscello)
Yes, wardrobe malfunctions aren't limited to the ladies. Robert Downey Jr. left his fly unzipped at the 2013 South Korean premiere of "Iron Man 3." He's one to have fun with tuxedos: the ties, the fabrics, the anything-but-black colors. Perhaps he had so much fun that time around, he forgot an essential deed.
(Alex J. Berliner / abimages)
For all that Khloe Kardashian has revealed of herself and her emotions, a minor showing of her breasts on "Fox and Friends" in 2011 is nothing in comparison. In fact, it may be considered minuscule compared to, say, a topless scene of her in a tub, dripping with M&Ms and mints. Yep, that happened on one of those "Kardashian" shows.
(Omar Vega/Invision/AP)
Sofia Vergara wanted everyone to know about her wardrobe malfunction, despite the fact that she could've kept quiet about the whole thing. At the 2012 Emmy Awards, her teal gown split open right over her derriere. She took it to Twitter with a picture that revealed, well, every curvy detail of the fashion blunder.
(Jay L. Clendenin / Los Angeles Times)
Lessons come with wardrobe malfunctions — in particular a "pocket-checking policy" that was developed after Zac Efron accidentally dropped a condom onto the red carpet after reaching into his pocket at the family-friendly 2012 Los Angeles premiere of "The Lorax." So far, so good, Efron.
(Jay L. Clendenin / Los Angeles Times )
When Bethenny Frankel invited pro dancer Cheryl Burke on her daytime talk show, she wanted to learn how to bust out some sexy dance moves. But when it happened, Frankel experienced a minor wardrobe malfunction as her skirt exposed a little too much. Frankel took to Twitter and poked fun at her blunder: "Wish I had dance moves like #CherylBurke from #dwts! But I'll make do with this..."
(Robert Gauthier/Los Angeles Times)
Wearing a cobalt-blue low-cut gown at the 2013 Emmy Awards, Tina Fey revealed a little more than she intended. She took the stage with writer Tracy Wigfield, pictured at right, to accept her award for best comedy writing and wound up briefly showing her breasts. Like a pro, she channeled the embarrassment into a "Saturday Night Live" promotion a week later.
(Lawrence K. Ho / Los Angeles Times)
While shooting the drama "How to Make Love Like an Englishman," Hayek became the butt of a wardrobe malfunction. Her skirt caught a gust of wind and her rear was flashed for the world to see.
(Ian Gavan / Getty Images)
Maybe it was a wardrobe malfunction; maybe it wasn't. On a night out on the town with Blink 182 drummer Travis Barker, Carmen Electra was photographed wearing a (very see-through) little black dress. When the bright lights of the camera flashed, the top portion of her dress looked even more sheer. And it was just a tad too exposed.
(Dave Hogan / Getty Images)
For once the attention shifted from Lindsay Lohan to her mother when Dina Lohan was arrested on suspicion of drunk driving in New York. But the attention swung right back to Lindsay when she arrived at her mother's home in a top with low, like really low, sides -- revealing much of her chest.
(Chris Pizzello /Invision/AP)
So Kanye West is human after all! Shutterbugs caught the rapper as his (Balenciaga, mind you) leather pants simply dropped, revealing a little of his thigh and briefs. At the time, he and Kim Kardashian were beginning to date and were both photographed exiting a car when the fashion gaffe happened, prompting photogs to wonder what happened in the car.
(AP Photo/Zacharie Scheurer)
It's as if Eva Longoria and wardrobe malfunctions go hand in hand. A two-time offender, Longoria once lifted her high-slit dress to brush off the water it caught, unfortunately exposing her lack of undies at the 2013 Cannes Film Festival. She also briefly and accidentally flashed the world on David Letterman's show in an interview segment done while wearing a dangerously low-cut tuxedo jacket.
(Alberto Pizzoli / AFP / Getty Images)
Victoria's Secret model Miranda Kerr, no stranger to showing some skin, experienced an unforeseen fashion mishap on the set of her skin-care line's ad campaign. Her chunky black sweater took a plunge, revealing both her breasts. Kerr was caught in a similar situation a few months later when a sheer black lace gown also gave way.
(ADRIAN SANCHEZ-GONZALEZ /AFP/Getty Images)
Jennifer Hudson made her way to the "Chelsea Lately" stage shimmying and shaking her upper body. As she sat down, her skirt's zipper came undone. Chelsea jumped on the opportunity to "help," turning the fashion blunder into a fashion funny moment. Crisis was averted.
(Jay L. Clendenin / Los Angeles Times)
Brooklyn Decker made waves with her wardrobe malfunction. While surfing and simultaneously working the camera for Vogue Mexico in Miami, the Sports Illustrated model encountered a brief oopsy when the top portion of her teeny weeny floral bikini gave way. She was quick to make adjustments and was back riding waves in no time.
(Mike Windle / Getty Images for H&M)
The curvacious and petite music siren Nicki Minaj unveiled her clothing line at U.S. department store Kmart, only to do a little (unexpected) unveiling herself. She wore a cobalt blue blazer without any undergarments, and when it didn't keep things under wraps, it marked the second jacket-with-nothing-underneath blunder for Minaj.
(Getty Images for Kmart / Shop Yo)
Could we crown Jennifer Lawrence the queen of adorable award fumbles? There was her tumble to accept the award for best actress at the 2013 Oscars, pictured. And then there was the more unfortunate ripping of her dress at the 2013 SAG Awards. Or was it a rip? While viewers adamantly believed it was, Lawrence actually just pulled up the top part of her dress to reveal the sheer lining in between that and the skirt.
(Al Seib / Los Angeles Times)
Is it still a wardrobe malfunction if almost no wardrobe is involved in the malfunction? Miley Cyrus was a case in point Sunday night in Milwaukee when she went on stage wearing only a bra and panties.
Nice, matching bra and panties, but undies nonetheless.
The singer herself explained on Twitter afterward what had happened: "not a new outfit for 23 I didn't make my quick change and I couldn't not come out for the song so I just had to run out in my undies :("
PHOTOS: Celebrity wardrobe malfunctions
"Never happened to me before. But I love my fans as much as they love me! I couldn't miss 23," she added. "Show must go on :("
Double negatives and double sad faces aside, most fans might not have noticed, because the full costume for her "23" performance isn't much more than that. Usually, according to E! News, she just slaps some chaps over those underthings and calls it done.
It's only the most recent gawk-worthy thing to happen on Cyrus' Bangerz tour — on Friday she posted a concert picture of herself plunging her face between the breasts of burlesque dancer Amazon Ashley, who's been performing with Cyrus since the notorious MTV Video Music Awards bit last year.
What you'll see there is apparently what happens when 5-foot-5 meets 6-foot-7, assuming no inhibitions on either side.
"I love @MileyCyrus having the #Timeofmylife," Ashley had tweeted the night before, along with a picture of the "Wrecking Ball" singer winding up to slap her on the behind.
In offstage Miley news, an 18-year-old male fan was arrested Thursday at her Omaha, Neb., show on suspicion of trespassing after he'd sneaked into the singer's dressing room the day before the concert and left a note professing his love for her and asking to meet her. Security cameras caught him in the act, Omaha.com reported.
After leaving the note, he posted a Twitter message about what he'd done, according to Gossip Cop, which has the text of the note via a police report and a picture he tweeted of the outside of his idol's dressing room. On Monday, his Twitter account appeared to be defunct.
ALSO:
Justin Bieber deposition video clips paint unflattering picture
Elisabeth Moss on Armisen marriage: 'Traumatic, awful, horrible'
Prince Harry, girlfriend Cressida Bonas pack in public appearances
Follow Christie D'Zurilla on Twitter and Google+. Follow the Ministry of Gossip on Twitter @LATcelebs.
---
Your essential guide to the arts in L.A.
Get Carolina A. Miranda's weekly newsletter for what's happening, plus openings, critics' picks and more.
You may occasionally receive promotional content from the Los Angeles Times.