Scott Disick's mother dies after long illness, reports say
Allow us to shed some light on the very "Brady Bunch" Kardashian family tree: The Kardashians — Kim Kardashian, Kourtney Kardashian, Khloe Kardashian and Rob Kardashian — are children to former O.J. Simpson lawyer Robert Kardashian and Kris Jenner (nee Houghton). She divorced Kardashian and married Caitlyn Jenner, known at the time as Olympian Bruce Jenner. Jenner had sons Brandon Jenner and Brody Jenner from a previous marriage to Linda Thompson. (She also has another son and daughter from her first marriage to Chrystie Crownover.) The Jenners later had two daughters, Kylie and Kendall Jenner, who are also featured on the family's reality TV series. And then there are the love interests and babies. Click though for a better idea of who's who and why they're famous.
(E!)
Probably the most famous Kardashian, Kim Kardashian is the second eldest of the Kardashian siblings, half siblings and step-siblings. In birth order, they go Kourtney (1979), Kim (1980), Khloe (1984), Brody Jenner (1983), Rob (1987), Kendall Jenner (1995) and Kylie Jenner (1997). Kim Kardashian made a name for herself as a friend and stylist to Paris Hilton, but she shot to fame after a sex tape of her and R&B singer Ray J was leaked. She has somehow parlayed that infamous tape into an unrelated reality-TV empire with her family, rebuilding her reputation as that of a fashionista and businesswoman. However, the burnished rep was somewhat tarnished again after news got out that she was divorcing NBA player Kris Humphries after a short-lived 72-day marriage. Their wedding included quite a bit of fanfare, and the divorce proceedings lasted much longer than her wedded bliss. As the saga played out, she and her new boyfriend, rapper Kanye West, announced they were expecting a baby together. They welcomed their baby girl on June 15, 2013.
(Timothy White / E!)
Kourtney Kardashian is considered the most "realistic" of the siblings. "She will tell you the cold, hard truth, even if it will make you cry, so whatever you're dealing with, if you want to talk to her, she'll be very realistic," sister Kendall Jenner once
said of
her. She is dating Scott Disick, and their love life has been chronicled on "KUWTK" and all of its spinoff series. Kardashian and Disick are parents to son Mason, whose birth was televised, and daughter Penelope.
Along with sisters Kim and Khloe, she fronts and works on their clothing store Dash, their Kardashian Kollection clothing line for Sears and their Khroma cosmetics line.
(Anders Overgaard / E!)
Khloe Kardashian is the tallest and most outgoing of the sisters. She married NBA star Lamar Odom after a monthlong courtship in 2009. She has served as a host of "The X Factor" and chronicled her infertility issues on her "Keeping Up With the Kardashians" spinoff series, "Khloe & Lamar." In 2013, the couple's rocky relationship made headlines after news surfaced questioning Odom's fidelity and reports alleged that he had been struggling with a drug problem. Kardashian filed for divorce Dec. 13.
(Anders Overgaard / E!)
Rob Kardashian attended USC and moved in with sister Khloe and her husband, Lamar Odom. He has appeared on "Dancing With the Stars" and started up his own line of socks. After the public crumbling of the Kardashian-Odom marriage, Rob Kardashian retreated from public life and made fewer appearances on the family's reality series.
(Anders Overgaard / E!)
Kris Jenner (nee Houghton, nee Kardashian) is jokingly called the Kardashian "momager" because she serves as her daughters' business manager through Jenner Communications. She was married to Robert Kardashian from 1978 until 1990, when they divorced. She married Olympic gold medalist Bruce Jenner in 1991 and had two daughters -- Kendall and Kylie Jenner -- with him.
(Anders Overgaard / E!)
Caitlyn Jenner, formerly known as Bruce Jenner, is an Olympic decathlon gold medalist, winning at the 1976 Montreal Games. She was married three times before coming out as a transgender woman in 2015. She and first wife Chrystie Crownover (1972-1981) have a son, Burton (Burt), and daughter, Cassandra Lyn (Casey) Jenner. After their split, she married Linda Thompson (1982-1984), with whom she had two sons. Brandon and Sam (Brody). She married Kris Jenner in 1991, merging their two large families, and had daughters Kendall and Kylie Jenner.
(Timothy White / E!)
Kendall Jenner is the quiet, once-shy daughter of Caitlyn Jenner and Kardashian "momager" Kris Jenner. While appearing on her family's reality series since age 11, she has pursued a modeling career, signing with prominent agency Wilhelmina in 2010. She's been trying to carve out a career path independent of her famous half sisters, and worked on a clothing line for PacSun with younger sister Kylie Jenner.
(Anders Overgaard / E!)
Kylie Jenner, daughter of Caitlyn and Kris Jenner, is the youngest of the siblings. Like her sisters, she has pursued a modeling career. She has also worked on a fashion line with sister Kendall and has become a social media powerhouse in her own right.
(Anders Overgaard / E!)
Scott Disick is Kourtney Kardashian's longtime boyfriend and father of her three children, son Mason, daughter Penelope and son Reign. He goes by the nickname Lord Disick and has an affinity for race cars and dapperly dressing.
(Anders Overgaard / E!)
Lamar Odom made headlines when he and Khloe Kardashian married in September 2009 after only a month of dating. In December 2013, they announced they were divorcing after allegations of drug use and cheating plagued the couple.
(Evan Agostini / Associated Press)
Grammy-winning rapper Kanye West is Kim Kardashian's husband. He appeared on a few episodes of her reality series while she was with NBA player Kris Humphries because they were friends, but later took their friendship into romance territory.The couple welcomed daughter North West in June 2013 and are currently expecting their second child.
(Zacharie Scheurer / Associated Press)
Kris Humphries is an NBA player who married Kim Kardashian in 2011 after about six months of dating. The couple became infamous after they televised their elaborate nuptials, then ended their marriage after 72 days. Kardashian filed for divorce, but Humphries sought an annulment, and the two have battled in court for far longer than they were married.
(Evan Agostini / Associated Press)
Brody Jenner is one of Caitlyn Jenner's four children from her second marriage. Brody has starred in MTV's "The Hills," in which he courted Lauren Conrad and later Kristin Cavallari, and his own short-lived series, "The Princes of Malibu." He has also minimally appeared in early seasons of "Keeping Up With the Kardashians," notably being called on by stepbro Rob Kardashian to babysit their half sisters Kylie and Kendall Jenner.
(Chris Pizzello / Associated Press)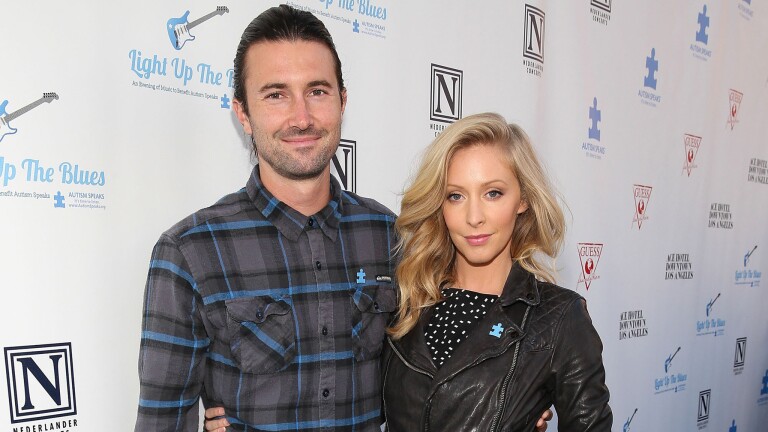 Brandon Jenner, eldest son of Caitlyn Jenner and actress Linda Thompson, wed Leah Felder in May 2012. The couple comprises indie pop duo Brandon & Leah.
(Imeh Akpanudosen / Getty Images for LUTB)
Scott Disick's mother, Bonnie Disick, died Oct. 28 after a long illness, according to recent reports. She was 63.
The cause of death was unclear.
The "Keeping Up With the Kardashians" star, 30, who is boyfriend to eldest sister Kourtney Kardashian, 34, reportedly flew from L.A. to New York with his girlfriend to attend his mother's Oct. 30 wake, according to E! News, Us Weekly and People.
Radar Online, which first reported the story, quoted a source as saying that Disick was "devastated" by the loss because he "was very close to his mother."
The funeral is said to have been a small affair with "just a handful of people," the site reported.
Disick, an only child, grew up in Eastport, Long Island, in New York with Bonnie Disick and his father Jeff Disick. His parents appeared in a 2011 episode of "Kourtney & Kim Take New York," when Kourtney took their son Mason to visit them in the Hamptons following Disick's well-documented struggles with alcohol.
The couple, who have been together since 2006, are parents to Mason, 3, and Penelope, 1. The pair reportedly set off for the Dominican Republic to recuperate following the wake, People reported. They also attended an opening event for the Breathless Punta Cana Resort & Spa and were seen strolling hand in hand in New York.
PHOTOS: Notable deaths of 2013
The mischievous reality star has yet to publicly comment on his mother's death but has still been active on Twitter and Instagram promoting his various endeavors.
Lord Disick, as he's known, was absent from a few recent Kardashian-Jenner family gatherings, including Kanye West's San Francisco proposal to Kim Kardashian on Oct. 21, Kourtney's half-sister Kendall Jenner's 18th birthday bash at Six Flags Magic Mountain in Valencia on Oct. 29, and Kardashian momager Kris Jenner's birthday festivities Tuesday night.
ALSO:
Kaley Cuoco 'marries' fiance Ryan Sweeting on 'Ellen'
Miranda Lambert shows off slim-down at CMA Awards
Kate Middleton, Prince William honor war vets on 'Poppy Day'
Follow Ministry of Gossip @LATcelebs.
---
The complete guide to home viewing
Get Screen Gab for weekly recommendations, analysis, interviews and irreverent discussion of the TV and streaming movies everyone's talking about.
You may occasionally receive promotional content from the Los Angeles Times.