Selena Gomez dines with Demi Lovato after Justin Bieber's arrest
Selena Gomez in July 2013, just before the release of "Star Dance," her first album since starring in the movie "Spring Breakers."
(Ricardo DeAratanha / Los Angeles Times)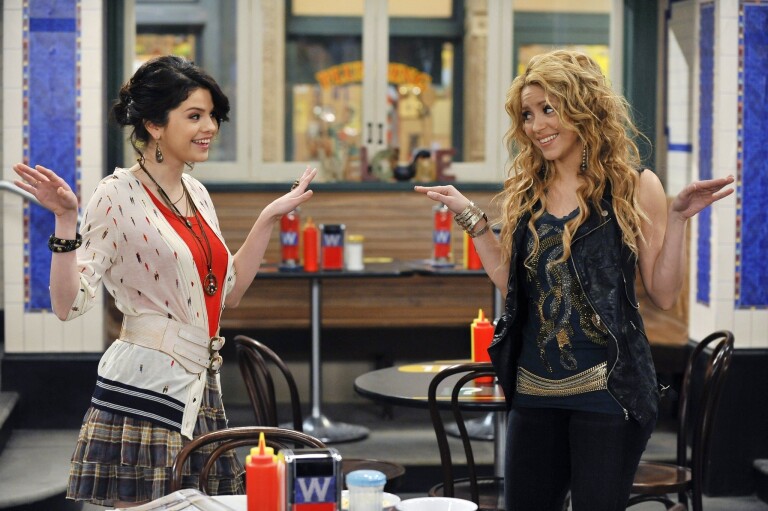 The Texas native got her first lead role at age 15 when she landed the part of Alex Russo on Disney Channel's "Wizards of Waverly Place" in 2007. Gomez had been a guest star on Disney programs "The Suite Life of Zack and Cody" in 2005 and "Hannah Montana" in 2006. She did 97 episodes and two made-for-TV movies for "Wizards." Gomez, left, shares a duet with Colombian singer-songwriter Shakira during a special episode of "Wizards of Waverly Place."
(Eric McCandless / Disney Channel)
Gomez played Mary Santiago in the direct-to-DVD movie "Another Cinderella Story." The 2008 romantic comedy was the thematic sequel to Hilary Duff's 2004 film "A Cinderella Story." Gomez proved she was a triple threat when it came to the musical numbers in the flick. "I had two months of dance training so I was a complete white girl when it came to dancing. I was awful. I was awful so I think it was really cool to learn," she said in a 2010
interview
. She is pictured here with her Prince Charming, actor Andrew Seeley. The film won the 2010 Writer's Guild of America Award in the children's script long form or special category.
(Ed Arquel / Warner Bros. Entertainment )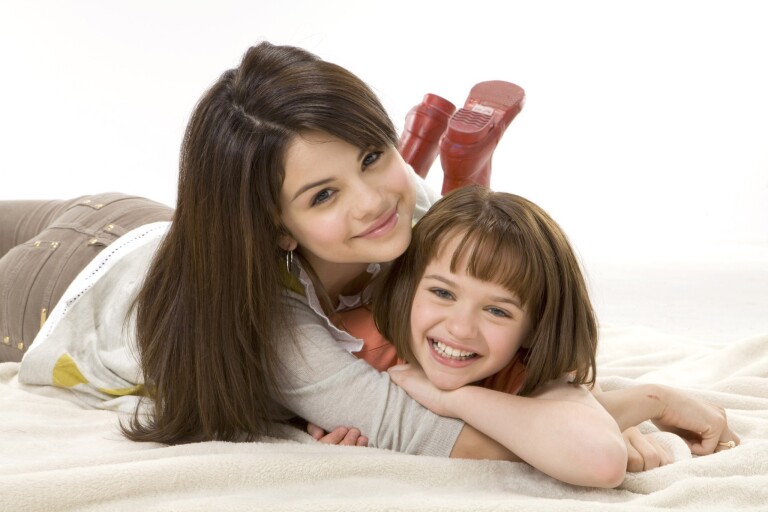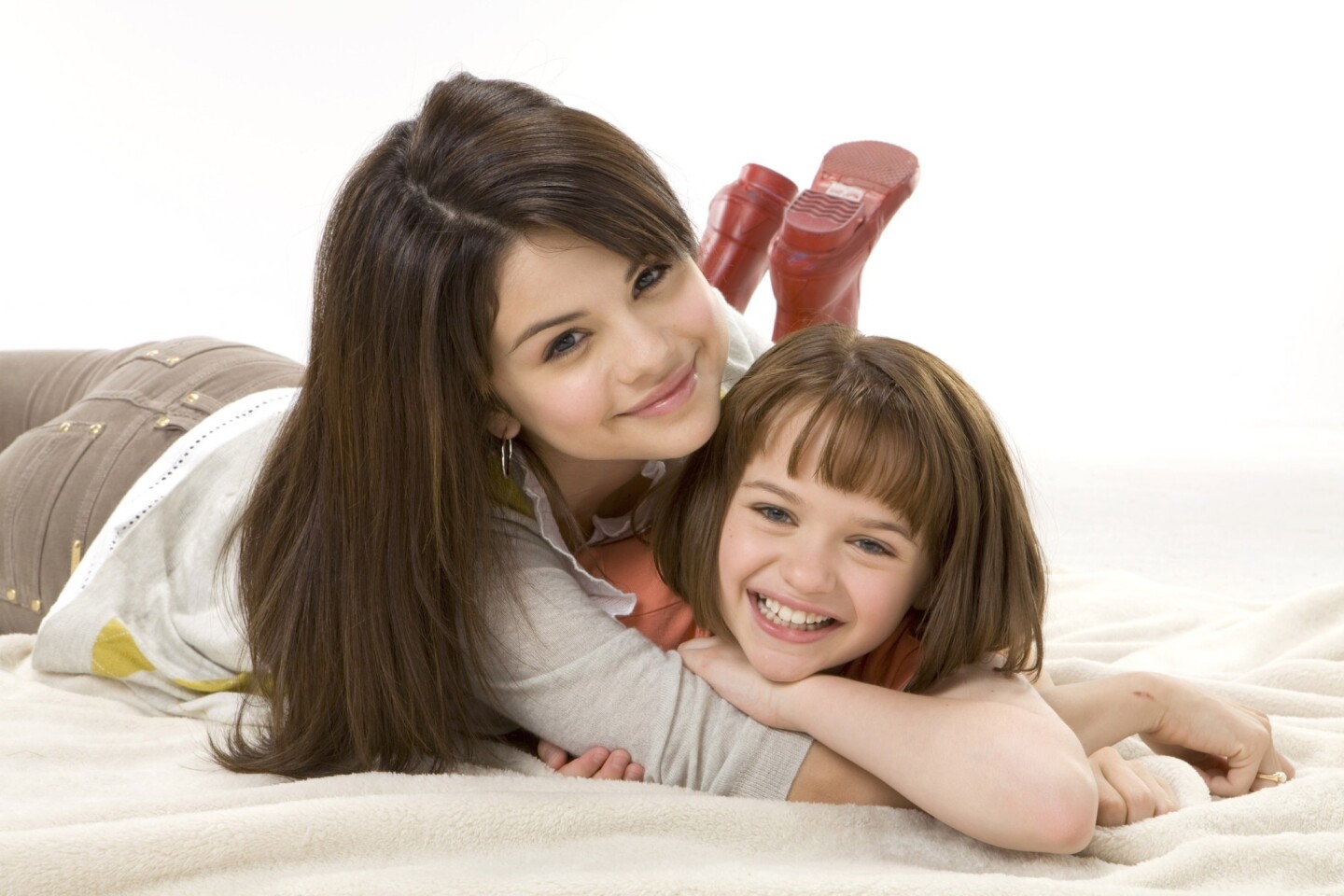 In between Gomez's role on Disney's "Wizards of Waverly Place," the actress found time in 2010 to star in the film "Ramona and Beezus" based on the bestselling books by Beverly Cleary. Selena played big sister Beezus Quimby, while actress Joey King, right, played Ramona. The role was a dream come true for Gomez, who said she jumped up and down when she first saw the theatrical trailer. "Ever since I was a little girl, I always loved the movie voice guy going, you know, 'And Selena Gomez.' So I had a heart attack and I started crying,"
she told
MTV in 2010.
(Alan Markfield / 20th Century Fox)
In the 2011 family friendly film "Monte Carlo," Gomez plays both sweet Texas teen Grace and snooty French heiress Cordelia, whom Grace pretends to be while on a trip to Paris with her stepsister (Leighton Meester, left,) and best friend (Katie Cassidy, right). At the time of movie,
Gomez told
, RedEye, "Acting is something I work really, really hard on that I throw myself into a situation where I do work 18 hours a day. And I do hope to see longevity. And I hope to be rewarded with really great people and great actresses and people I get to work with, so I hope [that's what happens.]"
(Larry Horricks / 20th Century Fox)
We're serious about this one. Dating mega-famous tween heartthrob Justin Bieber in 2011 only amplified Gomez's fame. Sure, she might have gained new fans, might have lost old ones -- heck, she was even threatened by some for kissing the Biebs, but the attention put her name all over the entertainment map. In this photo, the two are about to lock lips at a Lakers game. Before Bieber, Gomez dated "Twilight" star Taylor Lautner. And who can forget her first love, Jonas Brother Nick Jonas?
(Noel Vasquez / Getty Images)
By 2011, Selena swapped her lapel microphone for one with a cord when she began hosting MTV award shows. She started by lending her talents to MTV's VMA pre-show, where she was polite and pleasant. Things changed when she filmed the promotion video to host MTV's Europe Music Awards two months later. Gomez got a whole lot "grown up" with the use of slight profanity and a new gangster inspired look. (Here, Gomez attends the Fulfillment Fund's Star Gala in Beverly Hills, a week before she hosted the EMAs.)
(Jason Merritt / Getty Images)
In 2009, Gomez formed the band Selena Gomez and the Scene. The group released three albums: "A Year Without Rain," "Kiss and Tell" and "When the Sun Goes Down." The single "Love You Like a Love Song" off the latter album garnered a double-platinum certification by the Recording Industry Assn. of America. Selena's mother may have known her daughter wanted to get into music -- she named her after American singer-songwriter and sensation Selena of the 1980s and early 1990s.
(Hollywood Records)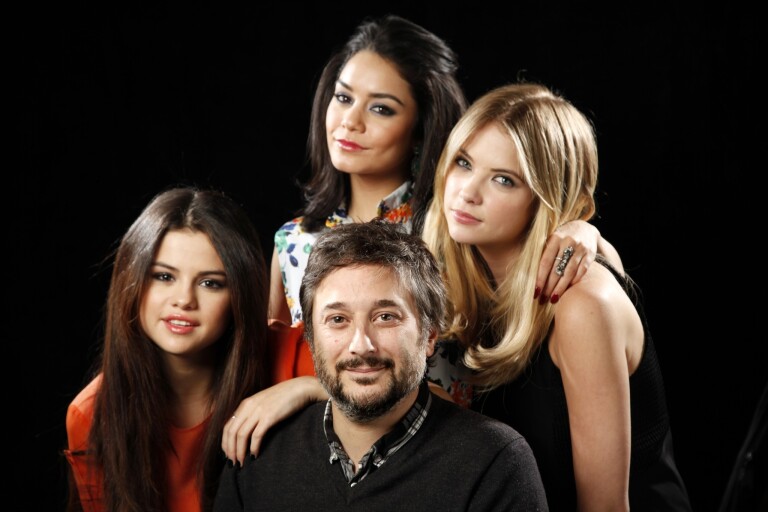 Hitting new heights, or perhaps trying to shed her squeaky-clean Disney image, Gomez starred in the just-in-time for spring 2012 movie "Spring Breakers," directed by Harmony Korine, pictured center, of the famed "Kids," "Gummo" and "Mister Lonely." Gomez performed some pretty intense scenes, including one in which she said costar James Franco's rapper-gangster character tried to influence her through emotional exploitation. "There were real moments in there," Gomez said of that particular scene
to The Times
. "The way [Franco] was reacting really freaked me out."
(Liz O. Baylen / Los Angeles Times)
Pictured here is a scene from the 2012 animated comedy "Hotel Transylvania," in which Gomez voices Mavis, the teenage daughter of Dracula (Adam Sandler). It wasn't the first time Gomez used her voice in an animated film. In 2008 she played Steve Carell's daughter in Dr. Suess' "Horton Hears a Who!" Interestingly Gomez said she never had the chance to meet Carell. Before that role, Gomez used her voice talents in "Arthur and the Revenge of Maltazard" and "Arthur 3: The War of Two Worlds."
(Sony Pictures Animation)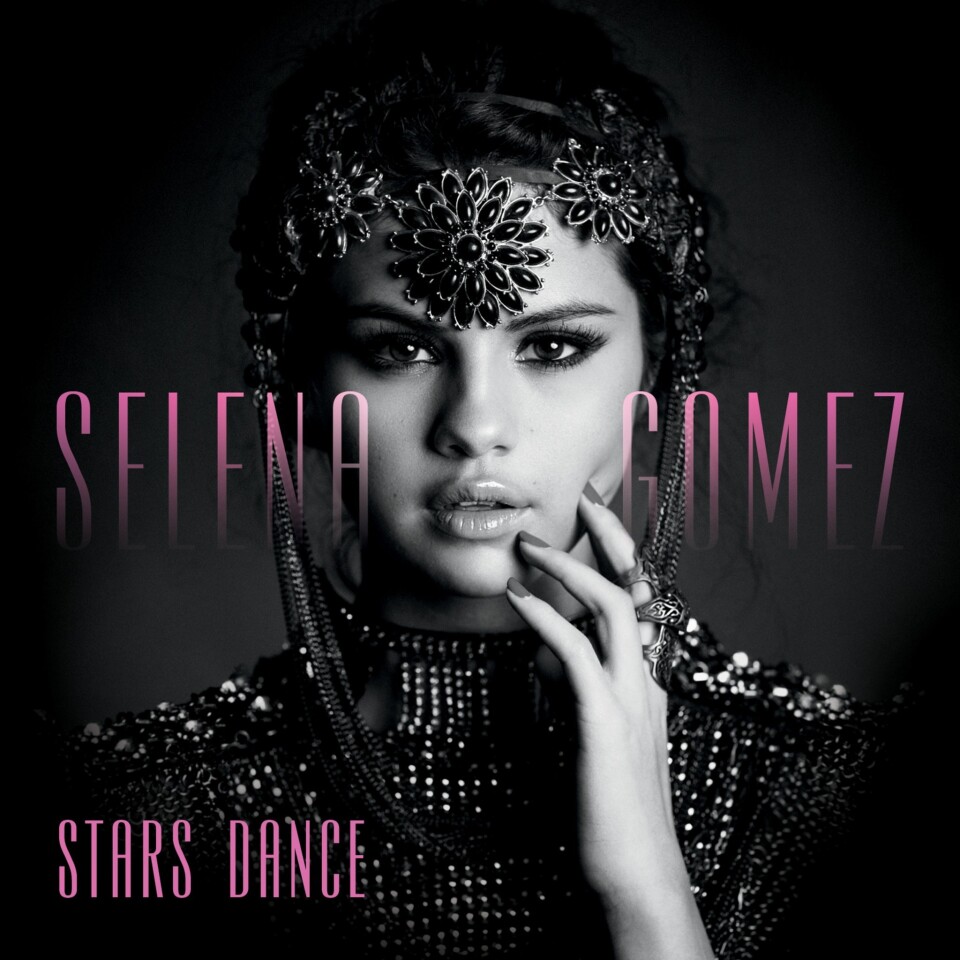 At the brink of her 21st birthday this year came the launch of her debut solo album, "Stars Dance,"
an electro-pop mix
fit for the summer. "It's not something just wanting to make a statement. It's just kind of acknowledging the fact that I'm turning 21 and that I am becoming a woman," Gomez told
MTV News.
The singer said she couldn't have asked for a better present.
(Hollywood Records)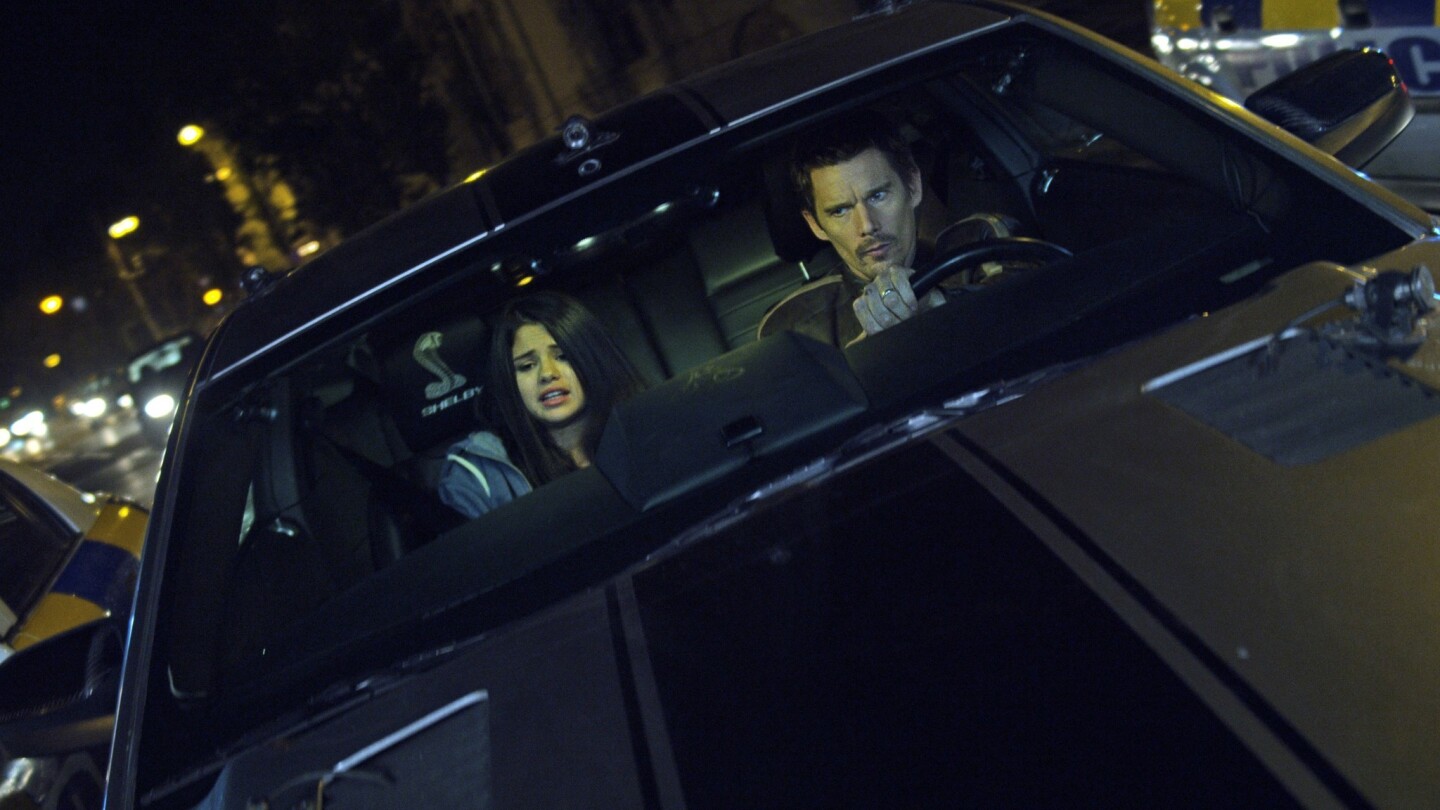 Kicking it up a notch -- a pretty big one, that is -- Gomez stars in action thriller "Getaway" with Ethan Hawke. She plays "the kid," a computer savvy chick, who helps Hawke's character save his kidnapped wife as he follows the rules of a mysterious man played by Jon Voight.
(Warner Bros. Entertainment)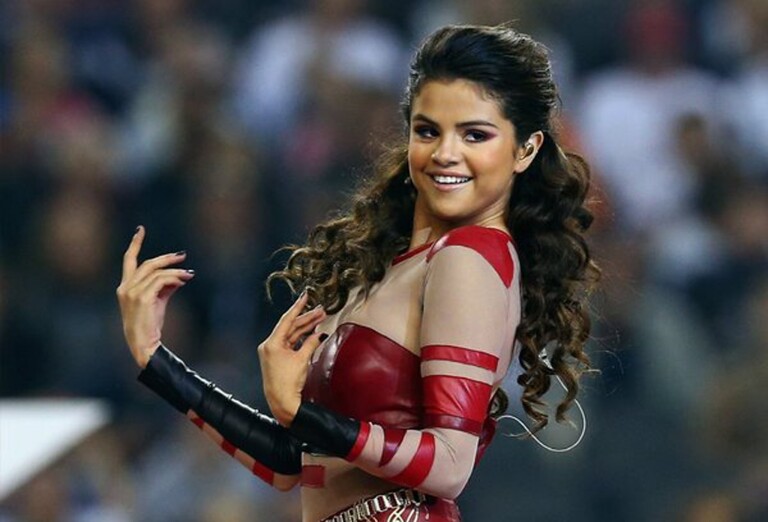 Gomez returns to her hometown of Dallas to perform the halftime show at the Minnesota Vikings vs. Dallas Cowboys football game on Thanksgiving Day 2013. A Dallas Cowboys fan, Gomez tweeted, "Feels SO good to be home. Hi Dallas. I hope I make TX proud."
(Jamie Squire / Getty Images)
The teen glossy crowns Gomez as the most powerful woman in Hollywood 21 or younger in its March 2014 issue. "This year is when I really started feeling powerful," Gomez tells the mag. "I had always been the underdog secretly. I was on Disney when it was Miley [Cyrus], the Jonas Brothers, and Demi [Lovato]. I questioned the way I looked, acted, sang, and wrote." But after a bad breakup and the triumph of her track "Come & Get It," things changed. "I'm glad it's taken me this long to get where I am because
now
I am ready for it."
(Seventeen)
Starring in another indie film, Gomez plays an angry girlfriend coping with the death of her beau in the dark film "Rudderless." Gomez poses above with the film's director, William H. Macy, left, and actor Billy Crudup, during the film's promotional tour at the 2014 Sundance Film Festival in Park City, Utah.
(Jay L. Clendenin / Los Angeles Times)
What to do when your ex-boyfriend gets arrested, and, like, the whole world knows? For Selena Gomez, she's showing us it's best not to get distracted. A girl's got to let off some steam.
Despite the Justin Bieber news that came out in the wee hours Thursday, Gomez managed to squeeze in some girl time with her pal Demi Lovato on Thursday night.
The duo grabbed a bite to eat at celeb favorite restaurant Craig's in West Hollywood. "Demi's very, very strong. She's the only person that I would tell the deepest, darkest secrets to. The only person," Gomez, 21, told Seventeen magazine, the glossy that named her the most powerful young woman, 21 or younger, in Hollywood.
Around 2010 though, Gomez and Lovato did have a rough patch as friends and a public fallout. "We've been through a lot together," Lovato, 21, told MTV News. "We've had periods of times when we grew apart, and we just didn't really talk. But now we're in a place where we realize that life is so short, and that when you have people in your life that love you so much, then you should just always be around them."
PHOTOS: Selena Gomez: Career highlights
The feelings are mutual. "She was going through things and I was so young and it was confusing," Gomez told Seventeen. I processed it saying, 'OK, I don't understand what she's going through so I'm just going to do this.' I don't think it was fair, and I'm so happy that I have her back in my life now."
The duo were all smiles and hugs as shutterbugs snapped photos during their night out. It was also Lovato's debut of her hot-pink locks -- all hot-pink, and not just the tips.
"I've had black, brunette, red, like orangey red, pink, and blue so far," Lovato gushed to Ellen DeGeneres on her daytime talk show. But the pink is perfect, Lovato says, for her Neon Lights Tour.
Meanwhile, Gomez recently stopped by the Sundance Film Festival in Utah to promote the indie drama "Rudderless," in which she appears in a few scenes.
Friends supporting friends. How cute, you two!
ALSO:
Kim Kardashian dispels wedding rumor, talks mom, Khloe

Justin Bieber invokes Michael Jackson; Scooter Braun tweets
Lorde covers Rolling Stone, talks Taylor Swift and boyfriend photo
Follow Ministry of Gossip @LATcelebs.
---
The complete guide to home viewing
Get Screen Gab for weekly recommendations, analysis, interviews and irreverent discussion of the TV and streaming movies everyone's talking about.
You may occasionally receive promotional content from the Los Angeles Times.