Susan Sarandon on 'Thelma & Louise': We didn't set out to make a feminist film
When she, Geena Davis and Ridley Scott were filming "Thelma & Louise," Susan Sarandon "didn't in any way anticipate" the feminist legacy the female-buddy movie would have years down the line.
"I saw this as 'Butch Cassidy and the Sundance Kid' that was women and trucks and kind of a cowboy movie," Sarandon told The Times before the movie's induction into the Library of Congress' National Film Registry was announced Wednesday. "I was really excited to work with Ridley and Geena, and it was funny — and we did a little work on the script to make it more specific — and we were busy doing that and enjoying Utah, which is where we filmed it."
But when the flick was released in May 1991, the culture-consuming world wasn't thinking one bit about a fun summer in Utah.
National Film Registry makes a 2016 list for the ages, reaches 700 movies total »
"In a movie year not notable for its oomph and controversy, the new Ridley Scott film 'Thelma & Louise,' written by Callie Khouri, has been riling up audiences into a love-it-or-hate-it lather," The Times' Peter Rainer said in an analysis at the time. "As rigged and goofy and problematic as it is, the film has struck an exposed nerve."
The movie got a lot of pushback initially, Sarandon noted. After all, they hadn't set out to make a feminist film.
"It never had occurred to me that we were kind of inadvertently backing into an area that was so sensitive to so many white males of a certain age," the "Dead Man Walking" Oscar winner said. "Especially something about giving women the power of in some way determining their own destiny and not settling was really bothersome to a lot of people. I guess I gave men more credit than that. … It never occurred to me … that it would upset people to have women in those parts."
When I started out, if there were two women in the film, you didn't work with each other, and if you did, then you were enemies.
— Susan Sarandon
Scott wasn't known for being a feminist, she said, despite having previously directed Sigourney Weaver's strong performance in the 1979 movie "Alien." Sarandon said she knew he would elevate the film visually.
"It's spectacular the way it looks. That's Ridley's contribution. It could have been a little story and we might not have seemed so heroic, and we might not have earned that liberation at the end, if it had been filmed as a tiny movie," she explained, referencing the indelible final shot in which Thelma and Louise and their convertible speed over a cliff into the Grand Canyon. "But he put it against John Wayne's backdrop. I'll always be grateful for that."
Scott wound up nominated for an Oscar for directing "Thelma & Louise," while Sarandon and Davis received lead actress nods. Khouri won the Academy Award for original screenplay.
Clearly, the movie wasn't "your normal Arnold Schwarzenegger-Mel Gibson come-in-with-your-guns-blazing" flick, Sarandon said. She hadn't been interested in making a straight revenge film, despite the popularity of that genre.
The Times' Rainer had an observation along those lines in his 1991 analysis, writing: "It's a sick joke that actresses can only assume dominant roles now by co-opting male action parts that, in many cases, aren't worth playing anyway. Where is the glory in being the female Arnold Schwarzenegger or Bruce Willis?"
"I felt that [Louise] was trying to figure something out, and then it was my job to ask those questions," Sarandon said. "'Her mission was that she knew, once she shoots the guy, she knew she had to pay some kind of a price. … I was more interested in her trying to understand why men would feel that [the attempted rape of Davis' character by Timothy Carhart's Harlan Puckett] was OK."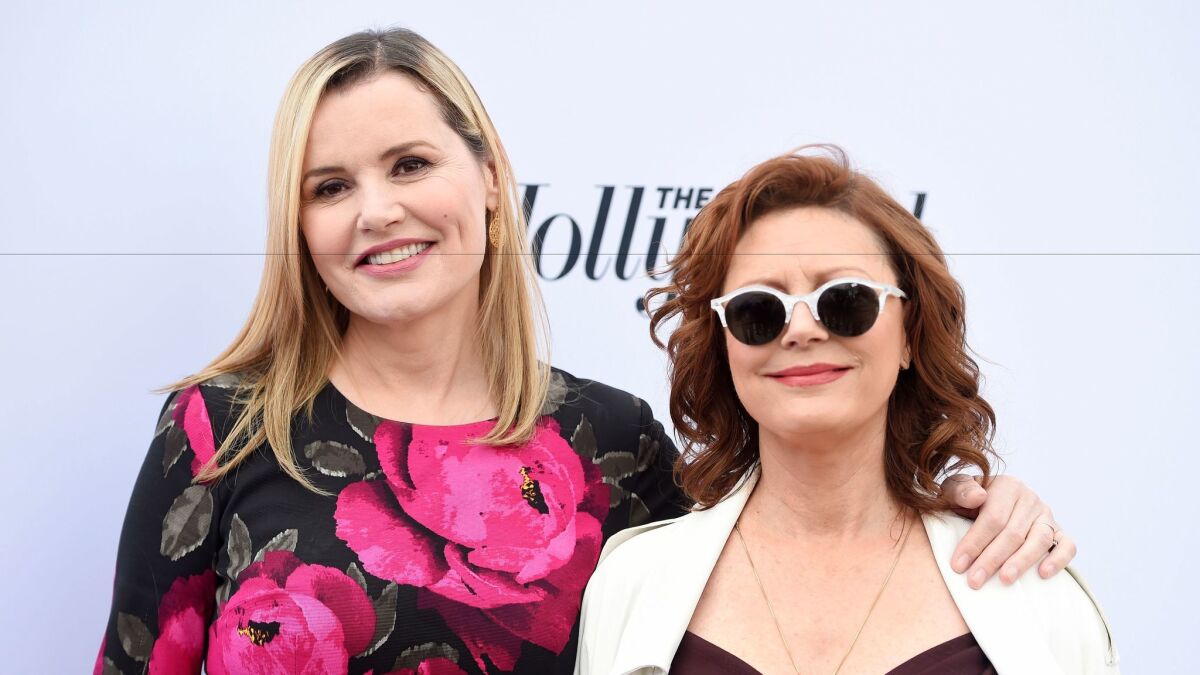 Years later, a buddy or ensemble film starring women isn't the anomaly it was when "Thelma & Louise" debuted, thanks in large part to female comedians. Think "Bridesmaids," "The Heat," "The Other Woman" and the 2016 incarnation of "Ghostbusters."
"I think that's been the big breakthrough, that there's so many brilliant actors that are women who are making films with a lot of women where they aren't adversarial to each other," Sarandon said. "When I started out, if there were two women in the film, you didn't work with each other, and if you did, then you were enemies. … There's certainly been a change in the weather."
As for the legacy of "Thelma & Louise," which takes its place in the National Film Registry alongside "The Birds," "East of Eden," "The Princess Bride" and 21 other newly added motion pictures, Sarandon is nothing but joyful.
She said she took a trip to the Grand Canyon with one of her kids a few years after the movie came out, and in the gift shop she saw a number of women on their own "Thelma & Louise" trip. ("Imagine what a bonus it was for them to see me walk in!" she quipped.)
"I'm so happy that it's going to go down that way," Sarandon said. "I think people are still watching it."
Follow Christie D'Zurilla on Twitter @theCDZ.
ALSO
Susan Sarandon and Debra Messing have a political throw-down on Twitter
Susan Sarandon, Geena Davis re-create their OG selfie from 'Thelma & Louise'
Madonna compares Donald Trump's win to a death — and blames hateful women for Hillary Clinton's loss
---
Get our L.A. Goes Out newsletter, with the week's best events, to help you explore and experience our city.
You may occasionally receive promotional content from the Los Angeles Times.