'Grimm' executives don't mince words at Comic-Con about Juliette's return: 'No'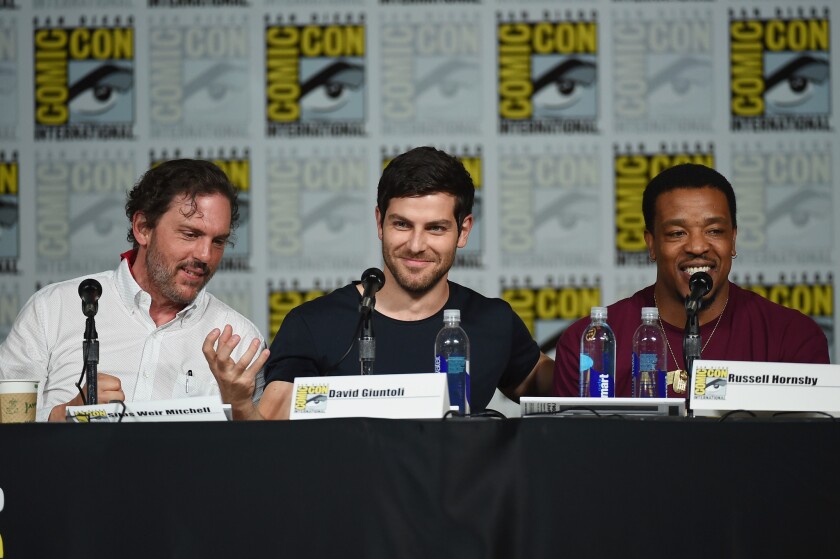 Grimmsters can put to rest the notion that Bitsie Tulloch's Juliette Silverton will come back from her somewhat timely demise at the end of last season, according to the executive producers and showrunners of NBC's "Grimm."
"No," was the response from David Greenwalt, Norberto Barba and Jim Kouf. Flat, offering no real hope to the thousands who assembled in Ballroom 20 on Saturday mainly to hear about the fate of the capable veterinarian wife of detective Nick Burkhardt (David Guintoli).
------------
FOR THE RECORD
In an earlier version of this post, Juliette Silverton was called the wife of Nick Burkhardt. She was his girlfriend.
------------
MORE: Follow our Special Edition Comic-Con magazine on Flipboard >>
Before the assemblage even hit the stage, a video was shown that recapped the season. A bonus was a minute or so of video showing Juliette's funeral. The reactions by the characters -- concern from Silas Weir Mitchell's Monroe, cool steadiness by Russell Hornsby's Hank, a mournful yet resolved stare from Guintoli's Nick, and sadness by most of the others -- was evident in that shortest of snippets. Since the cast just started filming the next season, there was no other footage with which to tease the audience.
Panelists consisted of Kouf, Greenwalt, Barba, Hornsby, Giuntoli, Mitchell, Bree Turner, Claire Coffee, Sasha Roiz and Reggie Lee.
And again, a resounding answer on Juliette's return.
"Anything could happen ... but no," said Grennwalt. The executives also led off by telling the crowd that they plan to finally reveal what "those damn keys" are for in the show's hundredth episode.
The crew talked a bit about where they've had brushes with fame throughout the world, given the show's strong international following. Guintoli met up with a group of girls who asked him "What are you doing here?" when they saw him in a mall in Kenya. Not to be outdone, Roiz heard cries of "Captain Renard! Captain Renard!" while at Machu Picchu in Peru.
Character changes in the upcoming season? The actors may not have known much, but producers let on that Hornsby's Hank will finally get a romantic interest, which was news to him. They also said that Rosalee (Turner) will be dealing with old addiction issues resurfacing, putting a strain on the popular Monrosalee couple.
FULL COVERAGE: Comic-Con 2015
Lee, the newest member of the crew to learn about the Wesen world, was asked a few questions about what his character brings to the group, besdes his "intelligence.".
"I bring doughnuts to the team! The newest overzealous initiate to the Scooby gang. I hear, though, it's going to be a hard freshman year," said Lee. And after some chiding by his co-stars about him always being seen in uniform, a further revelation.
"I bring more outfits to this season!"
Other tidbits include the annual talk of Renard (Roiz) taking his shirt off, Adalind (Coffee) trying to discover where she belongs in the world, and the new direction that the show will be taking next year.
Without Juliette.
"Yes, she will come back in flashbacks, more than likely," said Greenwalt.
Well, that's something.
For more news, follow Hero Complex on Twitter @LATherocomplex.
---
Inside the business of entertainment
The Wide Shot brings you news, analysis and insights on everything from streaming wars to production — and what it all means for the future.
You may occasionally receive promotional content from the Los Angeles Times.