Disney's Cars Land at Halloween, where weird is welcome and the characters find new storylines
Cars Land is already a bit absurd. For it is a place, themed to Route 66 culture, that is populated with talking, human-like cars who are neither machine nor mammal.
At Halloween, however, Cars Land at the Disneyland Resort's Disney California Adventure goes from odd and slightly goofy to a full-on celebration of weirdness and individuality. More than scares, Cars Land right now is like the best sort of Halloween party, one where the characters have the chance to play dress-up and inhabit different sides of their personalities.
It's perhaps the only time, for instance, that a Disney park fully embraces punk rock, with the typically bro-ish party car known as DJ bringing out his inner rebel. There's also just some plain ol' insanity, such as a courthouse that becomes fully alive via jumper cables to the tune of Screamin' Jay Hawkins' "I Put a Spell on You."
This is the time of year when theme parks all over Southern California shift their focus from rides to "scare zones" and haunted mazes. It's also an opportunity for parks to experiment, whether it's a haunted labyrinth themed to "Stranger Things" at Universal Studios or the creature-filled caves beneath an abandoned harbor port at Knott's Berry Farm. The experiences tread close to interactive theater, allowing guests to roam among pop-up attractions without a safety lap bar and a track.
A reliance on actors adds a sense of improvisation and unpredictability to the typical tightly controlled theme park experience. The more family-friendly Disneyland Resort has thus far avoided such a trend, favoring its popular Mickey's Halloween Party, which puts the focus on costumed characters, trick-or-treating, Disney villains and a seasonal parade and fireworks.
But if Disneyland's Halloween celebrations de-emphasize frights (full disclosure: I'm way too scared to do a maze at Universal or Knott's), for the past two years Halloween has given Disney creatives the chance to get weird.
Modern theme parks, after all, are tightly choreographed affairs that follow the rules of established properties — "Star Wars," "Guardians of the Galaxy," the worlds of Harry Potter, etc. If during the rest of the year Cars Land adheres to a general outline sketched by the films, at Halloween the land becomes "Cars" unscripted.
More than that, Halloween allows the cars to show their true selves. The hippie Fillmore is normally played for laughs but at Halloween becomes a full-on artist, as his 2-D metal art conjures a world of car ghosts and his organic fuel has been used to burn images into oil drums.
And, through a little investigation, guests can learn that the curio-shop owner, Lizzie, is cursed with a broken heart, to the point that she's letting her sadness control her. This ultimately results in one of the land's showcase items and an allusion to some less-than-ethical actions.
"We really had to get in the mind of the cars," says Dave Caranci, a creative executive with Walt Disney Imagineering, who has overseen Halloween at California Adventure. "We had to think about each car and what they would do because they're individual characters. What would that character do?"
The result is that set pieces take on even greater theatricality. Outside Lizzie's shop, for instance, lies a broken car in the style of a Ford Model T. It's rising from the ground around a tree, and would appear to be something of a zombie car.
Only the reality is a bit more macabre. Lizzie has taken some of Fillmore's coolant that's gone bad — "ghoul-ant," because everything in Cars Land is a pun — and is trying to bring long-dead cars back to life. The goal: to raise her deceased husband, Stanley.
"We have the zombie car out front that she's resurrecting, and the zombie car every few minutes is trying to come back to life," Caranci says. "You'll hear the engine start to turn over and the lights will come on, but they're very dim. The radio will play old tunes from when Stanley and Lizzie were in their heyday. As much as the car wants to come back to life, it dies out with a big puff of smoke.
"Until she gets it just right, she's not going to try it on Stanley," Caranci continues. "So she's experimenting on other cars, bringing them back to life. This poor car just can't seem to get the engine going, so she hasn't quite made it."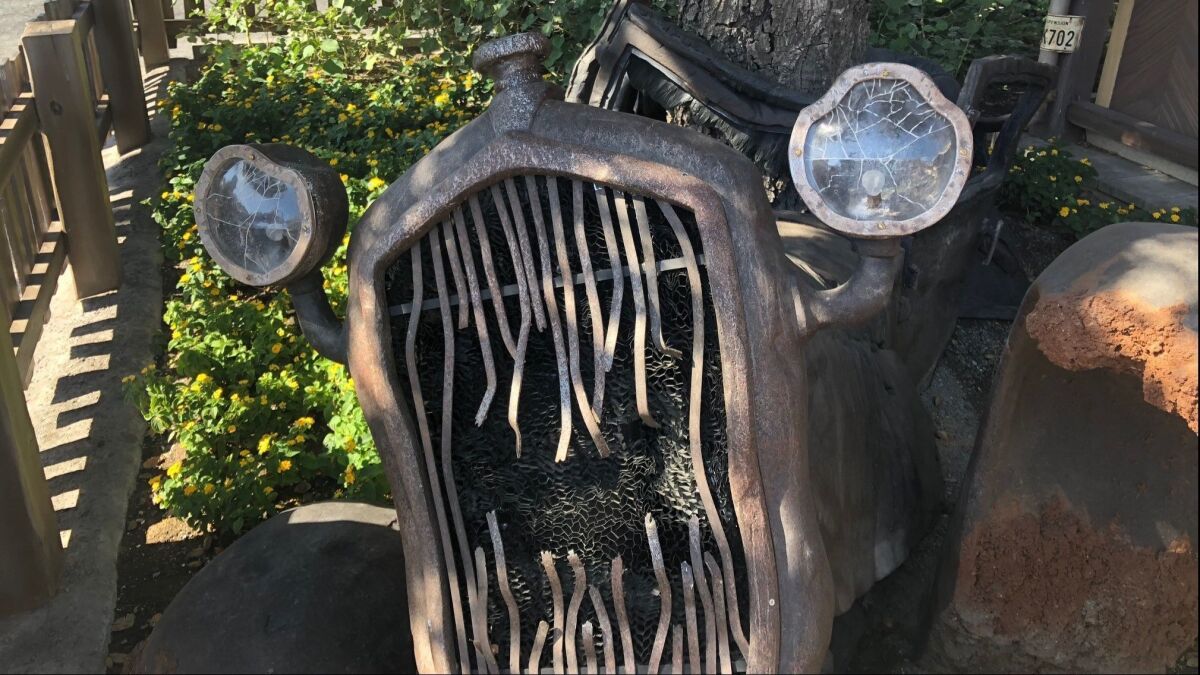 ALSO: Theme parks find new ways to scare up money from Halloween fans
That's grim — and rather selfish — but it uses Halloween not as a costume or a scare, but as character development.
Likewise, across the street, Ramone's House of Body Art becomes a way to explore Latin culture via nods to Dia de los Muertos (Dia de los Motors?) complete with a sugar car. Inside the shop sits an ofrenda, where the altar honors the fallen car Doc Hudson.
There's a bit of a continuity error here — in the land's showcase ride, Radiator Springs Racers, Doc is alive and well. Or maybe Lizzie has gotten the coolant mixture right by the time the race begins?
Maybe that plot point will be smoothed out in years to come, but what makes Cars Land at Halloween so ripe for exploration is the sense of mystery it brings to the park — asking guests not only to learn more about its inhabitants but to piece together stray storylines. I appreciate DJ's newfound punk look, and though Lizzie is misguided in her lovelorn quest, who can't relate to heartache? At a resort dedicated to the romantic notion of happily-ever-after, it's a refreshing scene piece, one that tells guests it's OK to wear your heart on your sleeve.
And yes, sure, there's some good ol' Halloween darkness. Check out the lobby of the Cozy Cone Motel, for instance, which has been splattered with oil stains. A decoration, or perhaps the remnants of a bloody car that implies something sinister went down in this hotel?
Caranci isn't saying.
"We want our guests to use their imagination and their creativity," he says. "We don't want to tell a story that's so precise and so exact that there's no thinking involved. We want a mystery, and we want our guests to say, 'I wonder what this means.'"
ALSO
An early Disneyland designer won over Walt Disney with his rebel reputation. Now he laments: 'The park is gone'
This is your brain on Disneyland: A Disney addict's quest to discover why he loves the parks so much
How Disney's Paradise Pier, the 'antithesis' of Walt, became California Adventure's Pixar Pier
Two Bit Circus will bring an indoor game-focused theme park to downtown Los Angeles
Designers from Disney, Knott's, Efteling and more preach the importance of play over technology
Follow me on Twitter: @toddmartens
---
Get our daily Entertainment newsletter
Get the day's top stories on Hollywood, film, television, music, arts, culture and more.
You may occasionally receive promotional content from the Los Angeles Times.