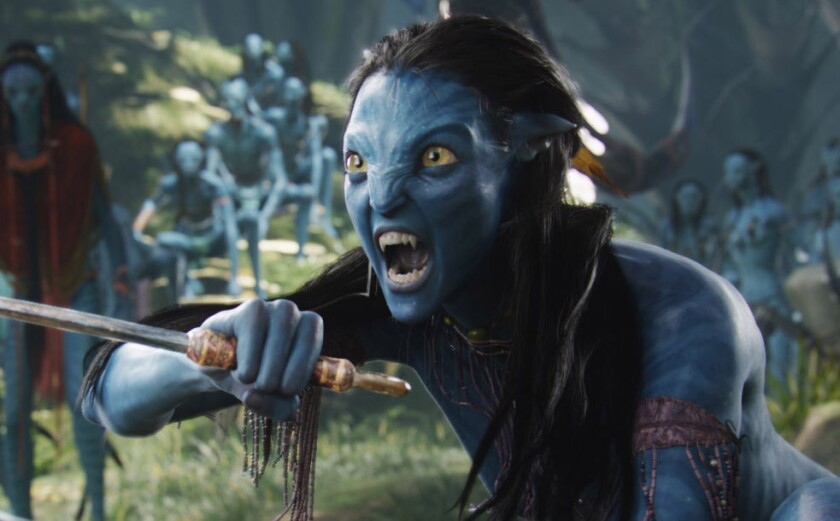 Just when the CinemaCon crowd thought Fox had showed off its entire slate, chairman Jim Gianopulos said he had one more surprise in store. He wanted to introduce an "up-and-coming filmmaker," he said, someone whose work "has tremendous potential, and we hope to continue working with him as he develops his talents." The newbie? James Cameron.
"I'll do my best to prove myself to Fox," the veteran filmmaker said, emerging on the stage to rapturous applause.
Cameron hasn't made a public appearance here since 2011, as he's been off working on his long-awaited "Avatar" sequels. Though he'd previously announced three sequels to his 2009 smash hit, Cameron explained that he's now planning on making four sequels instead.
"So far what I'm seeing -- the art on the walls, the stuff that's been developed -- is in pure imagination really far beyond the first film," he said. "But we've begun to bump up against the limitations of our artform.... As the writing process has continued, and now that the script work is finishing up, it's not three films -- it's four."
The four films will be released around Christmas in 2018, 2020, 2022 and 2023, Cameron said, pointing out that the movies were "designed to be seen on the big screen, in theaters first."
The director also came out aggressively against Screening Room, Sean Parker's proposed service that would allow consumers to purchase films for $50 at home. Cameron said he traveled here in part to voice his support for the theater experience.
"As long as I've been a filmmaker, there's always been some kind of threat to moviegoing experience -- VHS, DVD, streaming -- the list goes on. But we've always answered that threat in the same way: By being great at showmanship and creating something in a movie theater that you can't get anywhere else," Cameron said. "Regardless of what the folks associated with Screening Room say, I think it's absolutely essential for films to be offered in theaters on their initial release. So: Boom!"
ALSO:
First look at Scarlett Johansson as the cyborg from 'Ghost in the Shell'
Benedict Cumberbatch to star in 'The Grinch Who Stole Christmas' reboot
With Spielberg, Penn, Foster and Jarmusch (twice), Americans will help storm the beaches at Cannes
---