Why you'll love Nintendo's gooey Gooigi in 'Luigi's Mansion 3' 
Mario has been Nintendo's unlikely hero for more than 30 years — a plump plumber who dates outside his class and, as shown in the opening moments of one of the company's upcoming adventures, won't even carry his own luggage.
Sure, the helpful Toad species is loyal and eager to serve, but over the decades the game's mushroom-like humanoids have more than proved their own heroism and needn't still be bag-handlers.
Maybe it's time for Mario's younger, thinner brother, Luigi, to once and for all steal the spotlight.
While Nintendo has much to tout at this year's Electronic Entertainment Expo (E3) — from the success of its portable console the Switch to upcoming games in the Pokémon series, not to mention a Netflix-affiliated "The Dark Crystal" game and a surprise announcement that a sequel to "Zelda" game "Breath of the Wild" is in the early stages of development — it's largely going all-in on Mario's better half at the Los Angeles Convention Center trade show, which runs through Thursday.
"Luigi's Mansion 3," due later this year, will once again explore Luigi's spotlight-shy yet adventurous personality. Instead of the run-and-jump style of his brother's core games, the "Luigi's Mansion" series has typically had a slower, more exploratory pace, and that's true here in the third proper game in the ghost-infused franchise.
It's "comedic horror," said Nate Bihldorff, part of Nintendo's localization team.
E3 2019: Is the video game industry ready for pop-culture saturation? »
And that's exactly why playing a preview version of "Luigi's Mansion 3" felt so satisfying, especially in an E3 climate where games are celebrating killing Nazis ("Wolfenstein: Youngblood") or killing demons ("Doom Eternal") or overthrowing the government ("Watch Dogs: Legion").
A lemur-like ghost emerging from a toilet to tauntingly wave at Luigi may not be everyone's style of comedy gold, yet "Luigi's Mansion 3" brings pure childlike joy to the LED-lit environment of E3.
And if Luigi isn't the household name that Mario is — often the nameless sibling of "Super Mario Bros." — don't think he doesn't have wide appeal. Nintendo said at a press event that the last game in the "Luigi's Mansion" series, 2013's "Luigi's Mansion: Dark Moon" for the handheld 3DS, sold more than 6 million copies.
"We similarly have high expectations for 'Luigi's Mansion 3,'" said Nintendo of America marketing exec Bill Trinen. Reaching about the same sale's goal would put "Luigi's Mansion 3" in the hands of roughly one-fifth of Switch owners, as Nintendo has reported worldwide Switch sales of about 34.7 million.
From the start, the tone of "Luigi's Mansion 3" is defined by the green-wearing mustached character. If Mario's personality bursts with excited confidence — "It's-a-me, Mario!" — Luigi far more rarely craves such attention (although the "Mario Kart" series has shown a tougher side of Luigi, so thankfully he's not behind a wheel here).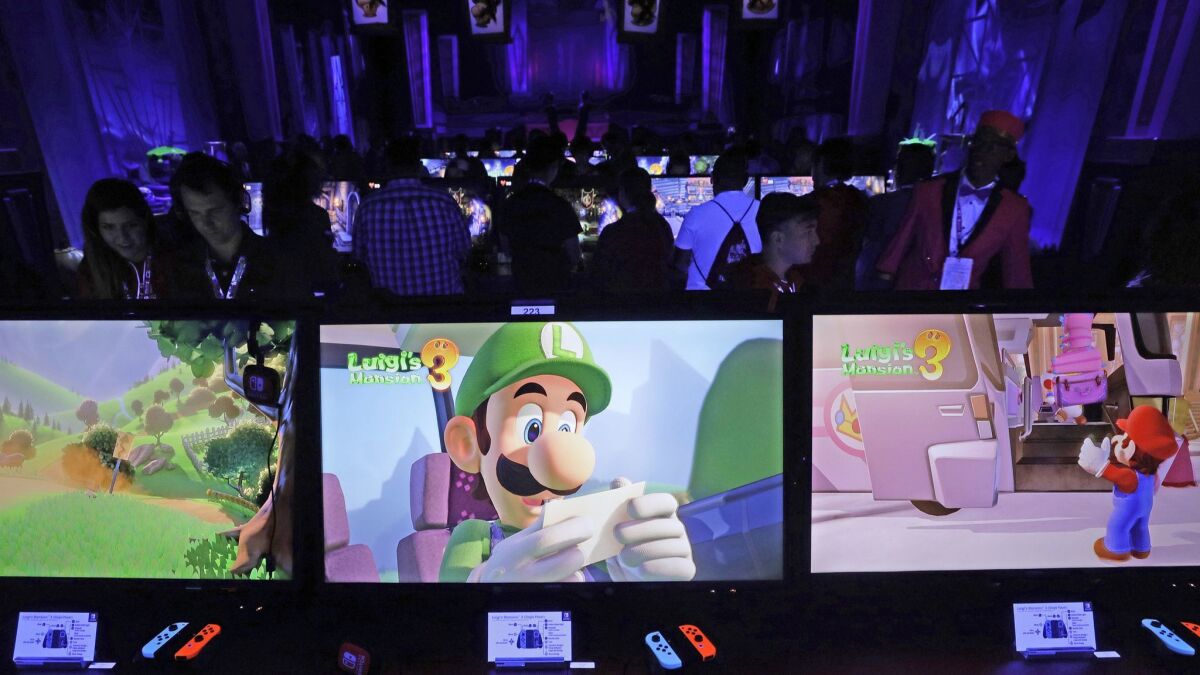 When Luigi says hello, it's delivered softly and sometimes with hunched shoulders, as is his friendly outreach to the ghosts of "Luigi's Mansion 3." But upon discovering that the gilded hotel he and his pals have been invited to is actually a stacked funhouse with dungeons and forests, it's clear Luigi would prefer to run, as any pause in the game will elicit scaredy-cat quivers.
Trinen didn't specify demographics for who plays Luigi-driven games, but it was hinted that Luigi's bashfulness tends to have appeal beyond the core game player.
"The Luigi character himself, and certainly the 'Dark Moon' game, do appeal to a traditional Nintendo fan, but they also, at least from what we've seen, resonate with kids quite a bit," said Trinen. "We've seen that he tends to resonate with females. They like Luigi quite a bit, apparently. I think it's just the fact that he's such a lovable character."
But even when Luigi gets his own game he can't fully break free from the tropes that dominate his brother's adventures. As in the "Super Mario Bros." series, there's been a kidnapping in "Luigi's Mansion 3," and we briefly saw Mario and Princess Peach frozen in portraits that could have been lifted from Disneyland's Haunted Mansion.
We don't find out why these ghosts in this towering hotel would want to hold Mario and pals hostage, not to mention torture Luigi by throwing a bounty of specters at him — but then, the Mario and Luigi games aren't exactly narrative wonders. They're excuses to play, and Nintendo continues to have a knack for creating senseless worlds that make perfect sense.
For instance, players can once again become Gooigi, first introduced in the 3DS remake of the original —which is exactly as it sounds — a Luigi made of goo. Flipping to Luigi's gelatinous form leaves his human-like body in a sort of passed out-looking state, which can be odd depending on the locale, such as when Gooigi needs to slip through a bathroom floor vent and leave his zoned-out alter-ego next to the toilet.
But Gooigi just may be the star of the show, especially when playing with friends — just keep Gooigi out of water. Watching Gooigi traverse spikes and break apart as he falls through grates is oddly pleasing, even if players will be wondering just what Gooigi is made of and how he's able to live in and apart from Luigi. It's unclear, for instance, if Gooigi has a brain, but the less questions asked the better.
Ghosts tend to mirror their environments. While rats abound, the ghosts in the hotel's rooms can sometimes appear to be sofa-like. In the Medieval level shown at E3, there's a ghost king complete with a tacky crown, and Luigi will often interrupt ghosts practicing their sword fighting.
The game ultimately hinges on Luigi reconstructing a broken elevator by hunting down its buttons and then using it to traverse the various floors in search of his friends. He'll once again use a vacuum-like device to inhale ghosts, or blow out air to interact with the environment and look for secrets. He also has a plunger, which can use its suction force to bust open walls or spin levers to move around the levels.
Rarely will the hotel actually look like a hotel. "Luigi's Mansion 3," deviating from previous games in the series, takes a fantastical approach with each floor representing a different period or setting. The only time the hotel looks sort of normal is during a brief sample of the game's multiplayer mode, in which up to four people can team to rid a floor of ghosts. When playing with others, expect more traps and fake doors, and Luigi can essentially become scared to death, needing a pal to go and revive him.
Granted, with "Pokémon Sword" and "Pokémon Shield" also releasing this year, "Luigi's Mansion 3" likely won't be the biggest hit on the Switch in 2019. But in this era of superheroes — Square Enix on Monday evening revealed a trailer for its take on the "Avengers" coming to the Microsoft and Sony consoles in 2020 — Luigi's reluctant valor is rather refreshing.
And unlike his more popular brother, he isn't above carrying his own suitcase.
---
Get our L.A. Goes Out newsletter, with the week's best events, to help you explore and experience our city.
You may occasionally receive promotional content from the Los Angeles Times.