AMC's 'Preacher' will stray from its comic book scripture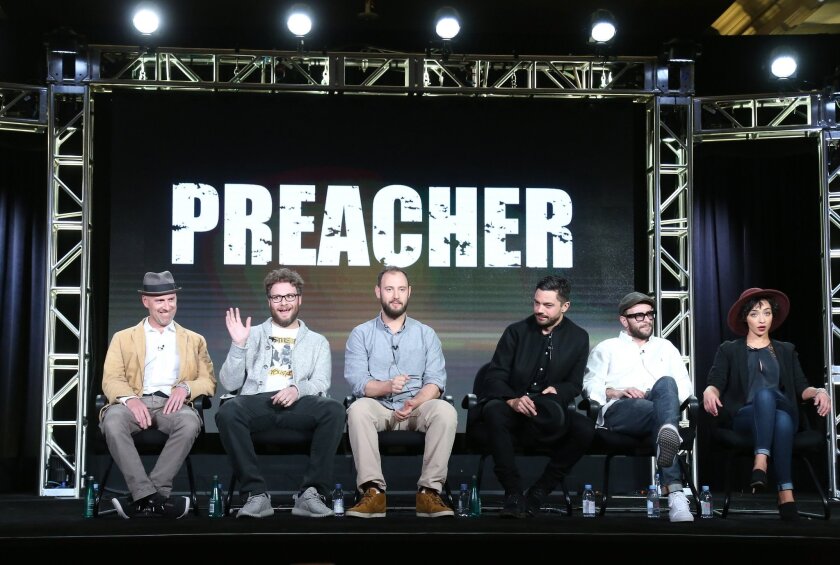 The cast and crew of AMC's bizarre supernatural Western "Preacher" gathered in Pasadena to minister to the crowd of critics. But will die-hard fans of the 1995 comic book be pleased with the TV changes? And can this dusty dramedy convert nonbelievers?
The 1995 comic series by Garth Ennis is set around a West Texas preacher with a dark past who goes looking for God along with his friend Cassidy, a drunken Irish vampire; and his sharpshooter ex-girlfriend Tulip.
On the stage, executive producers Sam Catlin, Evan Goldberg and Seth Rogen were joined by their new cast: Dominic Cooper (as the preacher Jesse), Ruth Negga (who plays Tulip) and Joseph Gilgun (Cassidy). They fielded questions from the critics, beginning with one about the deviations from the source material.
"It didn't seem, at first, that we should do it that way but then we talked to Garth [Ennis]. And Garth very much encouraged us to make a lot of small changes and to make it a good show first and foremost. Our big thing is we want fans who love the comic to get everything they want, but to also make some new twists and turns."
Rogen continued, "And for them to be surprised and not know what to expect on a weekly basis."
Negga, whose character is introduced in the middle of a bloody cornfield car ride, compared first reading the script with the game "Duckie." When no one understood the reference Negga explained, "It's when your cousin or your uncle, or something, takes your leg and swings you around. It's terrible but it's brilliant… I'd never read anything like it, I'd never read a character like it."
Gilgun agreed. "Who wouldn't want to play Tulip!" he yelled.
A perfect human counterpart for his character Cassidy, the actor relished claiming the role of the monster. "I think what is wonderful about Cassidy is he's been around for as long as he has and he's achieved nothing," Gilgun said. "I'm putting an end to all this sexy vampire business. He's a rogue, a traveler. He's had to move, he gets in trouble and he has to go there. He consistently makes terrible decisions. And that's why I'm perfect for the role."
Cooper, who plays the title role, was quiet for most of the panel, but appeared to be honest about his passion and nervousness in taking on the part, "It was a very hard role to take on. I was kind of terrified by the prospect of him. I was desperate to play him when I first read the script."
For the true "Preacher" fans, you'll be happy to know that yes, the character Eugene (Arseface) is in the pilot, but he does look slightly different from in the comics. That was intentional. "[It] started with finding Ian Colletti, the actor," Goldberg said. "First we had to know what his face looked like and his body structure and all that. And then try to figure out how to make him look realistic but not cartoony in any way or silly."
Eugene is a longtime "Preacher" favorite whose face looks similar to his nickname, for reasons that are eventually revealed in the books. In the long road of folks trying to adapt this movie there've been a lot of unconfirmed makeup tests for Eugene that have popped up on the Internet. And Rogen is aware of these past iterations:
"It's interesting, there had been something online that existed in some test that someone had done, that looked exactly how it looked in the comic. And as soon as I saw it, I knew we should try and make it not look exactly how it looked in the comic, and we should take some license and try to make it something maybe a little more -- palatable, might be the word. And we wanted the kid to be sympathetic, someone you really rooted for. There's a threshold that becomes difficult in short bursts."
"Also just technically, we had to make sure -- the actor's face, we had to make sure you could see him be sad and be happy," said Goldberg. So rest easy, y'all: Arseface is in there.
Tiny spoiler ahead: The pilot is different from the comics in that it doesn't set up the epic quest Cutler, Cassidy and Tulip are eventually set on in the books. When asked if the cast would eventually leave the pulpit, Rogen was happy to decline comment. "We've never made anything with any mystery involved in it. And so we've never been in a position where we can be like, 'We don't want to answer that question.' But yeah: We don't want to answer that question."
"Preacher" will debut on AMC this year.
---
From the Oscars to the Emmys.
Get the Envelope newsletter for exclusive awards season coverage, behind-the-scenes stories from the Envelope podcast and columnist Glenn Whipp's must-read analysis.
You may occasionally receive promotional content from the Los Angeles Times.